With something as hands on as art restoration, we know nothing beats showing the range of skills that enables an experienced art restorer to achieve exceptional end results. So, we were delighted to welcome the Masters of Craft cameras into the Plowden & Smith studio to follow the progress of one particularly special art restoration project.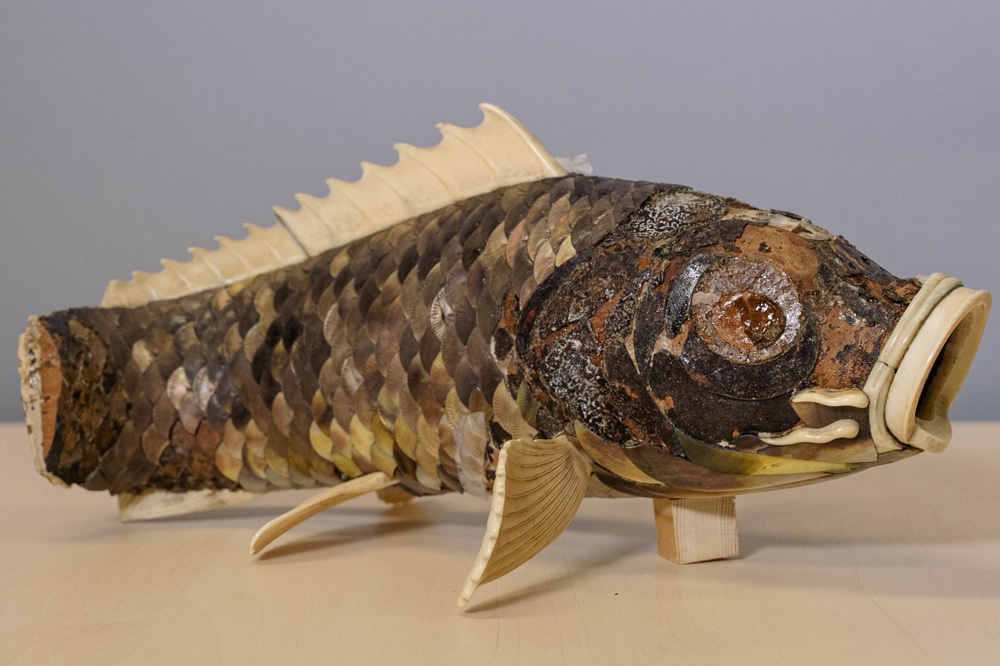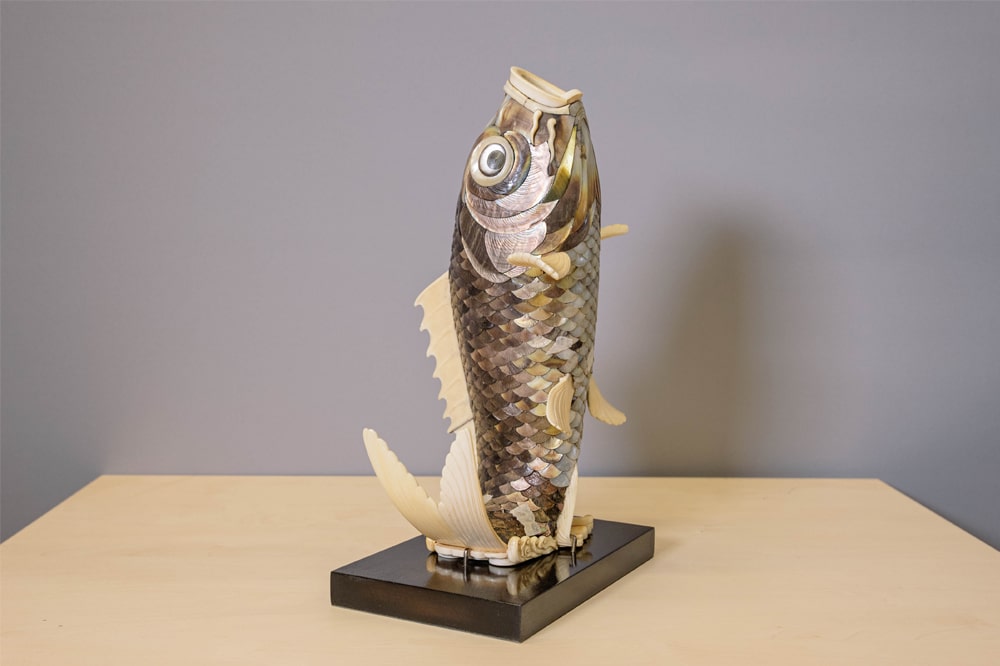 Masters of Craft spent three days in our art restoration studio, filming Senior Specialist Materials Conservator Ben Lawson painstakingly restoring a late 19th or early 20th Century Meiji period leaping carp okimono (in Japanese, okimono means ornament for display, objet d'art, decorative object).
In traditional Japanese culture, the leaping carp is a symbol for healthy and successful boys – reflecting the fact that only the strongest carp can leap over small waterfalls to spawn. Sadly, the condition in which this okimono arrived at our art restoration studio, hardly suggested qualities of good health and strength!
Many of the mother of pearl scales on the fish were loose or missing – a result of shrinkage of the wooden carcass and degradation of the fish glue. Larger sections of the fish had also become loose, including the eyes and surrounding face and gills. The caudal (tail) fin at the base of the sculpture had become completely detached and had broken into several sections. This family treasure was desperately in need of care and attention, which involved a range of specialist art restoration techniques.
Scales still attached to the wooden carcass were stabilised with fish glue thinned down with warm water (to allow the consolidant to run in and around each loose scale). When cured, the excess glue was carefully removed with a warm damp cloth. The rest of the fish was cleaned with cotton buds and saliva. Due to the enzymes it contains, salvia is excellent at grabbing and taking hold of old dust and dirt.
New wooden pieces were carved and bonded into position to enable the fin to be reattached at the base of the sculpture. The many loose pieces were reinstated in precisely the right location – a process not dissimilar to tackling a complicated jigsaw puzzle!
Missing scales were then replicated by carefully carving clam shell shapes from mother of pearl.
In addition to restoring the okimono, Ben also created a bespoke polished wood base to display the leaping carp in its correct, upright position. The inclusion of discreet security fixings gently secure the okimono to its new stylish mount, providing additional protection after it returns home
Having captured all the stages that go into such an intricate art restoration project, Masters of Craft then had the difficult job of condensing all this detail down into one narrated 15-minute-long film. They clearly did a great job, as the film has already been viewed over 15,000 times!
If you are interested in seeing how a professional art restorer would approach restoring this Japanese okimono to its former glory, this video is definitely one to watch – just click the video link below.