RESTORATION & CONSERVATION SERVICES | DECORATIVE ARTS & OBJECTS | STONE RESTORATION
Stone restoration services including marble restoration, plaster restoration, terracotta restoration, slate restoration and malachite restoration.
Our stone restorers in-depth knowledge of materials provide innovative solutions for apparently irrevocably damaged objects.
We have the skill to carry out the most complicated stone restoration techniques to the highest standards, including stone carving.
Our specialists cast near-identical replicas to restore the appearance of missing sections or elements and our ability to colour-match every subtle tonal variation ensures that repairs are practically invisible to the naked eye.
We have the skill and experience to safely move heavy objects, including church fonts, and stone that weighs in excess of one and a half tonnes.
Our stone restorers work on highly intricate projects, including restoring mosaic floors, which risk being seriously damaged if handled by anyone other than an experienced professional.
We apply our specialist conservation skills to large-scale interior and exterior stone surfaces, most notably our ground-breaking use of Laponite RD water poultices to clean the façade of the Garrick Club building.
We also display-mount stone art and objects, which include discreet security fixings, where necessary.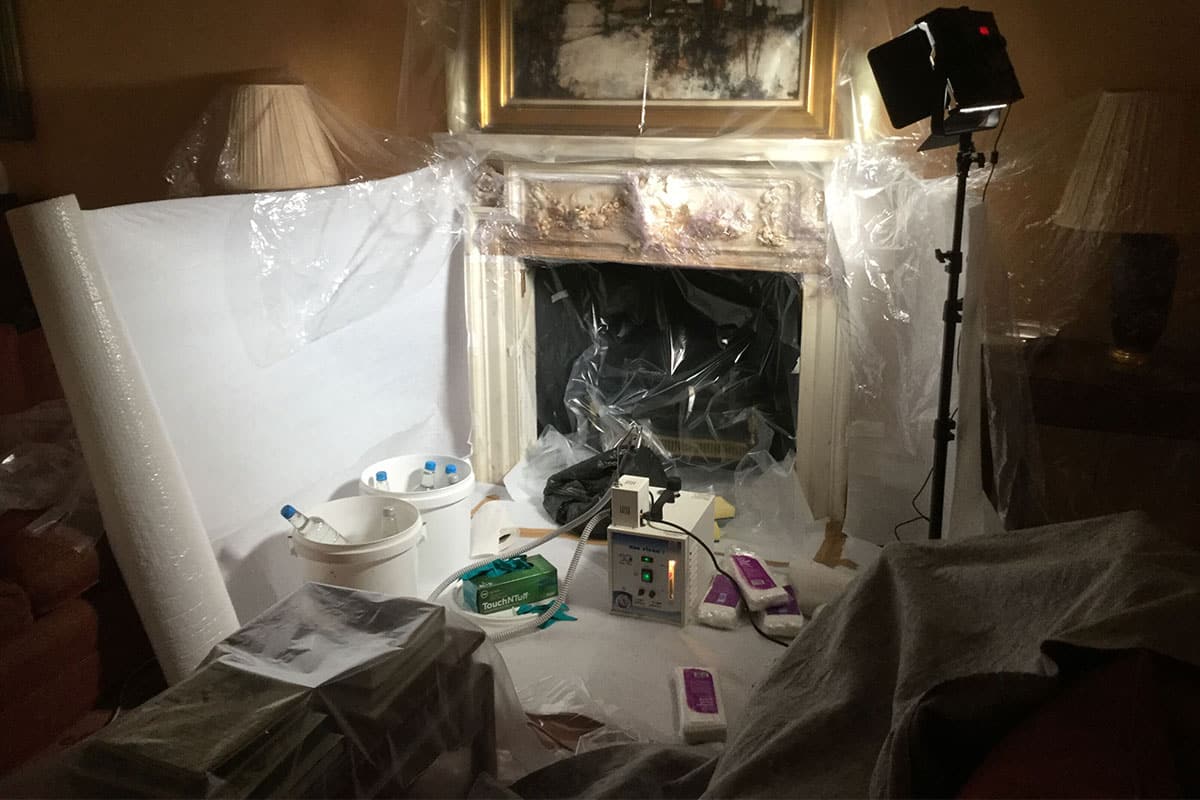 Stone Restoration Case Studies
Lava Stone Vase Restoration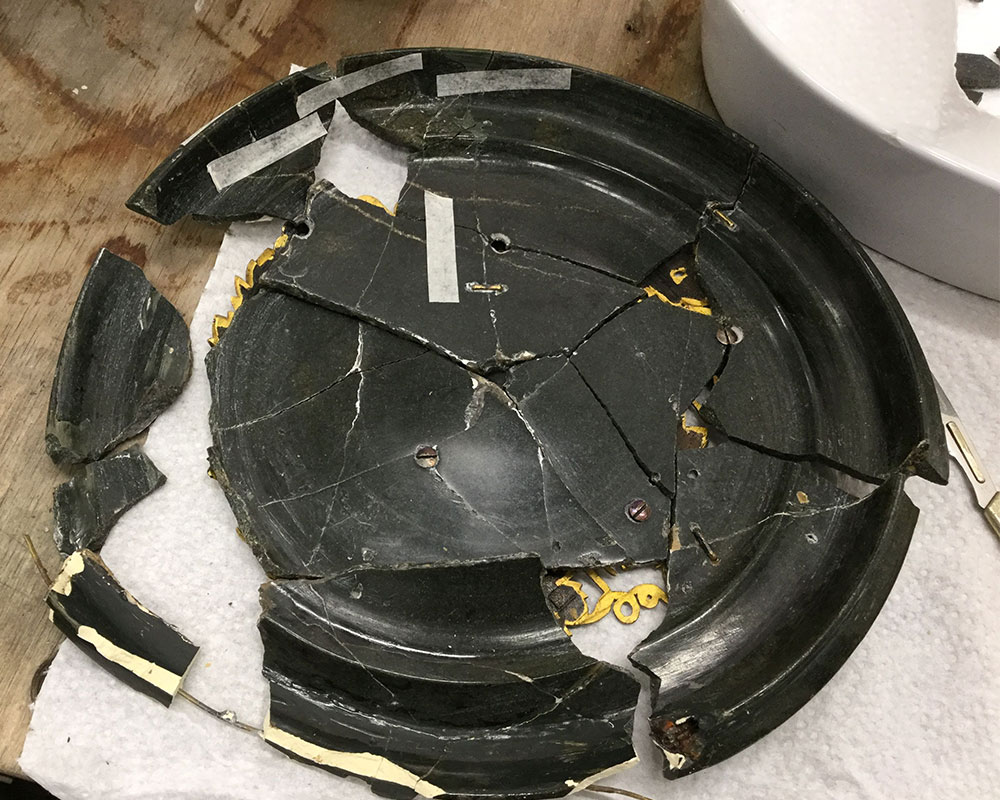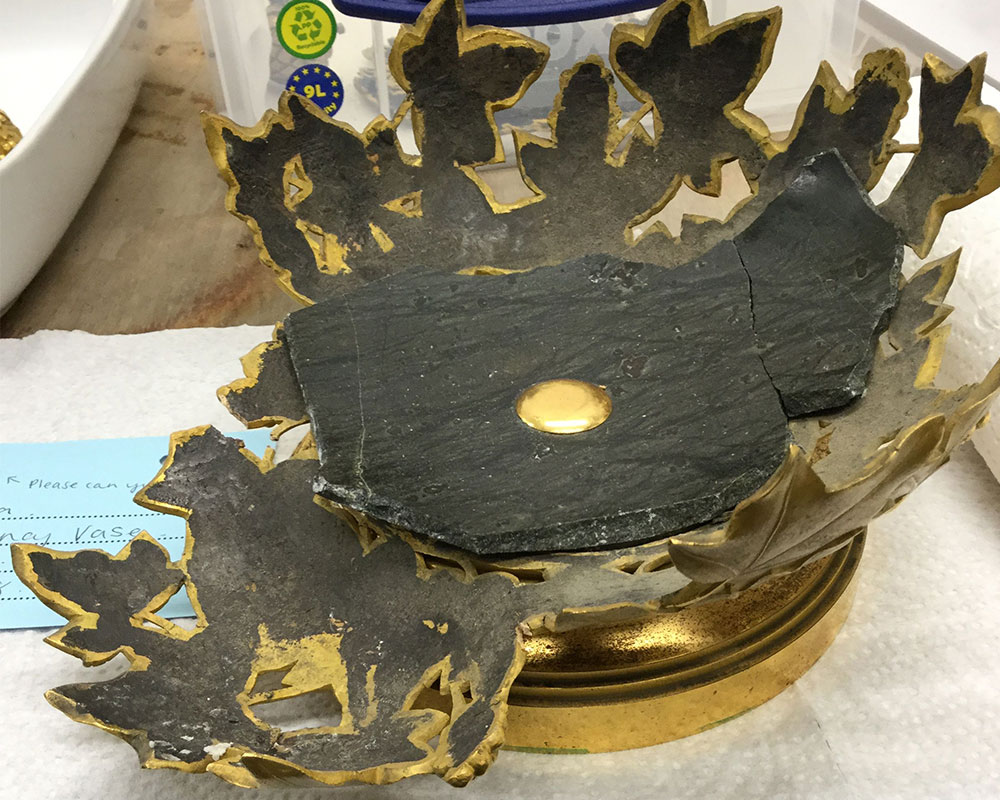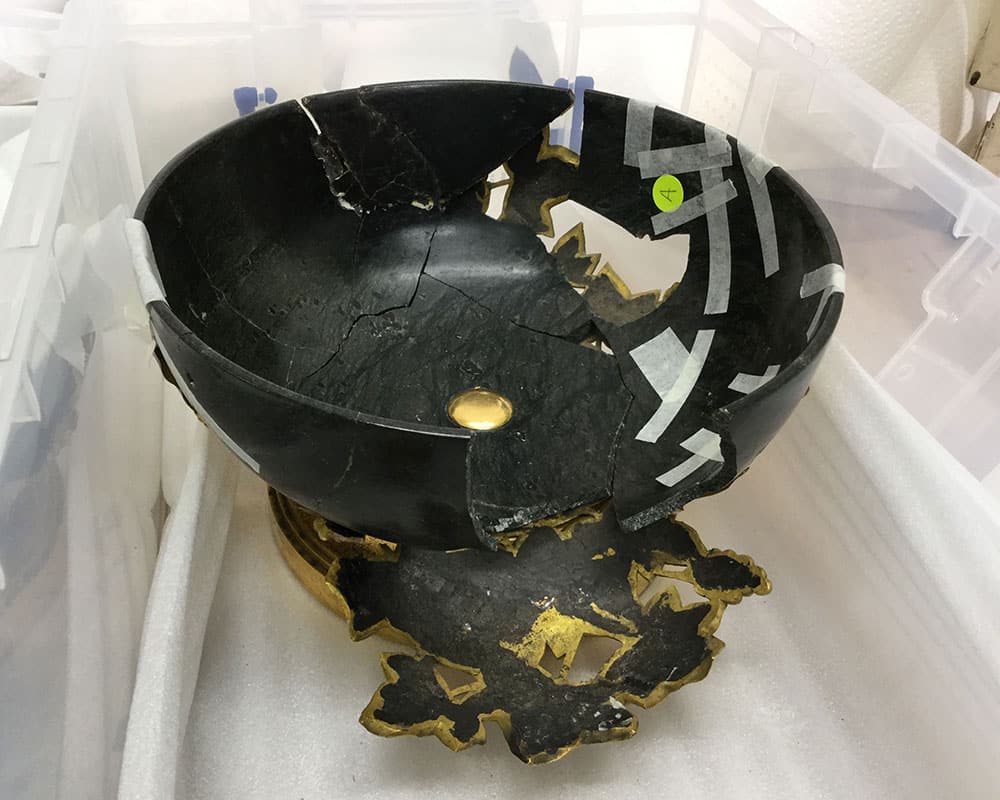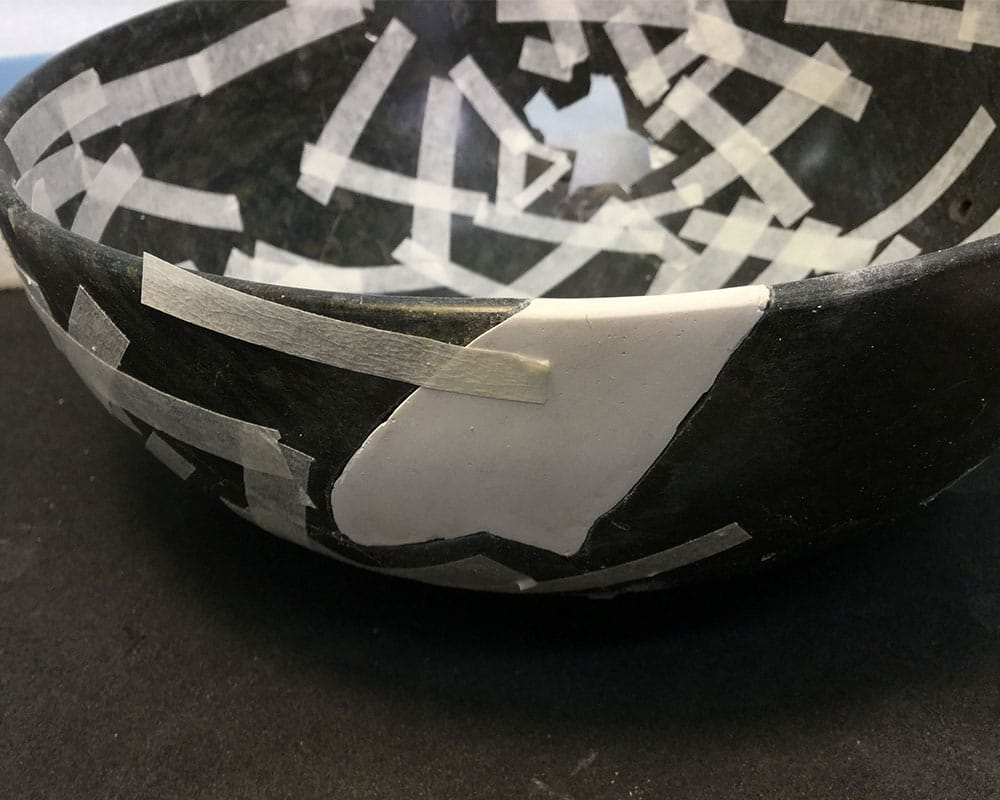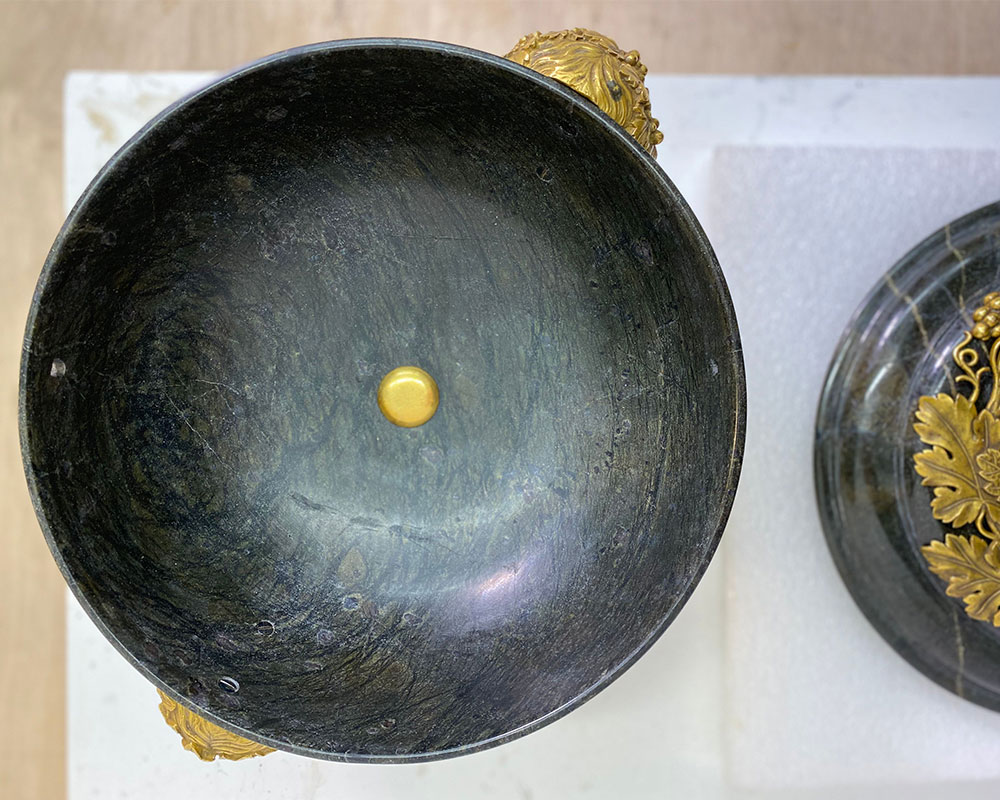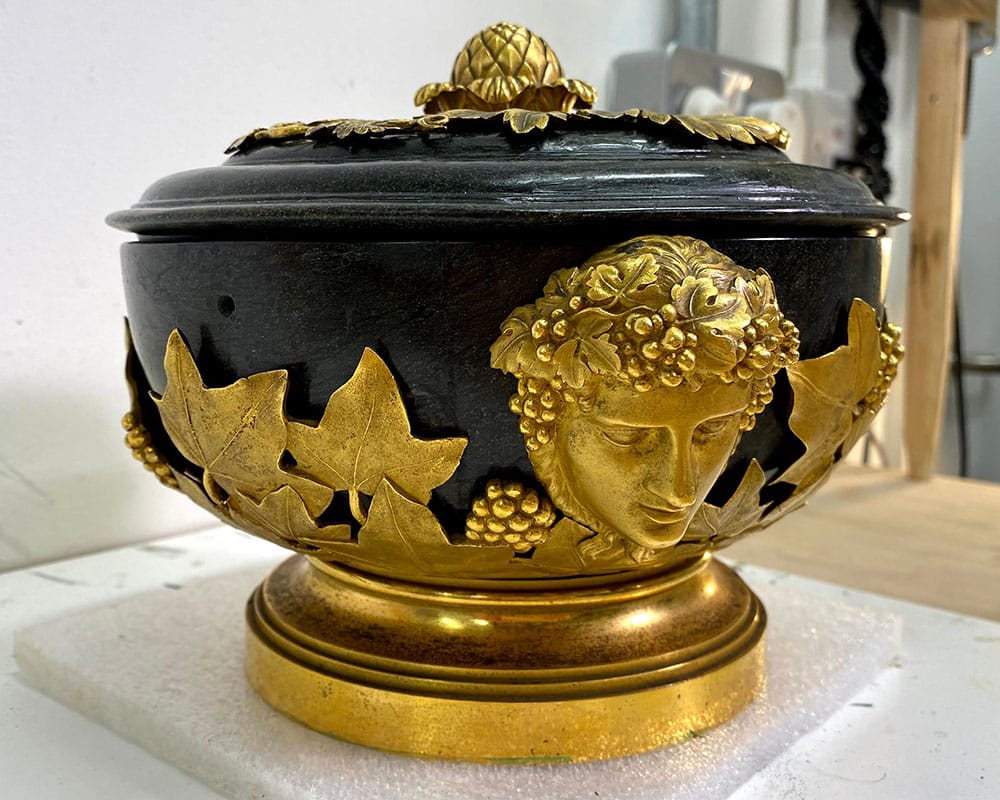 Part of the collection of an important stately home, this Regency lava stone vase and cover is attributed to Benjamin Vulliamy (1747-1811), the famous London clockmaker.
It came into our studio for stone restoration treatment as an insurance claim. We were instructed to restore this stone vase and cover by Philip Austin of Fine Art Specie Adjusters Ltd (FASA), who has extensive experience of dealing with claims for damaged or lost historic objects and fine art on behalf of insurers.
The vase and cover had previously been poorly restored at some point in its history, which our stone restorer replaced as part of a comprehensive stone restoration treatment.
Once all the shattered lava stone fragments had been cleaned, our stone restorer used temporary jigs to allow all the component parts of the vase and cover to be bonded back together simultaneously. This approach is often used when restoring stone and in some instances is essential for ensuring correct alignment.
After the vase and cover were reassembled, our stone restorer turned his attention to restoring any missing sections of lava stone. Our stone restorer used silicone press moulds to cast accurate epoxy resin replicas of these missing sections, which were then meticulously coloured to match the original lava stone.
Finally, minimal retouching was carried out along the break edges, the aim of our stone restorer being to keep as much of the original lava stone surface visible as possible, whilst also ensuring a harmonious and visually pleasing effect.
Restoring a Marble Sculpture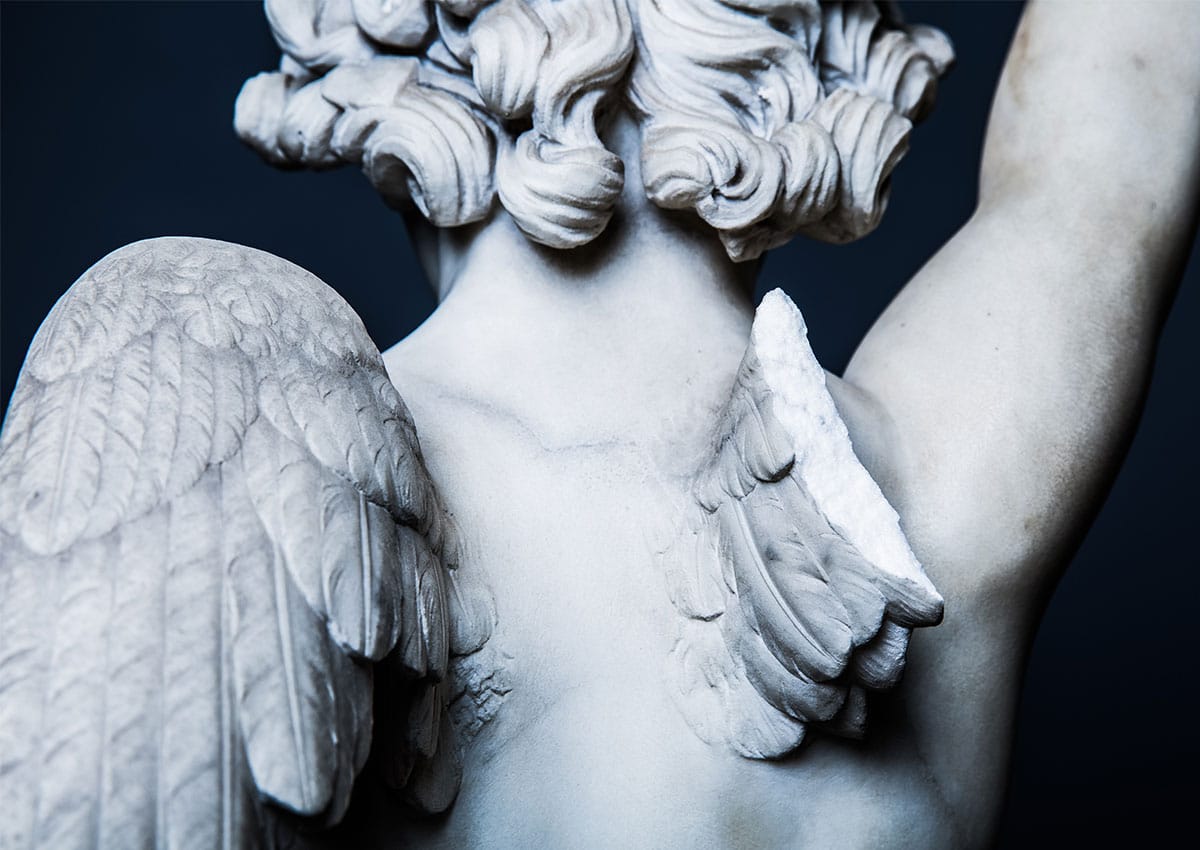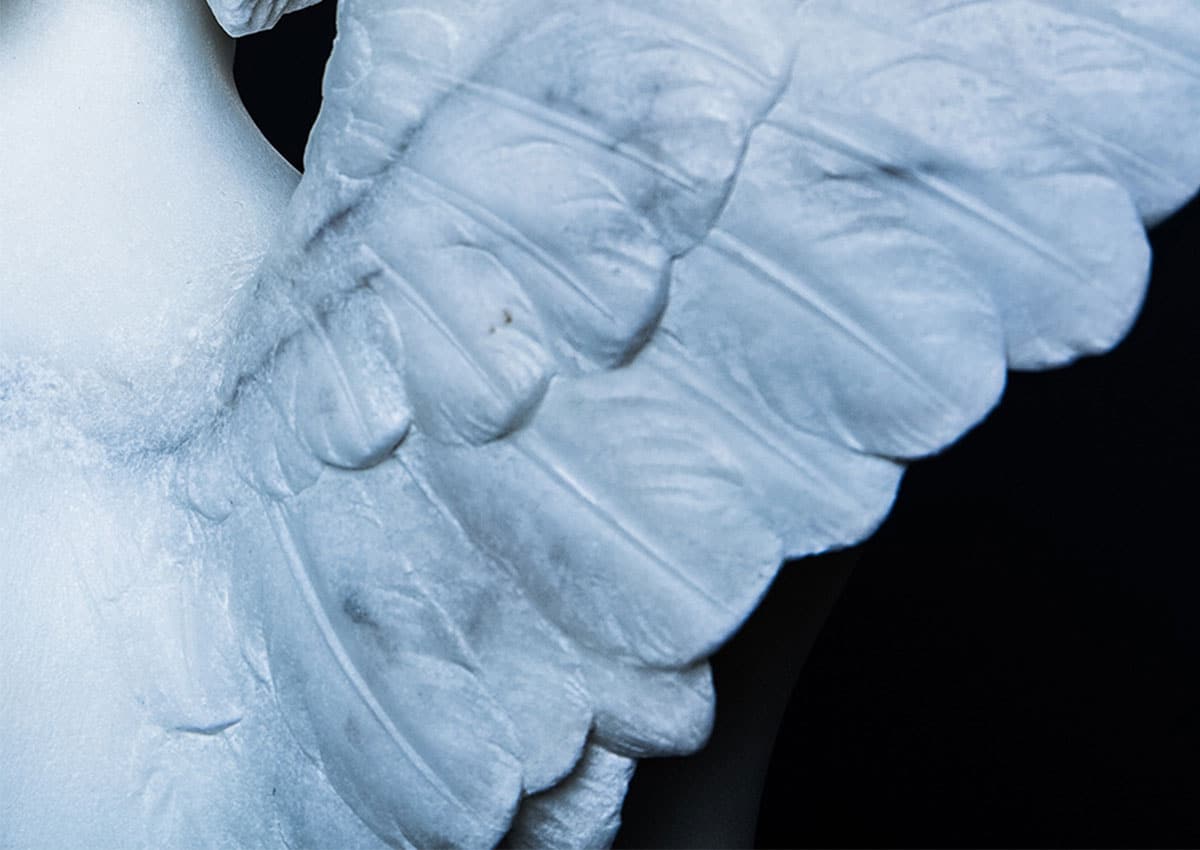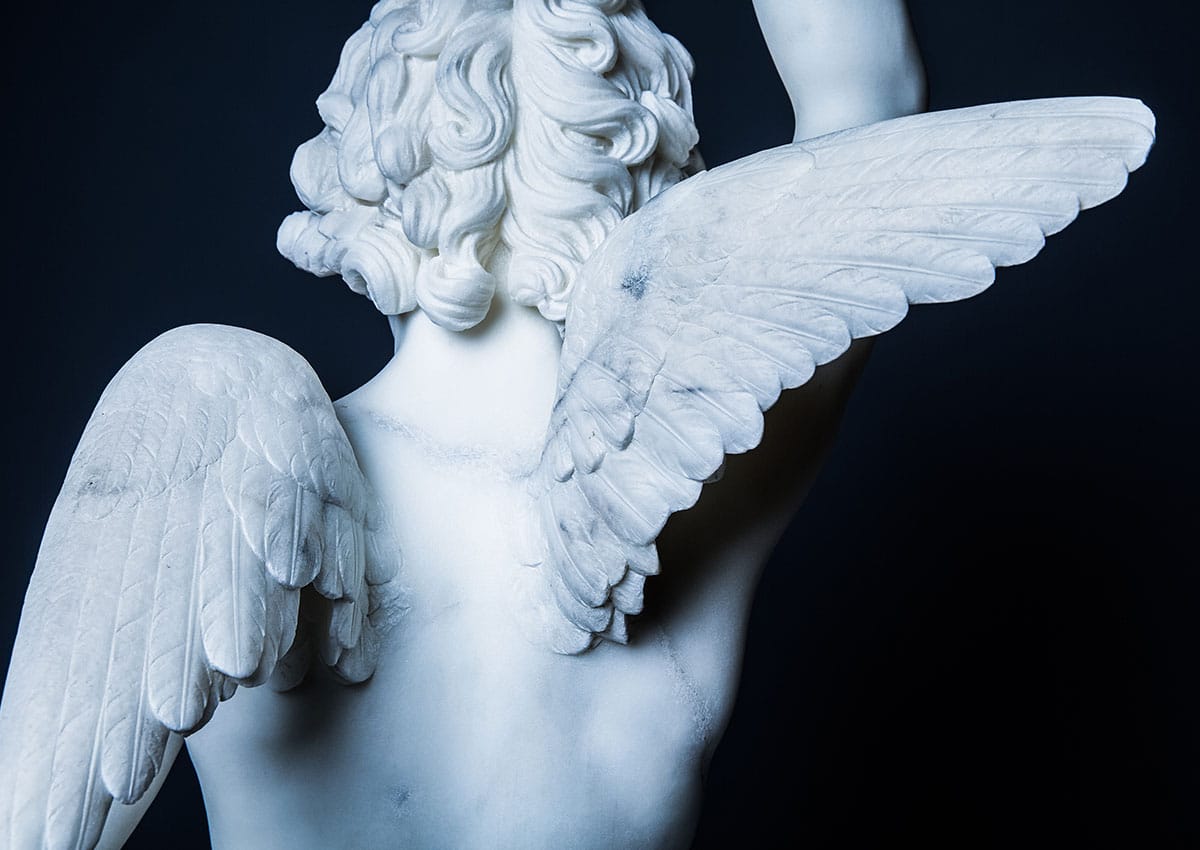 This large marble cherub came in for restoration work because of its broken wing. Conscious of the size and weight of the broken element, we drilled the wing and inserted a dowel to strengthen the repair and prevent the likelihood of repeat damage along the point of weakness.
The break edges were carefully bonded together. Any remaining gaps or small missing sections of marble along the repair were filled using conservation-grade materials and the whole area was painstakingly retouched to achieve a result that is virtually flawless to the naked eye.
At the client's request, the cherub was also cleaned with a poultice to remove the thick layer of dirt that was obscuring the more intricate detailing on the statue.
Conservation Cleaning a Smoke Damaged Marble Grade II Listed Fireplace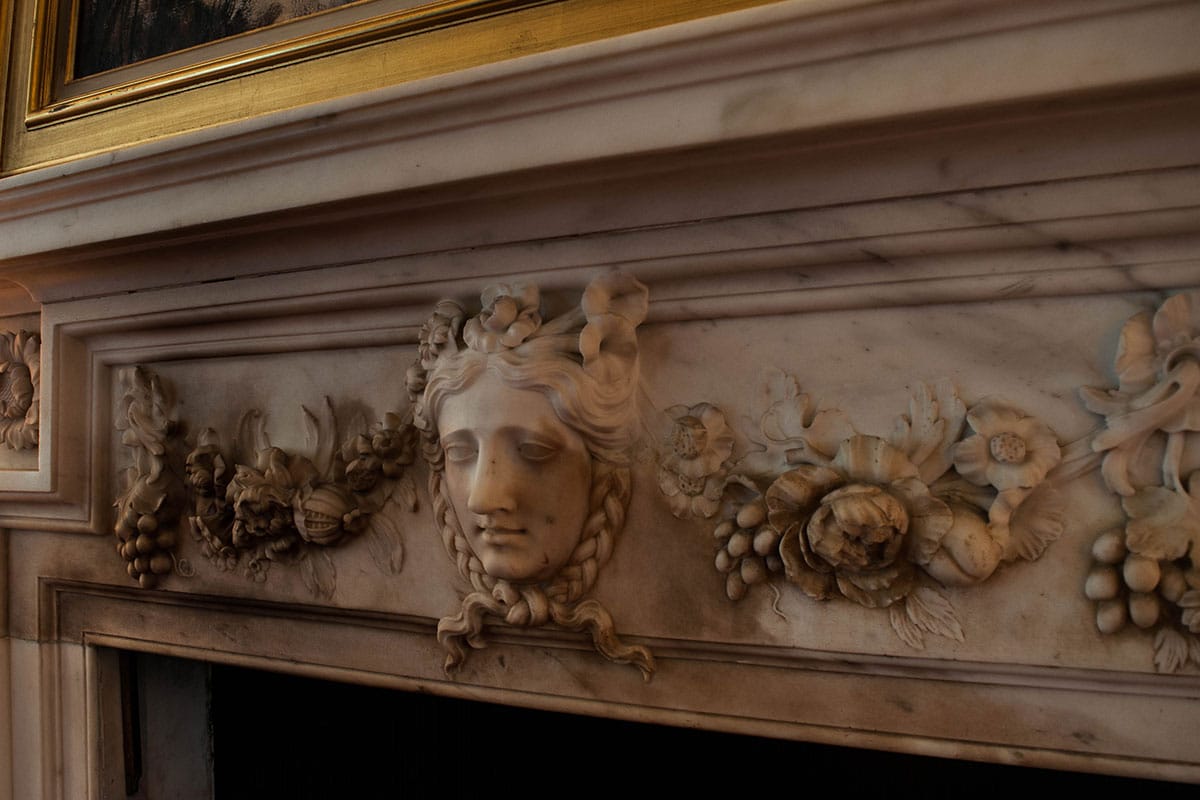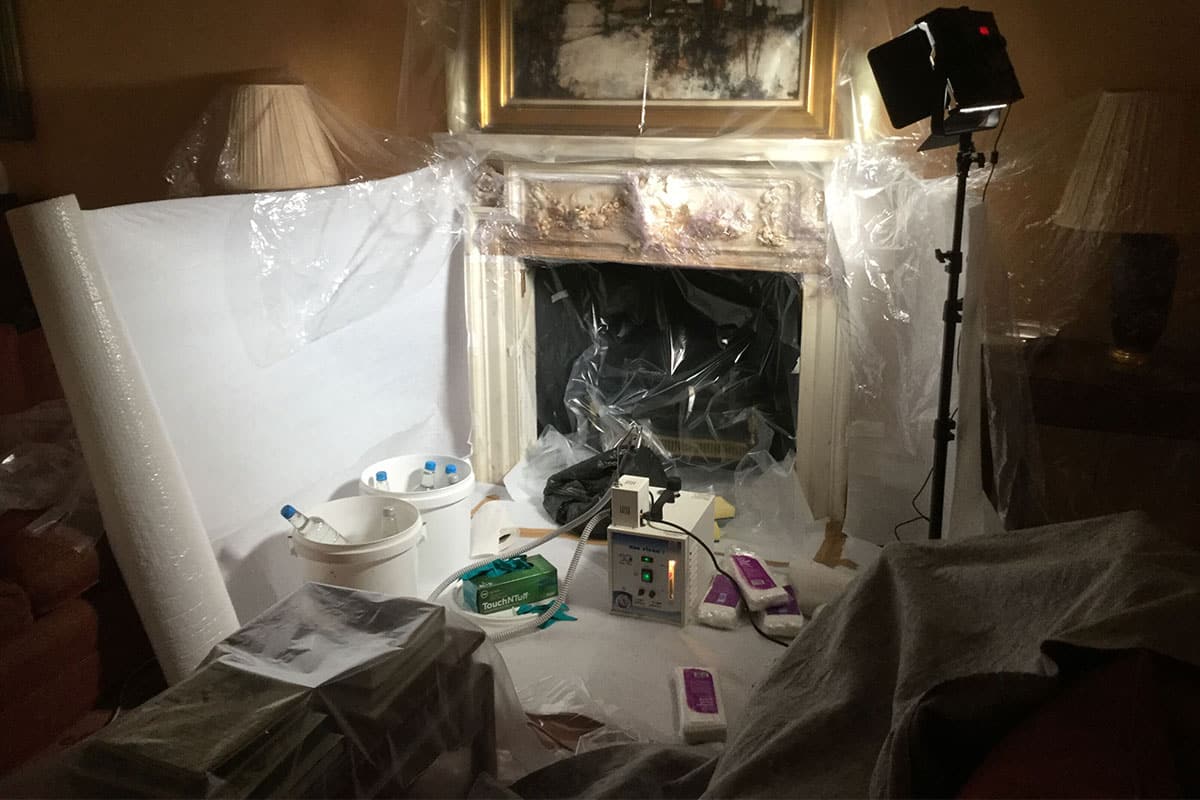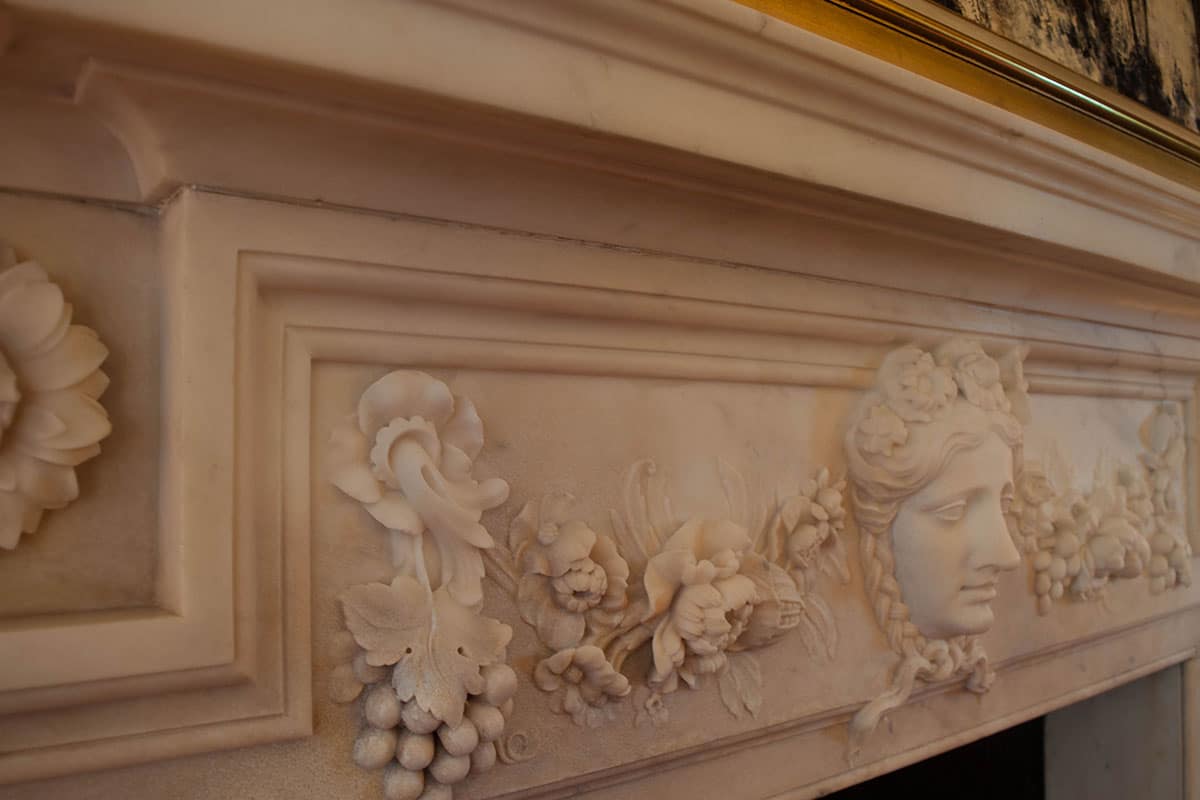 An internal fault in the flue, resulted in substantial smoke damage to this Grade II Listed 18th Century Henry Flitcroft fireplace in a private London house. The abrasive soot was carefully removed using a poultice method to avoid irrevocably scratching the marble. The affected area was then painstakingly retouched.
Restoring a Smashed Marble Urn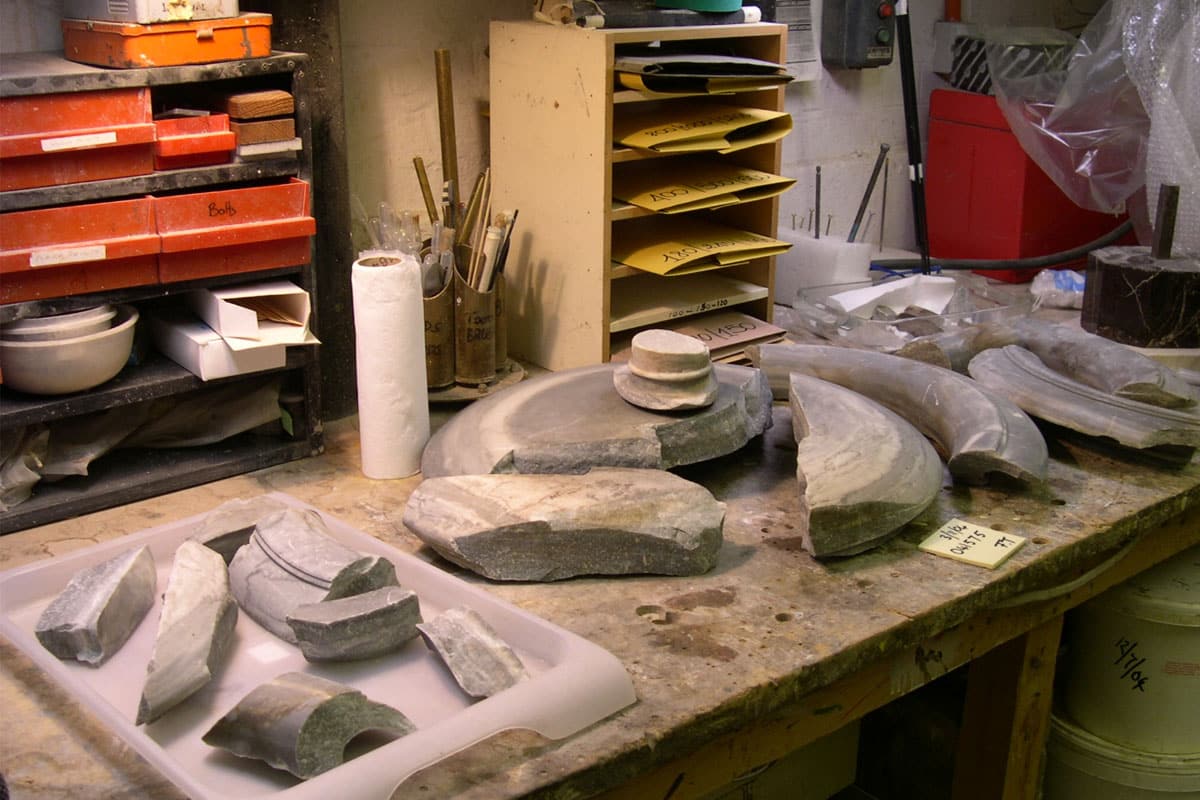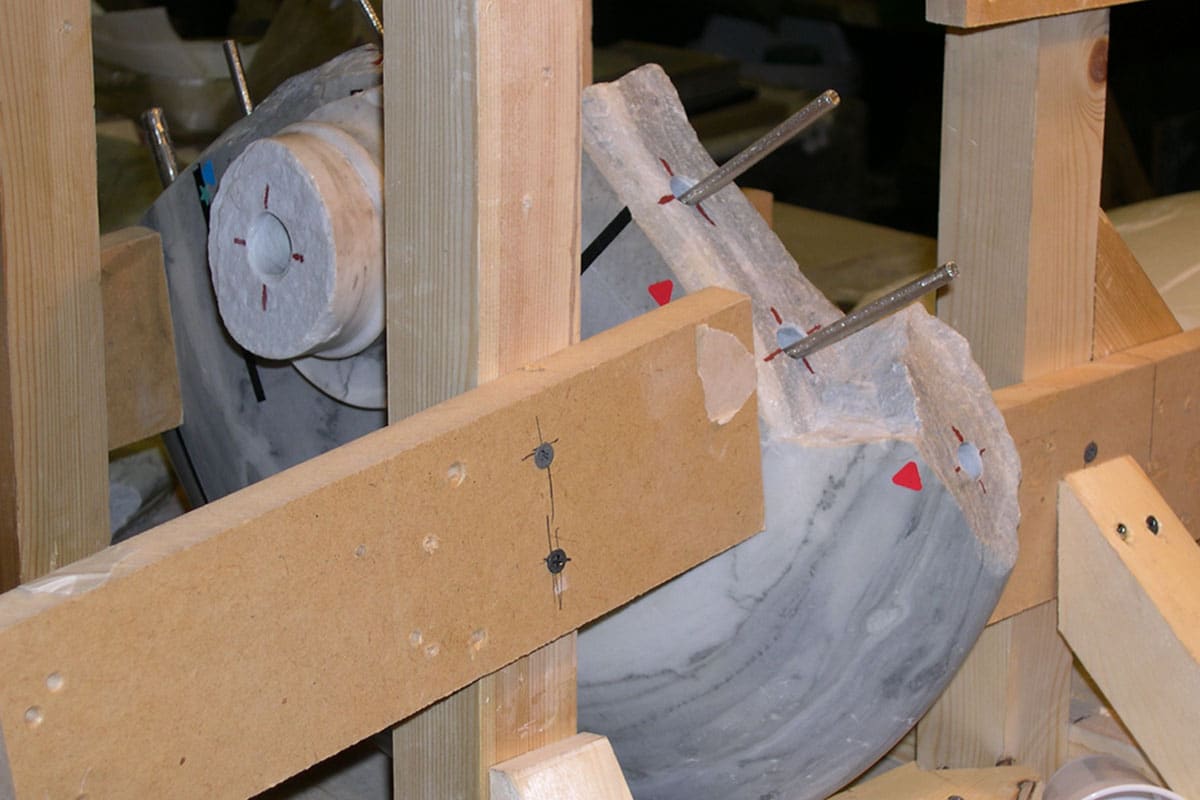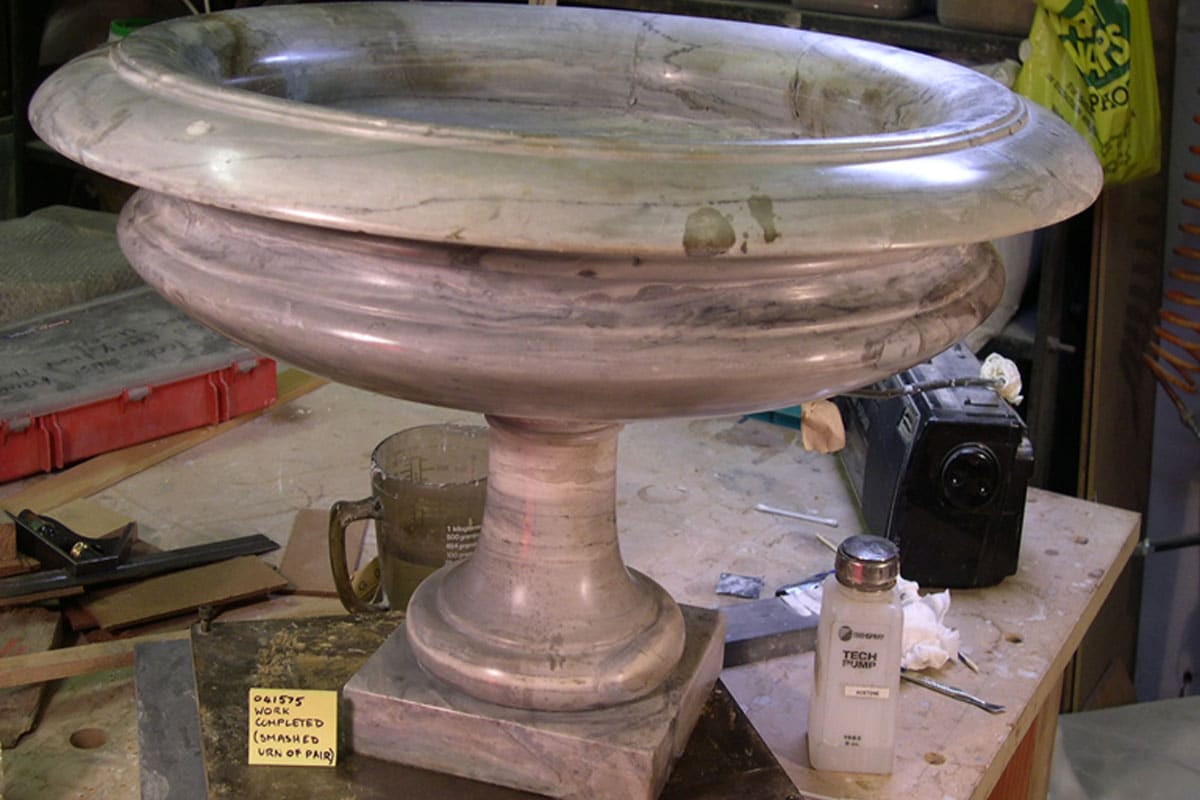 The damage to this 19th Century marble tazza occurred during its removal following a house fire. All of the sections had to be thoroughly cleaned to remove the soot deposits, and then drilled and dowelled together using stainless steel rods. The repairs then had to be filled and retouched. The repair lines were discreet and blended in with the veining of the marble.