We Take on Projects of All Size - No Matter How Large or Small!
RESTORATION & CONSERVATION SERVICES | HISTORIC HOUSES
Providing World Class Conservation, Restoration and Consultancy Services to Historic Houses, Buildings and Monuments – Since 1966
"One of the most formidable English restoration companies, Plowden & Smith works tirelessly to restore English history back to its highest quality"
– Four Walls Magazine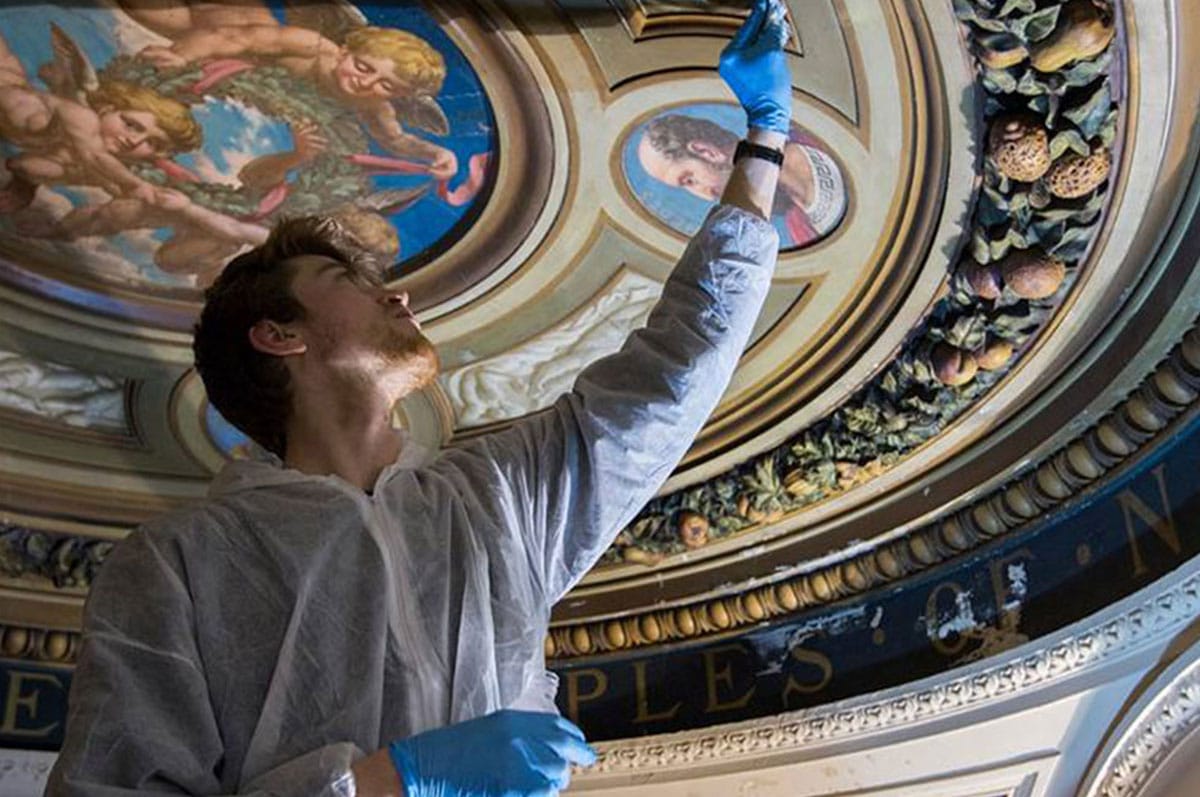 Our Work on Historic Houses and Buildings | Expertise You Can Trust
We provide high-quality cost-effective restoration solutions for interior and exterior architectural elements. In addition to remedial and interventive restoration, our work encompasses monitoring, regular maintenance, conservation cleaning and condition surveys.
Our expertise extends to architectural features made from stone, metal, wood, ceramic, painted and gilded surfaces; as well as statuary, tapestries, chandeliers, fine art and furniture collections and archival records.
Plowden & Smith operates as the main contractor, sub-contractor and as a specialist consultant.
We work with Conservation Architects, Heritage Building Companies, Heritage Trusts and Private Individuals. We welcome invitations to tender.
There are many Advantages of Working with Plowden & Smith on Your Historic House or Building Project…
Highest professional and ethical standards, and with a large team of specialist fine art conservators the quality of our work and attention to detail is unmatched.

Vast experience preparing professional surveys to support funding applications.

Conservation Manager overseeing every project, and the most thorough protection systems in place – you really can leave us to get on with our work, confident in the knowledge that we will look after every single little detail.

Peace of mind. As professional conservators and art handlers, we undertake thorough preliminary risk assessments to develop an appropriate risk management strategy, including professionally packing and removing vulnerable objects.

Range of our services means that often we can take on every aspect of a large interior renovation project, saving our clients time, money and hassle.

We have a wealth of industry contacts and an excellent trusted support network of suppliers your project can take advantage of.
To find out more about our services for historic houses, or to discuss a project
Some of the Services we offer to Historic Houses, Buildings and Estates include:
(Please click to expand)
Restoring Wood Doors, Panelling and Floors
We restore a wide range of interior and exterior wooden architectural features, including elements made from wood that has dried out and split, or made from wood that has warped due to prolonged exposure to moisture. In addition to restoring damage, our specialist team carry out regular maintenance work to ensure that wooden architectural elements remain in good condition.
We have vast experience of safely removing and refitting historic panelling, a procedure often needed to allow a damp wall to be treated, or to allow pipes and wiring to be repaired, removed or fitted. In addition to restoring damage, where necessary, we can replicate missing sections of wood panelling and flooring, drawing on our extensive collection of historic timber. When combined with our expertise in finishing techniques, the end result will be a very near perfect match that no one will detect!
Selected Case Study: Kings College Chapel on the Strand
Kings College Chapel is a Grade I listed 19th century chapel located in the Strand Campus of King's College London, London.
It was originally designed by Sir Robert Smirke in 1831, although the Renaissance Revival chapel seen today was redesigned by the prominent Victorian Gothic architect Sir George Gilbert Scott in 1864.
Plowden & Smith was employed by the main building contractor on this project, Kirkman and Jordain Ltd., to restore and polish the solid timber floors to the central aisle and altar; carrying out any necessary repair work, including restoring losses, consolidating lifting sections of wood, as needed; and to restore the magnificent wood panelling to the rear of the altar. The ornamental cast structural columns were cleaned back and restored using gold leaf and paints to the bottom half to match top half.
Restoring the 18th Century Mahogany Front Doors at Penrice Castle, Swansea
Penrice Castle Estate in the beautiful Gower peninsula has been in same family continuously since the 13th Century. Two attempts were made by the owner to upgrade the protective finish on the 18th Century property's original mahogany front doors. However, both applications of a modern polyurethane varnish quickly started to peel and delaminate. After the second failed attempt, the owner asked us to find a solution to the problem.
By examining photographs of the peeling finish, and by understanding what previous treatments had been applied to the door (a testament to the importance of keeping good maintenance records), our Head of Furniture Restoration and Projects was able to put together a comprehensive treatment proposal and estimate without a site visit being needed.
The cause of the delaminating varnish was three-fold: firstly; the door had historically been treated with linseed oil, something that polyurethane varnish cannot bind to; secondly; the key to polyurethane varnish working successfully is being applied to a completely clean surface. This means that unlike some finishes that can be annually 'topped up', polyurethane varnish needs to be stripped and reapplied. Thirdly; the protective barrier layer polyurethane varnish forms lacks the flexibility needed for an external wood door that will inevitably experience a reasonable degree of contraction and expansion. Combine all these potential problems together and the reason for the rapid peeling and delaminating becomes clear.
In August 2021, two specialists from Plowden & Smith travelled from South London to the Penrice Castle Estate to restore and refinish the doors. The key to making any finish last is to ensure that previous surface coatings, along with any dirt, have been thoroughly removed; therefore, the first stage of treatment was to chemically strip the remaining polyurethane varnish and thoroughly clean the doors.
At this stage any cracks and splits in the timber were filled and finally, coatings of protective Tung oil applied to the doors. Tung oil was chosen by Tom Palmer because its absorbent quality means that when applied its coats are much thinner than other finishes, which sit on the surface. This means that the ornate carving on the doors would retain the crispest possible appearance. The other advantage of the Tung oil finish is that it can be maintained in-house with the greatest level of ease. To this end, Plowden & Smith put together an Aftercare and Maintenance Plan for the owner.
---
To find out more about our services for historic houses, or to discuss a project
Restoring and Cleaning Chandeliers and Lighting
Our highly skilled conservators clean and restore chandeliers, and other interior and exterior lighting. Our work with chandeliers takes in a wide range of materials, including brass, bronze, tin, copper, wood, glass and crystal, enabling us to draw on the skills and experience of talented restorers across various specialist departments. Work can be carried out onsite or in our studios, to suit the needs of the project and the requirements of our clients.
Restoration techniques include:
Re-stringing and restoring crystal lustre drops
Restoring losses and replicating missing sections
Realigning and repositioning metal components
Regilding and electroplating
Rewiring
Historic Houses we have Restored Chandeliers for include:
Restoring an extremely large Gothic fire damaged chandelier at Windsor Castle
Restoring Four Water Damaged Chandeliers in a Grade II Listed Residence in Grosvenor Square
---
To find out more about our services for historic houses, or to discuss a project
Cleaning, Relocating & Restoring Fire Surrounds and Fireplaces
Fire surrounds and fireplaces are particularly at risk of suffering smoke damage. Abrasive soot build-up should be professionally removed using specialist conservation techniques to prevent irreversible damage to delicate surfaces.
In addition to the risk of soot build up, some fire surrounds are also made from varieties of stone that are both extremely heavy and incredibly delicate, meaning they are prone to cracking along lines of inherent weakness. This may be the result of sudden impact (for example a mirror or painting falling off the wall); or if incorrectly handled when being moved.
We conservation clean and restore small and large amounts of damage to wood and stone fire surrounds. No matter how extensive the damage, or how many missing sections or elements there are; our impressive stock of period appropriate materials, and specialist skill at hand carving and replicating original aged patination, will ensure a seamless end result. 
Selected Case Study: Grade II Listed 18th Century marble fire surround designed by Henry Flitcroft, private residence
An internal fault in the flue, resulted in substantial smoke damage to this Grade II Listed 18th Century Henry Flitcroft fireplace in a private London house. The abrasive soot was carefully removed using a poultice method to avoid irrevocably scratching the marble. The affected area was then painstakingly retouched.
Other work Cleaning, Moving and Restoring Fire Surrounds and Fireplaces
Restoring damage caused by being incorrect removal and replacing missing sections of carving to two 18th Century painted carved wooden fire surrounds in Listed private residence in Bloomsbury, on behalf of the architects Tatlow Stancer.
---
To find out more about our services for historic houses, or to discuss a project
Restoring Historic Painted Surface Decoration
Painted surfaces are prevalent in historic interiors, encompassing historic painting on plaster, wood and metal.
Our painting restoration and decorative arts departments have vast experience cleaning and consolidating friable substrates, for example unstable plaster or wood; filling areas of loss; and restoring and replicating surface textures and decoration.
Selected Case Study: Grade I Listed Private Residence in Central London
A leak in the roof of an important Grade I Listed private residence in Central London (caused by failure of the lead flashing) resulted in significant water damage to one of the ornately decorated and gilded plaster ceilings, ceiling paintings, as well as scagliola columns within the architectural scheme. In an adjacent room, a heavily embossed and gilded 'anaglypta' style wallpaper required treatment after water ingress caused the metal leaf to tarnish and darken considerably.
Following a thorough site inspection and condition survey to develop a comprehensive method statement, our conservators spent several weeks onsite restoring the plaster ceiling, columns and wallpaper. This included removing water staining, consolidating lifting paint work, filling any plaster losses, as well as restoring and toning in disfiguring cracks.
Consolidation was carried out using Japanese tissue facing with the consolidant itself being applied with a combination of brush and syringe. Losses to the plasterwork were carefully hand filled, and losses to the painted decoration carefully retouched, resulting in a very seamless end result.
Losses to the pictorial plane in one of the cupolas was reinstated to draw the eye away from the damage. A reversible medium was added to this area of retouching to provide the same gloss and refraction of light as the original painted image and varnish. This was particularly important as the light that enters through the cupola has a tendency to change throughout the day.
Following testing, the sections of the scagliola columns affected by the escape of water were carefully cleaned, and any irreversible water marks were toned in with conservation grade materials.
Selected Case Study: Restoring the 17th Century Jean Tijou Exterior Painted Wrought Iron screens at Hampton Court Palace
The French Huguenot ironworker Jean Tijou's major commissions include his work at Kensington Palace, St Paul's Cathedral, and Hampton Court Palace (where he worked between 1689 and 1700).
Plowden & Smith was called in by the team at Historic Royal Palaces to devise and implement a method for cleaning, oiling and waxing the 12 panels and plain railings that make up Hampton Court Palace's famous Tijou Screen.
When it comes to architectural metalwork, the removal of biological matter, including moss and dirt can be challenging. A cleaning process that's too abrasive or too high a pressure could chip away at the metal substrate, or risk damaging any paint or protective surface substances applied to it.
To clean the architectural metalwork we decided to use DOFF steam cleaning (a production of steam which is then applied at varying temperatures and pressures). It is an extremely effective method of removing dirt and other deposits, however it is especially gentle when compared to other forms of cleaning, making it well suited to more delicate surfaces that cannot withstand the thermal shock or abrasion of other cleaning methods.
Once the panels and railings were clean, any patches of loose and flaking paint and corrosion were removed. Where appropriate the metal was treated for rust, and then primed, under-coated and top-coated with four coats of grey lead-based paint. Finally, a layer of protective linseed oil thinned with pure turpentine was applied to all sections of the painted metal.
---
To find out more about our services for historic houses, or to discuss a project
Relocating, Cleaning and Restoring Church Fonts, Pulpits and Pews
Church fonts often weigh in excess of one tonne and should only be moved by an experienced professional. On more than one occasion, we have been called in to repair substantial damage to church fonts and church floors as a result of fonts having been incorrectly moved. Our experienced, Institute of Conservation (Icon) accredited stone conservator has over twenty years-experience working with exceptionally heavy stone objects.
Selected Projects Involving Relocating, Cleaning or Restoring Church Fonts, Pulpits and Pews
Trinity United Reform Church, Wimbledon – Cleaning the Stone Font and Pulpit
St Mary's Abchurch, City of London – Cleaning Oak Pews and Doors
St Mary's Woolnoth, City of London – Cleaning Oak Pulpit
Other services for Churches, Ecclesiastical Buildings and their Contents
Our services for church interiors include the cleaning, conservation and restoration of murals, plasterwork, gilded engraved lettering, and architectural features including fonts, windows and panelling. We also restore ecclesiastical art and artefacts, including paintings on canvas and on board, gilded picture frames, statues, crucifixes, documents and archival records, fine furniture, and silver and silver plate.
---
To find out more about our services for historic houses, or to discuss a project
Gilding and Gilded Decoration
Plowden & Smith restores interior and exterior architectural elements that are fully or partially gilded, including ornate plaster cornices and ceilings.
We work with property owners, estate managers, churches, leading interior designers, architects and building developers on ambitious gilding projects for a wide range of residential, ecclesiastical or commercial historic buildings.
Our decorative arts conservators are skilled in water gilding, oil gilding and acrylic gilding using gold and silver leaf. Depending on the age and existing patina of the surrounding decorative feature and the wishes of the client, this new gilded surface will then be toned in to seamlessly match the appearance of original aged gilded finish.
Our interior gilding services include the application of precious metal leaf to ceiling and wall surfaces, furniture and fine art objects, outside statuary and architectural features. We also restore, replicate and install verre eglomisé glass panels for objects and interior decoration schemes.
Unlike other specialist decorative firms, every member of Plowden & Smith's team is a qualified fine art conservator, guaranteeing the highest level of skill and experience, and outstanding end results on the most challenging projects.
We have been reviving important interiors for over 54 years and our clients know they can rely on us to meet, and frequently exceed, even the highest expectations on projects where nothing less than perfection is good enough.
Featured Case Study: Conserving the 17th Century Speaker's State Coach
Built to convey the power and status of the Speaker of the House of Commons, the 17th Century State Coach of the Speaker of the House of Commons is of great rarity, being one of the oldest carriages in Europe. The coach was in use for state occasions up until the middle of the 20th Century.
The intricate process of conserving the Speaker's state coach included ultra-sound scans as part of our assessment into its condition and to aid our treatment proposal.
The coach had to be thoroughly treated for woodworm infestation and its heavy coat of old, discoloured varnish painstakingly removed to reveal the original gilding.
Over the years, the painted wooden panels had shrunk, resulting in cracking and losses to the paint, which were stabilised, filled and expertly retouched.
The original velvet on the interior panels of the doors was saturated with dust and rapidly deteriorating. Gentle treatment was needed to remove the dust, whilst not dislodging the shedding velvet pile.
A detailed ongoing maintenance conservation programme was compiled for the National Trust Carriage Museum for use by their own conservation team.
Other Interior and Architectural Gilding Projects Include:
• Replicating two large, gilded mirror frames that had been stolen from Danson House, a Grade I Listed Palladian mansion. This project involved working from existing records to closely replicate two new wooden frames and scrolling gesso detailing. The new frames were gilded and then aged to match the missing originals.
• Gilding sections of the balcony in the magnificent Kings Library at the British Museum.
• Gilding the life size bronze goddess statue (sometimes described as Arethusa) surmounting the 'Diana' marble, stone and bronze fountain in Bushy Park (part of the Royal Parks Collection), designed in 1637 for King Charles I.
• Gilding the ornate clock face on Cliveden Clock Tower at Cliveden House, formerly the home of the Astor family.
• Restoring damage to an original 19th Century gilded ceiling moulding in a private residence in South West London. This project involved regilding the restored sections of moulding, and then toning these areas in to seamlessly match the original gilding.
---
To find out more about our services for historic houses, or to discuss a project
Letter Cutting & Carving
We offer traditional wood carving, stone carving and metal cutting services to restore broken or eroded letters on headstones, memorials, monuments, plaques etc. All our work is carried out by hand and includes re-cutting, painting and gilding characters as required. Depending on the nature of this project, this work can be carried out on site.
Selected Case Study: Restoring the Brentwood Monument
First erected in 1909, the 2.85m high Brentwood Monument consists of a pillar of pink Peterhead granite formed from two identical cylindrical stones, inscribed with important events which the antiquarian sponsors of the Bentwood Monument wanted to have commemorated.
At some stage in the monument's history, the two stones had been taken apart and unsympathetically cemented back together. The granite itself was dirty and weathered; and the V-cut lettering was badly eroded with some characters were no longer legible.
Having carefully examined the monument, our conservators conservation cleaned the whole monument, removed around 2.5 metres of grey cement from the stone drum and replaced it with a carefully colour-matched mortar incorporating brick dust and aggregates to achieve a colour and speckle match sympathetic to the pink Peterhead granite.
To restore the eroded lettering, our specialist decorative surfaces conservator then repainted approximately 1,050 letters, which made up the various inscriptions. With no sharp line to follow between the incised letters and a rusticated eroded surface, this work demanding an experienced hand to ensure that each letter painted was straight and true.
Restoring the Brentwood Monument was a fascinating project and it was extremely satisfying for our onsite team to witness first-hand the high levels of local interest in reviving this landmark.
Historic House and Building Façade Cleaning
Although the gradual build-up of dirt on the facades of historic houses may be visually desirable as a reflection of their age and history, soiling can also be a potential source of façade decay and even structural damage.
As part of a property's long term maintenance programme, buildings should periodically be appropriately and sympathetically cleaned.
Selected Case Study: Cleaning the Façade of the Garrick Club
Plowden & Smith was commissioned by the Garrick Club House Committee to undertake cleaning trials to create a method statement for cleaning the façade of the 19th Century Garrick Club building, and to then carry out the work.
Built in 1864, the building housing the exclusive Garrick Club in the heart of London's bustling theatreland, had never been cleaned in the course of its history. This meant that the façade was covered in a black sulphated crust that had become so thick it had started to cause the lime render to delaminate with sections falling onto the busy Covent Garden street below, representing a clear health and safety risk.
Finding the best method for removing the sulphated crust and general build-up of dirt was not straight forward: the bonds between the layers of render were potential weak spots that could fail if excessive amounts of water were used for cleaning. This meant that common cleaning methods for building exteriors, including high pressure water systems such as JOS and DOFF were not appropriate as the large amounts of water required for both these methods risked further delamination of the render.
Our cleaning trials identified that a poulticing technique commonly used in ceramic and sculpture conservation could be successfully used for cleaning the façade of the building. Gels made from Laponite RD and water were particularly efficient at maximising water contact with the building's surface without causing saturation of the structure or substrate. Furthermore, Laponite RD (unlike some materials used in the cleaning of buildings) has few associated health and safety risks for the team involved, the public or the environment – always a key concern of any project of ours.
When the surface was still damp the Laponite RD was applied and immediately covered in cling film and left on for several days before being washed off. This resulted in the complete removal of the black sulphation and also revealed the original straw colour of the render. The final surface finish was even and importantly, retained a patination consistent with the age of the building. Our team were careful not to over clean the sculptural details on the façade of the building, including scrolls and swags because if they were over cleaned these details would look flat and washed out from ground level, losing their sculptural impact. This methodology and end result matched the original brief, which was to achieve a sympathetic rather than a severe clean.
---
To find out more about our services for historic houses, or to discuss a project
Graffiti Removal & Statue Protection
Removing graffiti promptly reduces 'copy cat' behaviour and subsequent further damage.
We are recognised as leading authorities in the specialist removal of graffiti from public art and objects of local interest, as well as historic buildings, because we work in a way that protects the surface and structure of the defaced object.
We also offer anti-graffiti coating systems that are empathetic to the porosity and appearance of the surface.
Selected Case Study: Graffiti removal from the Poland Street Car Park Murals, Soho
One particularly interesting graffiti removal project of ours was carried out on behalf of Westminster City Council, and involved the comprehensive restoration of two 1950s murals advertising BP Energol and Regent Remoulds (both car servicing companies)
These advertising murals are located at the entrance of a multi-storey carpark on Poland Street, Soho, and since the late 2000s had been gradually covered over by different graffiti tags and throw-ups. By the beginning of 2021, the repetitive act of graffitiing over the murals finally led to the surfaces being completely overpainted with a thick layer of industrial household emulsion paint.
After reviewing pictures of the exposed murals, eight areas for graffiti removal testing were chosen by our conservators to help them establish the optimum method for removing both the layer of white household emulsion overpaint and the graffiti.
Following rigorous testing, the white overpaint and graffiti were successfully removed using mechanical techniques , combined with solvent based solutions to soften paint areas and remove paint residues.
After the overpaint coatings removal, the now-revealed original murals were carefully surface cleaned to remove any residual dirt and historic soiling to further revive their appearance.
Consolidation of structural issues encountered during the cleaning was carried out where necessary using emulsion-based adhesives.
Finally a sacrificial protective wax layer was applied to the paint surface to ensure that any future graffiti could be easily removed without undue risk of the murals themselves being damaged.
Selected Case Study: Graffiti Removal from the Thames Tide Gauge Hut, Westminster
The Grade II Listed Thames Tide Gauge Hut on Victoria Embankment has been a fixed part of the Thames landscape for many years. The structure is old, yet the instruments set up inside are up-to-date and functional, capturing information on the depth of the river every fifteen minutes.
In 2019, we were approached to restore the Thames Tide Gauge Hut. The copper cladding was covered in stickers, adhesive and graffiti. There were numerous splits and holes in the copper cladding, which may have been caused by vandalism or natural deterioration. As result of this, water was seeping through the copper sheet and becoming trapped between the copper and its plywood backing, causing rotting and mould to the wooden interior. Seven out of eight copper roof ridge end caps were either missing or had deteriorated beyond repair. Finally, the door to the Thames Tide Gauge Hut was damaged.
Once we had carried out a condition survey to establish the extent of the damage, preliminary cleaning tests helped us devise the most appropriate method of cleaning the copper. Our treatment had to be one that would prove effective in removing the build-up of stickers, adhesive, painted markings and graffiti, whilst disturbing as little of the copper's original patination as possible.
During cleaning, special care was taken by our conservators to prevent water ingress into the interior of the structure, as well as making sure that the any runoff from chemicals used to clean small, localised areas was minimised, collected and disposed of in the appropriate manner.
All splits and holes were patch restored with new sections of copper and replacement copper roof ridges and caps fabricated.
We repatinated the majority of the copper surfaces to ensure a consistent, aged-green colouration to the copper.
This proved extremely effective in lightening and greening the darker panels most altered through sticker application, as well as reducing the visibility of scratched-in graffiti.
The copper roof had discoloured as a result of acidic bird droppings, and its greatly improved through repatination. Any new copper patches and repairs were also patinated to blend seamlessly with the historic copper.
Once our restoration to the copper door face had finished, new weatherfast plywood backing was nailed in place with copper clout nails, to replicate the original fixing method. New frosted strengthened glass was fitted to the door, preventing the contents of the hut being viewed in line with a request from the Environment Agency.
Due to the level of damage to the moulding below the door, a new section had to be formed, which we carefully patinated to seamlessly with the original aged copper.
Throughout the restoration process, as many original features of the hut as possible were restored and retained, including the original lock, hinges, hook, rear hatch bolt, and damaged door, which was carefully restored at our workshop.
---
To find out more about our services for historic houses, or to discuss a project
Mosaic Cleaning and Restoration
We offer a full range of conservation and restoration services to bring stone, glass and tiled mosaics back to former glory. Mosaic restoration services include cleaning, sealing and polishing mosaic floors, hallways and garden paths; restoring cracks; consolidating loose tiles; and restoring losses to mosaic floors and murals.
Featured Case Study: Small Mosaic by Gilbert Bayes
This small Gilbert Bayes mosaic came into our studio in very poor condition with various missing sections of coloured glass. The mosaic features a concrete substrate, a material with poor tensile strength, which meant that stabilising the artwork (necessary to carry out the restoration treatment) by doweling into the mosaic was not a viable option. Instead, our Head of Stone Conservation decided to mount the mosaic on a support backing made from Hexlite, which he then carefully coloured along the edges to simulate the original concrete substrate. This reinforcement would allow the mosaic to be bonded.
As sourcing an exact match for the green glass used in the mosaic proved to be extremely difficult, we created suitable replacement fragments in resin in our studio using a press mould taken from the existing original glass to ensure our replacements achieved achieve the same texture as the glass. These resin fragments were then cut to the correct shape and pieced in.
Other Mosaic Cleaning and Restoration Work
Relocating a glass mosaic by Brian Clarke FRIBA FRSA from a property bordering Green Park into the client's new home, by carefully re-mounting the mosaic onto custom-made frames.
---
To find out more about our services for historic houses, or to discuss a project
Restoring Terracotta and Faience
Historic house interiors often feature terracotta and faience elements, and the delicate nature of these surfaces are easily scratched as well as prone to more substantial damage.
Selected Case Study: The Ceramic Staircase, Victoria and Albert Museum
The Ceramic Staircase at the Victoria and Albert Museum was built between 1865 and 1871 and reflects the V&A's first director's emphasis on the use of ceramics throughout the fabric of the building to demonstrate the material's versatility; as well as providing a richly-coloured backdrop for the objects on display.
The wall panels, ceiling vaults and domes of the Ceramic Staircase are lined with ceramic paintings representing literature, music, art and religion; as well as intricate enamelled terracotta mouldings known as 'Della Robbia' ware.
A combination of time, building work in the museum and the museum's central London location, had resulted in the upper part of the Ceramic Staircase accumulating a thick layer of ingrained dust and pollution.
A team of our conservators removed surface dirt, dust and accretions using a method that included dry cleaning the surfaces with a soft brush and vacuum to remove the loose dust, and then wet cleaning with a carefully mixed solution that contained tri-ammonium citrate. During the cleaning process, any lifting or delaminating sections of the decorative scheme were consolidated or stabilised as far as possible. Timing was crucial to the successful completion of this project, therefore we carried out as much of the work as possible in a single week block.
The end result is a much crisper and brighter interior, allowing visitors to fully appreciate the intricate detailing, and wonderful vibrant colours of this important piece of museum architecture.
---
To find out more about our services for historic houses, or to discuss a project
Uplifting, Craning, Slinging and Moving Large Historic Objects
Large historic objects are particularly vulnerable when being moved for relocation or restoration. It is essential that the team relocating the object have appropriate training and equipment to minimise the risks to all parties.
We offer uplifting, craning and slinging services; as well as consultancy or support services to shipping teams working with large and heavy items where there is a heightened risk of damage. To find out more about our range of bespoke services, please contact us to discuss your requirements.
Selected Case Study: Siverdale Mining Tribute Monument (PSSA Finalist: Marsh Award for Best Conservation or Restoration of a Public Sculpture or Fountain, 2021)
During the second half of 2020, a team of our conservators carried out comprehensive conservation and restoration to a large-scale bronze mining tribute monument.
On permanent outdoor display since 1996 the monument had deteriorated significantly over the years and by 2020 was in need of radical intervention to prevent this important local tribute to the workers of the (now-closed) Silverdale colliery degrading beyond repair.
Following an initial onsite assessment, our metal conservator concluded that it was necessary to remove the figure, the wagon, the railway sleeper and sleeper brackets to restore them in our studio. The deinstall was carried out using a Hirab crane system.
Removing the monument also allowed our team proper access to restore the track bed, including replacing the old rotten sleepers with new ones treated with several layers of preservative, including a Creosote oil-based preservative to give added longevity and improved colour.
Once in our studio, our specialists restored the bronze elements we had removed from the brick plinth, including the 'coal wagon'. This involved us fabricating a new better-designed galvanised internal frame; hot waxing and refitting the original outer patinated brass cladding elements; shot blasting and repainting the original wheels and supporting beams; and renewing and painting the concrete 'coal' top. We also shot blasted and repainted the rails, chairs and chairscrew.
The figure of the miner and bronze plaques usually mounted to the sides of the brick plinth were cleaned and hot waxed to revive their appearance (and in the case of the plaques improve readability) and provide them with additional protection from the elements.
Finally, we cleaned the brick plinth prior to the reinstatement of the monument.
The miners' tribute contains many layers of meaning to Silverdale and its people; and its preservation was recognised as being extremely important for the local community and for the wider social historical context of Britain's mining history.
Other work Uplifting, craning, slinging and moving large historic objects
• Relocating and wall mounting a heavy stone plaque at the Royal Institution
Our senior stone conservator spent re-located a huge marble plaque of noted scientist Sir James Dewar. The Dewar Plaque was previously installed at 21 Albemarle Street in the grand entrance staircase and our Head of Stone Conservation was responsible for carefully removing the plaque and ensuring that its new location on the lower ground floor was prepared and strengthened suitably to re-hang the plaque safely.
• Relocating and dismantling and rebuilding the sectional stone display plinth for the Henry Cheer sculpture, Oxford
---
To find out more about our services for historic houses, or to discuss a project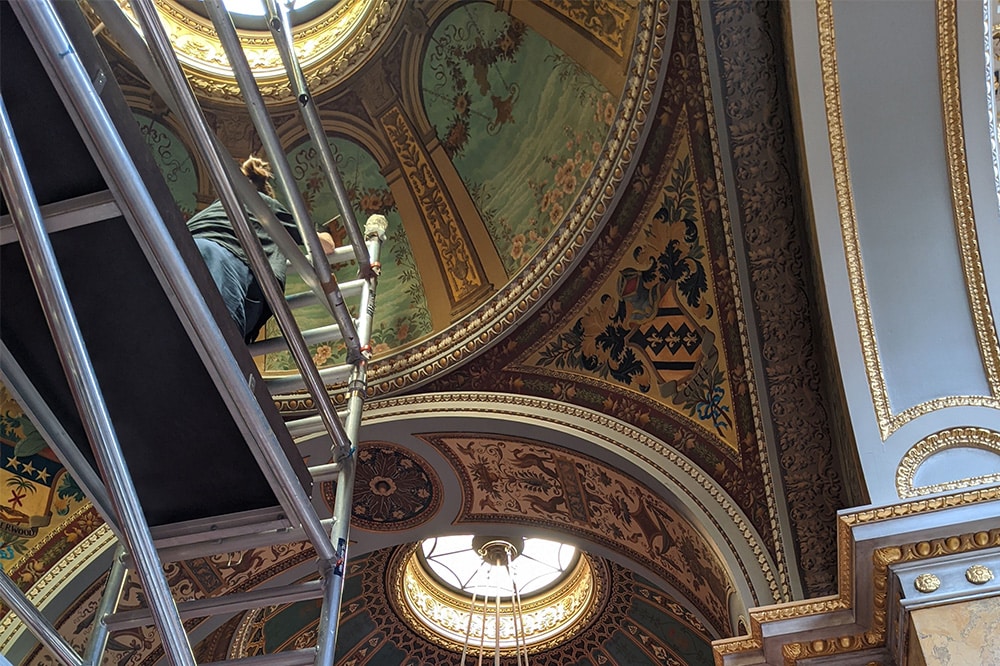 Historic houses come with their own unique set of challenges, including foundation faults, leaking roofs, poor drainage and susceptibility to fire and flooding, all of which can cause damage to interior decorative elements.
For over 50 years, we have worked extensively with the owners and custodians of historic houses, as well as architects, surveyors, building consultants, specialist insurers and lawyers focusing on heritage property.
Over this period, our specialist restoration expertise has earned us a formidable reputation and we have worked on many important historic houses and their collections. High profile projects have included restoring a badly fire damaged chandelier in Royal Collection at Windsor Castle; restoring the highly ornate wrought iron entrance gates at St George's Chapel, Windsor Castle; restoring the painted 'marble' effect skirting boards at Osborne House; repairing the floor and reviving the wooden bookcases and balustrades in the Kings Library at the British Museum; restoring cracked plaster and peeling gilded decoration on the 19th Century Queen Victoria frieze above the Royal Opera House stage; restoring the panelling and ceiling at the Art Deco Daily Express Building, Fleet Street, conservation cleaning the stone façade of the Garrick Club using an innovative poultice technique, and cleaning and consolidating the ceramic staircase at the Victoria & Albert Museum.
Our specialist skill encompasses regular maintenance treatments, conservation cleaning; consolidating degrading materials; and extensive restoration processes to pieces that have suffered major damage. We take on small and large projects in the UK and around the world.
We are an approved restorer for a number of leading insurance firms, including Hiscox and AXA XL.
If you are interested in a service that you do not see mentioned, please do check to see if we offer it with a member of our client services team on 020 8874 4005, or emailing us at info@plowden-smith.com
To find out more about our services for historic houses, or to discuss a project