RESTORATION & CONSERVATION SERVICES | FINE ART RESTORATION | PICTURE FRAMING AND PICTURE FRAME RESTORATION
Picture Framing | Bespoke Picture Frames & Antique Picture Frame Restoration in London
For over 50 years, we have been making beautiful bespoke picture frames that shows off art to its best advantage.
Our services include custom made traditional and contemporary picture frames, Perspex boxes and innovative custom display solutions, as well as high-quality picture frame restoration services.
We work with artists, galleries, museums, auction houses, interior designers, private clients and corporate collections.
The appearance of every work of art can be immeasurably enhanced with a carefully designed and beautifully finished handmade picture frame.
Our expertise in designing, hand making and custom finishing picture frames has long made us the trusted and preferred choice of leading artists, art galleries, independent curators, interiors designers and private collectors seeking the perfect frame to show off a much-loved work.
From the way the art is mounted within the picture frame, to the style and finish of the picture frame itself, no detail is too small for us.
Whether you desire a stylish float mount for a contemporary screen print, a gilt gesso picture frame for a traditional oil painting, or a Perspex box for a contemporary mixed-media installation; we have the creativity and skill to design the perfect display solution, very often exceeding the already high expectations of our clients.
We also offer a level of conservation expertise unmatched by any other professional framer, with our indepth understanding of the most appropriate framing approach to best protect your art from potential negative environmental conditions, for example fluctuating heat, humidity, UV light etc..
A Fuss-Free, Door to Door Picture Framing Service
Not only do we create beautiful bespoke picture frames, if you desire it our specialist team can collect, deliver and rehang your newly framed artwork.
Furthermore, if you would like the art to receive some specialist attention from one of our conservators in anticipation of being reframed, we have conservation departments in every single media. Our conservation and restoration expertise encompasses paintings, prints, pastels, drawings, as well as two and three dimensional mixed media installations. We also take on more unusual framing projects, including making frames for football shirts, guitars and medals.
Our all-encompassing service saves you time and ensures a fuss-free, easy experience.
You Know you are in Safe Hands
As leading fine art conservators, all our mounts, backboards, glazes, and hinging methods are conservation grade. Whilst your art is in our care, it will be kept in our secure, climate-controlled art store for total piece of mind.
Every Picture Frame is Bespoke, Hand Finished and Created around Your Requirements
Every Plowden & Smith picture frame is unique and created around the precise requirements of you and your artwork.
Sometimes, our clients have a very clear idea of what they want, and sometimes our clients prefer a little guidance about which mounting and framing styles would best suit their artwork. We are always happy to provide as much or as little guidance as our clients need, drawing on our 55 years' experience of creating beautiful picture frames for a wide variety of professional and private clients.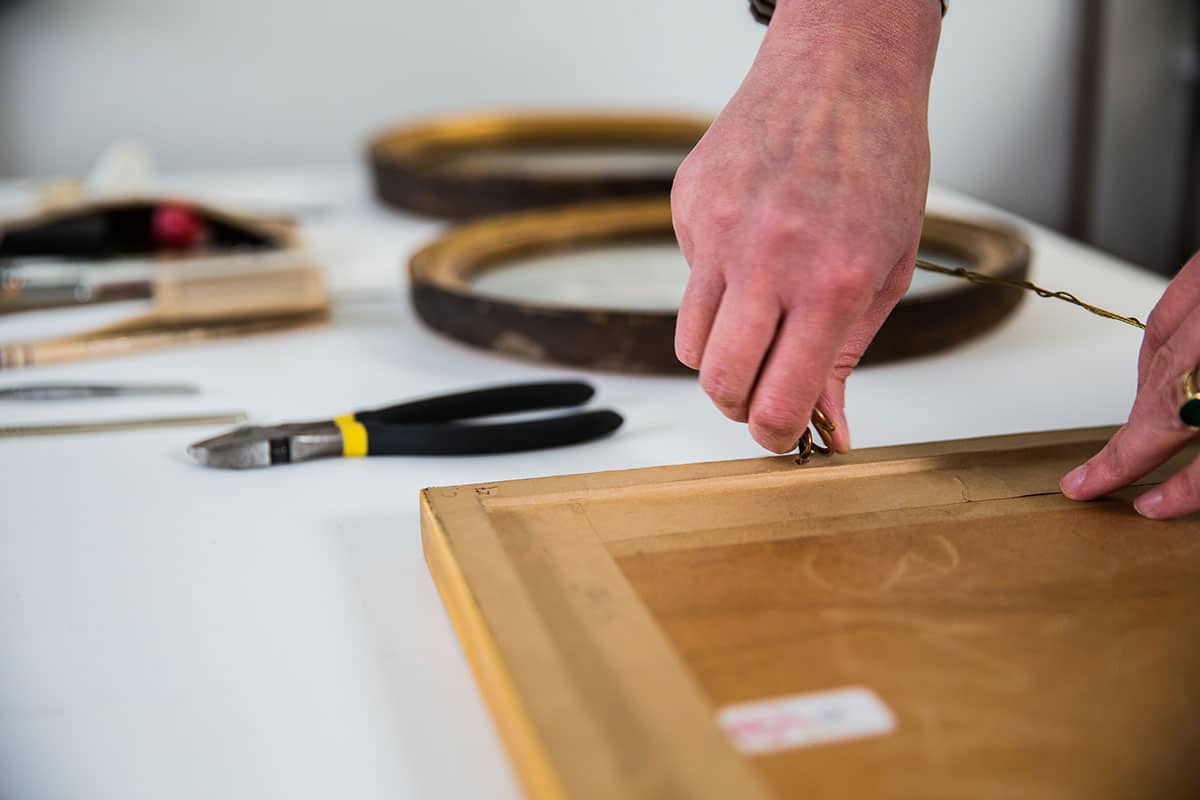 Bespoke Picture Frames
Our bespoke picture frames include:
Traditional Picture Frames
Modern Picture Frames
Contemporary Picture Frames
Metal Picture Frames
Perspex Boxes
Light Boxes
Bespoke Picture Frame Finishes
our bespoke picture frame finishes include:
Gilding
Patinated wood
Painted wood
Patinated metal
Bespoke Picture Frame Mounts
different styles of mounting we use include:
Float Mount
Floating Forward Mount
Edge to Edge
This is a sample of styles to act as a guide, therefore if we have not listed the style of picture frame you require please send us an image of what you are after with dimensions and we will provide you with a quote
Glazing
UV light is harmful to pigments and causes fading, and we therefore strongly recommend the use of museum-grade glazing on all our picture frames.
Furthermore, the correct glazing used in conjunction with the right conservation grade acid-free backboards will help create a 'micro-climate', that will further protect your art from fluctuations in temperature and humidity.
Picture Framing Lighting and Security Solutions
We work closely with many specialist fine art service providers, for example digital fine art security and museum-grade fine art lighting. If this is something you are interested in exploring for an artwork for your collection, please ask for more information.
Other Picture Framing Services
Preparing art for Picture Framing
Replicating Picture frames
Hanging and Installing Works of Art
Picture Frame Restoration
"One of the most formidable English restoration companies, Plowden & Smith works tirelessly to restore English history back to its highest quality"
– Four Walls | the art and framing magazine for professionals
Whether you require missing elements on a gilt gesso picture frame restored, or a scratch polished out of a contemporary Perspex box, we are the trusted experts you can rely on…
We restore every type of picture frame, including traditional gilt gesso picture frames, which are vulnerable to losing elements of their ornate detailing and are unmatched in the casting or carving of missing elements and then seamlessly finishing them to match the  original aged surface.
We work extensively in the modern and contemporary art world, including restoring original picture frames with a wide range of finishes, that call for indepth knowledge of some of the more unusual materials found in post war art and their frames.
Picture Framing Case Studies
Replicating a Picture Frame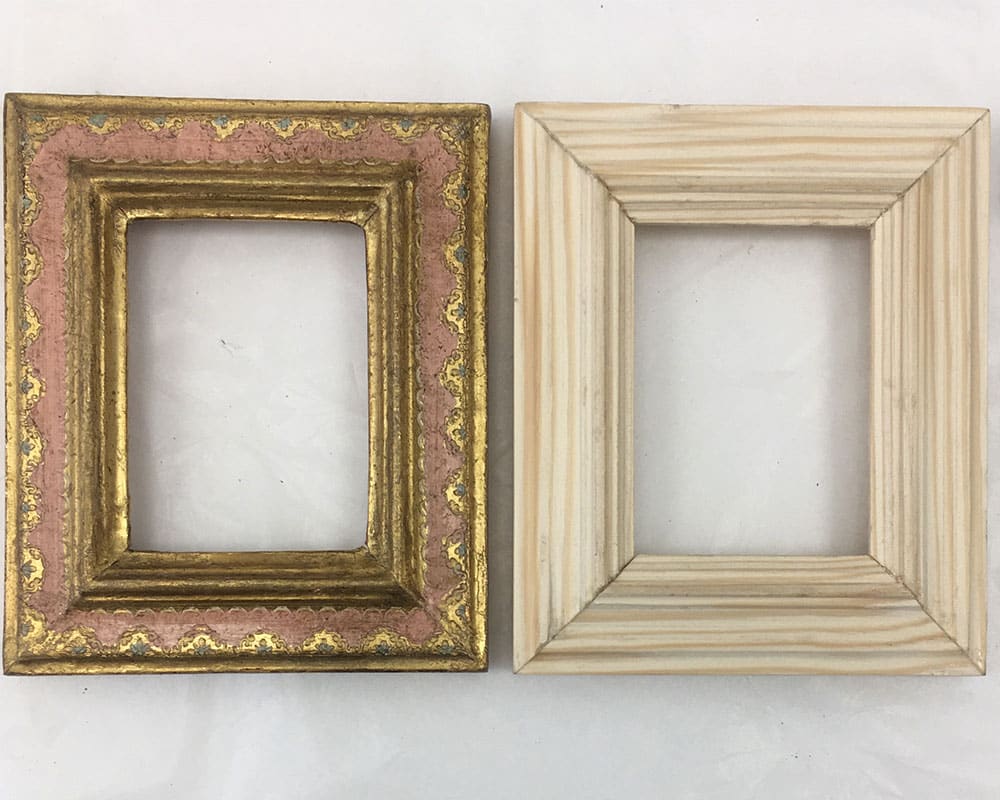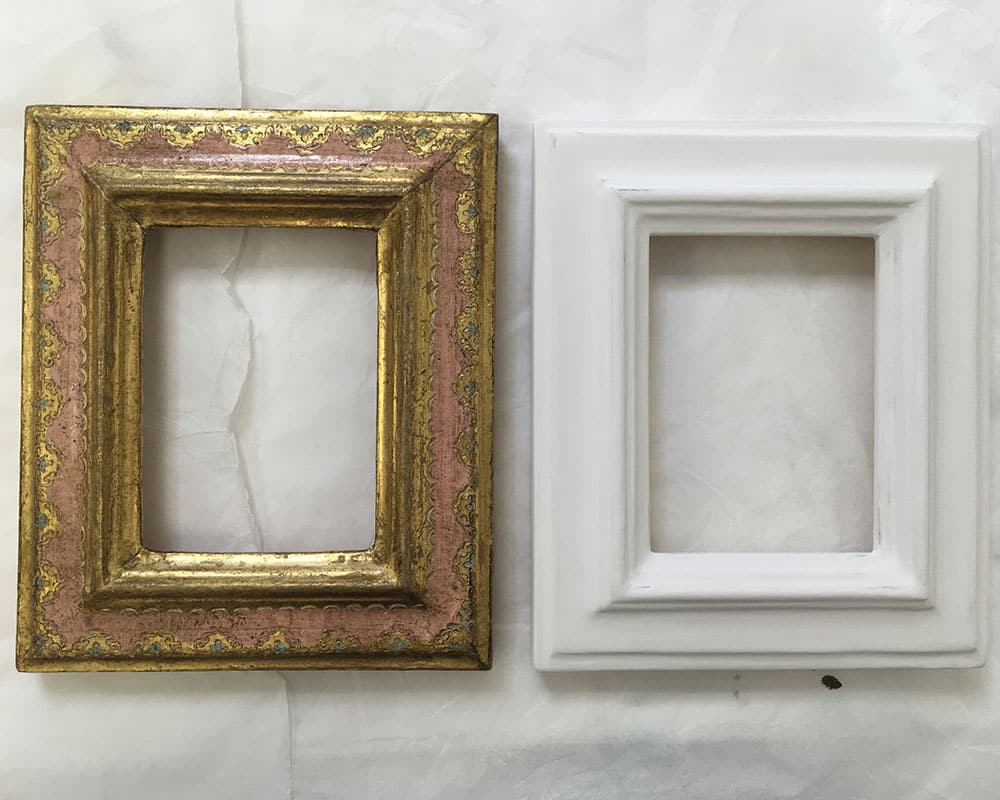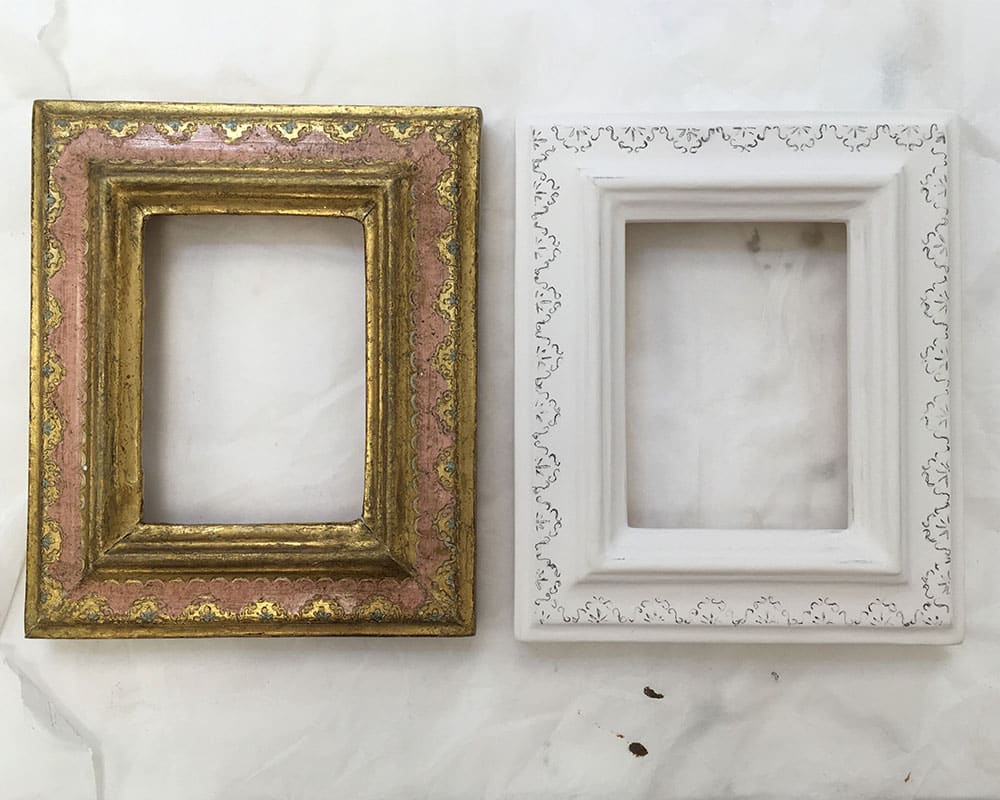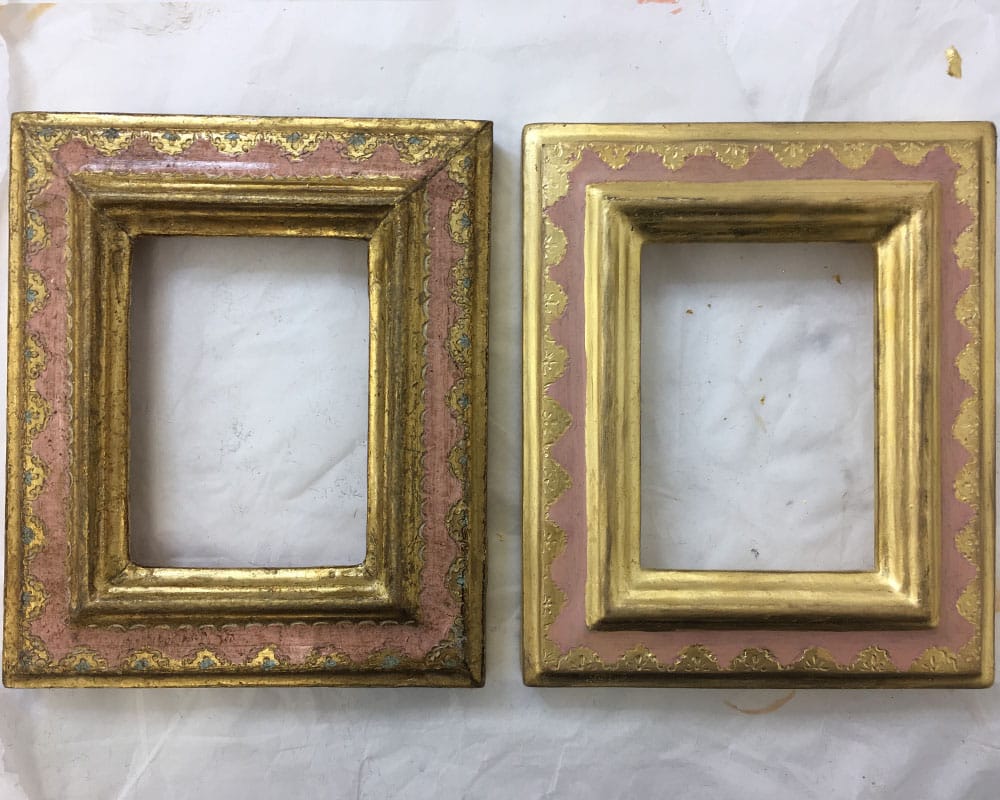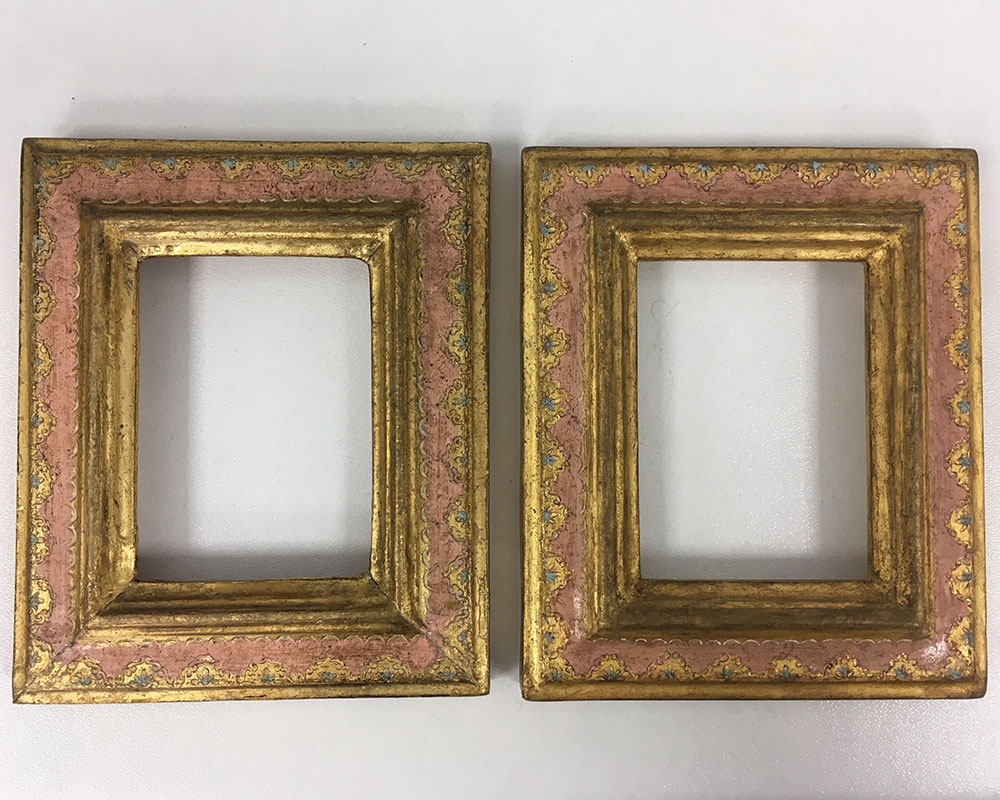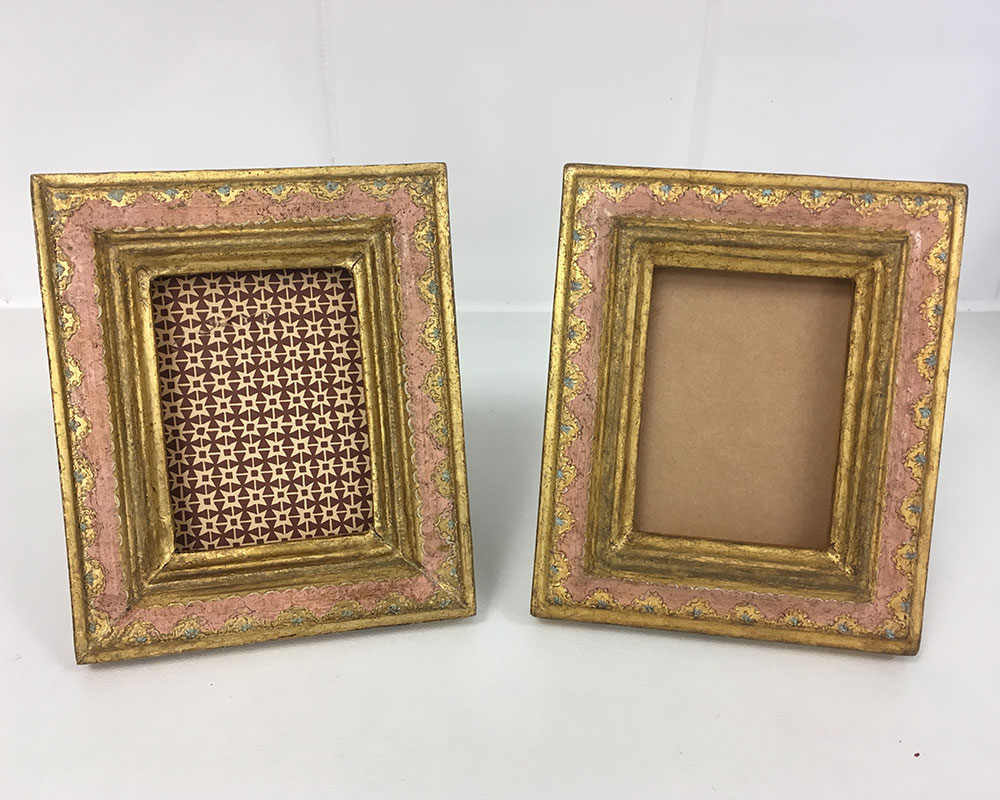 From time to time, clients come to Plowden & Smith to have a picture frame replicated, often to ensure a consistent framing style across their art collection.
When this polychrome frame came into our studio for restoration, the client also asked us to make a replica. After constructing the wooden carcass in our furniture workshop, the frame went up to our Decorative Arts studio, where several coats of gesso were applied, sanded smooth and painted with the base colours.
On the original frame, the intricate pattern would have been created using a printing block however our Decorative Arts Conservator had to replicate the design by hand. This pattern was then gilded, and the finer details picked out with acrylic paint.
The decorated frame was then distressed and toned using a combination of watercolour paint and wax to match the naturally aged appearance of the original.
Restoring a Collection of Gilded Picture Frames from Prideaux Place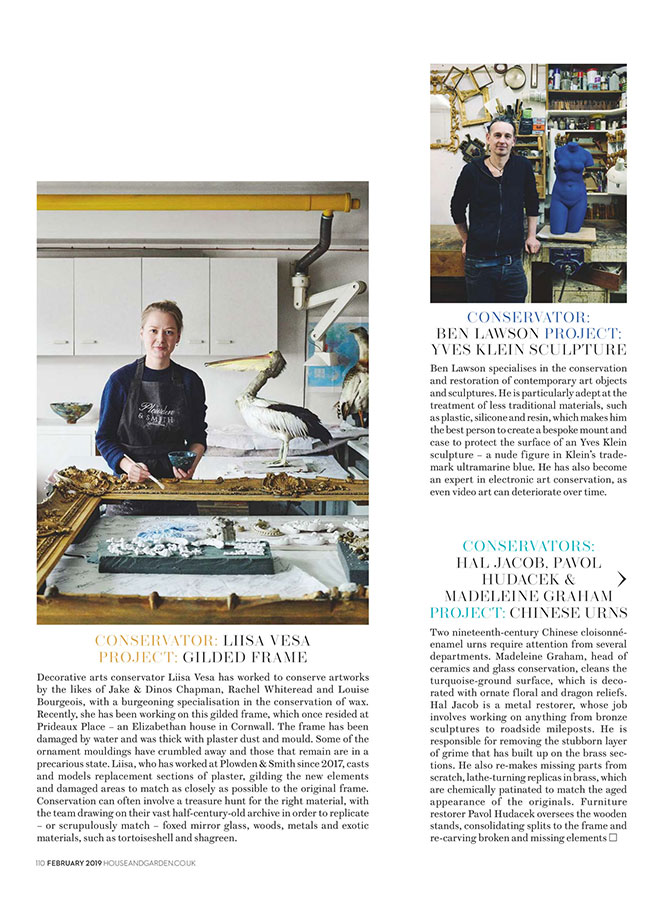 Recently [Plowden & Smith] has been working on this gilded frame, which once resided at Prideaux Place – an Elizabethan house in Cornwall. The frame has been damaged by water and was thick with plaster dust and mould. Some of the ornamental mouldings have crumbled away and those that remain are in a precarious state. Liisa, who has worked at Plowden & Smith since 2017, casts and models replacement sections in plaster, gilding the new elements and damaged areas to match as closely as possible to the original frame. Conservation can often involved a treasure hunt for the right material, with the team drawing on their vast half-century-old archive in order to replicate – or scrupulously match – foxed mirror glass, woods, metals and exotic materials, such as tortoiseshell and shagreen.
– House & Garden, February 2019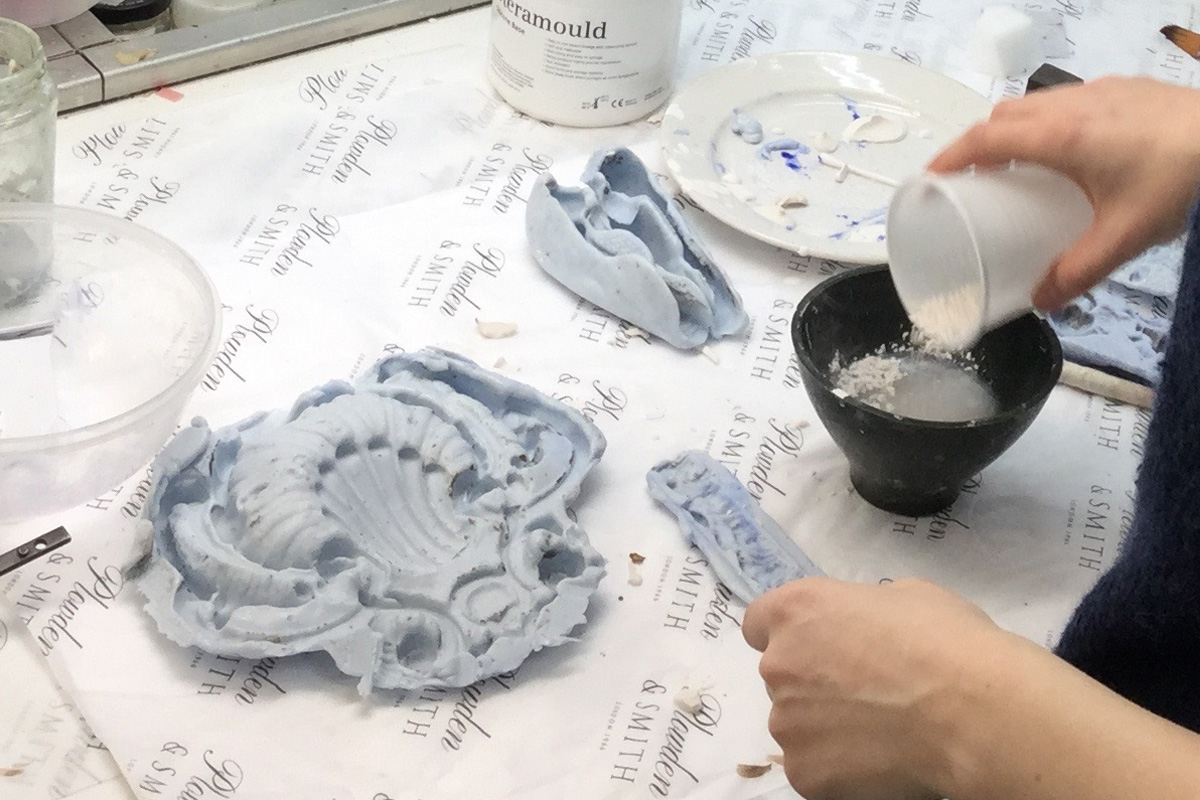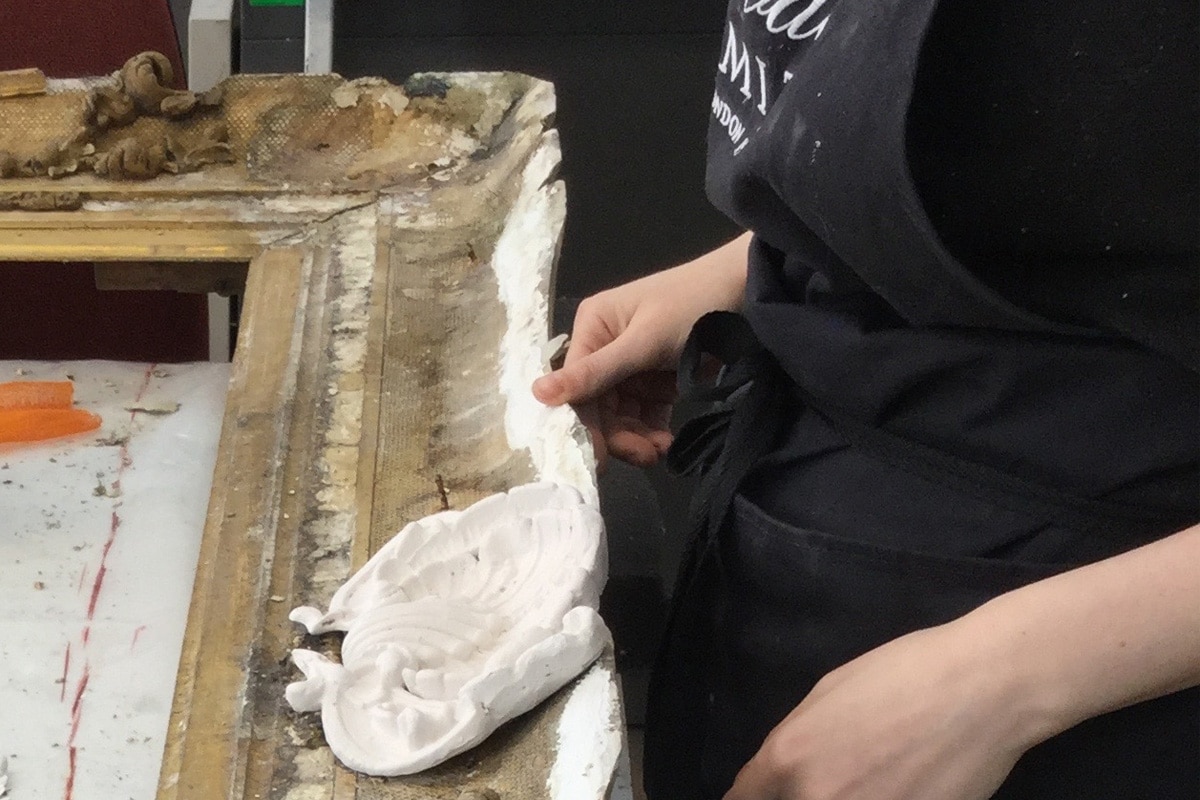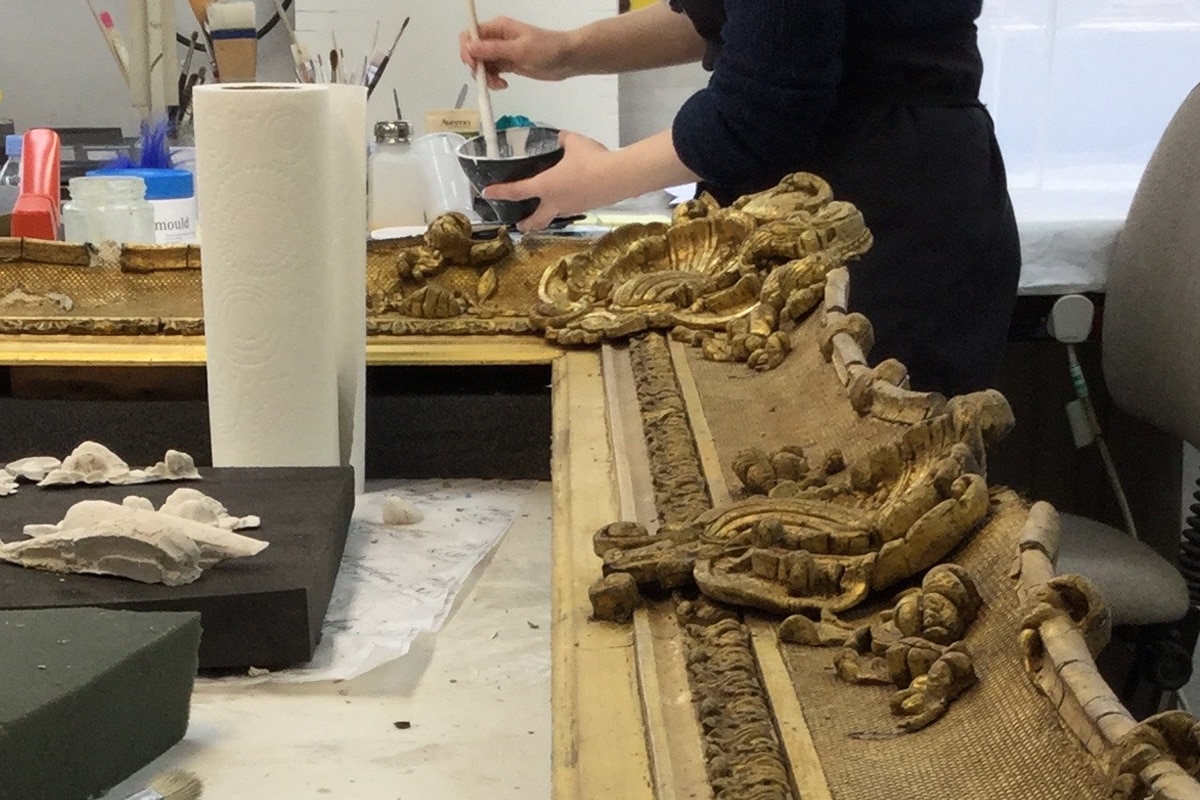 A large collection of gilt frames came into the Plowden & Smith studios to be restored whilst their paintings were being treated for water damage, following an escape of water at Prideaux Place.
In addition to stabilising any loose areas of gilding, missing sections of moulded gesso detailing were created in plaster, using hand hand-cast moulds.
These new sections of plaster were then finished by our gilding specialist to ensure a perfect match to the subtle tones of the original.