RESTORATION & CONSERVATION SERVICES | FURNITURE RESTORATION
"We are absolutely delighted with the chairs. They have more than exceeded our expectations, and it is a real achievement to have seamlessly restored the original look without making them look too modern. Please pass on our thanks to your extremely skilled restorers!"
– Georgina P. Furniture Restoration Client, London
Since Plowden & Smith's foundation in 1966, our furniture restoration department has developed a world-leading reputation for excellence.
Our approach to furniture restoration respects the history and integrity of each piece, whilst also producing first-class, long lasting results. Our furniture restoration treatments combine in-depth knowledge of traditional cabinet-making skills with up to the minute knowledge of the latest advances in scientific conservation.
We have provided furniture restoration services to collections located in the UK and around the world, including for the National Trust and English Heritage, the Palace of Westminster, Apsley House, the Royal Opera House, Qatar National Museum and the Kode Museum in Norway.
Furniture restoration work ranges from conservation cleaning and removing stains, scratches and relatively minor losses to extensive rebuilding, for example successfully restoring furniture that has suffered major fire, flood or shipping damage.
Furniture can be replicated, as can missing fittings including keys and mirror glass.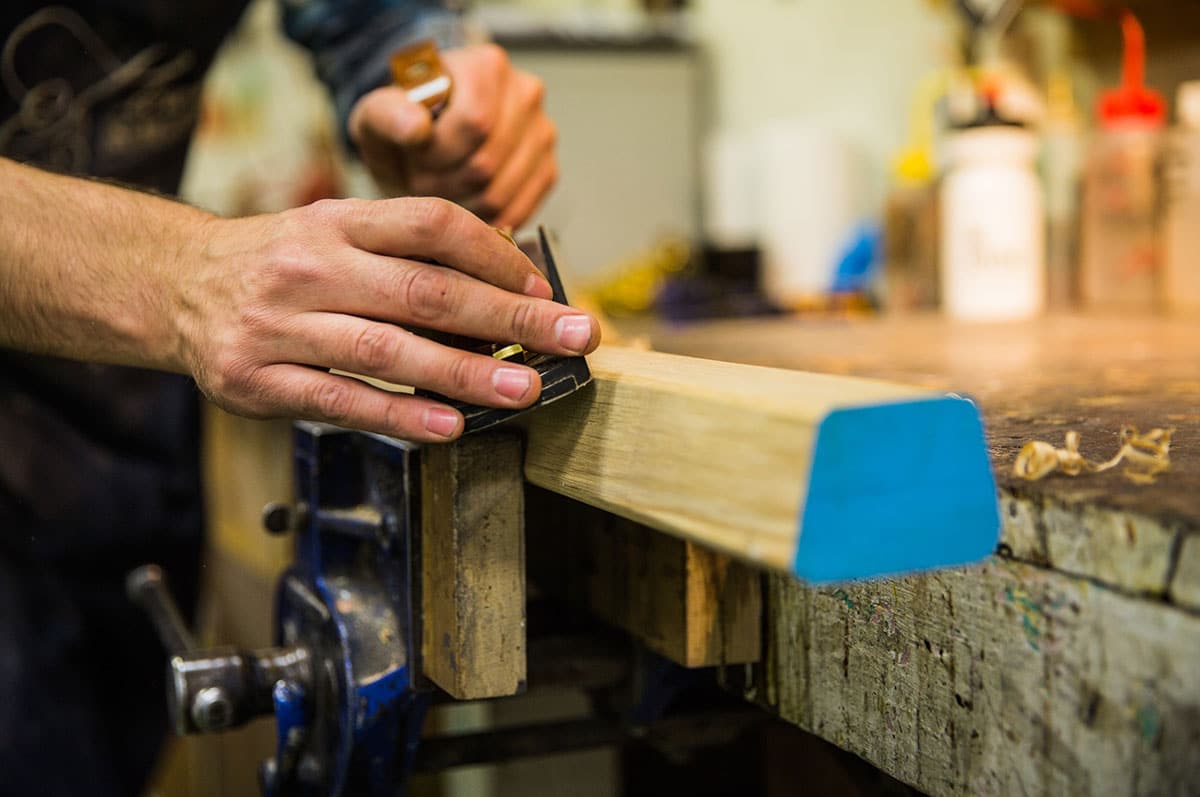 Our furniture restoration department conserves and restores traditional antique furniture by such noted cabinet makers as George Bullock, Robert Adam, and the firm Gillows; mid-Century furniture by Arne Jacobsen, Paul Evans, Le Coubusier, Gio Ponti, Hans Wegner; and contemporary furniture by Zaha Hadid.
Our furniture restoration department also treats a wide range of historic, modern and contemporary wooden artefacts. Projects have included stabilising the decayed interior and consolidating the surface of the iconic Spirit of Gaiety for the Victoria & Albert Museum, and cleaning and restoring various missing sections of the Grinling Gibbons carvings around the organ at St Paul's Cathedral.
Furniture restoration services we offer, include:
Structural Furniture Restoration
Restoring furniture with damaged or missing sections using traditional techniques such as wood turning and wood carving. Wherever possible, we use matching timber of the same age and quality. Over the 50 years Plowden & Smith has been in business, we have built up an extensive stock of 18th and 19th Century timber to ensure the best possible match.
Surface Furniture Restoration
Restoring furniture with damaged surfaces and finishes, French polishing, wax finishing, colouring with water dyes and chemicals, and bleaching wooden surfaces. Restoring furniture that is painted or decorated with water and oil gilding, as well as restoring japanned and lacquered surfaces. We offer marquetry restoration, including recutting replacement sections. As well as wood, we also treat furniture made from or veneered with a wide range of materials, including metal, shagreen, vellum and boulle work.
Restoring Furniture Elements
For example restoring or replacing broken and missing marble table tops, restoring or recasting missing ormolu mounts and brass and steel handles, as well as repairing or replacing locks and keys, drawing on our extensive stock of period fittings to ensure, wherever possible, an historical accurate replacement. We also replicate antique mirror glass using techniques that imitate the natural aging process.
Condition Reporting and Consultancy Services
In addition to interventive treatments, we offer a wide range of bespoke consultancy services, including independent condition reporting, remote environmental monitoring and environmental optimisation to protect furniture from the damage caused overtime by dramatic temperature and humidity swings. Find out more about our independent condition reporting services here. For consultancy services, please contact us.
"We are thrilled with our furniture and I will be telling everyone what a great job you do!"
– Clare Pardy, Museum & Heritage Director – Hallett Independent
Furniture Restoration Case Studies
Painted Pine Dining Chair Restoration
"Having previously been impressed by the skill of Plowden & Smith's restorers, I had no hesitation in sending their furniture restoration team two antique dining chairs with very dog-chewed stretcher rails – the result of one small but sharp-tooth dog, Gnipper. To restore my chairs, Plowden & Smith hand turned two replacement stretcher rails and I was amazed by the end result. They achieved such a perfect match to the original antique painted wood that no one can tell which two chairs in the set have been restored. The restored chairs also came back with some chew toys for Gnipper, which was a lovely touch!"
– Alexandra Tolstoy, Founder – The Tolstoy Edit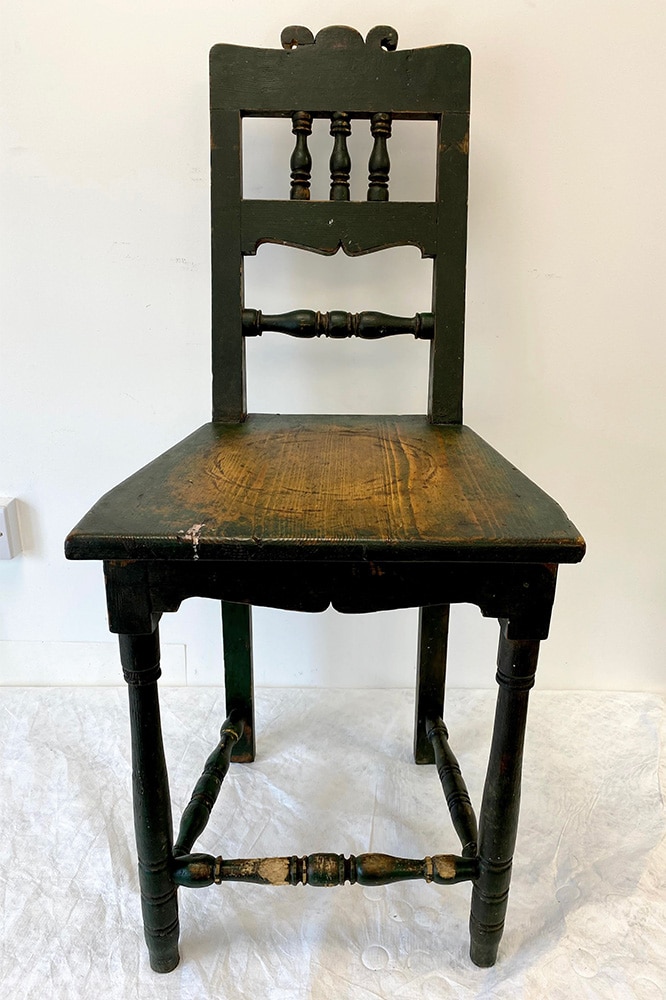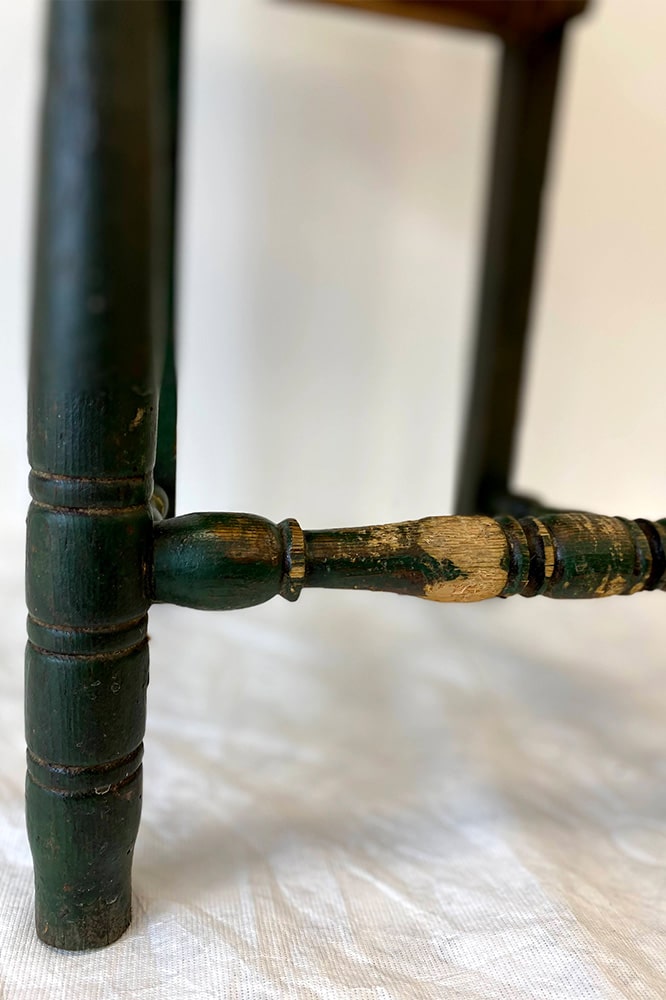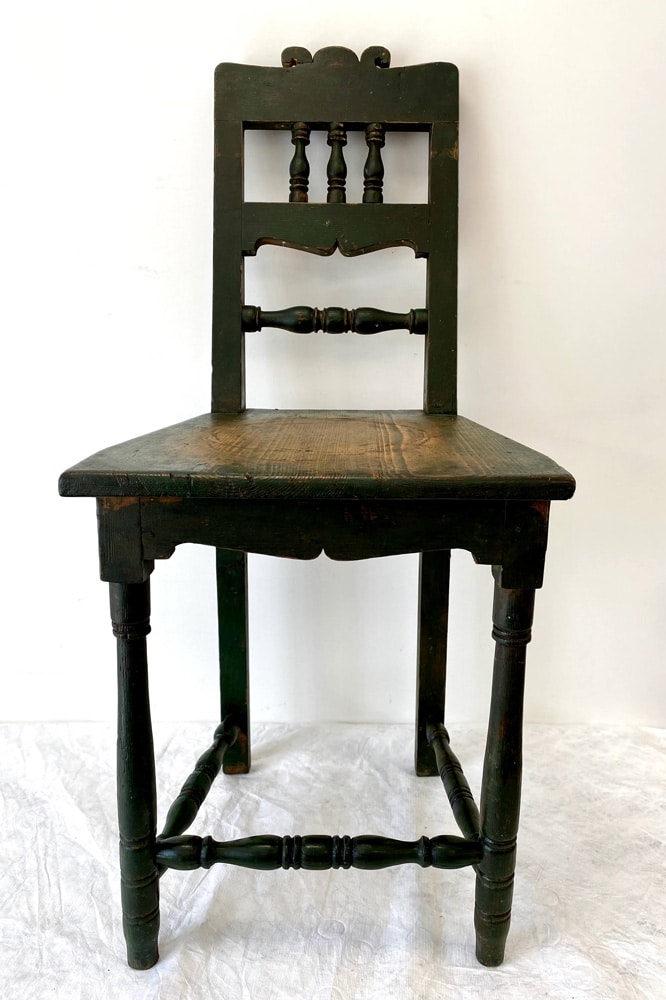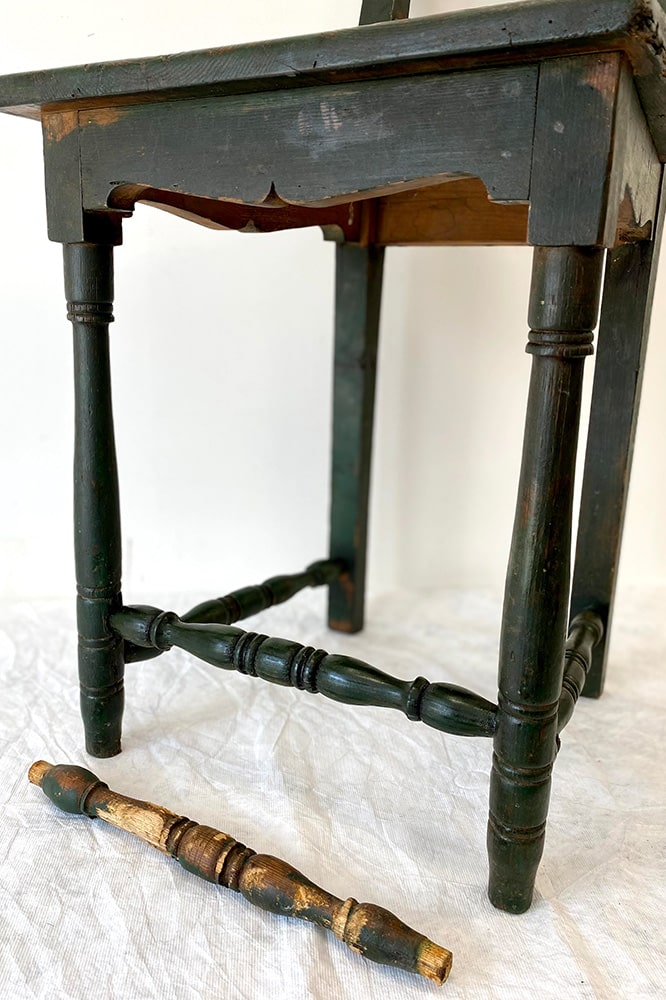 Dogs are famous for being a man's best friend; however, they are not always the best of friends to our furniture, as this 19th Century painted pine dining chair demonstrates.
This pine dining chair came into our furniture restoration studio with heavily chewed stretcher bars, as well as paint loss and other signs of typical domestic wear.
With furniture that is used, structural integrity is paramount. In this case, ensuring the resilience of our furniture restoration meant that two or the original chewed stretchers could not be repaired and had to be replaced.
Our replacement pine stretcher bars were turned on the lathe, closely copying the design of the original. They were stained to match the colour of the original, and then fitted to the chair using traditional glue and clamps.
The appropriate pigments were mixed to match the original green paint colour. This was applied to the stretcher bars and used to retouch any smaller areas of damage on the chair
The third, less damaged stretcher rail was retained and restored using a conservation-grade filler to restore losses to the pine. The fills were then carefully sanded, stained and painted, with French polish being applied at the end for a final subtle sheen.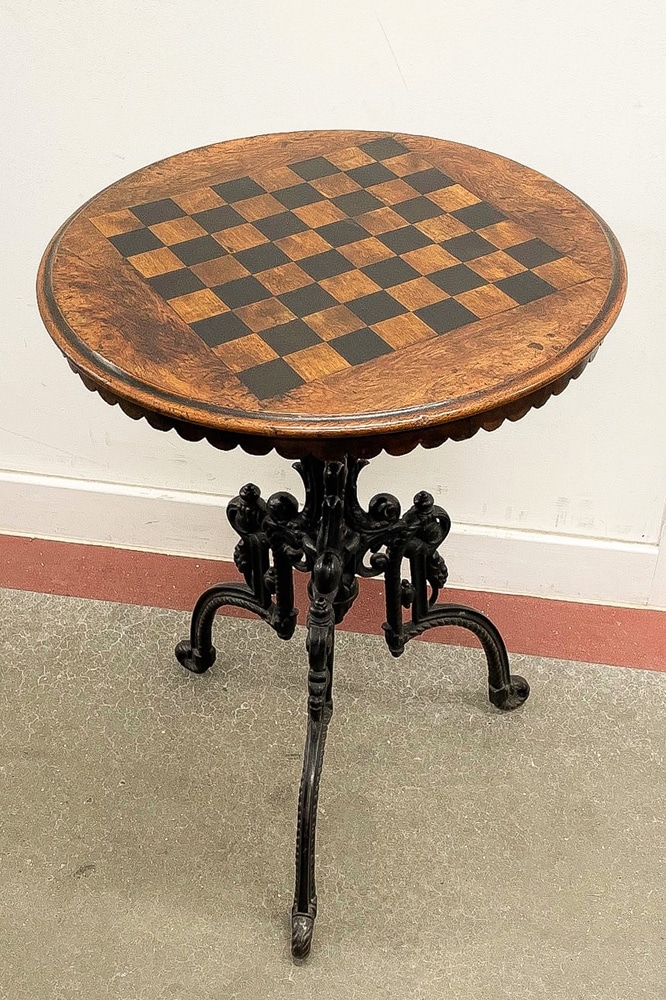 When this marquetry chess table top on cast iron base came into our furniture restoration workshop, the marquetry top was in poor condition with lifting, loose and missing sections of veneer.
The loose and lifting wood was carefully reinstated, consolidated with warm adhesive and clamped flat whilst it dried.
Any missing sections of veneer were replaced with matching timber of a similar period. The restored areas were then carefully hand coloured to ensure a seamless match with the original wood.
Finally, the whole top was refinished with shellac and waxed to give a beautiful soft sheen to the wood.
Ebonising a 20th Century Armchair Designed by Axel Einar Hjorth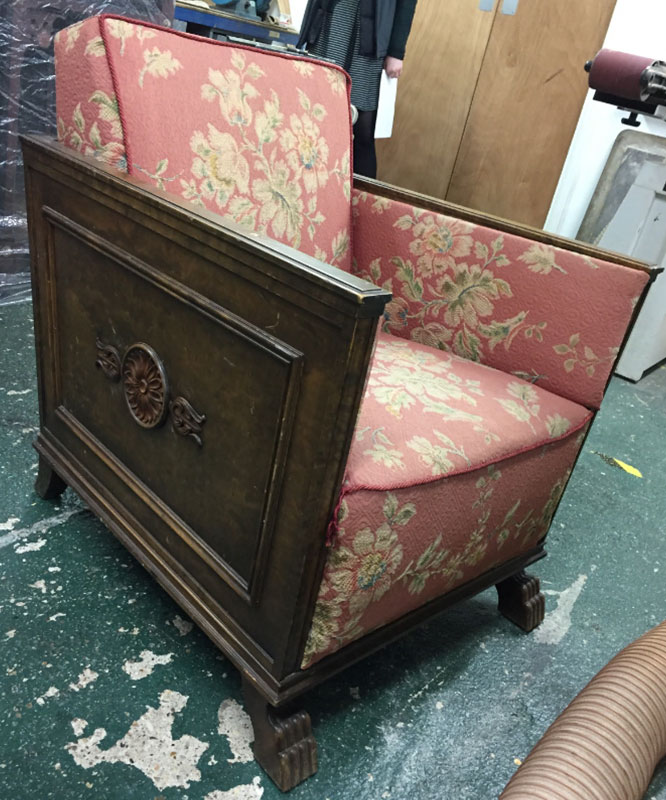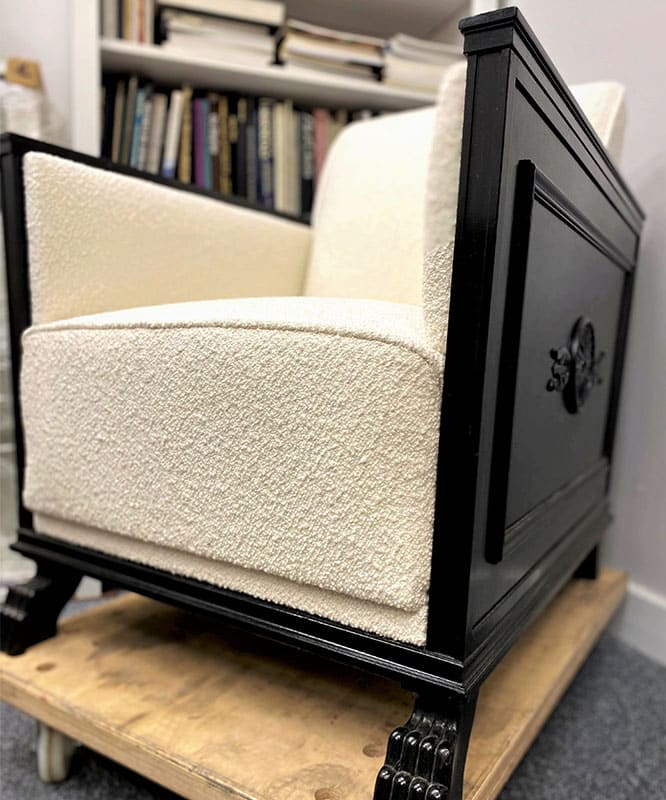 Many clients are interested to know how furniture restoration can dramatically transform furniture they already own.
This 20th Century armchair by the Swedish architect and designer, Axel Einar Hjorth (1888–1959) is a good example of how furniture restoration skills can be used to achieve a bold new look from an existing piece of furniture.
The client asked our furniture restoration department to ebonise the wooden frame armchair, to turn the natural wood finish, a semi-sheen black.
When it comes to specialist furniture finishes including ebonising, lacquering and gilding; preparing the surface is key to achieving a high-quality end result.
Our furniture restoration team filled any imperfections in the wood, so the chair was perfectly smooth. Our furniture restoration team also restored a dent in one of the arms. The wood was then ebonised to achieve a flawless semi-sheen finish.
To make the chair more comfortable and structural stability of the armchair, our furniture restoration team replaced the webbing and recovered the chair in a cream boucle fabric, supplied by the client.
Antique Table Restoration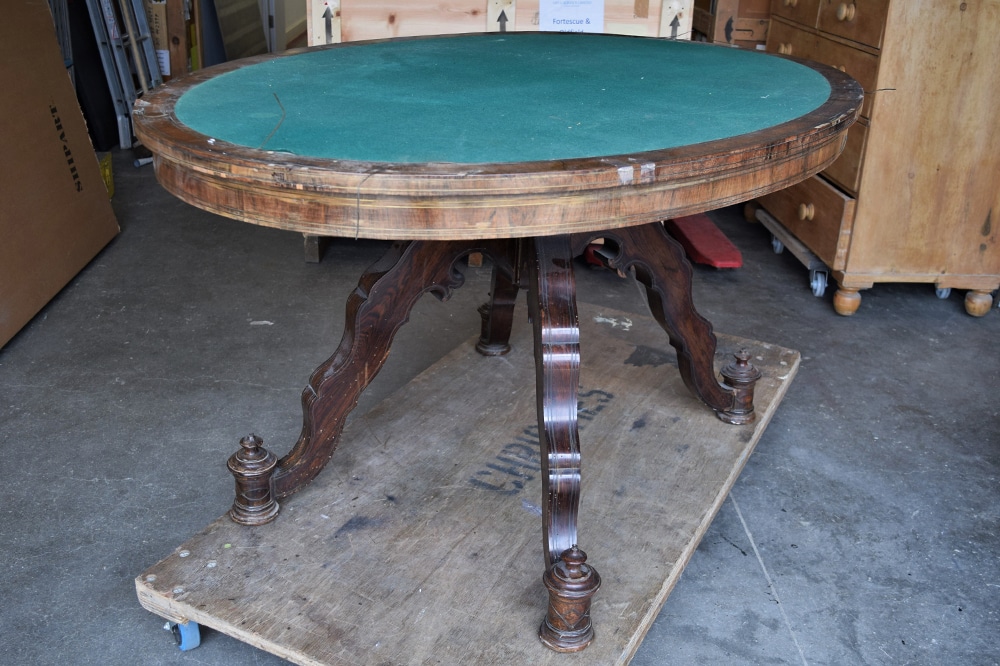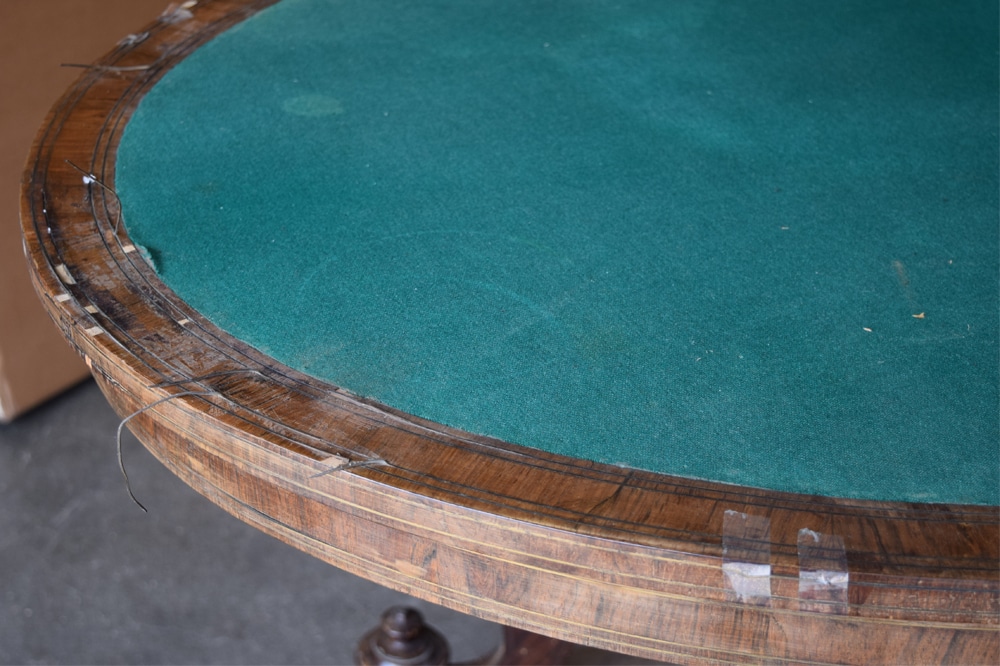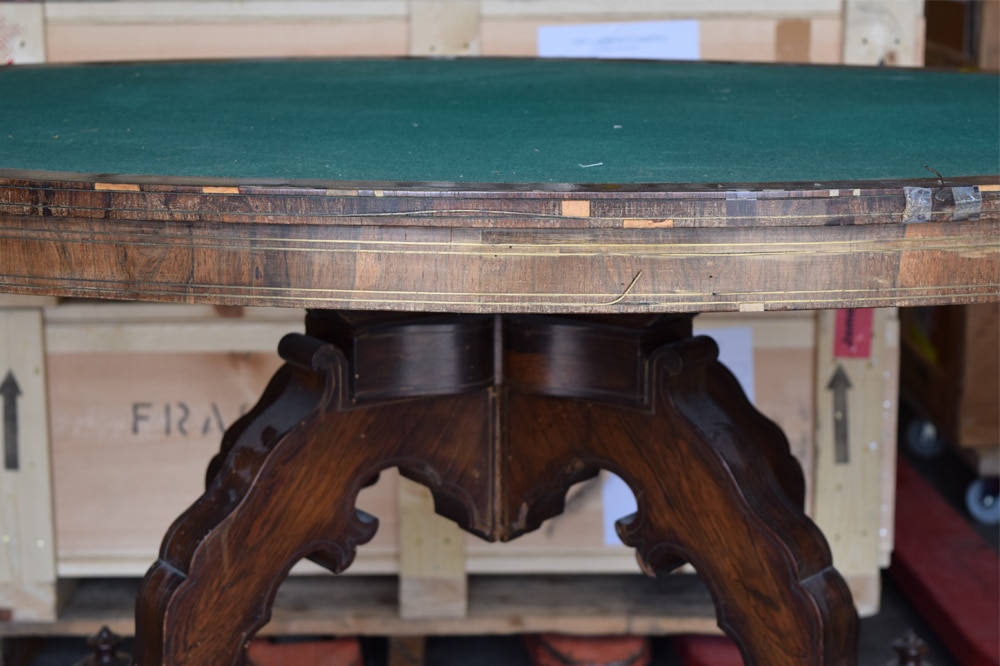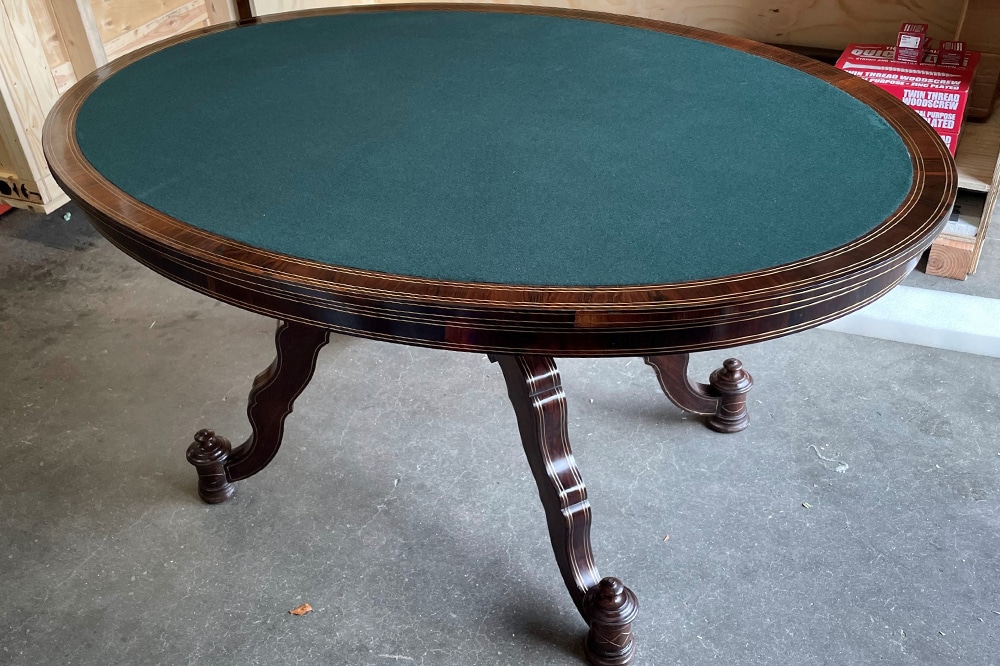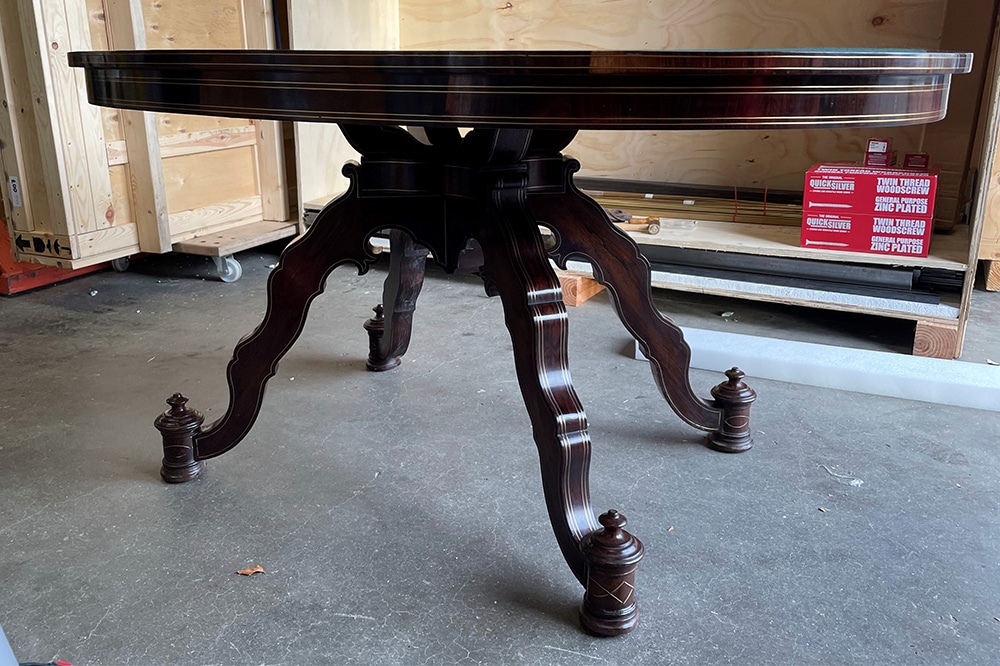 This 19th Century rosewood table came into our furniture restoration workshop with a stained baize top, lifting and loose sections of rosewood veneer and lifting and missing sections of brass stringing. To revive the appearance of this antique rosewood table; thorough, but sympathetic, furniture restoration was needed.
The first stage of restoring this antique table was to carefully remove the old baize. The table was then thermally treated for woodworm. The damage caused by woodworm larvae eating their way through timber can compromise the structural integrity of furniture, so active woodworm should be treated without delay. The key to successful woodworm heat treatment is a relatively low heat applied over a prolonged period so that the insects, larvae and eggs are killed, but the moisture in the wood isn't drawn out, which could result in shrinkage and cracking.
Once the rosewood table had received its heat treatment, our furniture restorers could restore the lifting and loose rosewood veneers, using traditional fish glue as a consolidant. The antique table was also missing sections of rosewood veneer, which we replaced using rosewood from our extensive stock of antique timber, to ensure the closest possible match.
The top of the table featured a band of brass stringing, which was in a sorry state. Lifting sections of brass stringing were restored using traditional consolidant, and missing sections of brass stringing were replaced.
Once all the loose, lifting and missing elements had been restored, our furniture restoration team carefully cleaned the rosewood top and apron of the table.
Over time, wood will naturally fade if it is exposed to UV light, meaning that many antique tables have lighter tops and darker bases. In this instance, the owners of the table wanted the restored table to have a uniform colour so once the wood was clean, and minor surface imperfections restored, our furniture restorer carefully coloured the table top to darken the appearance of the rosewood, and therefore achieve the desired uniform colour for the table. The top was then polished and the new baize cut to size and fitted.
Finally, the entire antique rosewood table was waxed to bring out the subtle lustre and attractive grain of the rosewood.
Restoring a Jacobean Oak Chest of Drawers
"Wow! The chest of drawers looks absolutely fabulous! Thank you so much. I am really thrilled!
It was a favourite piece of my parents which they bought when they were first married some 80 years ago. I know they would be as delighted as I am. Please pass on huge thanks to your talented furniture restorers for all the love and attention they bestowed on my chest of drawers to restore it to former glory."
– Private Collector, London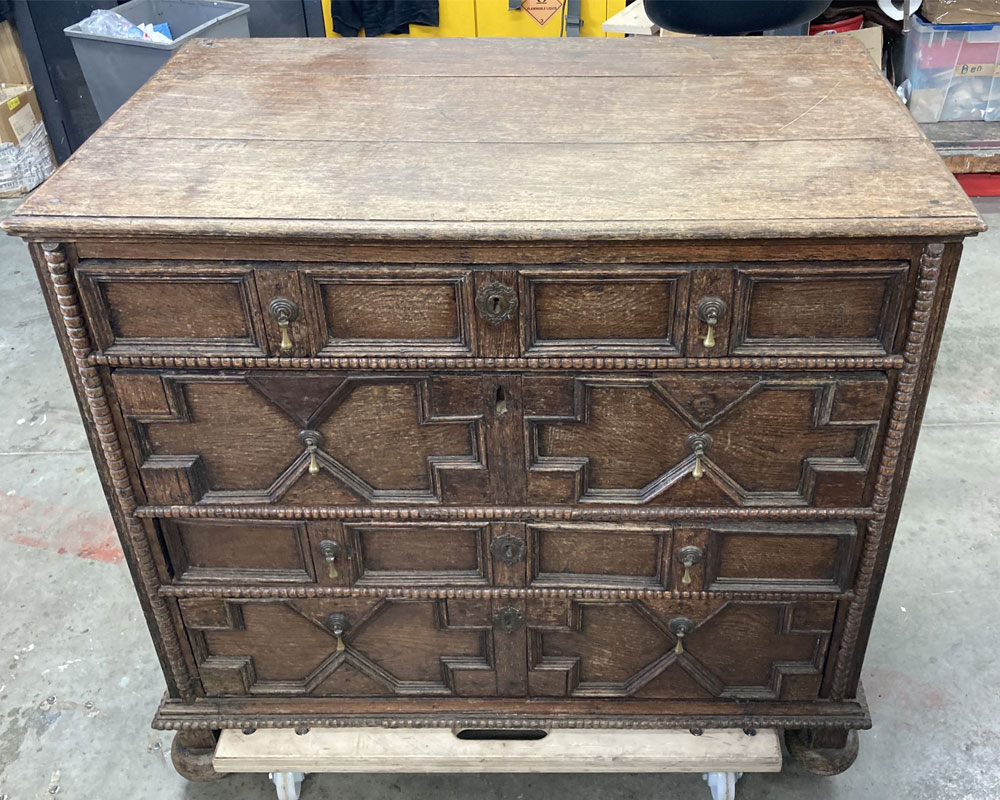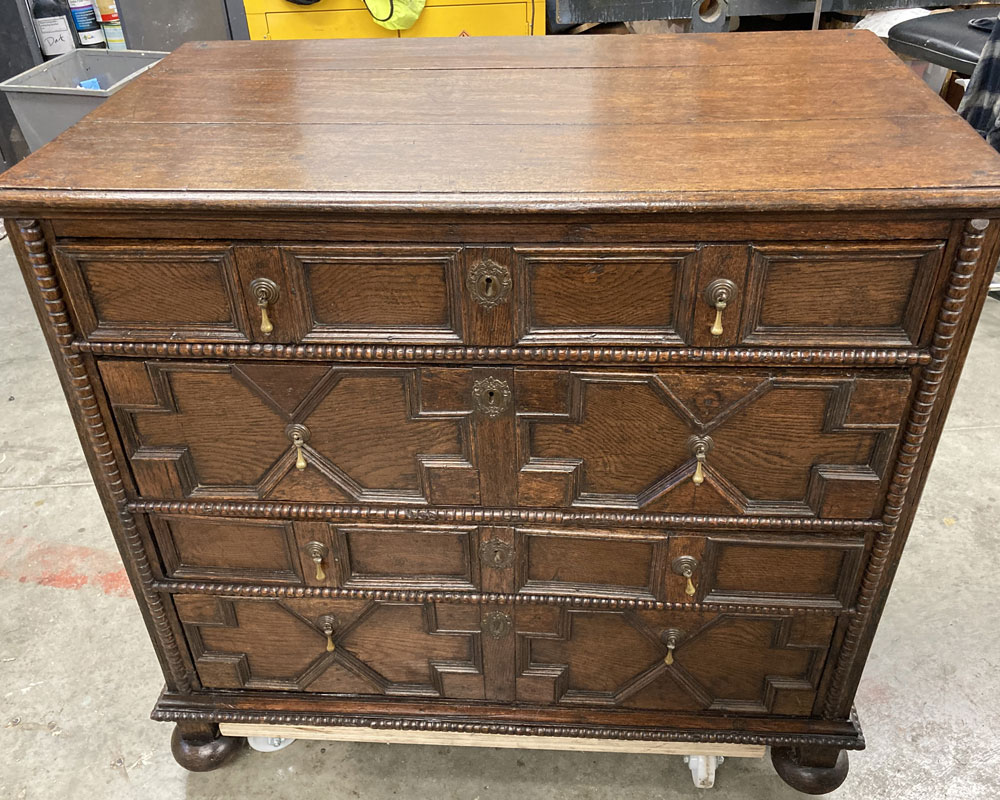 This 17th Century oak chest of drawers came into Plowden & Smith's furniture restoration workshop for a course of treatment to restore the finish of the wood. The finish had suffered as a natural result of natural age-related wear and tear; however, this had probably been exacerbated by the chest of drawers being stored in damp conditions.
By the time the chest of drawers came into our Furniture Restoration studio, the wood had fully dried out, although our furniture restorers treated the insides of its drawers to remove a lingering musty smell.
Damaged sections of oak were restored, toned and sealed by our furniture restorers. The oak finish was then revived with a special wax made in our furniture restoration studio. The end result is a beautiful soft warm sheen.
Finally, our furniture restorers replaced a missing brass key escutcheon with a matching example from our extensive stock of original antique cabinet fittings. This replacement was patinated for a seamless match with the existing original escutcheons.
Mid Century Modern Furniture Restoration Project – Mondrian Style Cabinet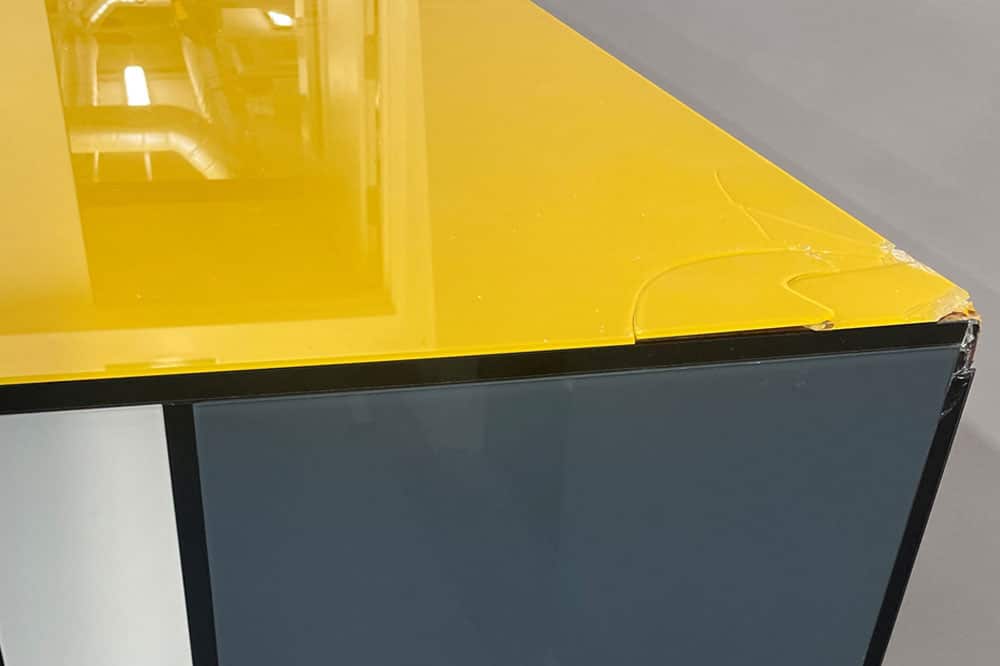 The popularity of modern design means that our furniture restoration team are increasingly restoring modern and contemporary furniture.
This Mid Century cabinet incorporates coloured glass panels that evoke the iconic art of Piet Mondrian. Glass elements are vulnerable to damage, and this cabinet came into our furniture restoration workshop with several sections of broken glass.
Although it is usually possible to restore glass, its transparent nature means that restorers are rarely able to achieve an invisible repair. Replacing broken glass panels is usually the only way to produce a perfect end result, which is the approached our furniture restoration team and client agreed on.
Once we had removed the broken sections of glass, replacement glass panels were sourced, and then hand sprayed by our furniture restoration team to achieve a perfect colour match to the original glass.
Once these panels were fitted, the Mid Century Mondrian style cabinet was given a thorough overall clean to refresh all the surfaces.
17th Century Walnut Antique Chair Restoration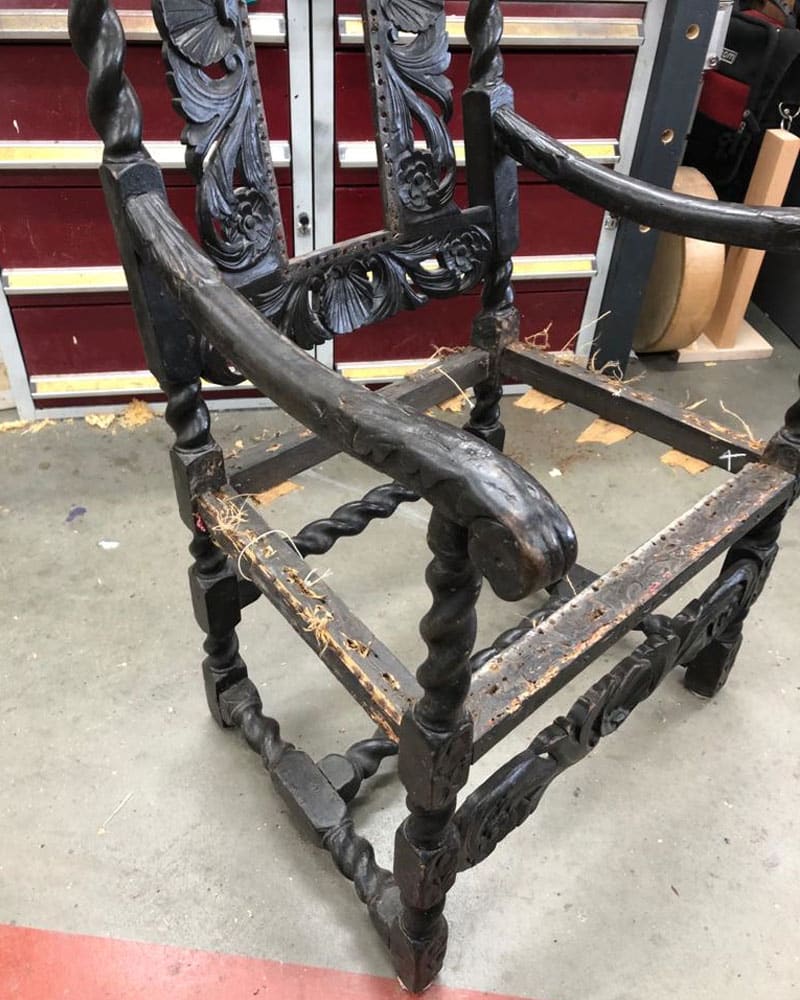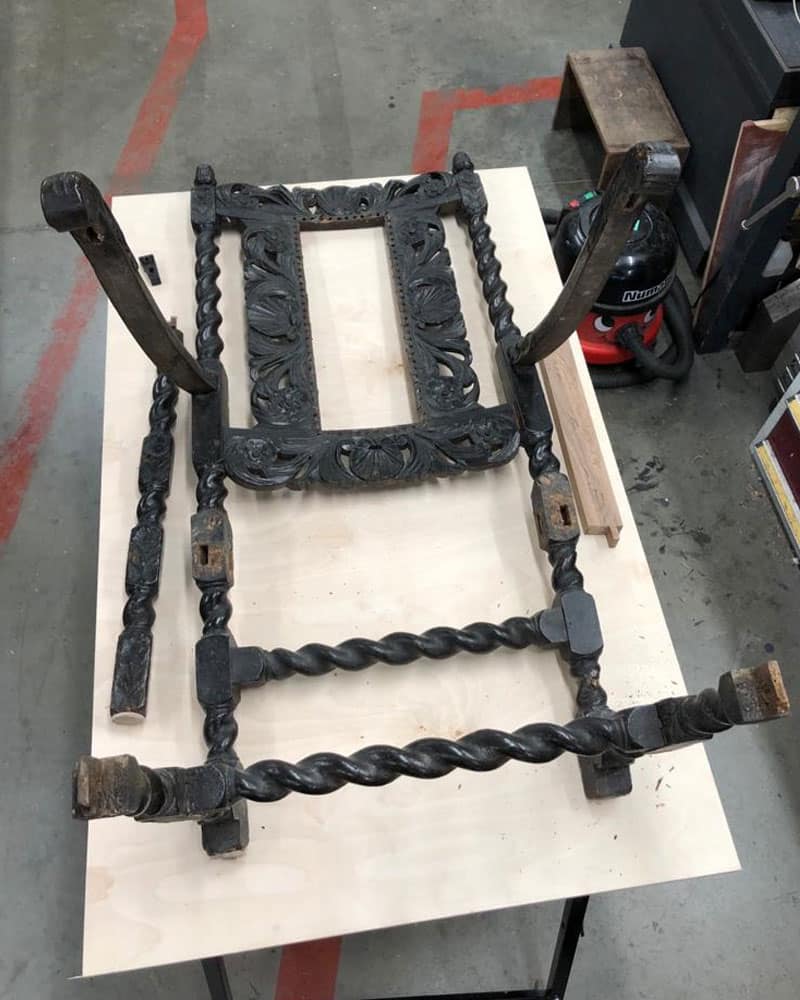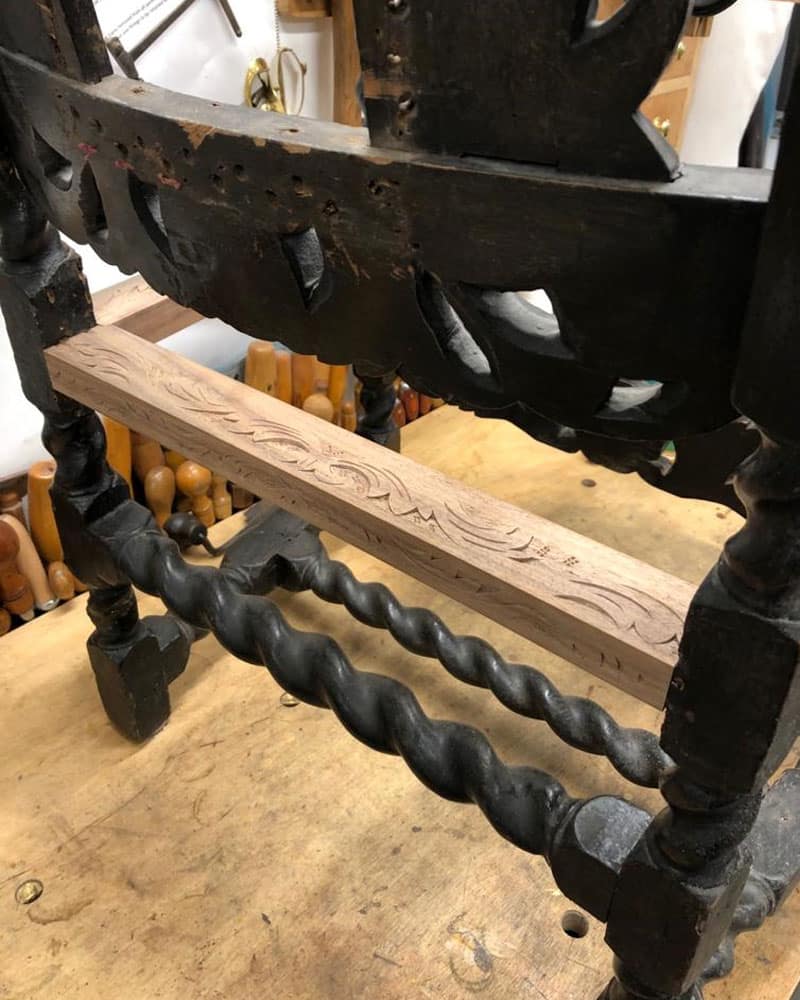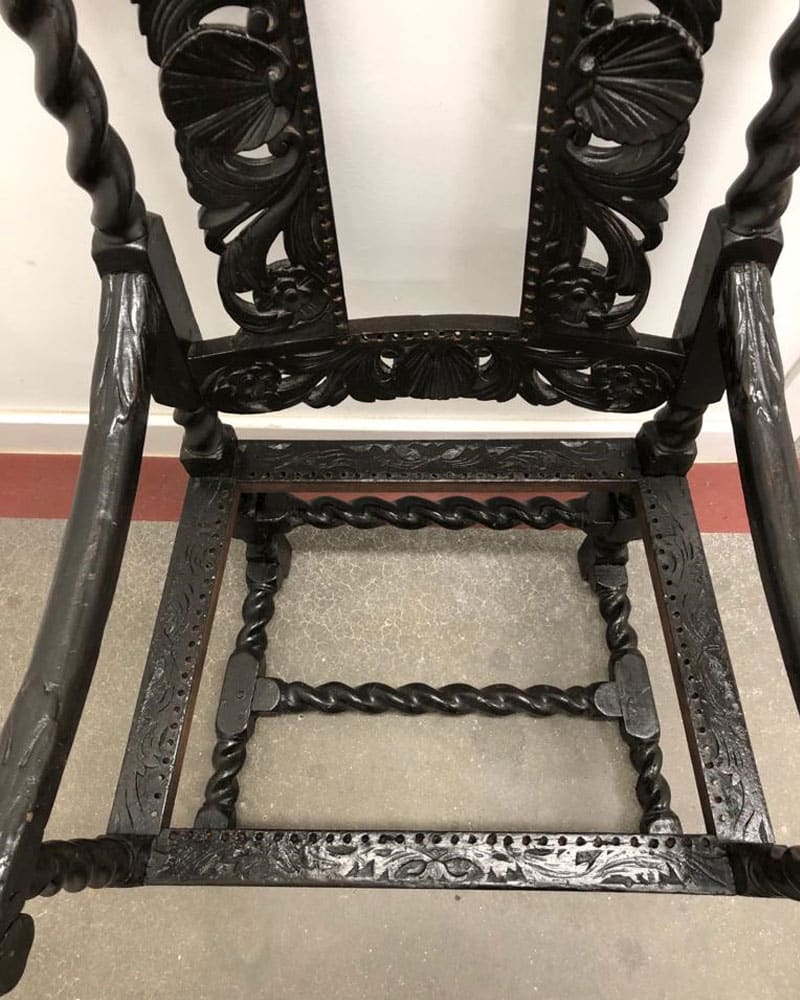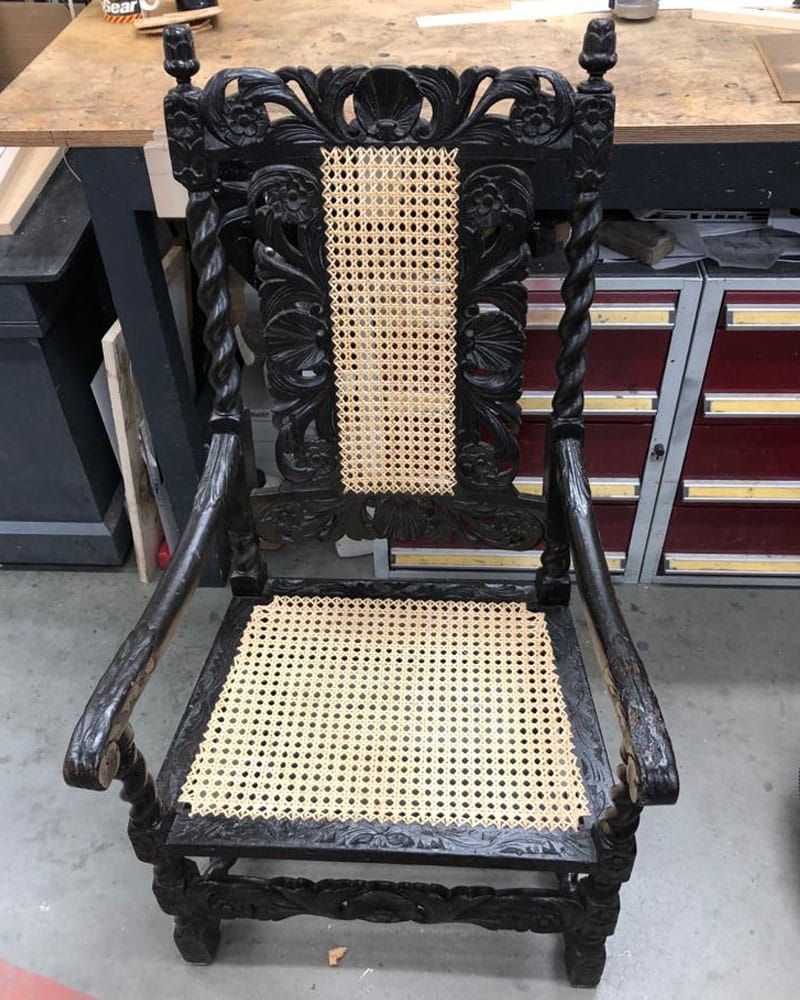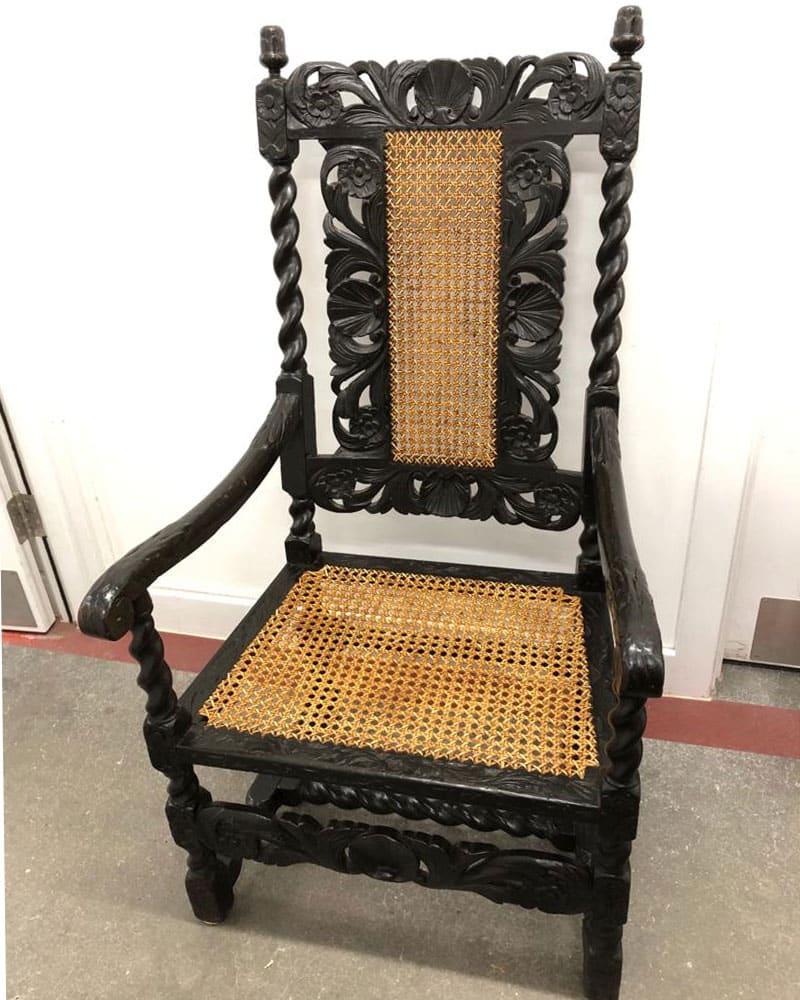 This 17th Century carved walnut chair came in for comprehensive furniture restoration treatment that included replacing three replacement seat rails with new ones carved to a design more in keeping with the original.
Once the chair arrived in our furniture restoration studio, and we had thoroughly assessed the extent of the damage, our furniture restorers then carefully dismantled the chair.
Our furniture restoration team employed traditional methods to make the three replacement seat rails, meticulously carving them by hand to match the original front rail. The new seat rails were then drilled to allow the seat to be re-caned.
Caning places a huge amount of stress on furniture and there were a number of splits around the cane holes in the one original front seat rail, as well as the chair's back, which our furniture restorers consolidated.
The seat and the back of the chairs were then re-caned by hand, and carefully toned to ensure that the appearance of the new rushing was consistent with the age of the chair.
A number of breaks in the cresting rail and back leg were bonded together and strengthened with wooden dowels where possible, and these sections were then coloured and polished for a seamless match.
The final stage of the furniture restoration was to give the chair a thorough conservation clean and a wax to revive the finish of the wood.
Fire Damaged 17th Century Longcase Clock Restoration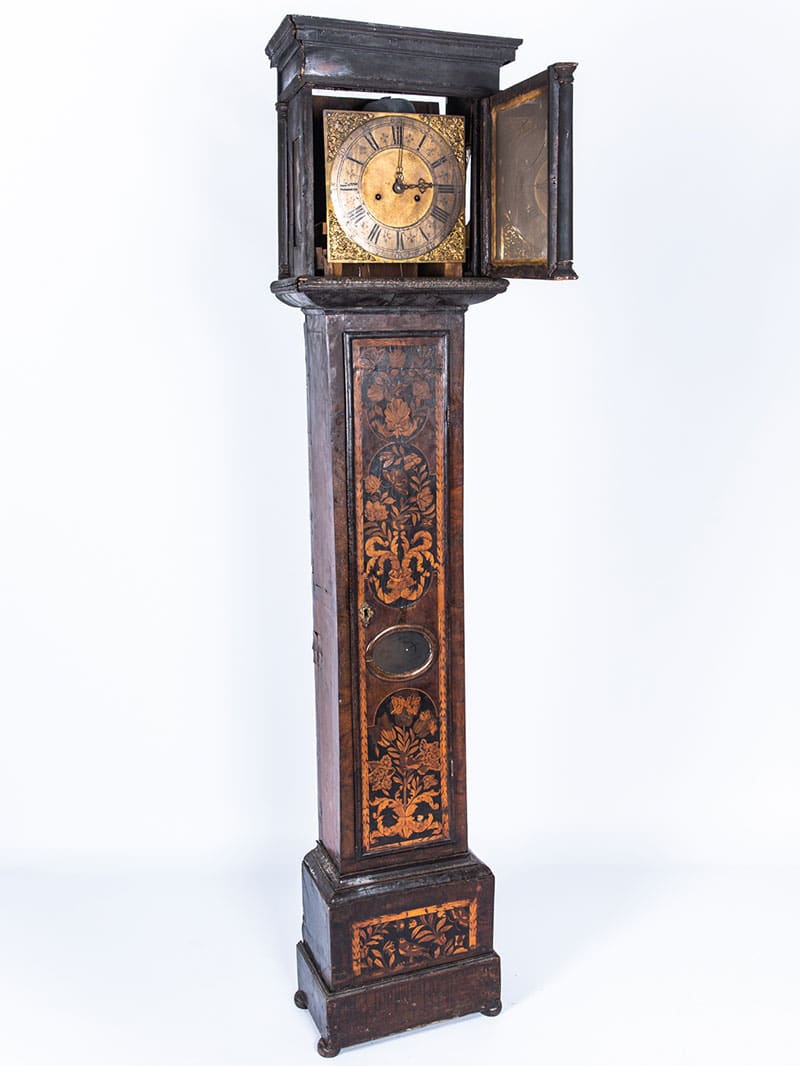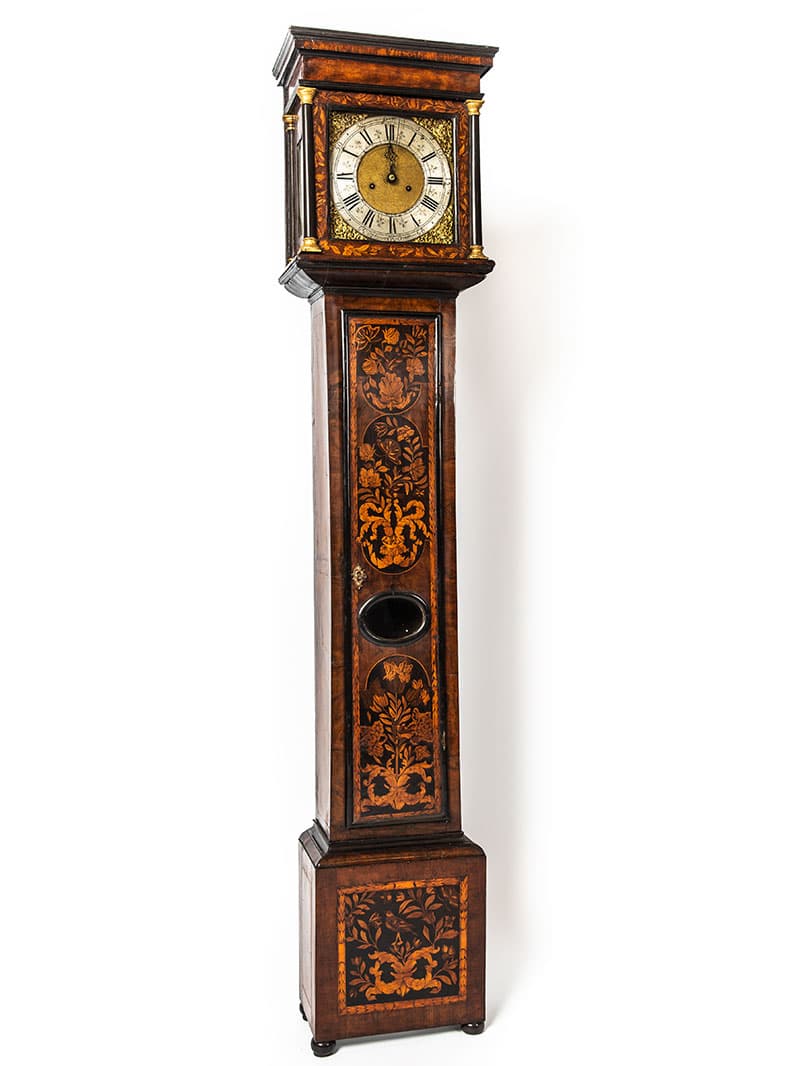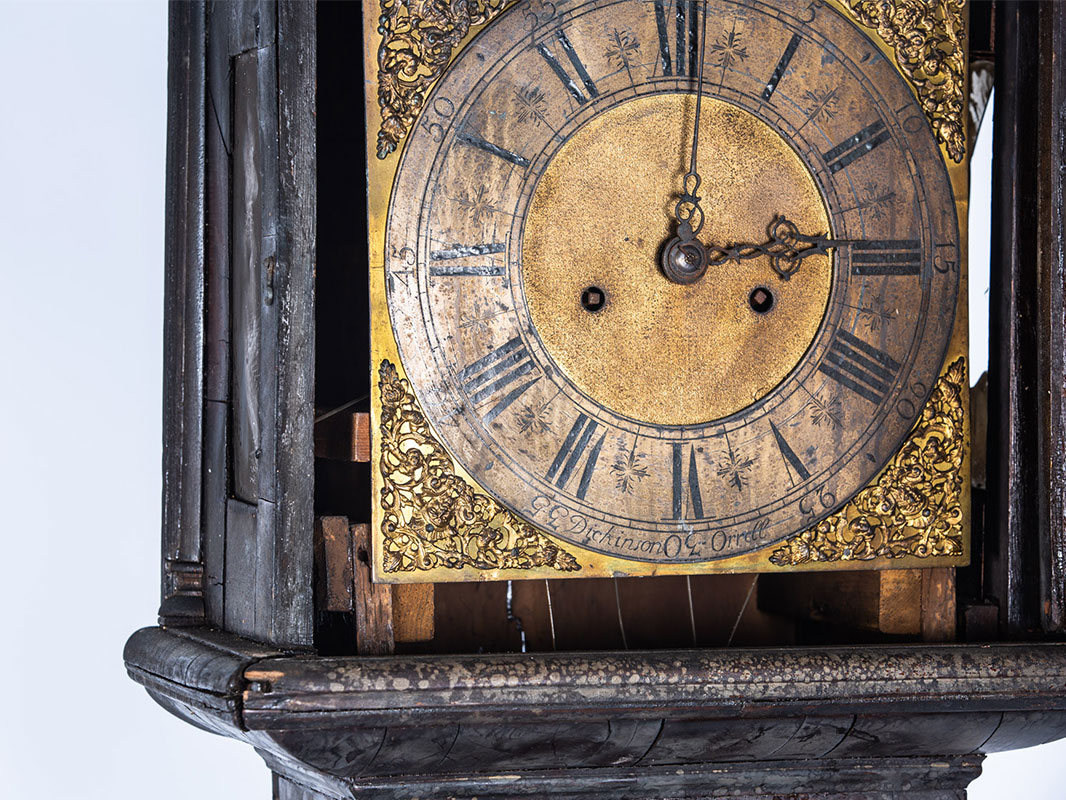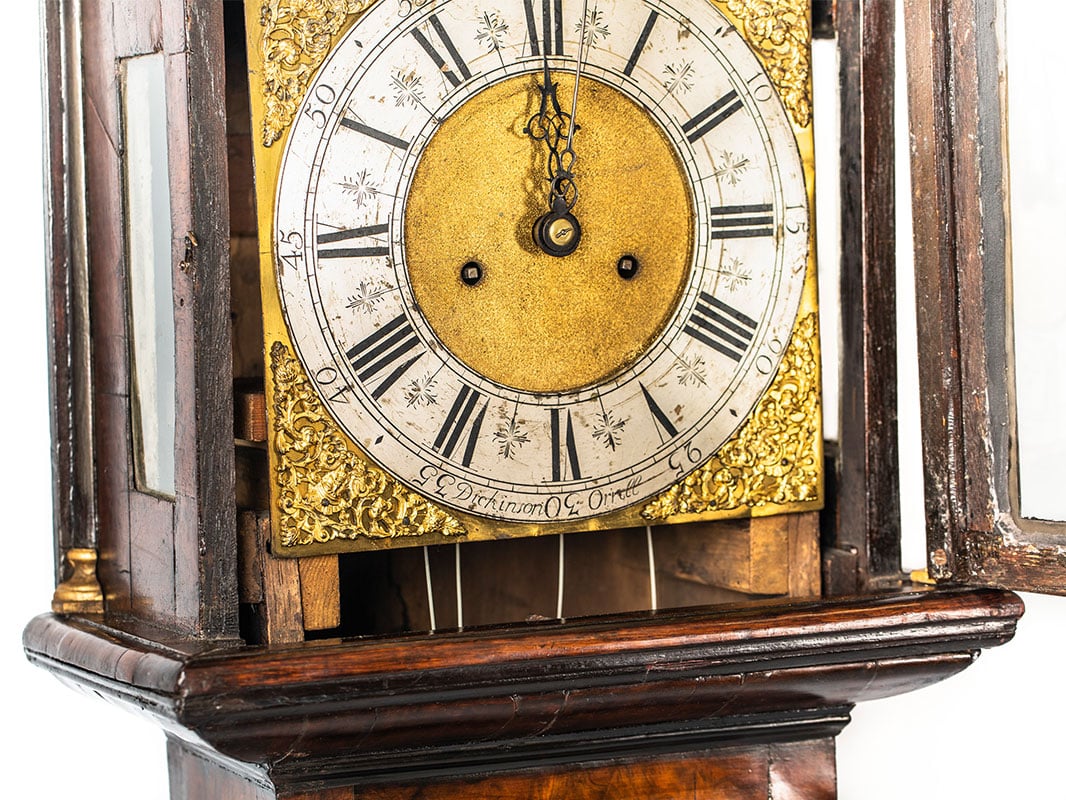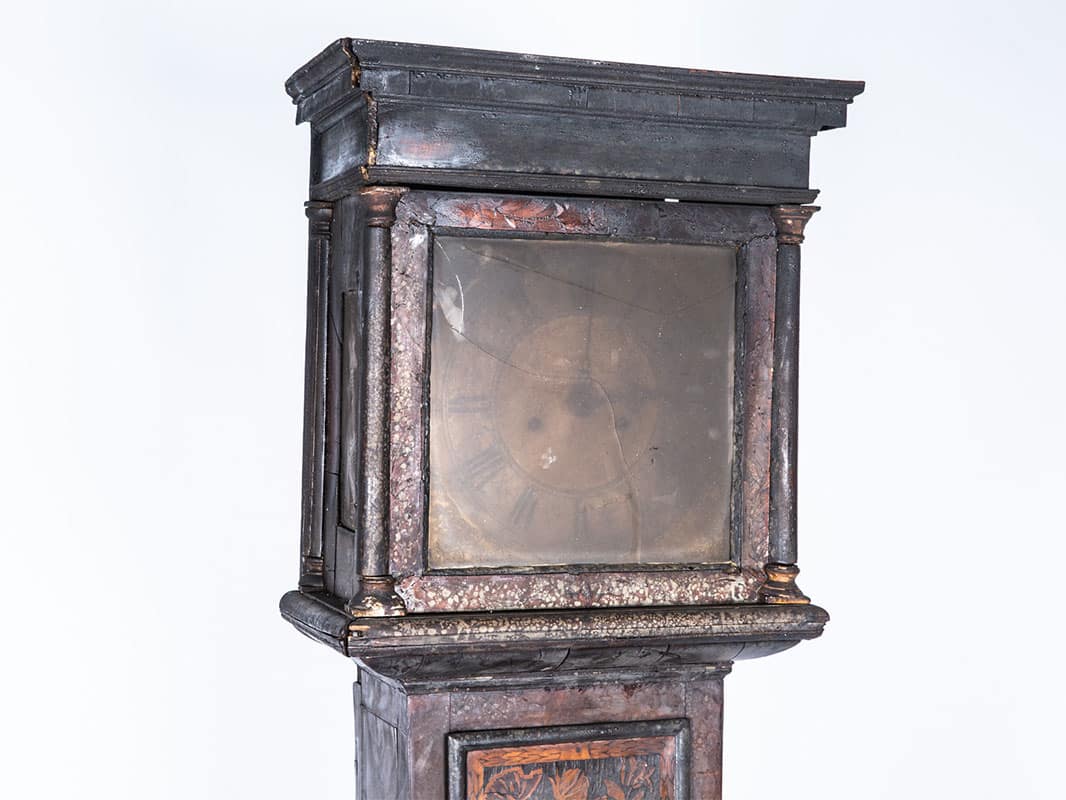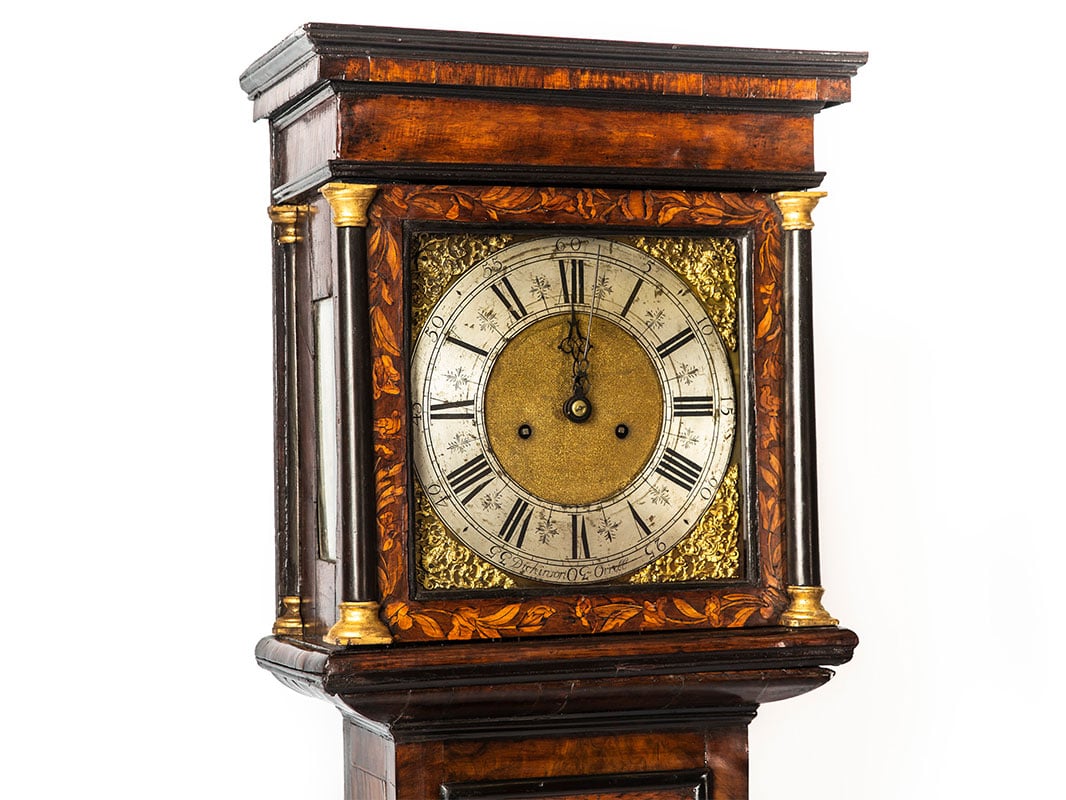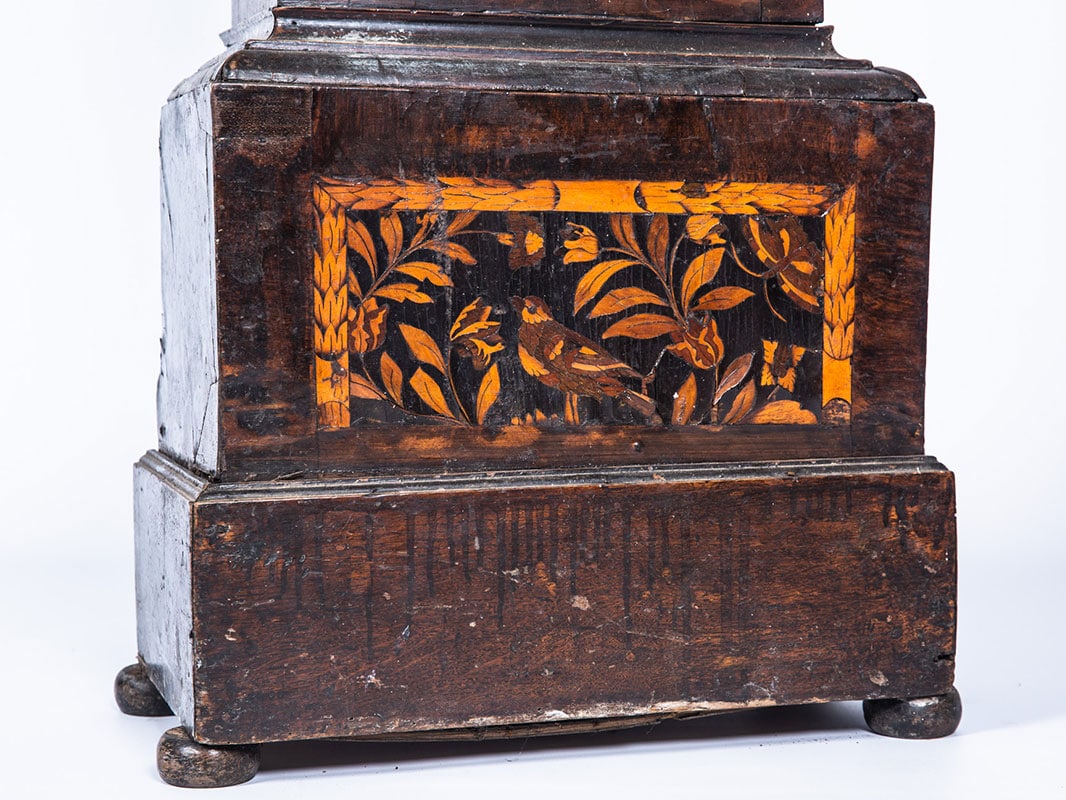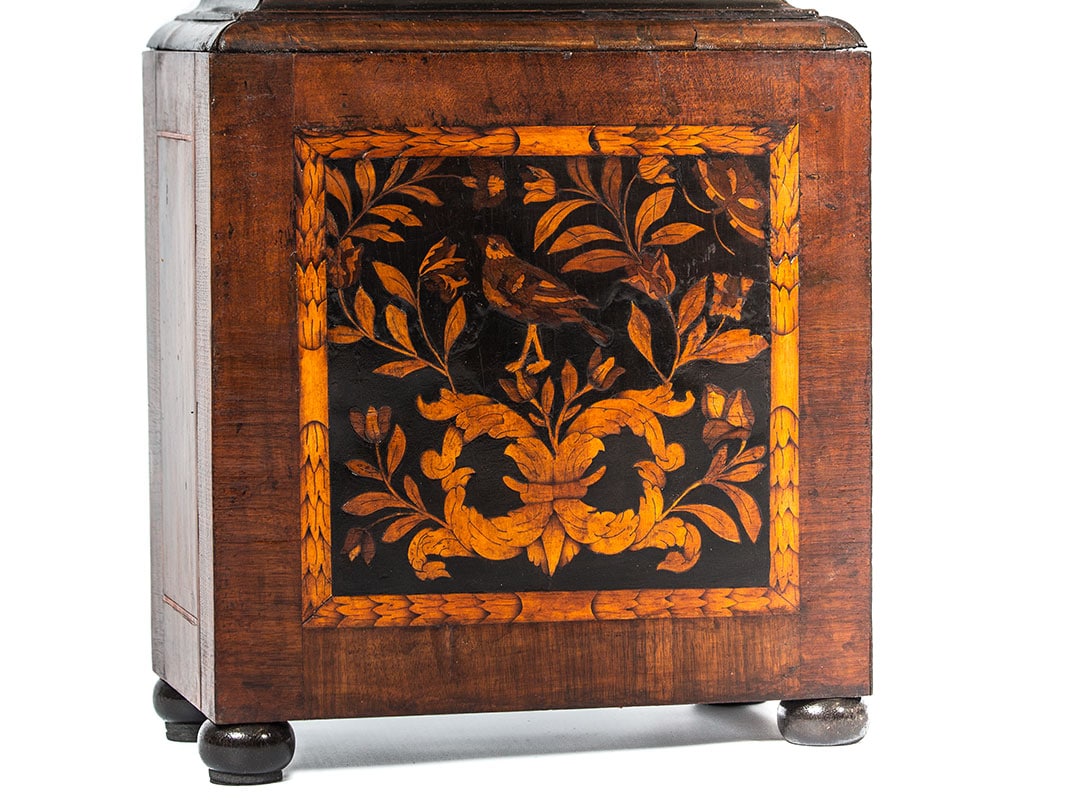 This 17th Century longcase clock was both smoke and water damaged as a result of a serious house fire.
Water had penetrated the surface of the clock and compromised the glue bonding the veneers to the carcass, meaning that structural consolidation work – in addition to the complete revival of the appearance of the veneers – was required.
The client also asked us to create a section of marquetry at the foot of the clock, to replace a later added plinth base.
Marquetry is the intricate art of using coloured veneers or decorative graining to construct patterns or pictures from wood. In the instance of this clock, the absence of its original marquetry panel meant that our conservators had to research designs on similar clocks from the period, as well as being guided by the marquetry on other parts of the clock.
The chosen design was then pierced out with a fine-bladed saw, and some of the wooden elements sand shaded. Sand shading involves the veneers being dipped into the heated silver sand to scorch the surface of the timber, which should eventually give the picture a three-dimensional look. The elements were then assembled into a pattern and bonded.
Restoring a Water Damaged Dining Table Top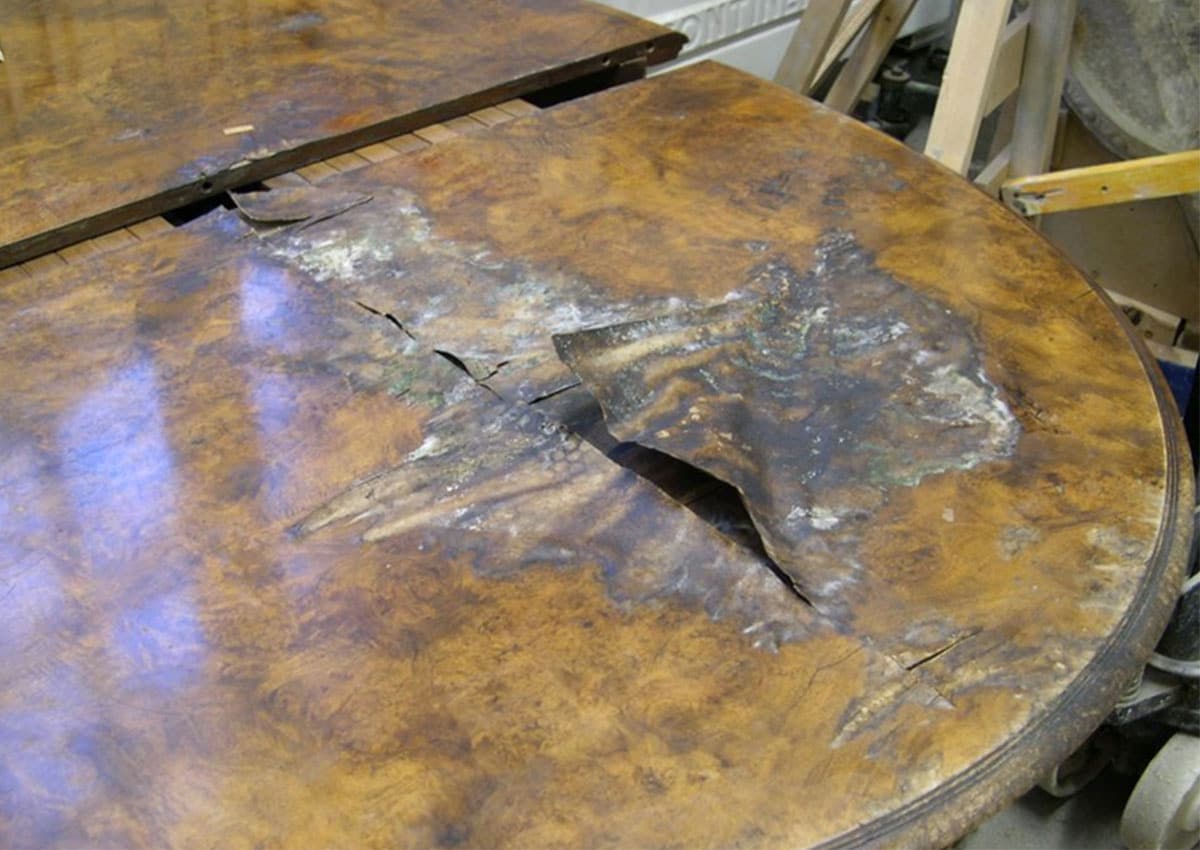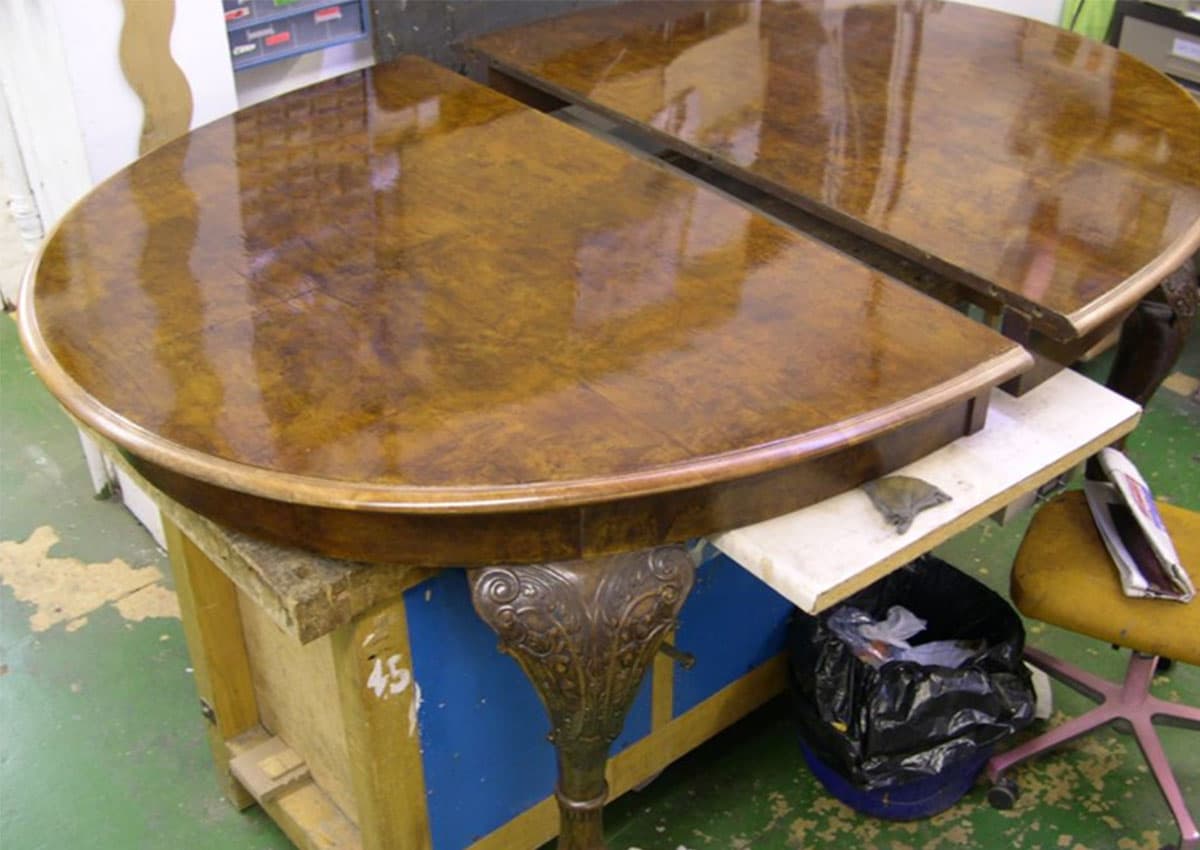 The walnut veneered top of this dining table was restored following substantial water damage caused by a potted plant contained within a shallow bowl.
Despite the owners placing a protective mat underneath the base of the bowl, a small hole in this waterproof mat allowed water that spilled over the shallow bowl to trickle onto the wooden veneer. Over time, the sustained exposure to water caused the veneers to lift.
When our furniture restorers received the table, these lifting veneers had dried out.  We re-hydrated each damaged section of veneer to make it more flexible and to soften the adhesive, which allowed us to remove each section. Once removed, these section were clamped between two boards to flatten them, and then relaid using traditional methods. Once reaffixed and dry, the whole table top was coloured and French polished to match the original finish.
Enquire About Our Furniture Restoration Services
Furniture Restoration FAQs
What sort of furniture do you restore?
We restore a wide variety of traditional, modern and contemporary furniture for private individuals and professional clients, ranging from single items of furniture to large collections.
Much of the work we carry out involves restoring traditional solid wood furniture, however we also restore furniture made from or featuring substantial amounts of other materials, including glass, brass, marble and Perspex. We restore mid to late-20th and 21st Century design furniture made from chipboard or plywood, and furniture featuring unusual or exotic veneers, including vellum or shagreen.
We are the trusted and preferred choice of many leading museums, antiques dealers, interior designers and private individuals who appreciate the expertise and attention to detail we bring to every furniture restoration project, whether large or small.
What furniture restoration services do you offer?
Our goal is to ensure that every piece of furniture returns to the client in a state that delights and exceeds expectation. For people with busy lives looking for efficient, fuss free furniture restoration solutions, Plowden & Smith offers a truly complete furniture restoration service.
We restore stains, damage and general wear and tear to every sort of surface finish found on furniture, including delicate decorative lacquered finishes, such as Japanning and Uroshi lacquer. We also offer French polishing and wax finishing services.
We also restore furniture showing more extreme forms of damage. Wherever possible, our approach is to save and revive the existing finish rather than strip and replace it. We have vast experience consolidating and restoring original veneers that many clients believe to be beyond saving. There is an excellent case study of our work restoring the original veneers of a table higher up on this page. In addition to consolidating and restoring lifting veneers, we can also replace missing sections of veneer using, wherever possible, wood of a similar age to the original. Once skilfully finished, the result will be perfectly seamless and whilst our restoration work is never carried with the intention to deceive, it will be almost impossible for anyone to spot the replacement section.
We are one of the few furniture restoration companies to offer marquetry services and we have the expertise to recreate the most intricate patterns and pictures from different coloured or grained pieces of veneer.
We offer comprehensive structural furniture restoration services, including consolidating and restoring loose and broken joints that risk making furniture unsafe and which may, if left untreated, cause permanent damage.
We also remake missing sections of furniture, including elements that feature intricate carving and turned wood. We also have a large selection of antique and period ironmongery meaning that if would like missing elements on a piece of furniture replaced, we can most likely match them from our existing stock, or have a high-quality replica cast.
We restore upholstered furniture including dining chairs, armchairs and sofas. For more information on this service, please refer to the question about upholstered furniture.
Do I need to bring my furniture to you to get an estimate for restoration?
No, we can usually estimate (or give at least give a good indication of treatment cost) from images.
Getting an estimate from us couldn't be simpler. The process begins with an enquiry, made either via email or by telephoning 020 8874 4005 (Mon – Fri, 08:30 – 17:00), and then emailing us some photographs and dimensions of the object.
If you need an estimate at short notice, please advise your timescale when you make your initial enquiry and we will endeavour to meet your deadline. Otherwise, we aim to provide you with a furniture restoration estimate within 2-3 working days after receipt of images and dimensions.
Sometimes it is not possible to estimate from images, in which a member of the team will advise you on next steps. It may be that one of our experts will need to come and inspect the piece of furniture in person.
Once you receive your estimate, if you have further questions and queries, please do ask us – remember we are here to help and advise.
If you would like us to proceed with furniture restoration treatment, we are happy to organise collection and delivery of your piece. Equally, we are happy to liaise with your own courier or shipping company.
Once your furniture has arrived and been inspected in person, we will confirm the cost of restoration and the lead time. We will only start restoration work once we have received written authorisation from you to proceed.
Whilst your furniture is with us, please feel free to contact us as often as you like to learn how work is progressing.
Where is your furniture restoration studio based?
Our furniture restoration workshop is based in our Mitcham Conservation studios (Unit 5 Liongate Enterprise Park, 80 Morden Road, Mitcham, CR4 4NY) a stone's throw away from Wimbledon and conveniently located just off the A24 and A297.
Do you only restore furniture based in and around London?
Our furniture restoration workshop is based in South London, and whilst we do carry out a lot of work for clients who live in London and the Home Counties, we restore furniture that is located all over the UK, and also around the world.
In most instances, we can estimate the cost of restoration treatment from photographs, and we are happy to organise nationwide and international collection and delivery.
Regardless of where you or your furniture is located, we will ensure that from start to finish the furniture restoration process is straightforward and convenient.
Do you offer a collection and delivery service?
Yes, we offer a collection and delivery service.
For furniture located in Central London, we offer a complimentary collection and delivery service every Thursday, and for furniture located outside Central London, this service incurs a cost, based on distance from our studio.
Many of our clients prefer to make their own shipping arrangements and we are very happy to liaise with the courier or logistics company of your choice.
Do you restore furniture made from materials other than wood?
Whether you have a Georgian mahogany sideboard with damaged or missing brass escutcheons or a bedhead featuring smashed verre églomisé glass panels, we have the expertise to sympathetically restore your furniture to the highest standards.
Although a lot of the furniture we restore is made wholly from wood, we restore significant amounts of furniture that incorporate other materials, including brass, bronze, stainless steel, ormolu, glass, stone, Lucite, Perspex and other types of plastic; as well as leather, bone and shagreen.
Clients return to us time and again, because they know that with our vast array of specialist departments (to give you an example, we have a specialist stone restoration department, a specialist metal restoration department, a specialist ceramic and glass restoration department, as well as experts in restoring a range decorative finishes, including gilding) their furniture, regardless of how delicate or unusual the material, will receive the very best treatment.
I've seen a sofa I like at auction, but it needs quite a bit of work. Do you also offer an upholstery service?
A lot of clients approach us with this scenario. They have seen an antique sofa for sale, which is essentially what they want; however, they don't like the fabric, or they find the sofa uncomfortable and need it reupholstered, or feel the wooden frame needs some attention, or in the case of a giltwood sofa, may need regilding.
We offer a complete hassle free restoration service for upholstered furniture, including the restoration or replacement of worn coil springs, broken webbing, horse hair stuff and stitch, and sprung-front edges; as well as restoring the structure and reviving the surface appearance of more modern and contemporary upholstered furniture.
Whatever the age of your sofa, once it is in our studio, we will check the structural soundness of its frame to ensure that it doesn't require any remedial work. If we feel that the sofa would benefit from additional treatment, we will advise you as soon as possible how this will affect the cost and lead time.
All work is carried out to the most exacting standards, and our loyal client base includes many top interior designers and concierge companies, who know that they can rely on us to deliver results that will delight even their most discerning clients.
Do you re-cane chairs? What's the difference between ready-cane and hand-woven cane?
Yes, we re-cane antique chairs, restoring both 'ready-woven' cane chairs and 'hand-woven' cane chairs.
Ready-woven cane comes on a roll and is glued and beaded into your chair seat or back, whereas hand-woven cane, as the name suggests, is threaded by hand, through a series of drilled holes around the edge of the seat frame or other area that needs caning.
As you can imagine, restoring or re-caning a hand-woven cane chair is more time-consuming, and therefore more costly, than restoring a ready-woven cane chair.
Regardless of whether your chair features hand-woven or ready-woven cane, we will check that the structure of the chair is sound. Caning puts a huge amount of stress on the frame of a chair, therefore the joints of caned chairs sometimes require remedial work before we can begin the re-caning process. If we feel that the chair would benefit from additional treatments, we will advise you as soon as possible how this will affect the cost of re-caning and also the lead time.
Do you offer rush weaving (rushing) services?
Yes. We offer traditional rush weaving services using bulrush as well as more modern weaving materials, for example seagrass.
I have a piece of furniture that is intricately painted, do I need a painting restorer rather than a furniture restorer to fix it?
In most cases a conservator specialising in the restoration of painted and decorated surfaces will be able to revive even the most intricately painted pieces of furniture. However, in some circumstances, a specialist painting conservator may in fact be the most appropriate expert to revive a piece of painted furniture.
Plowden & Smith's large of team of conservators includes specialists dedicated to restoring decorative finishes, and accredited expertise in the restoration of paintings. If you email us an image of your painted furniture we will be able to advise the most appropriate course of treatment.
Do you restore gilded furniture?
We restore giltwood furniture, including furniture featuring water gilding and oil gilding. We also restore gilded picture frames and mirrors, including replacing carved wooden elements or composition detailing.
Please visit our Gilding Services webpage if you would like to learn more.
Do you restore antique mirrors? If so, can you replicate aged antique mirror glass?
Yes, we restore antique mirrors including restoring or replicating antique mirror glass.
Sometimes clients come to us and ask us to restore the aged appearance on antique mirror glass. It may be that they like the frame, however they want to be able to use the mirror, and its heavily oxidised condition is proving impractical. Since even fairly substantial discoloration on a mirror is widely recognised as adding character to the antique, our advice would be to remove and safely store the original glass and to replace it with something more suitable for day to day requirements. Since brand new mirror glass in an antique frame does not always lead to the most the most visually sympathetic or harmonious end result, many clients ask us to make a replica that features an agreed level of 'age', or oxidisation only in certain areas, for example around the edges of the mirror.
My chest of drawers is missing some of its original brass handles - can you help?
Yes we can help. Over the past 54 years, we have built up a vast collection of antique and period cabinet fittings, including hinges, door handles, escutcheons, locks and keys. If for any reason we do not have a suitable replacement amongst our stock, we can cast high-quality replicas by taking a mould from an existing example and finishing it so that perfectly matches the appearance of the original. If you email us some images of the chest of drawers we can advise.
I have a heavy mirror that fell off the wall and I want a professional to install the mirror once it has been restored. Do you offer an installation service?
Yes, we offer an installation service, which many clients with large and heavy pictures, mirrors and other wall mounted objects prefer to use for ultimate peace of mind.
Installation is offered as a stand-alone service, so you are not obliged to have the object restored by us prior to installation. To find out more about installation services telephone 020 8874 4005 (Mon-Fri 08:30 – 17:00) or email info@plowden-smith.com
What is French polishing?
French polishing is a furniture finishing process that involves the application of multiple layers of very thin coats of shellac.
The result is a high gloss surface, which enhances and emphasises both the deep colour and natural grain of wood. It is a very popular service we offer, most associated with traditional antique furniture.
Do you offer routine furniture cleaning services? Is this overkill?
Furniture, regardless of age, is some of the hardest working objects we have in the home. Because of the daily wear furniture experiences, its appearance, longevity and value will be enhanced with regular care and attention.
Regular, careful dry cleaning with a lint-free cloth will prevent the build up of dust, and regular applications of a high-quality wax will enhance the appearance of the wood's colour and grain, whilst providing an additional layer of protection.
For the most part this can be safely carried out by individuals without formal training, and without any risk of damage.
However, there is a substantial difference between the techniques and therefore the end results that an informed but untrained amateur and a professional furniture restorer can achieve, which is why so many of our clients call on us on a regular, not frequent, basis to clean, wax and polish their furniture. This can usually be carried out by one of our furniture restorers visiting your home, so there is very little inconvenience involved to you.
Enquire About Our Furniture Restoration Services
To find out more about our furniture restoration services, or to discuss a project
please get in touch