RESTORATION & CONSERVATION SERVICES | FURNITURE RESTORATION
"We are absolutely delighted with the chairs. They have more than exceeded our expectations, and it is a real achievement to have seamlessly restored the original look without making them look too modern. Please pass on our thanks to your extremely skilled restorers!"
– Georgina P., London – Private Client
Since Plowden & Smith's foundation in 1966, our furniture restoration department has developed a world-leading reputation for excellence.
Our approach to furniture restoration respects the history and integrity of each piece, whilst also producing first-class, long lasting results. Our furniture restoration treatments combine in-depth knowledge of traditional cabinet-making skills with up to the minute knowledge of the latest advances in scientific conservation.
We have provided furniture restoration services to collections located in the UK and around the world, including for the National Trust and English Heritage, the Palace of Westminster, Apsley House, the Royal Opera House, Qatar National Museum and the Kode Museum in Norway.
Furniture restoration work ranges from conservation cleaning to extensive rebuilding. We remove stains, scratches and relatively minor losses, as well as successfully restoring furniture that has suffered major fire, flood or shipping damage. Furniture can be replicated, as can missing fittings including keys and mirror glass.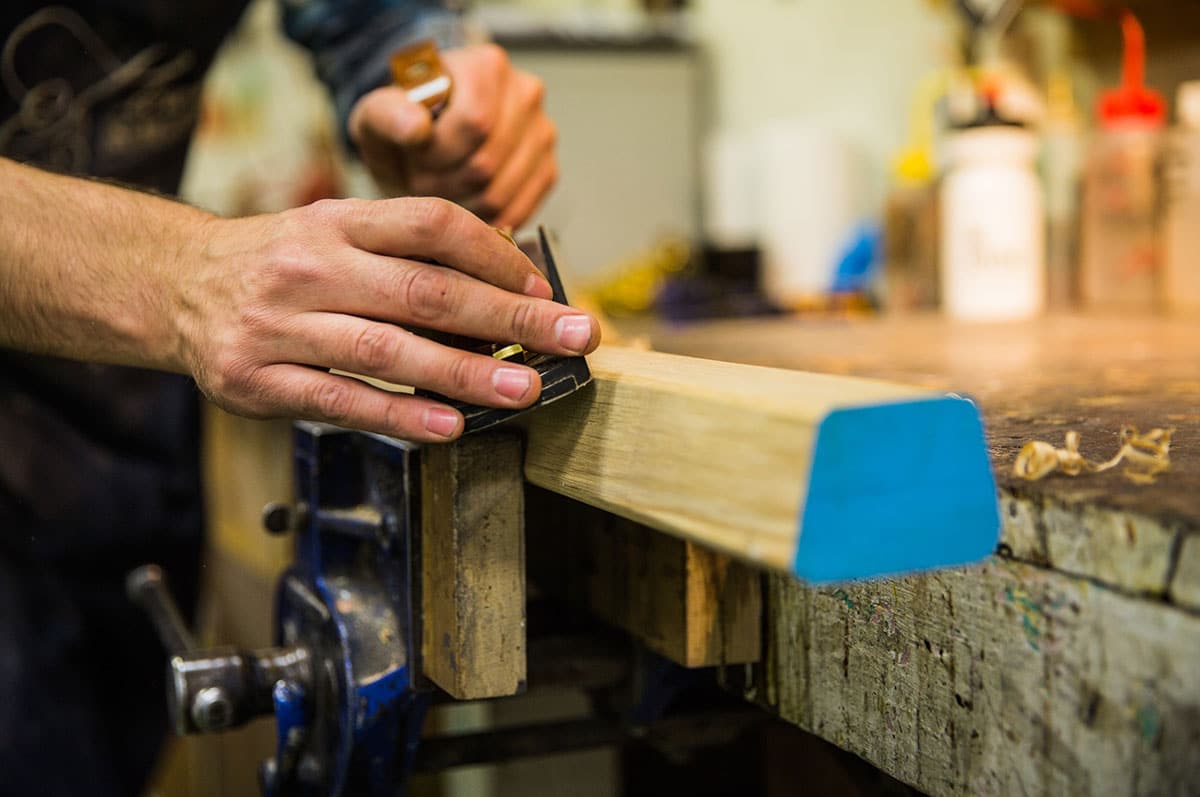 Our furniture restoration department conserves and restores traditional antique furniture by such noted cabinet makers as George Bullock, Robert Adam, and the firm Gillows; Mid Century furniture by Arne Jacobsen, Paul Evans, Le Coubusier, Gio Ponti, Hans Wegner, and contemporary furniture by Zaha Hadid.
Our furniture restoration department also treats a wide range of historic, modern and contemporary wooden artefacts. Projects have included stabilising the decayed interior and consolidating the surface of the iconic Spirit of Gaiety for the Victoria & Albert Museum, and cleaning and restoring various missing sections of the Grinling Gibbons carvings around the organ at St Paul's Cathedral.
Furniture restoration services we offer, include:
Structural Restoration
Restoring furniture with damaged or missing sections using traditional techniques such as wood turning and wood carving. Wherever possible, we use matching timber of the same age and quality. Over the fifty years Plowden & Smith has been in business, we have built up an extensive stock of eighteenth and nineteenth century timber to ensure the best possible match.
Surface Restoration
Restoring furniture with damaged surfaces and finishes, French polishing, wax finishing, colouring with water dyes and chemicals, and bleaching wooden surfaces. Restoring furniture that is painted or decorated with water and oil gilding, as well as restoring japanned and lacquered surfaces. We offer marquetry restoration, including recutting replacement sections. As well as wood, we treat furniture made from or veneered with a wide range of materials, including metal, shagreen, vellum and boullework.
Restoring Furniture Elements
Restoring or recasting missing ormolu mounts, brass and steel handles, and repairing or replacing locks and keys, drawing on Plowden & Smith's extensive stock of period fittings, wherever possible to ensure an historical accurate replacement. Replicating aged mirror glass using techniques that imitate the natural aging process and restoring or replacing broken and missing marble table tops. We are one of the few companies with the skills required for tin plating or tinning.
Condition Reporting and Consultancy Services
In addition to interventive treatments, we offer a wide range of bespoke consultancy services, including condition reporting, remote environmental monitoring and environmental optimisation to protect furniture from the damage caused overtime by dramatic temperature and humidity swings. Find out more about our condition reporting services here. For all other consultancy type services, please contact us.
"We are thrilled with our furniture and I will be telling everyone what a great job you do!"
– Clare Pardy, Museum & Heritage Director – Hallett Independent
Furniture Restoration Case Studies
Fire Damaged 17th Century Longcase Clock Restoration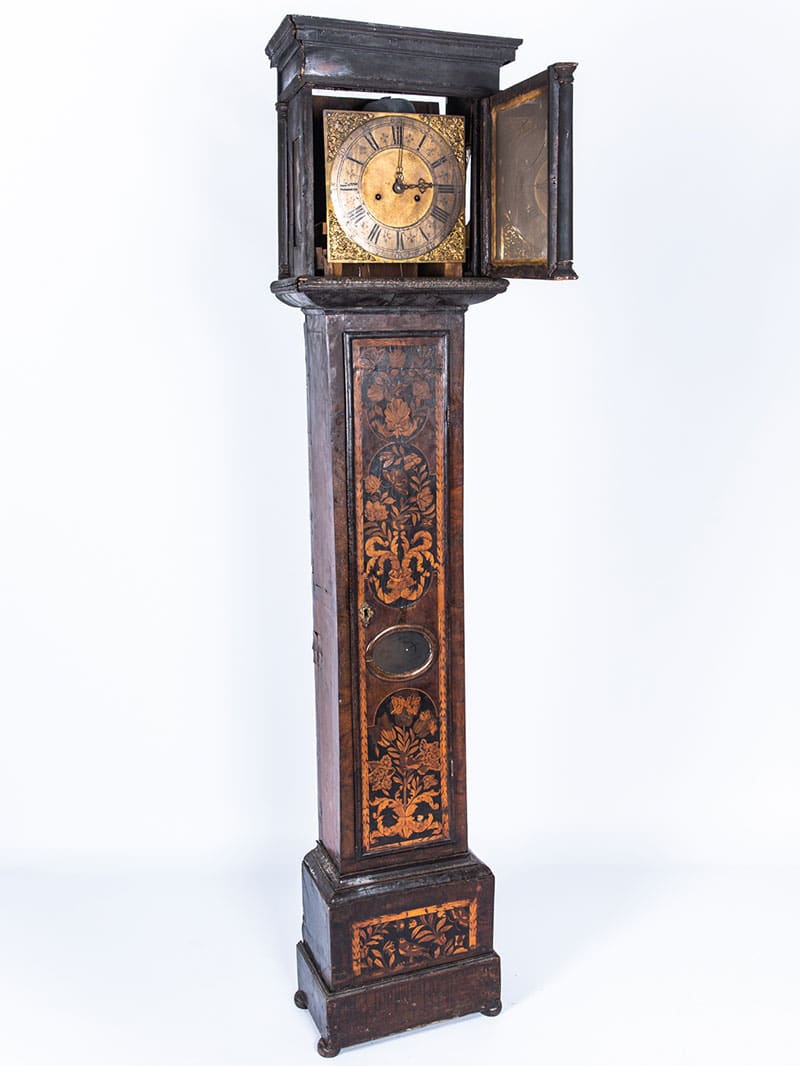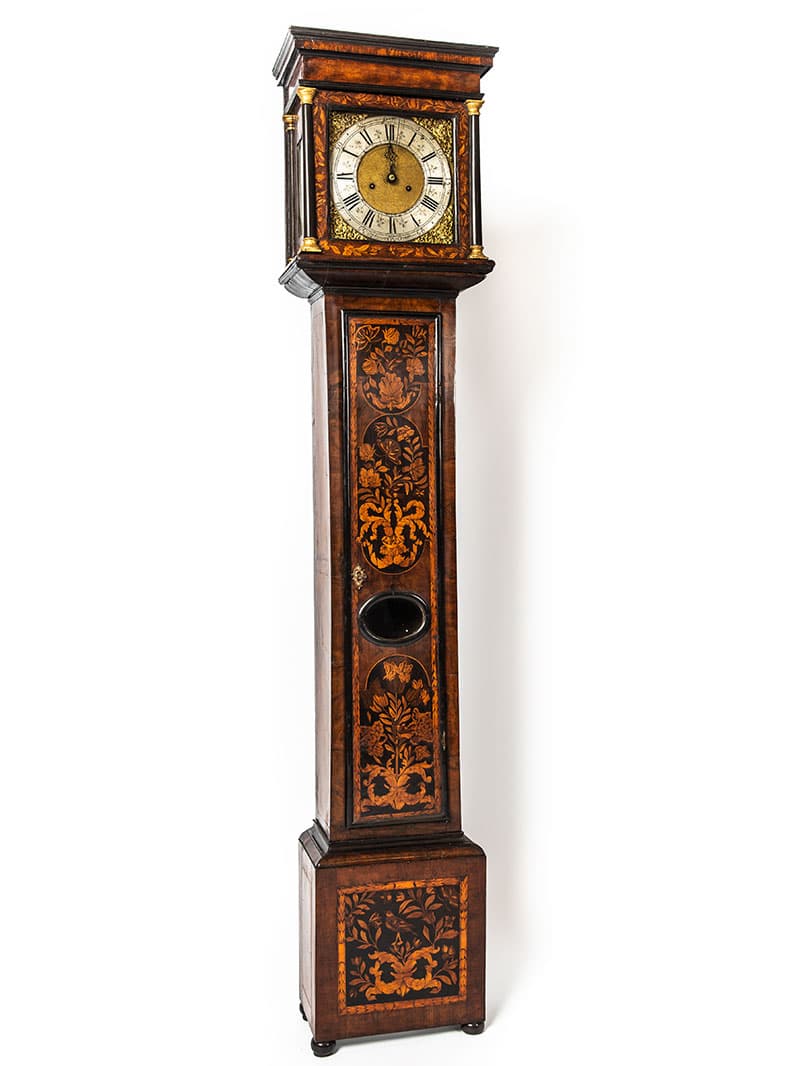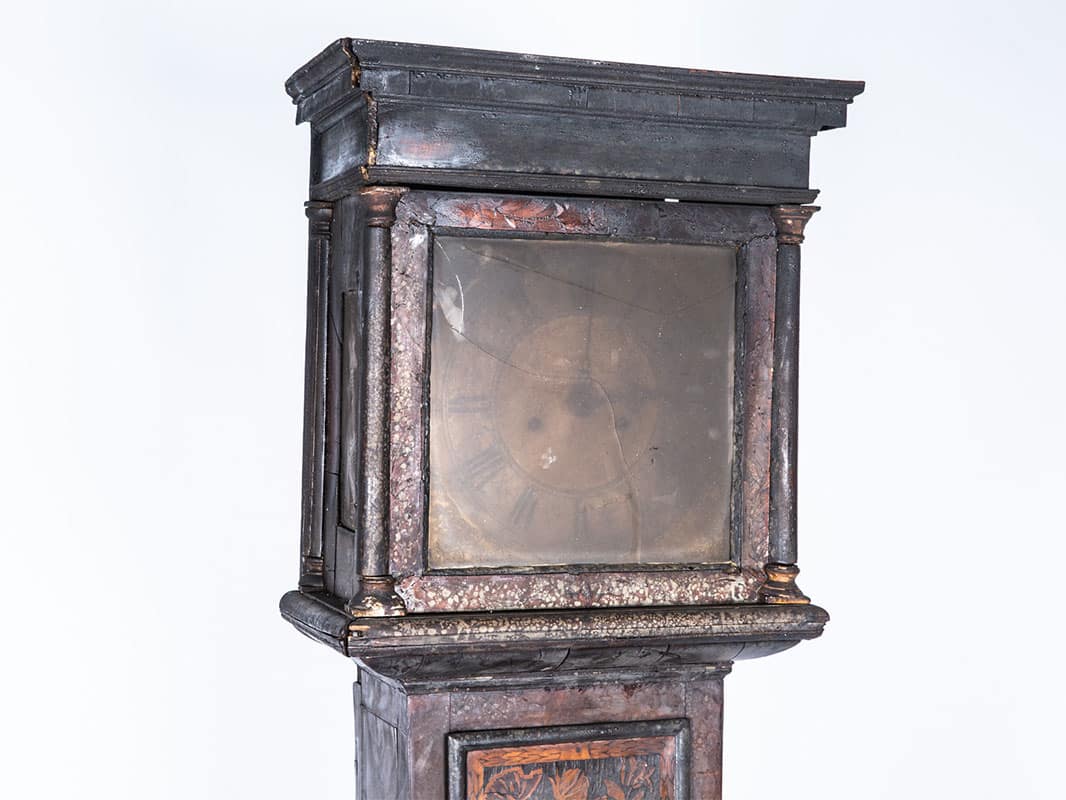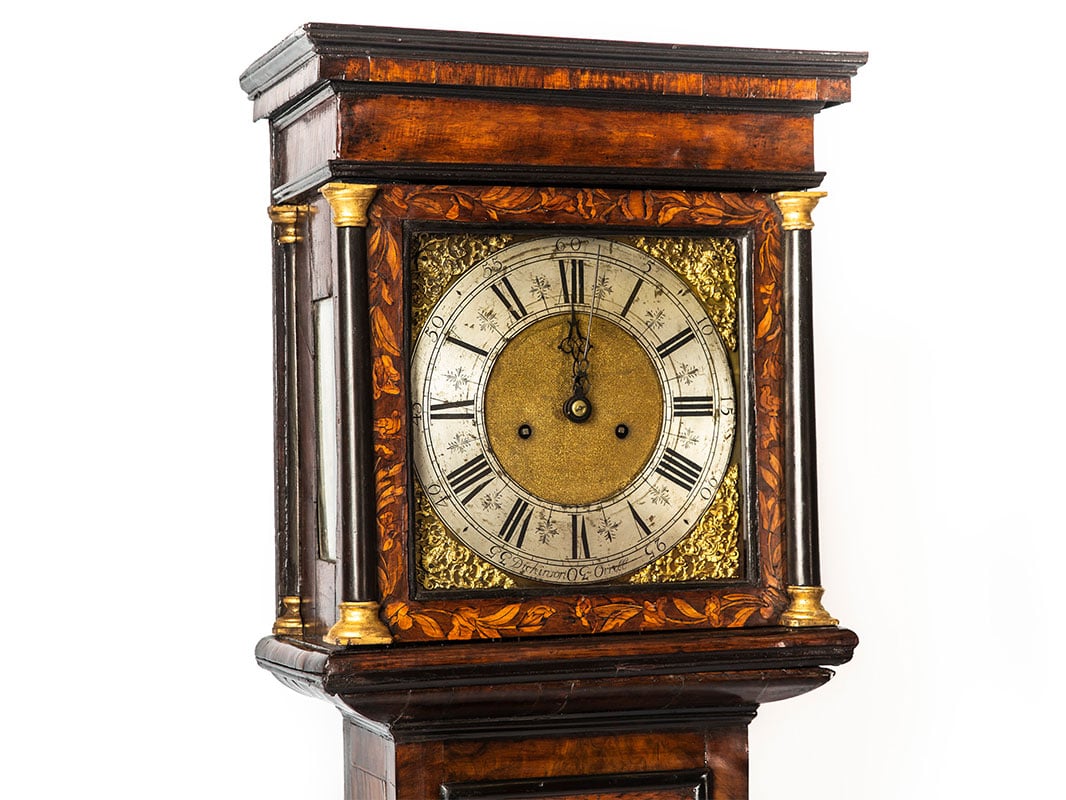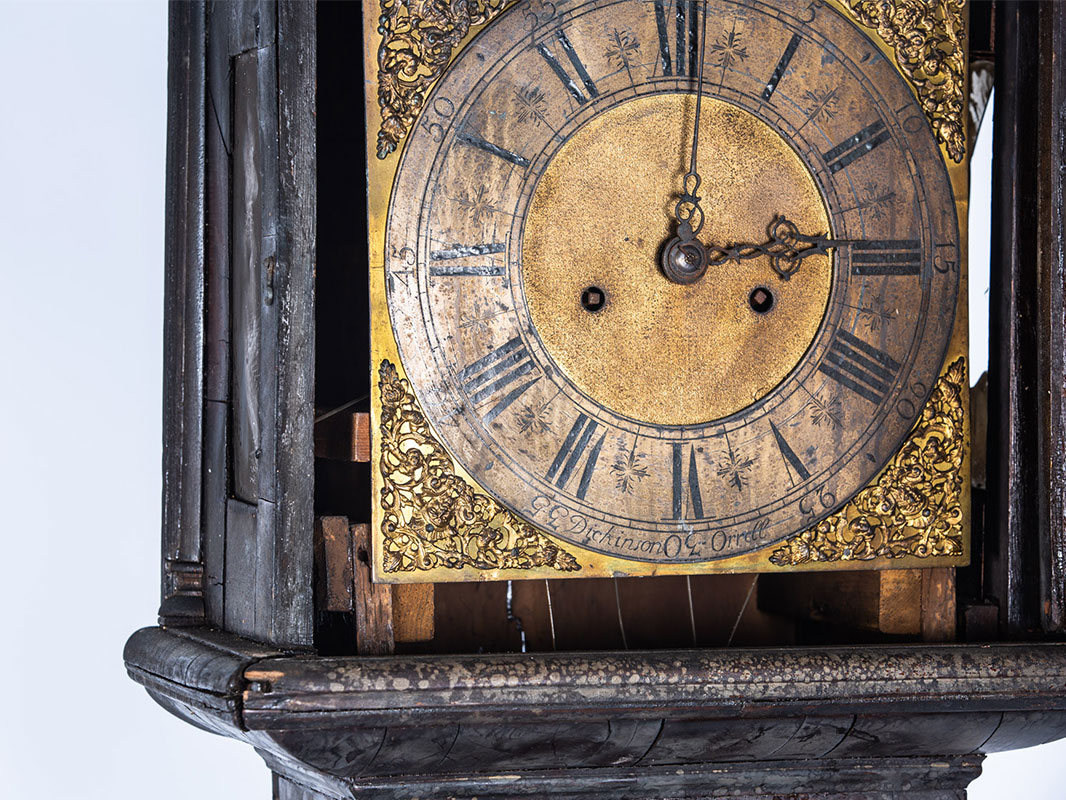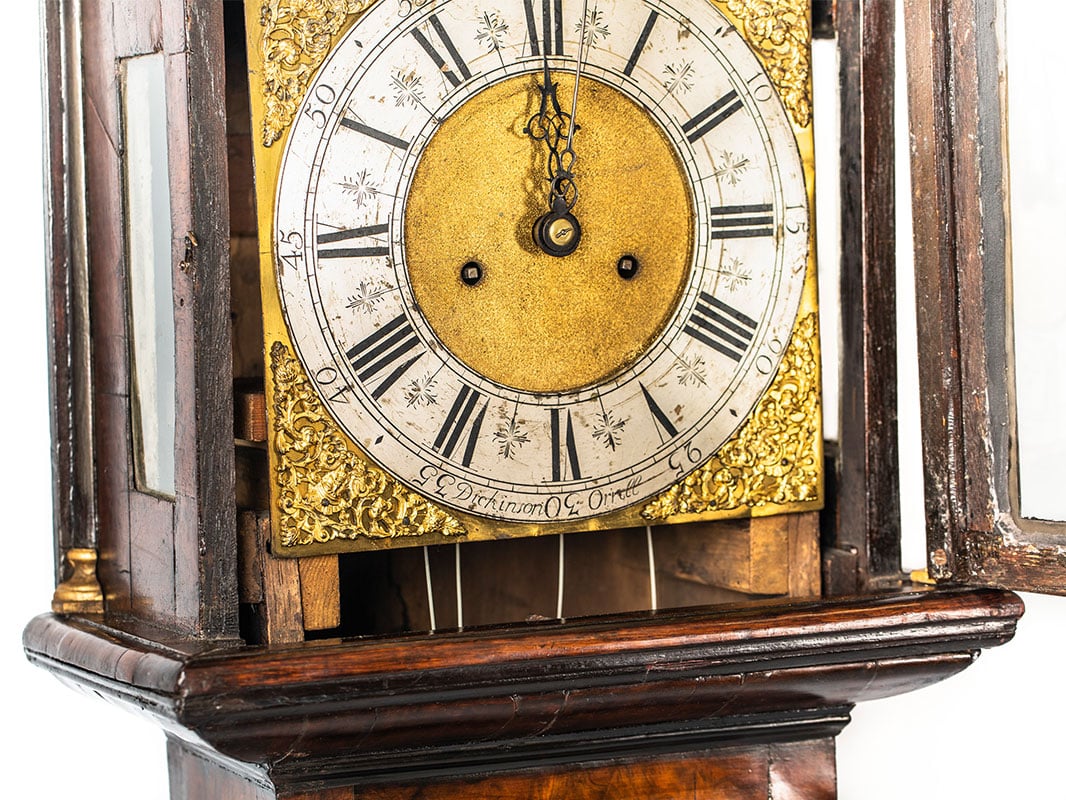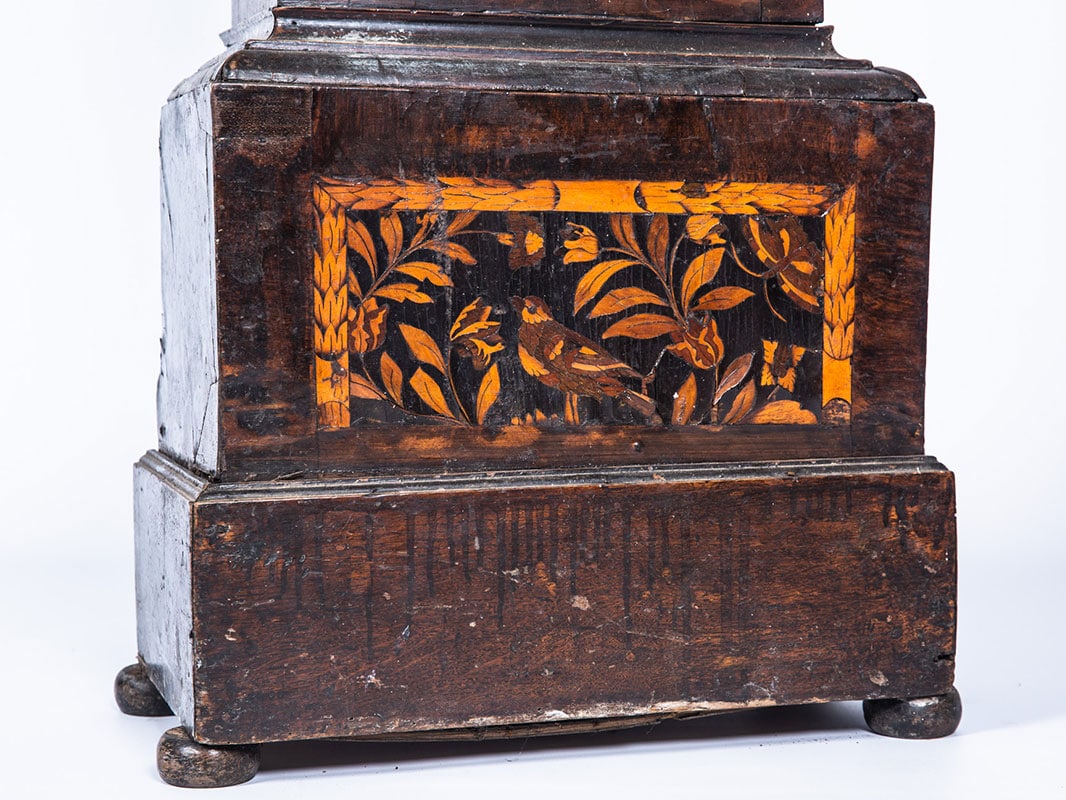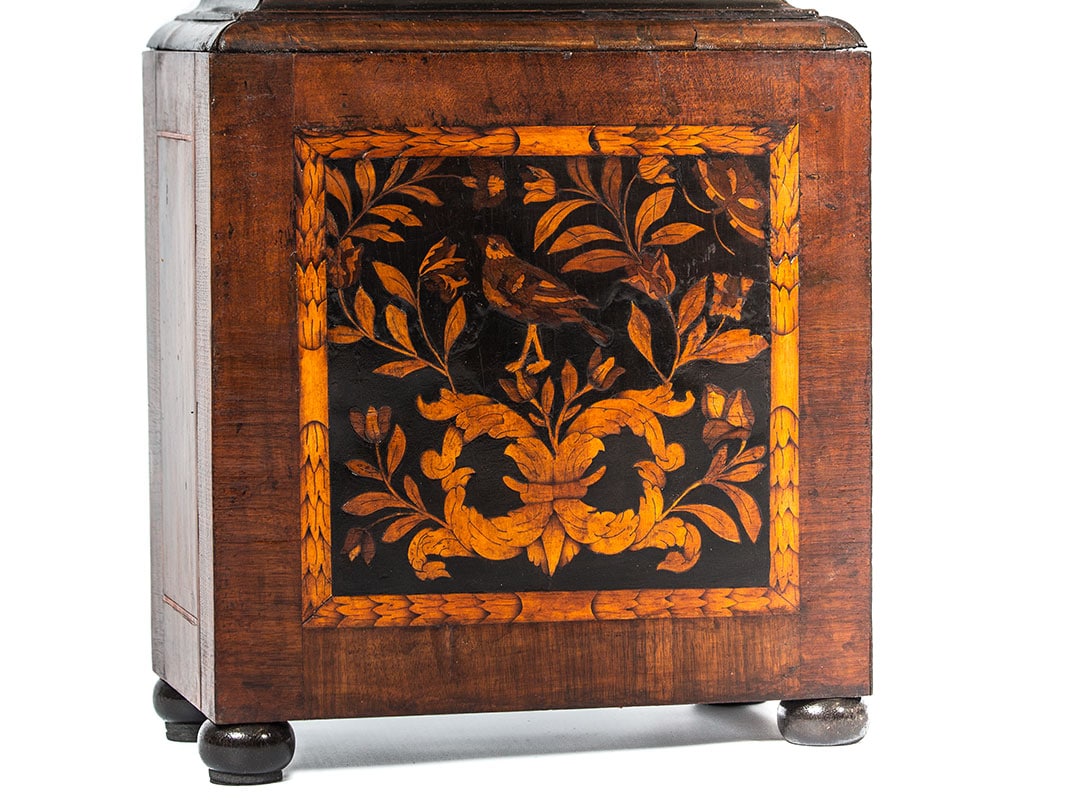 This 17th Century longcase clock was smoke and water damaged because of a serious house fire.
The severely damaged veneers needed to be completely revived.
Furthermore, the water had penetrated the surface and had compromised the glue bonding the veneers to the carcass, meaning that structural consolidation was required.
The client also asked us to create a section of marquetry at the foot of the clock, to replace its later added plinth base.
Marquetry is the intricate art of using coloured veneers or decorative graining to construct patterns or pictures from wood.
In the instance of this clock, the absence of its original marquetry panel meant that our conservators had to research designs on similar clocks from the period, as well as being guided by the marquetry on other parts of the clock.
The chosen design was then pierced out with a fine-bladed saw, and some of the wooden elements sand shaded. Sand shading involves the veneers being dipped into the heated silver sand to scorch the surface of the timber, which should eventually give the picture a three-dimensional look.
The elements were then assembled into a pattern and bonded.
Water Damaged Dining Table Top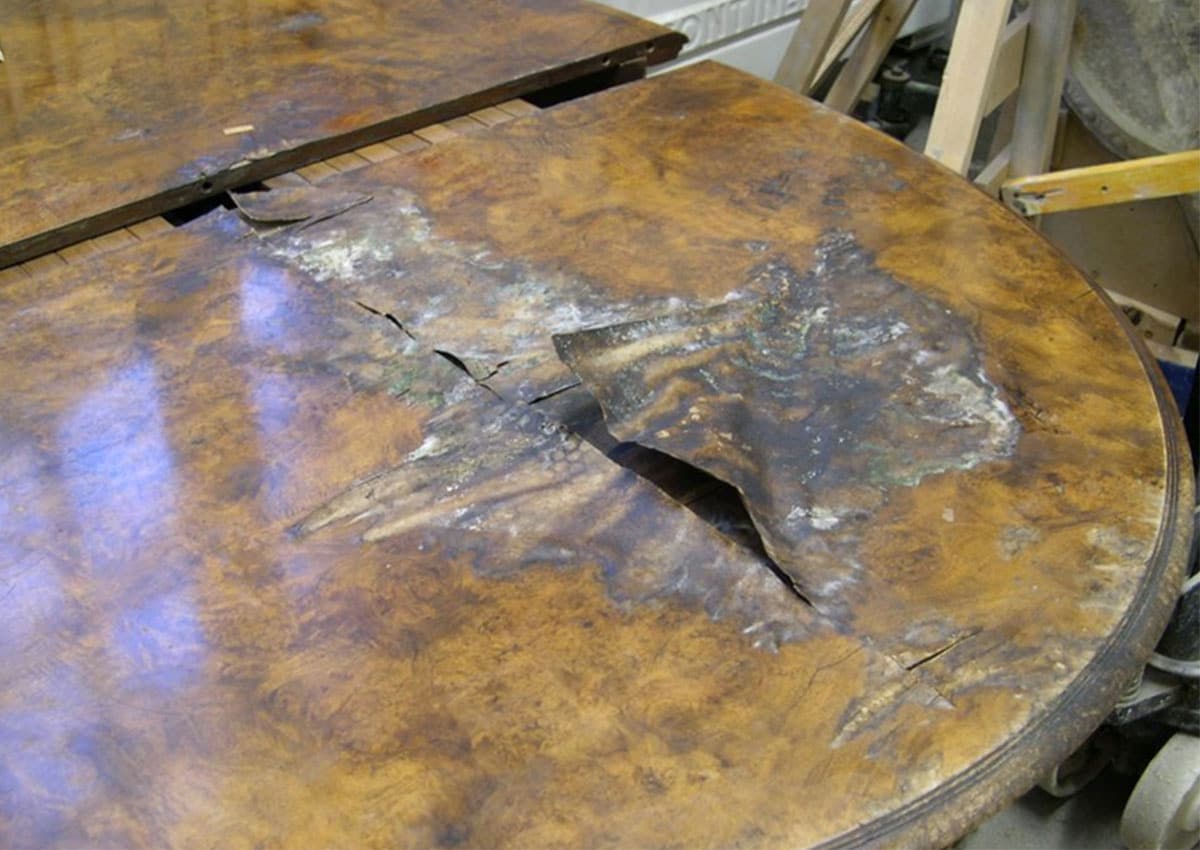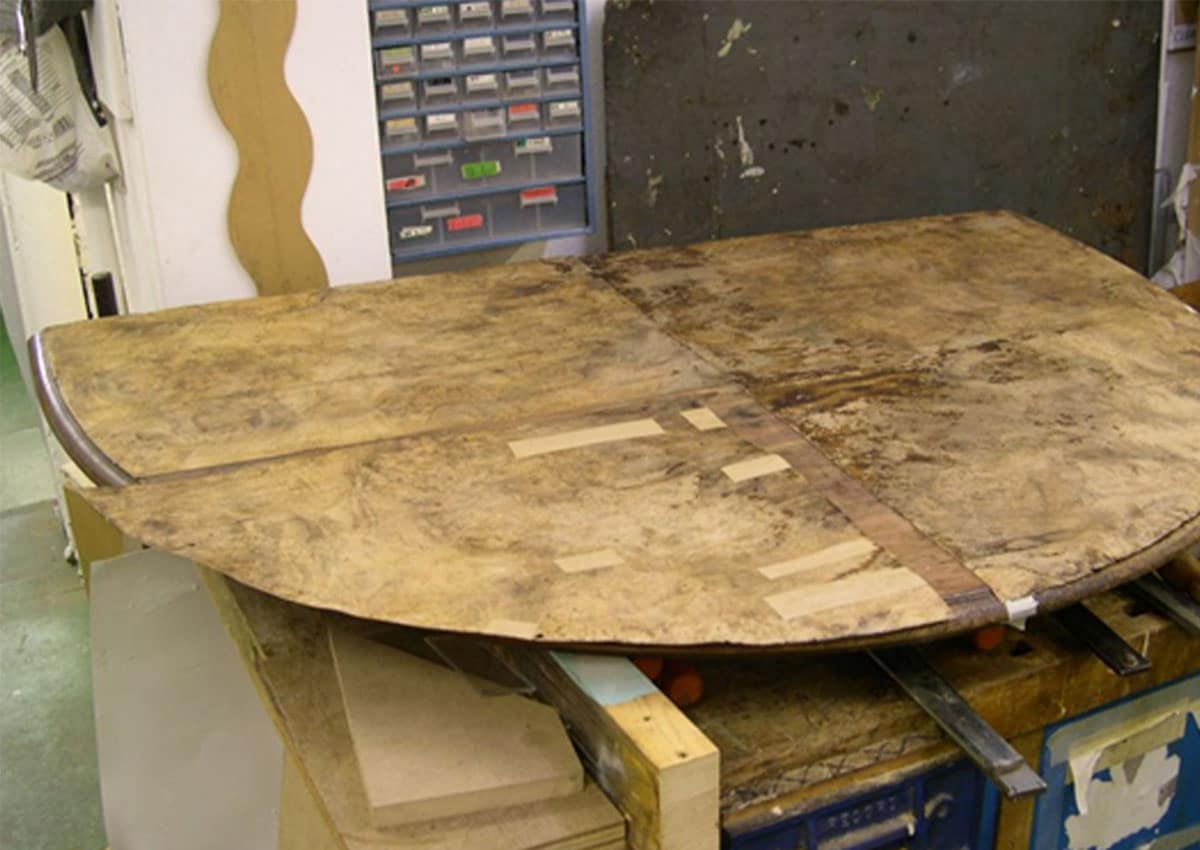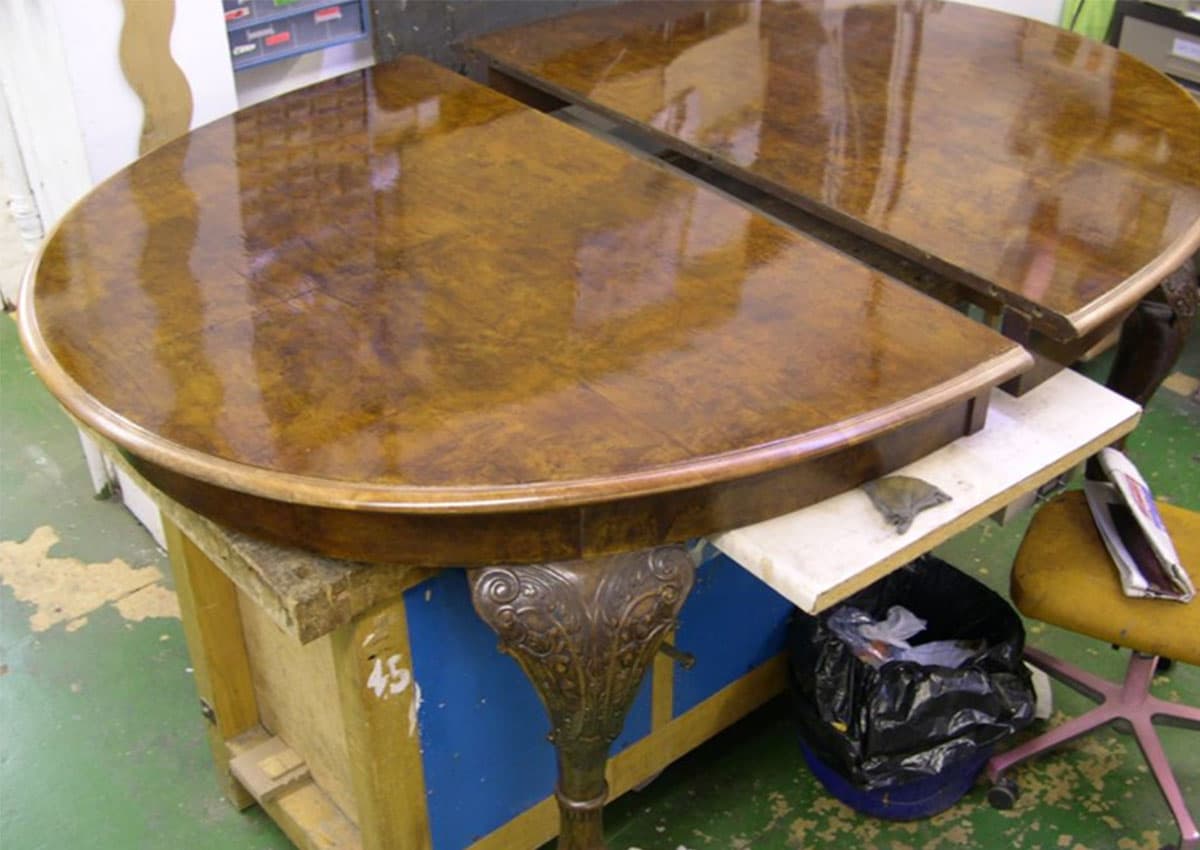 This walnut veneered top of this dining table was restored following substantial water damage caused by a potted plant contained within a shallow bowl.
Despite the owners placing a protective mat underneath the base of the bowl, a small hole in this waterproof mat allowed water that spilled over the shallow bowl to trickle onto the wooden veneer. Over time, the sustained exposure to water caused the veneers to lift.
When we received the table, these lifting veneers had dried out.  We re-hydrated each damaged section of veneer to make it more flexible and to soften the adhesive, which allowed us to remove each section. Once removed these section were clamped between two boards to flatten them, and then relaid in the traditional way using animal glue. Once reaffixed and dry, the whole table top was coloured and French polished to match the original finish.
To find out more about our fine art restoration services, or to discuss a project
please get in touch