Large outdoor sculpture creates a striking talking point that can revitalise or enhance a landscape: no wonder it is an increasingly popular field of collecting.
But monumental art frequently comes with a monumental price tag. Our latest article for Family Office Magazine, looks at why a considered sculpture restoration and conservation strategy is vital for protecting and enjoying this sizeable investment…
Over the past few years, collecting large-scale outdoor sculpture has seen a significant surge in popularity. And in 2022, despite rising material and production costs, UK foundries are claiming to have never been so busy.
As a conservation company that works with many Family Offices, we are being increasingly asked for advice about both existing and newly acquired outdoor sculpture, whether Mid Century classics or commissioned contemporary pieces. Whilst more individuals may be investing in outdoor sculpture; this rise also indicates a growing recognition of the vital role conservation plays in protecting cherished art.
Outdoor sculpture is a case in point. It may spend 365 days a year outside: exposed to rain, atmospheric pollutants, fluctuating temperature and relative humidity levels, and corrosive bird droppings; conditions likely speed up what might otherwise be slow, natural deterioration, as well as exacerbating any inherent fabrication weaknesses. As the two things never covered by insurance are gradual or natural deterioration, and what is called inherent vice; a considered approach to conservation is essential for collectors wishing to maintain the visual appeal and value of their sculpture.
Conservation ideally starts even before the sculpture is acquired. Before deciding to buy an outdoor sculpture (or indeed any artwork), we recommend having a third-party conservator assess the sculpture and produce an in-depth independent condition report that will identify any flaws, previous restorations, or inherent weaknesses linked to the fabrication process.
Not only will this draw attention to issues that may impact the value of the sculpture, or cause expensive condition problems down the line; but a third-party report from a trusted source is also an excellent tool for negotiating a fair price.
Once a particular outdoor sculpture has been acquired; a conservation company can help establish the most suitable outdoor location for the sculpture. The ideal location may vary depending on the sculpture's medium; however, will usually be one that is level; positioned either on an elevated platform or on a site with excellent drainage; and in a spot that avoids excessive water runoff and bird droppings. To best achieve these conditions, nearby vegetation may need to be trimmed and sprinklers may also need to be redirected.
An ongoing maintenance plan is important. This usually involves the careful cleaning of the outdoor sculpture at regular intervals. This will include the removal of biological matter such as moss and lichen, to help prevent future loss of the substrate, especially for stone. Cleaning can also correct disfiguring staining caused by pollution. Inappropriate cleaning can cause irreversible damage, therefore should always be carried out or informed by a professional conservator.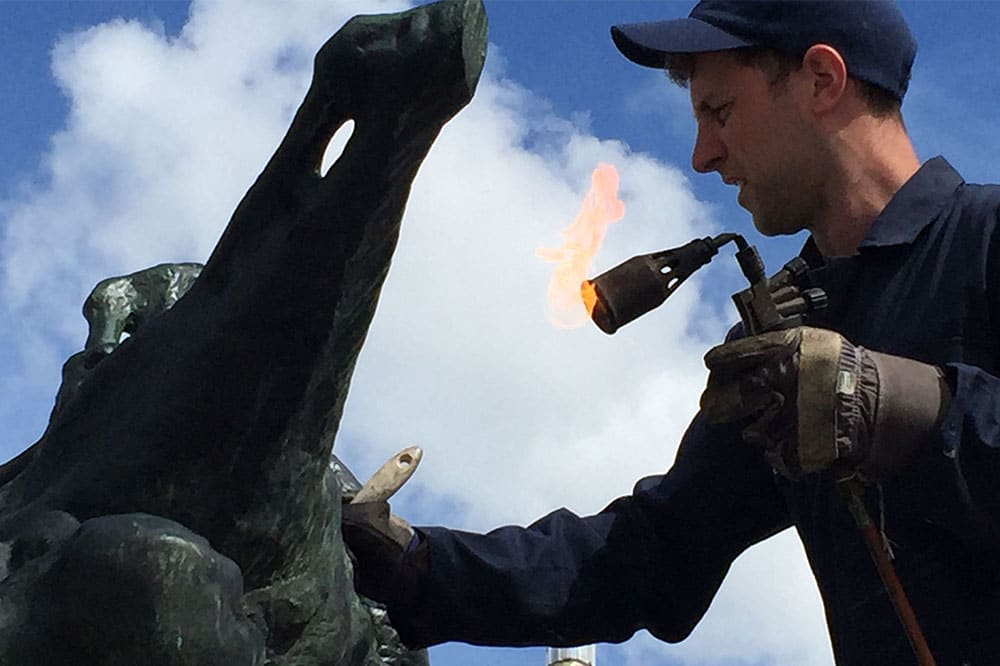 In addition to regular cleaning, bronze and stone outdoor sculptures will benefit from regular applications of sacrificial protective wax coatings, which will help prevent or slow down corrosion. As well as being unsightly, corrosion signifies loss of original material and patina, which can impact value and lead to major structural issues if left unchecked. A regular programme of cleaning and waxing will lessen the likelihood of this occurring.
Finally, as we look ahead to Winter, collectors would be wise to ensure that nooks and crannies are being frequently cleared of leaves and depositories of water. If left, trapped water may freeze and expand, potentially causing the sculpture to develop cracks.
If high levels of rain or extremely cold seasonal spells pose a significant risk; relocating the sculpture to a covered area within the grounds of the property for certain months of the year may be the best means of protecting it.
If this is not possible, erecting a temporary covered structure around the sculpture will help protect it from frost and moisture, whilst still allowing essential air flow. A covered structure can be a good long-term investment as it can be re-used annually, or whenever homeowners are away for sustained periods.
Outdoor sculpture is an immensely satisfying area of art collecting; however, collectors would be wise to factor in conservation from the outset and set aside an annual budget for essential maintenance. A considered approach invariably saves money in the long run.
How to Protect Outdoor Sculpture was first published in Art & Museum Magazine. For more information about the magazine and to subscribe visit https://www.familyofficemag.com/
Associated Fine Art Restoration Services