RESTORATION & CONSERVATION SERVICES | DECORATIVE ARTS & OBJECTS | CERAMIC RESTORATION
"I had to write to say what an amazing job Plowden & Smith has achieved with my ceramics. They look as good as new!
Thank you so much and please thank the people who worked on them and created such a wonderful and outstanding repair."
– Laura T. Private Collector
All our ceramic restoration treatments, including porcelain restoration, terracotta restoration and pottery restoration, are created around the precise requirements of each individual object and client.
Some clients prefer an approach to ceramic restoration where cracks are consolidated and breaks are bonded back together to prevent further damage, but the repair is deliberately left visible. Other clients prefer an approach to ceramic restoration, which aims to make repairs completely invisible. Whichever approach is favoured, our ceramic restoration department works within the framework of museum conservation, meaning that all treatments are safely reversible.
Our ceramic restoration team often works on older pieces that have been historically restored and these aged repairs have either discoloured or become unstable. In cases like this, our ceramic restoration department will painstakingly remove old restoration residue, before preparing and bonding the broken edges, and filling losses with conservation-grade materials, that will not discolour with age.
Once the ceramic has been structurally restored, a range of meticulous techniques, including hand retouching or airbrushing, can be applied to the repaired surface to achieve an almost magical transformation. An innate flair for colour matching as well as the judgement that comes with experience are essential for achieving results of the very highest quality.
It is testament to the skill of our restorers that we undertake ceramic restoration projects all around the world for artist studios, galleries and public and private collections.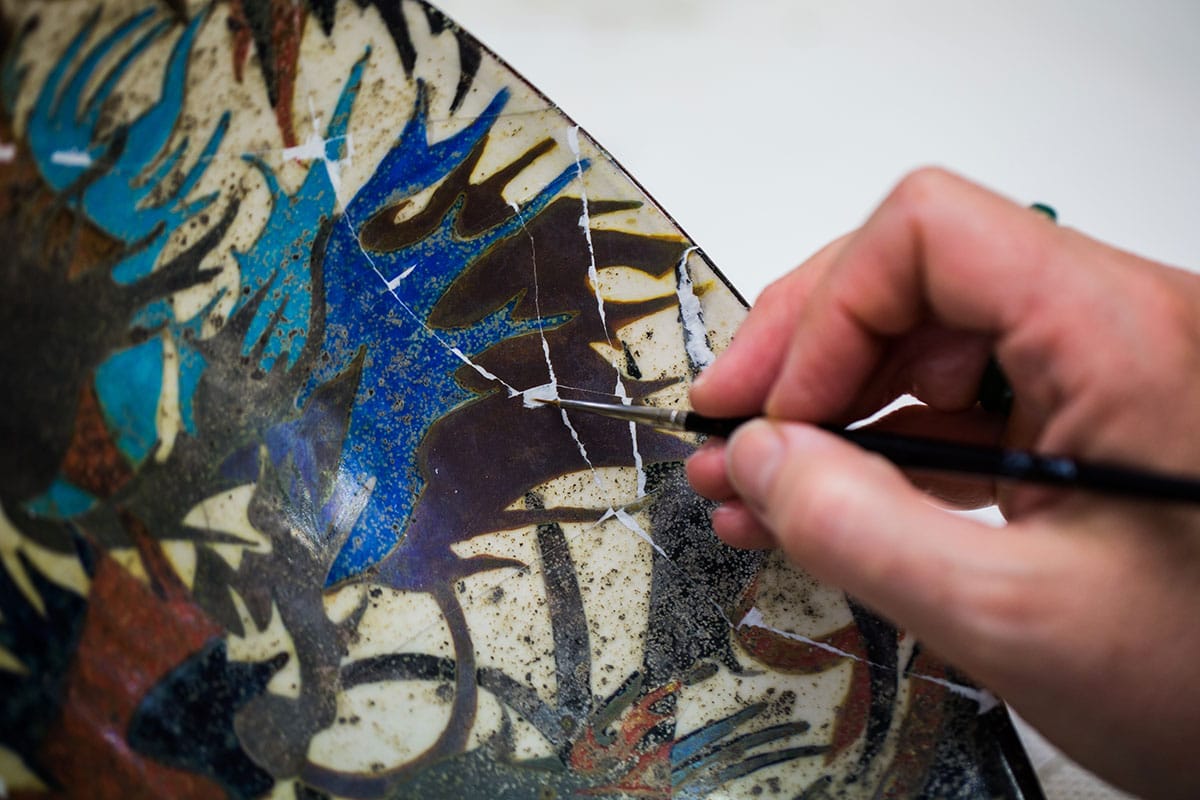 The Japanese art of Kintsugi is one of the most beautiful methods of restoring ceramic. Broken pottery and porcelain is repaired with lacquer dusted or mixed with powdered gold, silver, or platinum. Any ceramic can be restored using kintsugi, and we have used the kintsugi method of ceramic restoration to restore a variety of traditional and modern ceramics.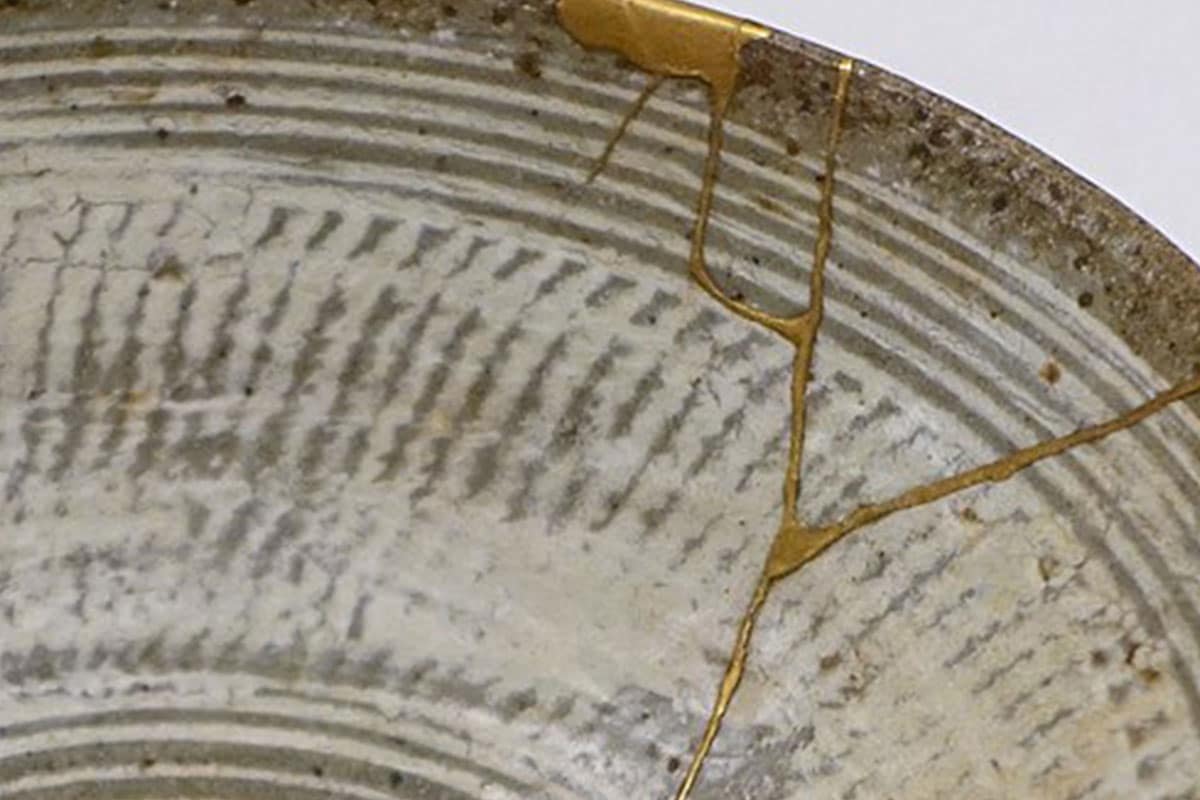 Ceramic Restoration Case Studies
Antique delftware plate | Ceramic Restoration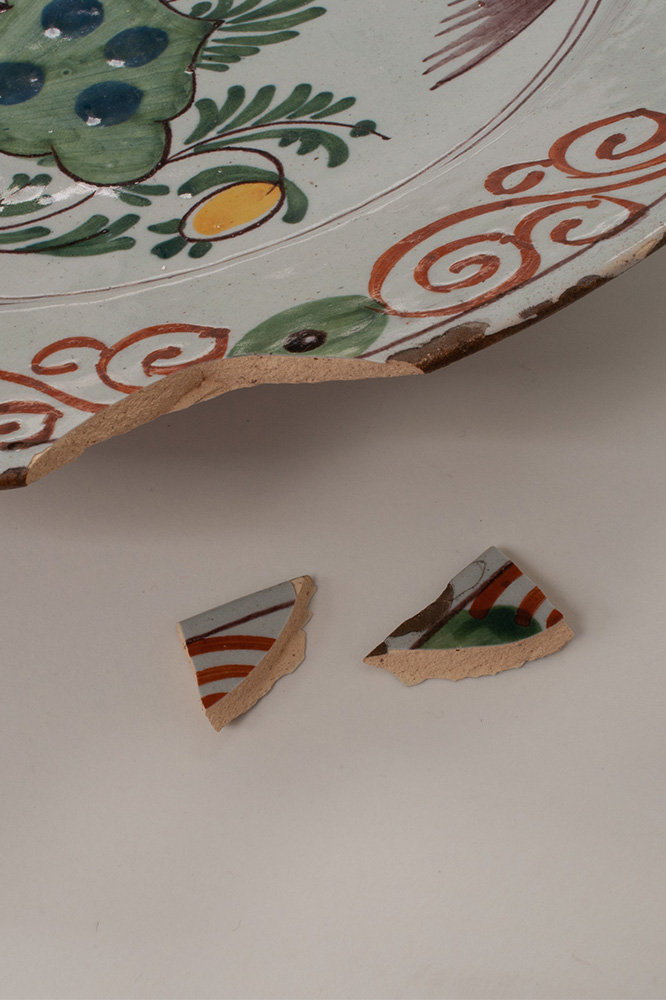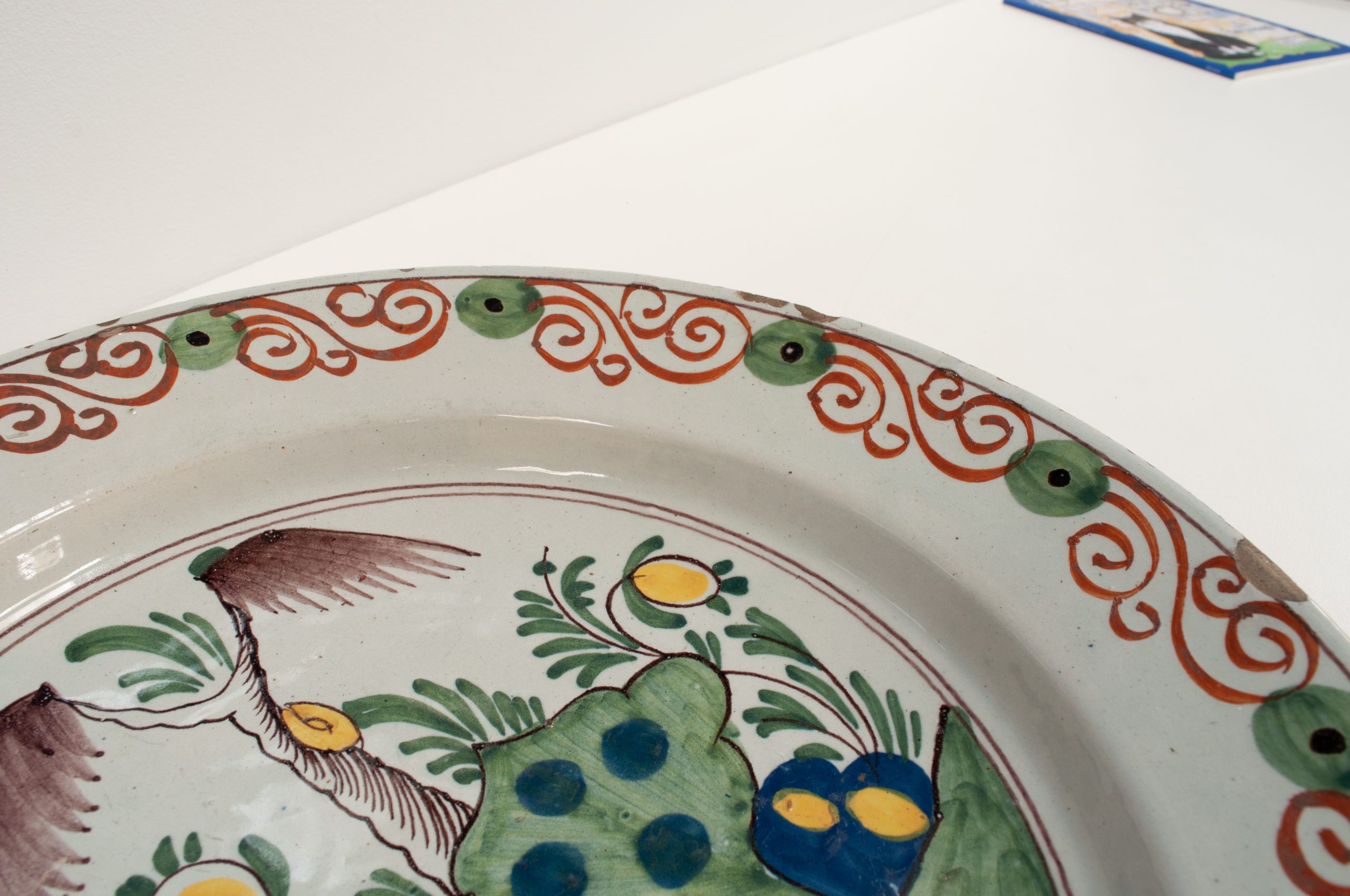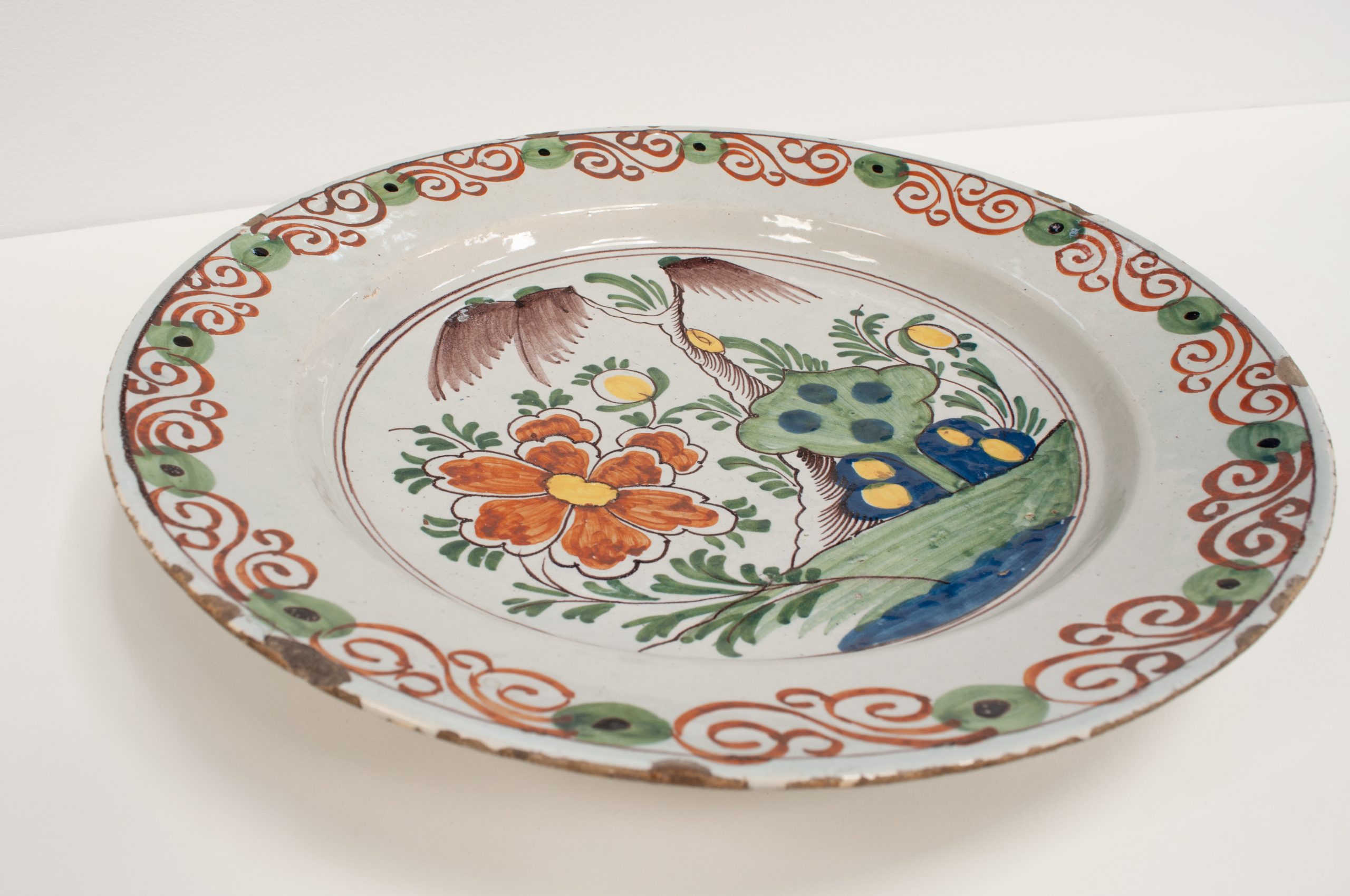 This ceramic restoration project was carried out for French-Brooks Interiors, after an antique delftware plate was damaged on the way back from a photo shoot at a client's house.
To restore the delftware plate a member of our ceramic restoration team started by cleaning the break edges and bonding the pieces together. Once the adhesive had cured, any small losses along the repair line were made good with a conservation-grade filler, hand-tinted the same shade as the glazed ceramic. Sympathetic, gentle retouching followed to achieve a seamless repair. Finally, a glaze was applied with an airbrush.
French-Brooks Interiors founder Victoria Wormsley was delighted with the end-result, stating in a House & Garden article about the restoration "When the plate came back from Plowden & Smith I had to remind myself of the damage from the photographs, as there is absolutely no trace of the repair. It was quite extraordinary."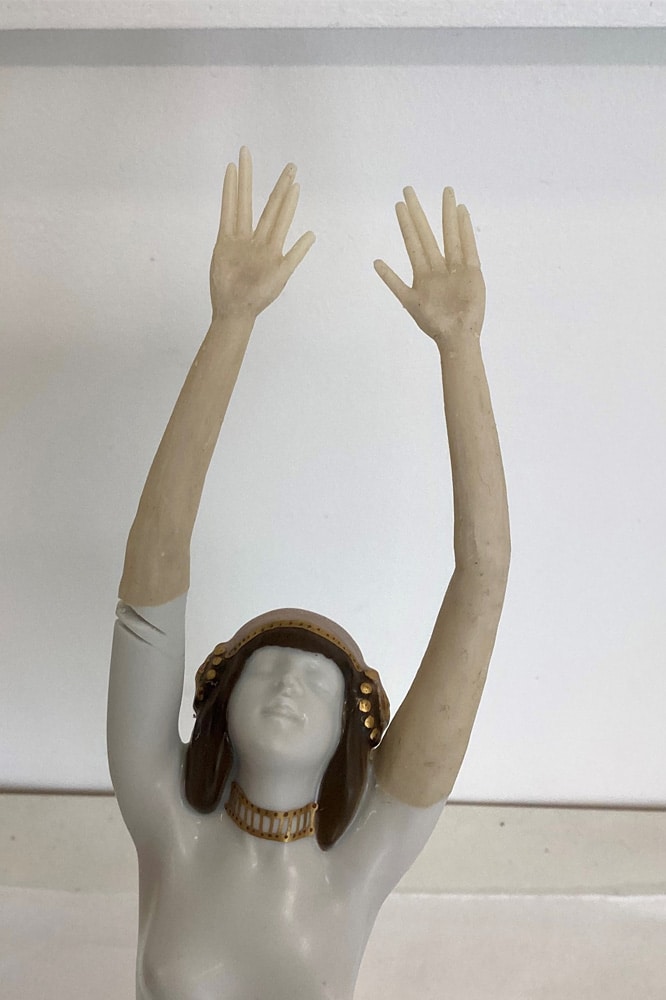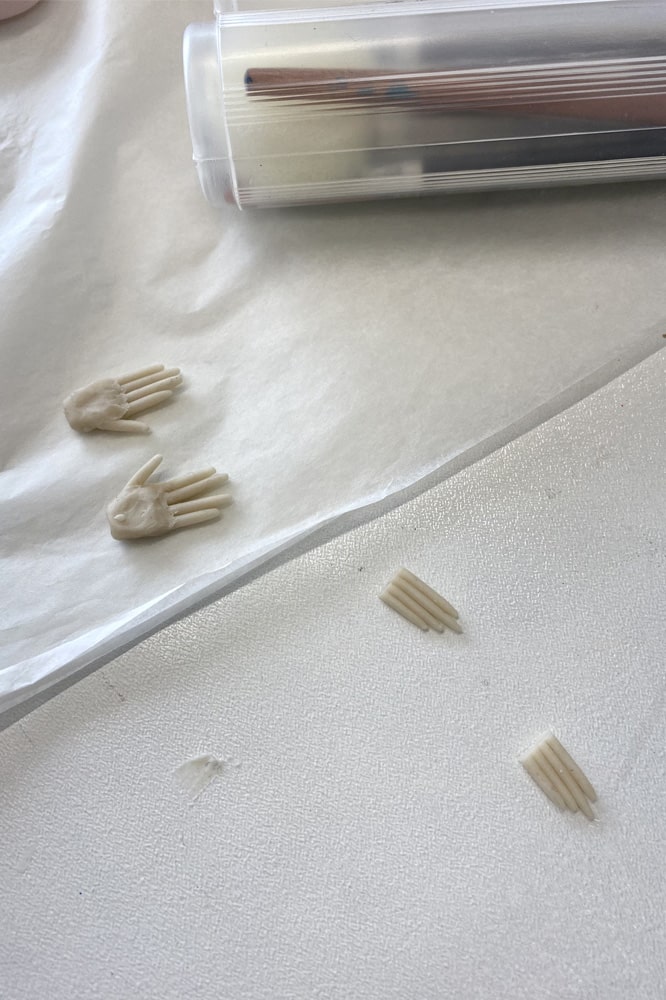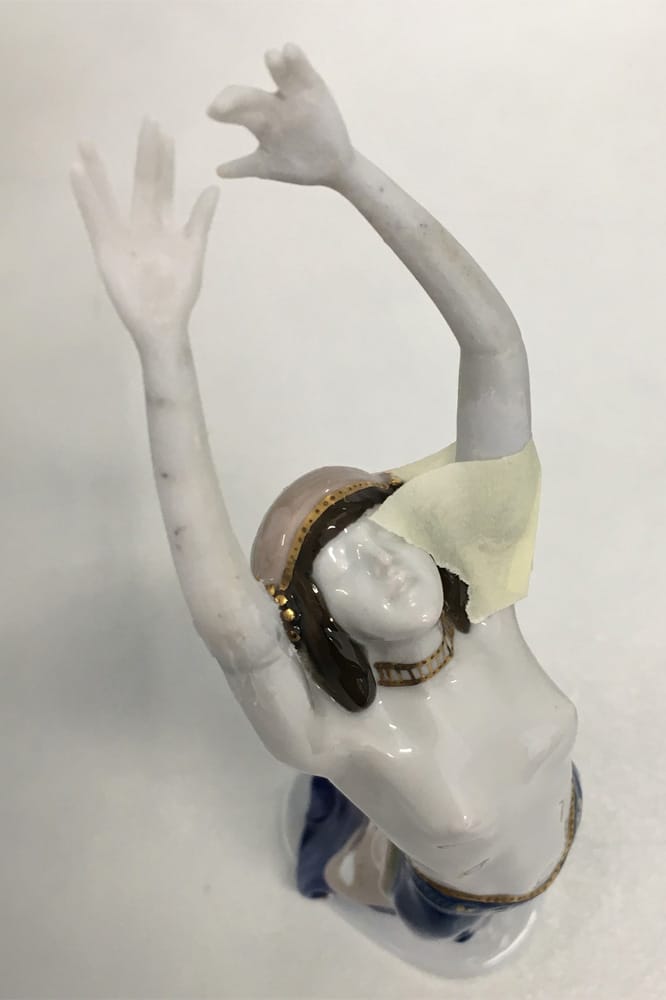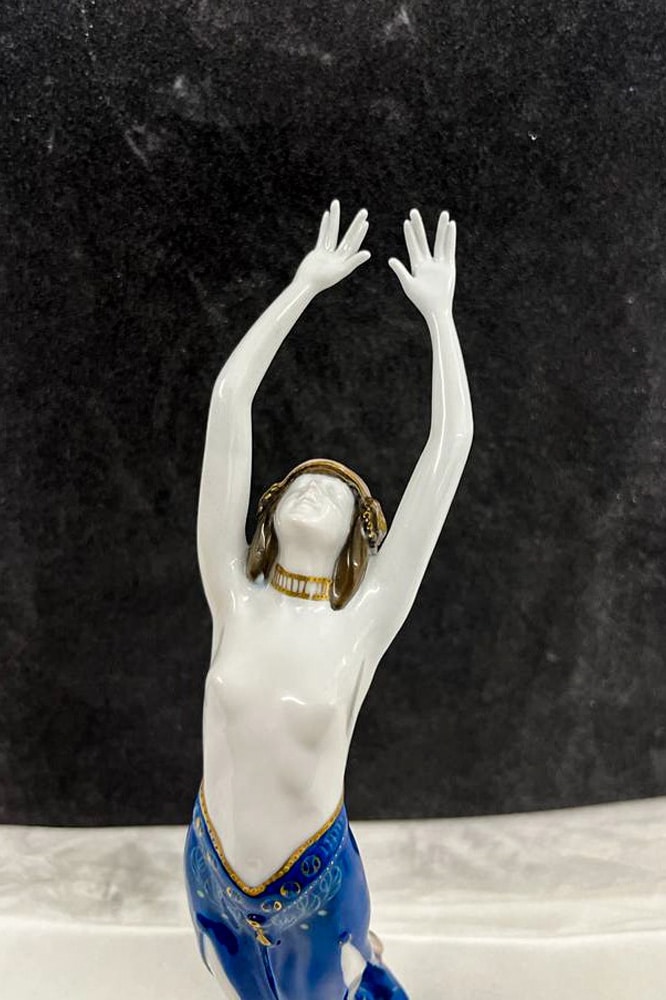 Designed by Berthold Boess for Rosenthal, this c.1920 porcelain figure of a dancer arrived in our Ceramic Restoration studio missing both original arms, a result of two earthquakes in Israel.
An attempt at restoring her right arm was made at the time of the second earthquake. Now aged and discoloured, the amateur restoration was arguably never very convincing; and the current owners decided their much-cherished family piece deserved a professional ceramic restoration job.
Making up two new arms is a painstaking process if the effect is to be seamless. Our ceramic restoration team carefully studied images of the same figurine in good original condition. This guided our ceramic restorer in modelling two new arms, hands and sets of fingers in modelling wax. Our ceramic restoration team then used these to create a mould. The figurine's new arms were cast in Epoxy resin to resemble the porcelain, and bonded in place using a conservation-grade adhesive.
The next phase of treatment involved our ceramic restoration team carefully sanding the resin to finesse the carriage of the arms; and finally, retouching the new arms for a seamless end result
18th Century Delftware Bowl | Ceramic Restoration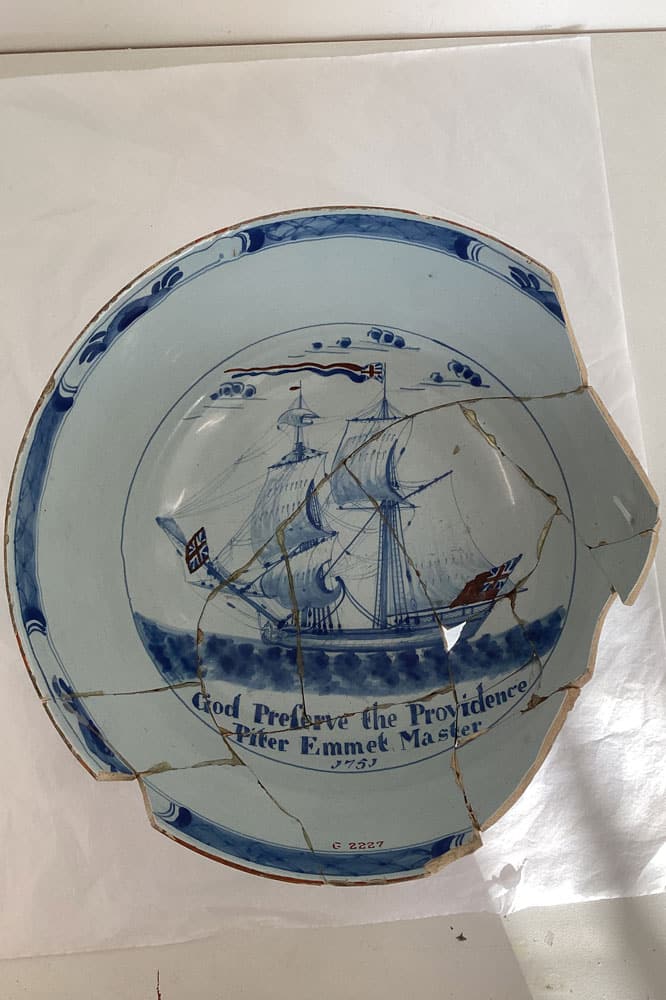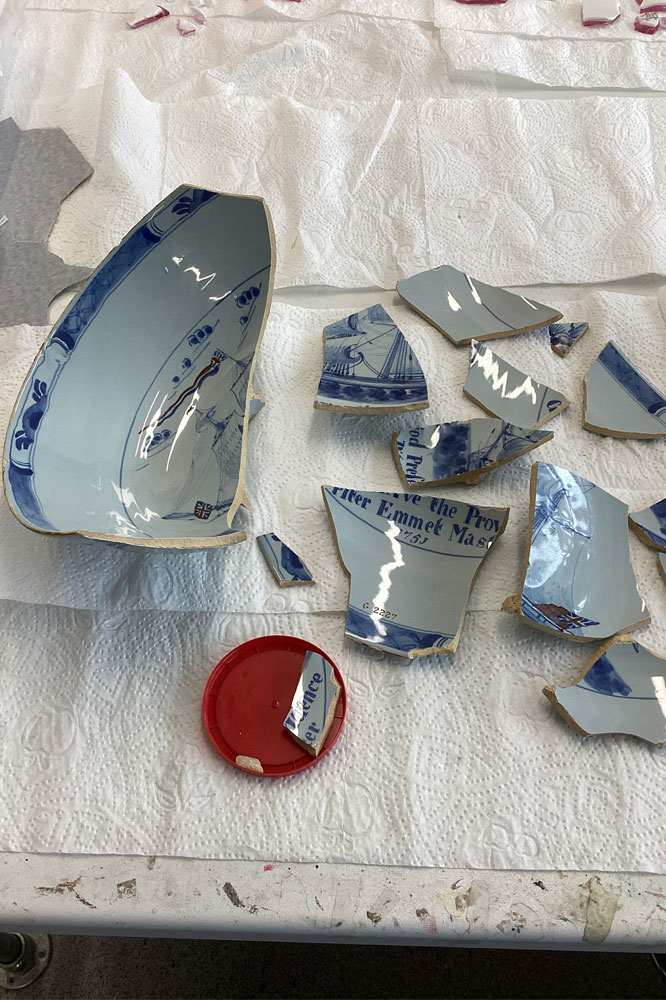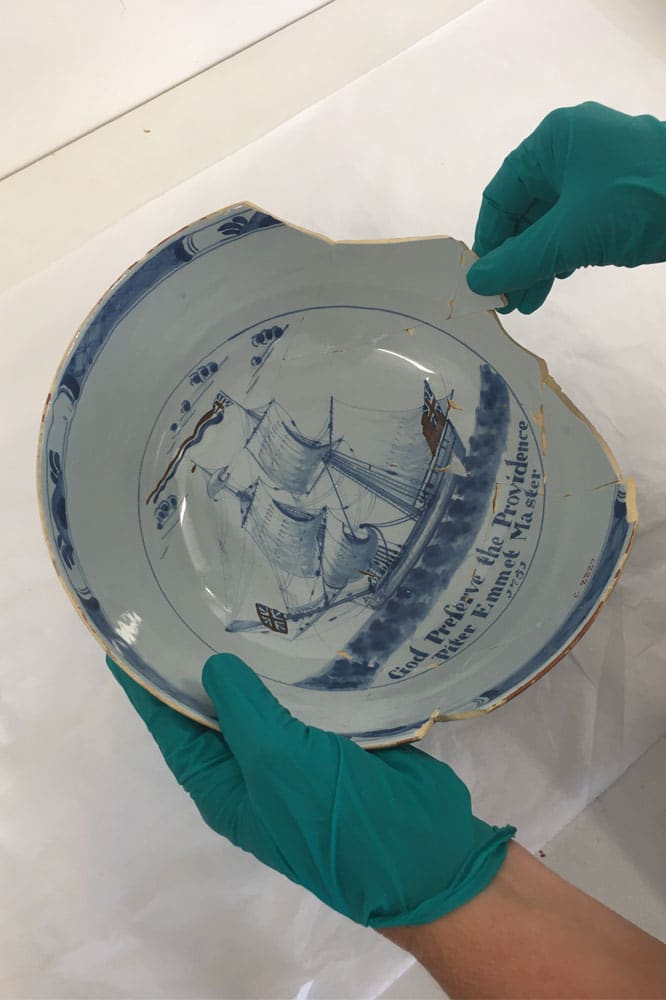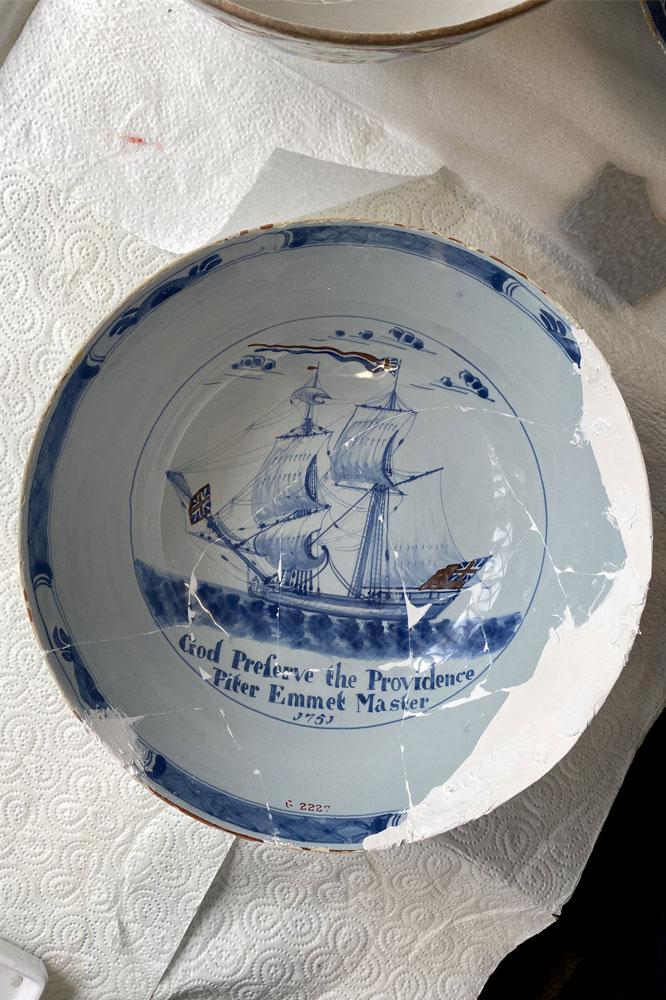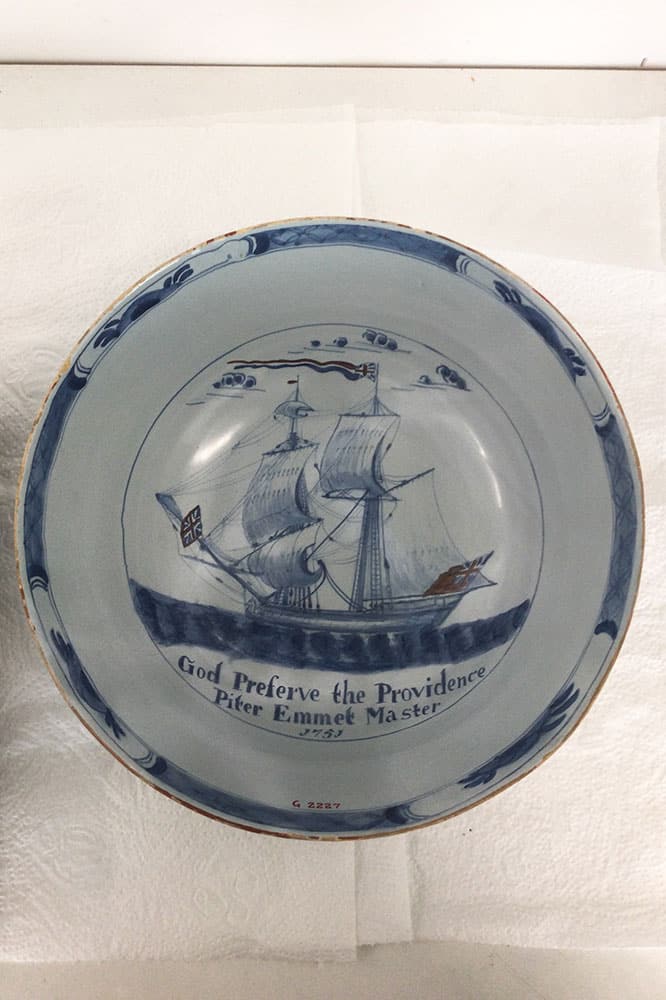 Bristol was a leading centre of delftware production from the 1640s through to the late 1700s.
Today, Bristol Museum & Art Gallery has an outstanding collection of English delftware. At around 2000 pieces, it is one of the largest and most important collections of delftware in the UK.
Our ceramic restoration department was delighted to be approached by Bristol Museum & Art Gallery to restore a number of delftware items in their collection, including this 18th Century Ship bowl.
The bowl had been previously restored; however, over time the adhesive used in this historic repair had become visible and the restoration itself was unstable. The bowl also had significant losses, mainly to the rim.
Our Head of Ceramic Restoration started by dismantling the previous restoration using a scalpel, solvents and a steam cleaner. The surface and break edges were then cleaned with the steam cleaner and left to dry. Next, our Head of Ceramic Restoration bonded the detached sections using a reversible adhesive, which was held in place with tape whilst the glue cured.
To restore losses, our Head of Ceramic Restoration consolidated the break edges using a thin layer of consolidant to prevent moisture from the filling material seeping into the clay body. To restore larger losses, thin sheets of dental wax were placed in the gaps and then filled with plaster of Paris. Losses along the break edges were filled with a plaster-based filler. The filled areas were abraded with fine glass paper to achieve a smooth, level finish.
Our Head of Ceramic Restoration retouched the large filled areas with acrylic paints and glaze, applied with an airbrush. The smaller fills were retouched by hand. Finally, several layers of glaze were applied using an airbrush and polished with fine abrasive cloths.
Broken Persian Ewer | Porcelain Restoration Project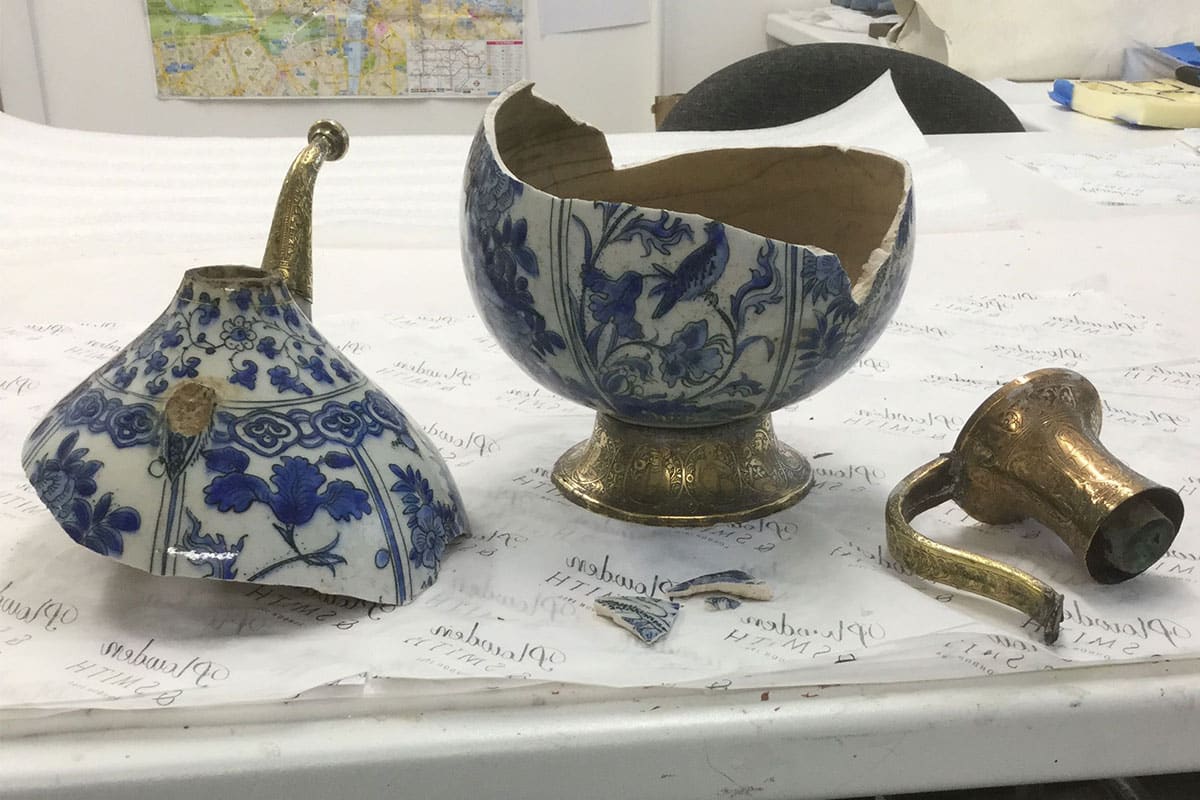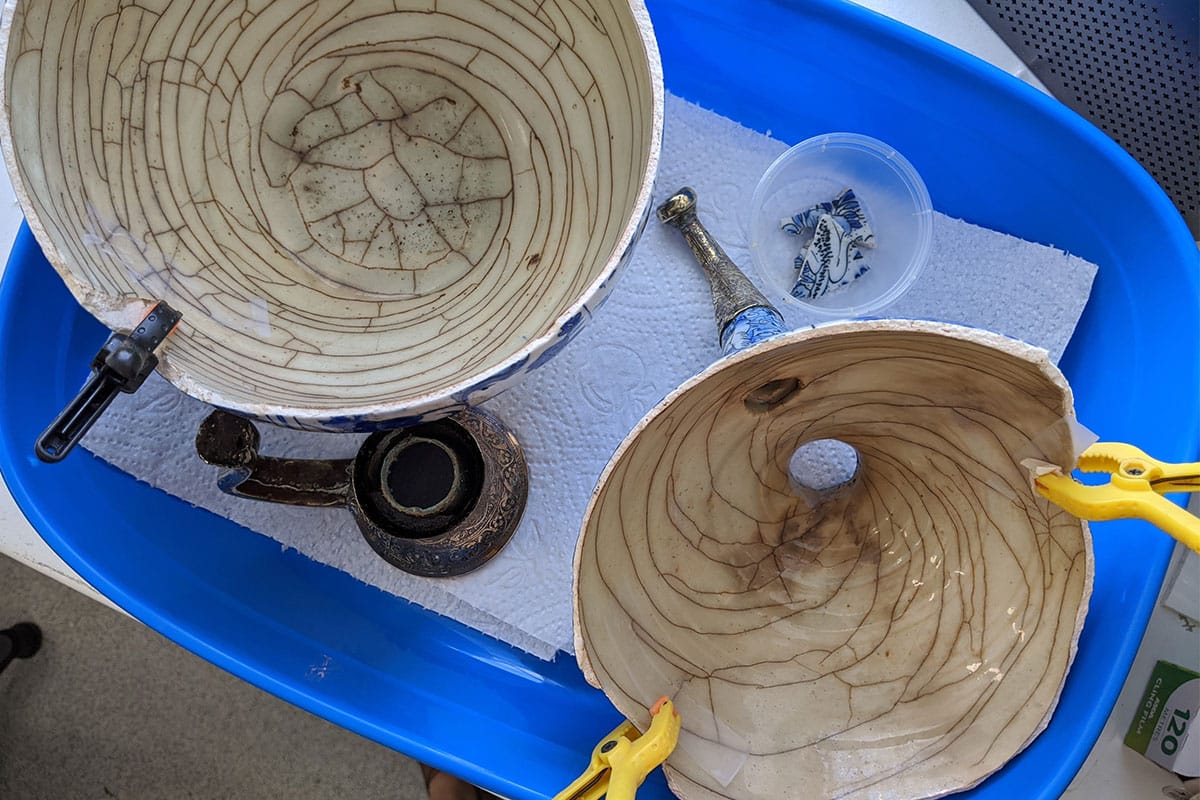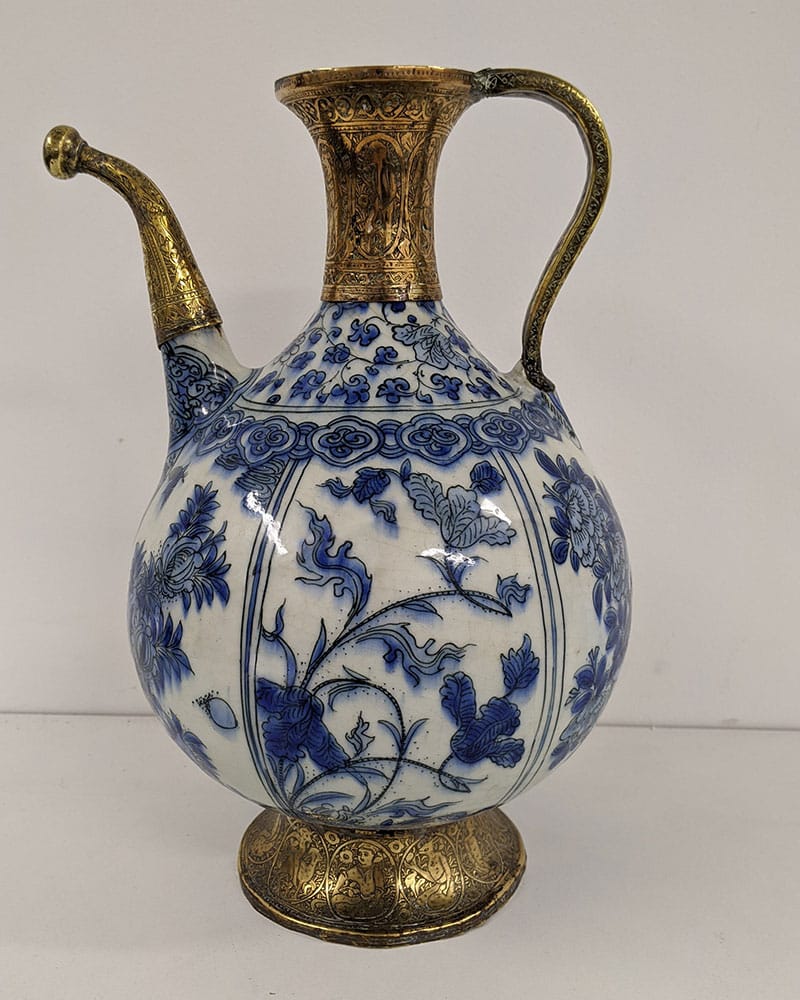 This Persian porcelain ewer came into our ceramic restoration studio broken into five pieces and with its metal collar detached.
Our Head of Ceramic Restoration cleaned all the pieces inside and out, using dry and wet cleaning methods.
The broken sections were then bonded back together with a reversible adhesive and any losses restored with a plaster-based filling material.
The filled areas were retouched using acrylic paints. Finally, our Head of Ceramic Restoration applied several layers of acrylic glaze, polished to a high shine with cushioned abrasive cloths.
Picasso Plate | Ceramic Restoration Project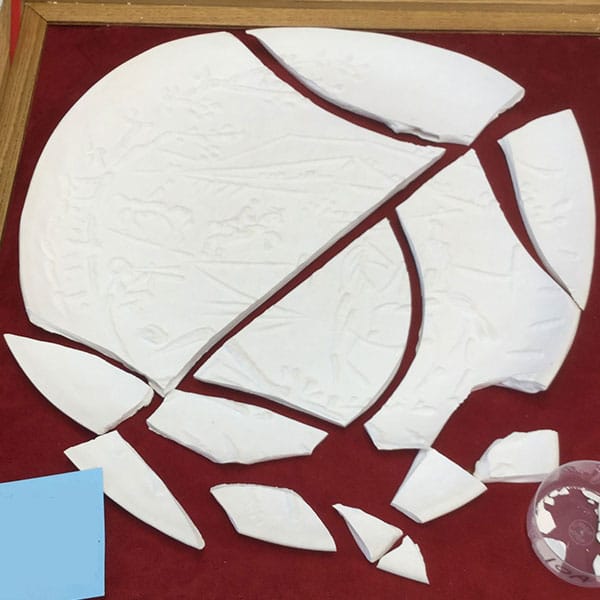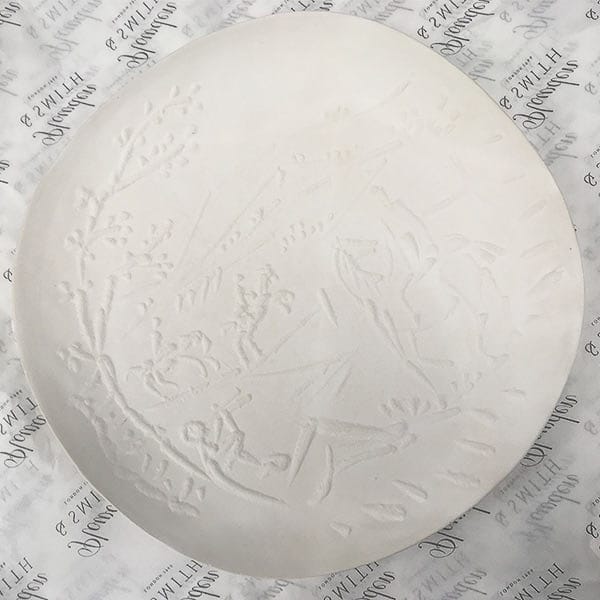 'Joueur de Flute et Cavaliers' was first conceived by Picasso in 1956, and executed in a numbered edition of 100.
The unglazed earthenware plate came into our ceramic restoration studio for repair after being broken into over 12 pieces.
Unglazed earthenware is incredibly porous so great care had to be taken during the restoration treatment to prevent any staining to the delicate surface.
Our Head of Ceramic Restoration carefully consolidated the break edges and then bonded the fragments back into position.
The repair lines were then filled and toned in using acrylic paints, achieving a repair that is virtually invisible.
Chinese Tang Dynasty Terracotta Horse Restoration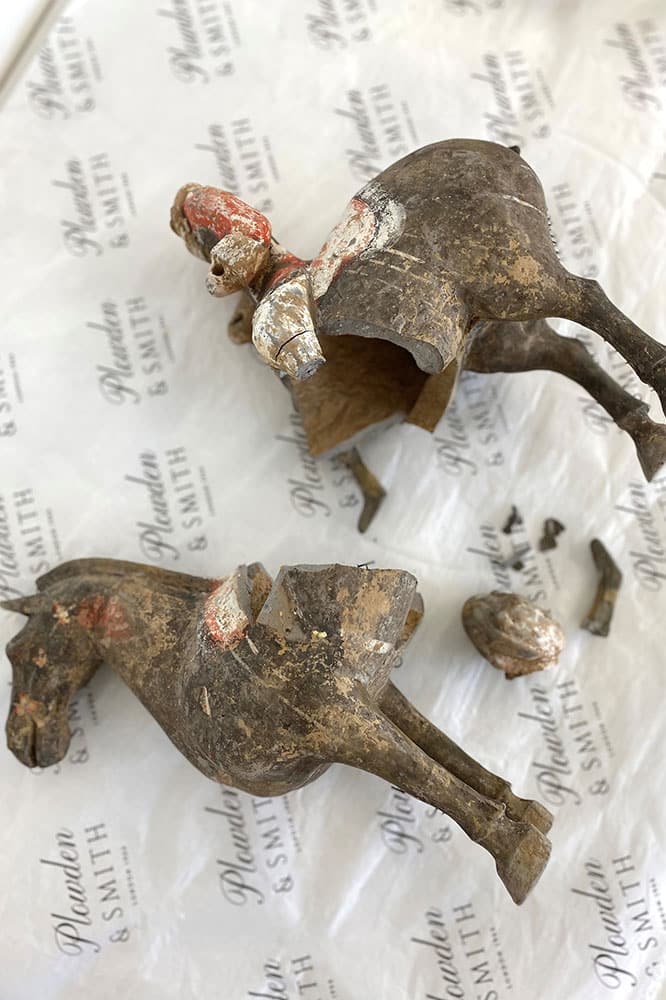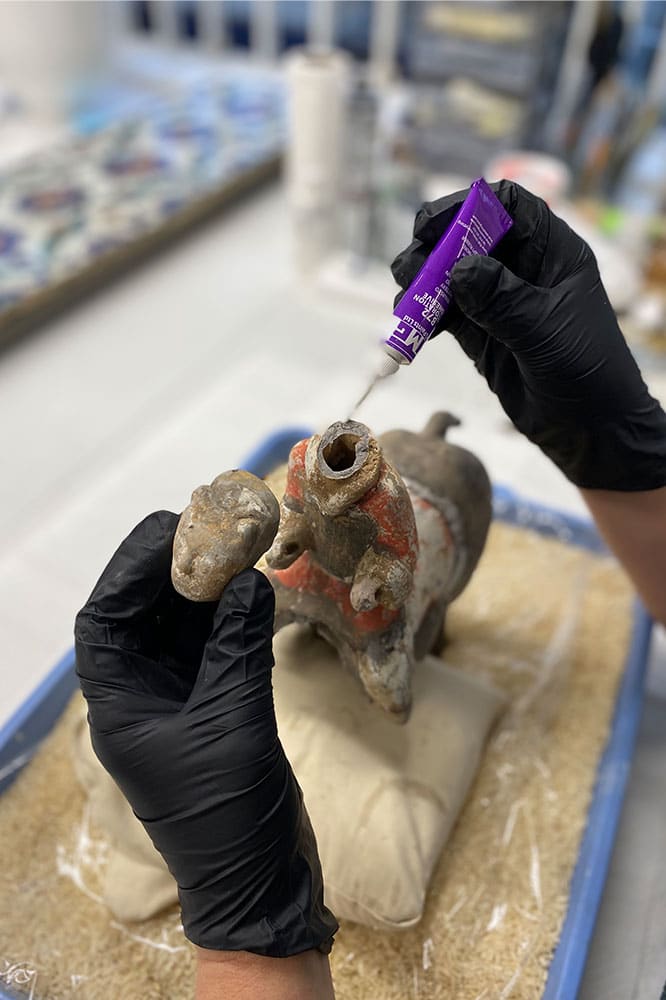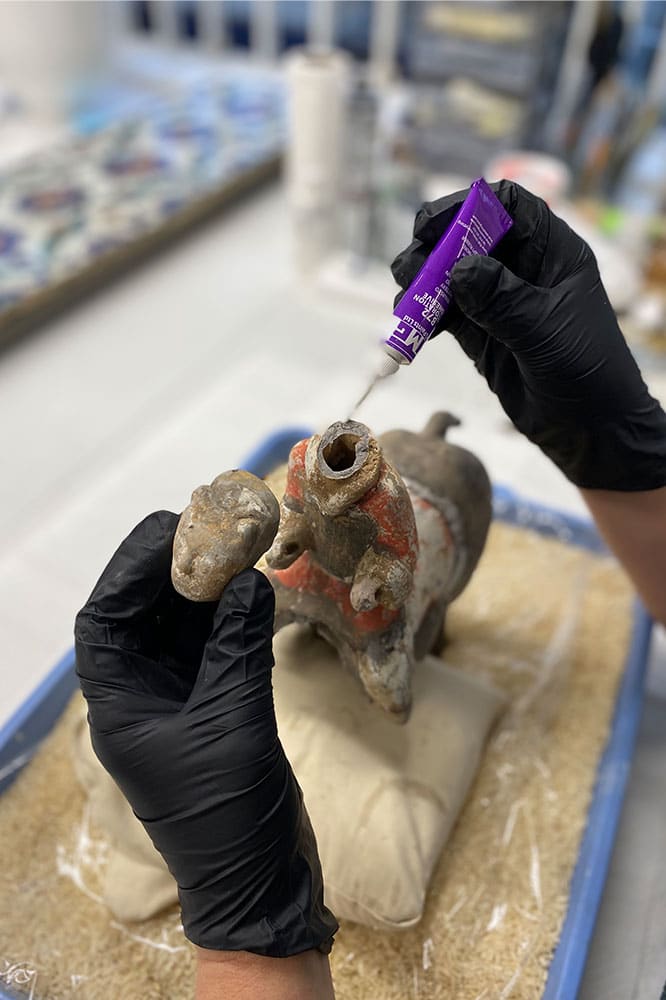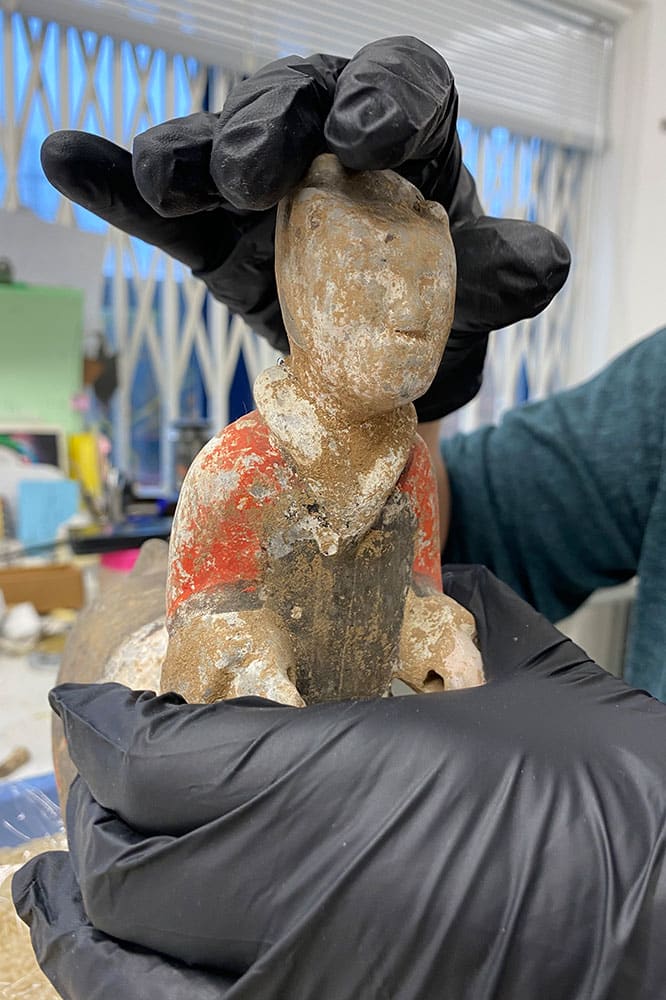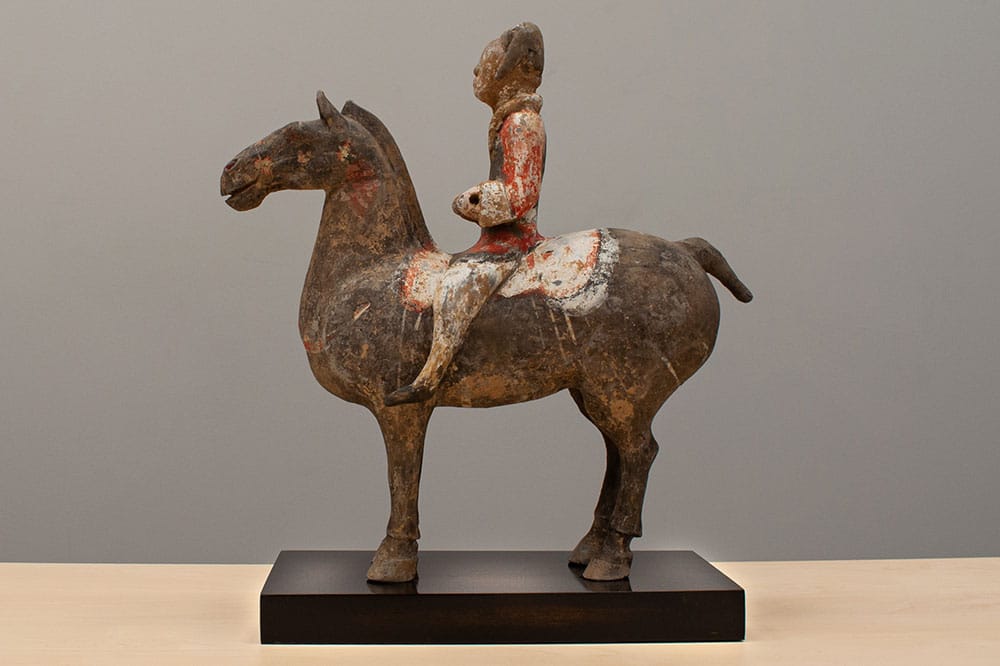 This Chinese Tang Dynasty terracotta horse and rider came into our ceramic restoration studio broken into several parts, following a domestic accident.
Our Head of Ceramic Restoration carefully consolidated the break edges with a conservation-grade consolidant. She then bonded the rider's head and the body of the horse back into place, using a reversible adhesive. Whilst this adhesive cured, the parts were secured in place with wax, which our Head of Ceramic Conservation later removed using a scalpel.
Our Head of Ceramic Restoration then filled areas of loss with a plaster-based filler and carried out localised retouching with powder pigments and a matte glaze.
Whilst the horse and rider was undergoing treatment in our ceramic restoration studio, our specialist mount makers were creating a polished wooden base for the Tang figural group. Recesses in the base, created to fit the horse's hooves, discreetly help secure the sculpture to the base.
Restoring a Pair of Contemporary Clare Potter Earthenware Flowerpots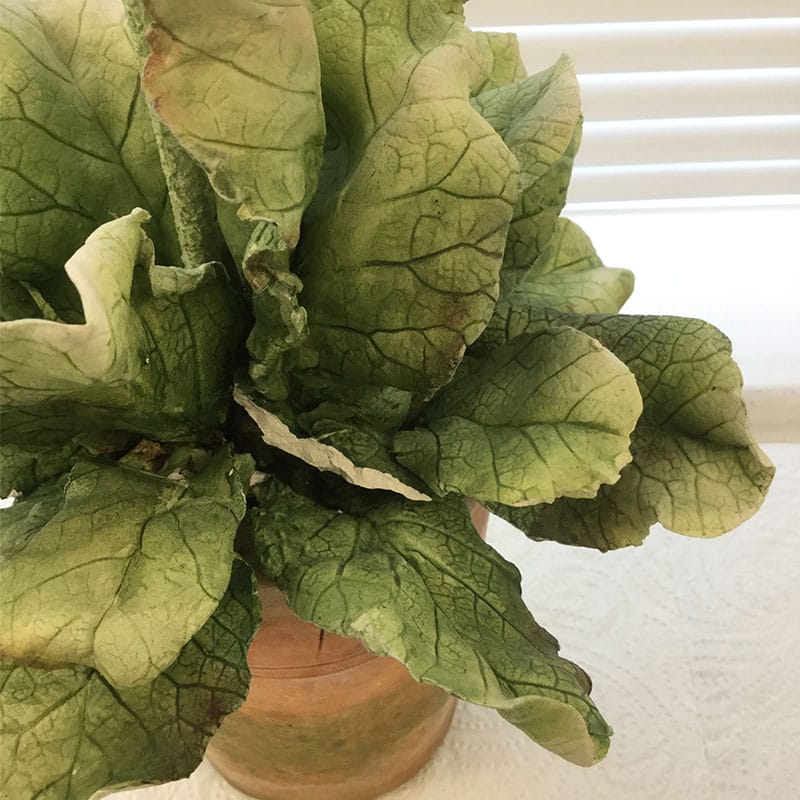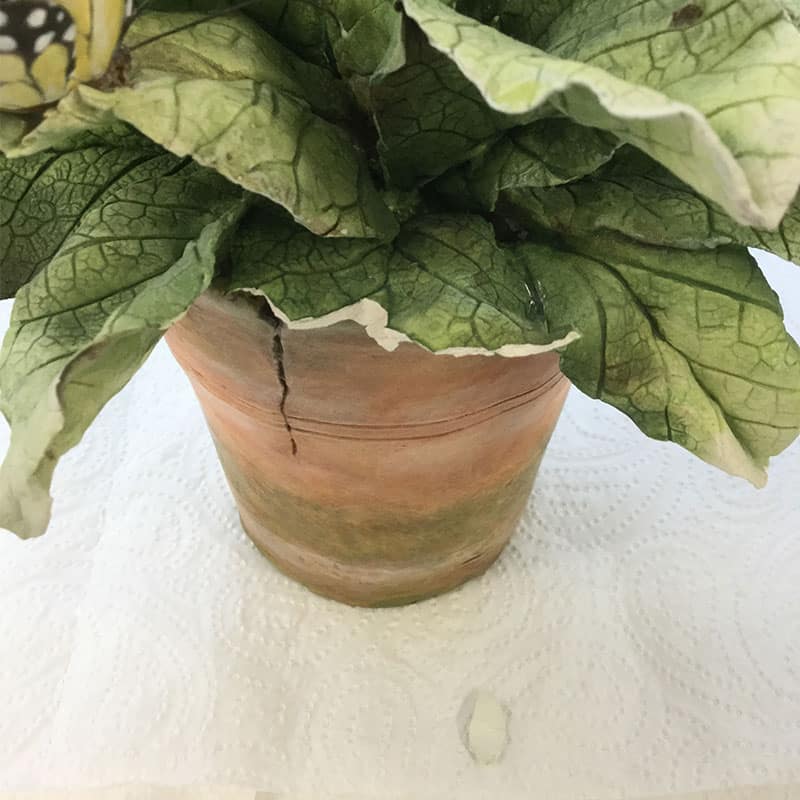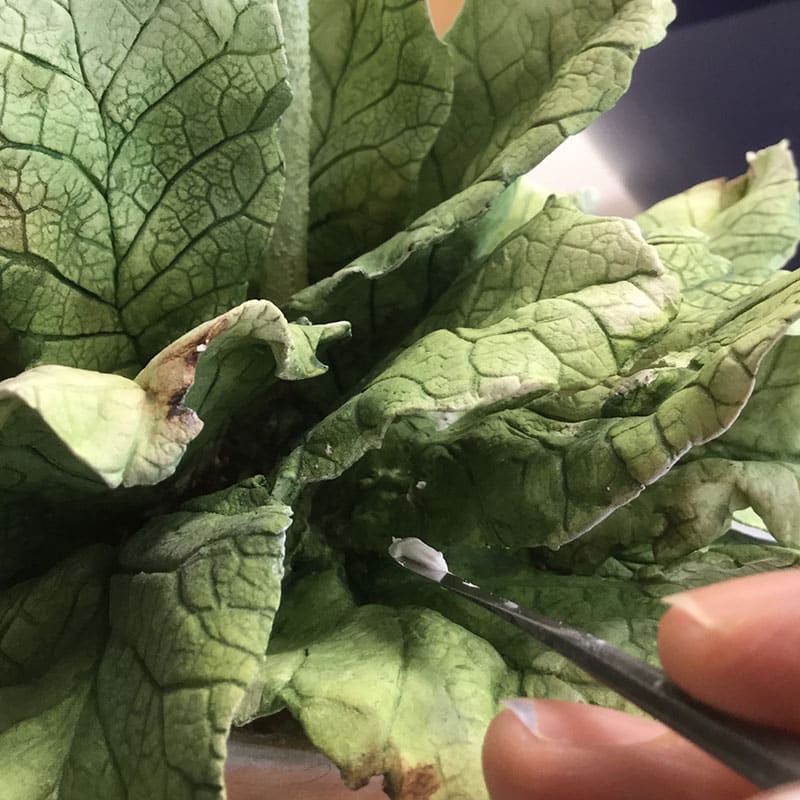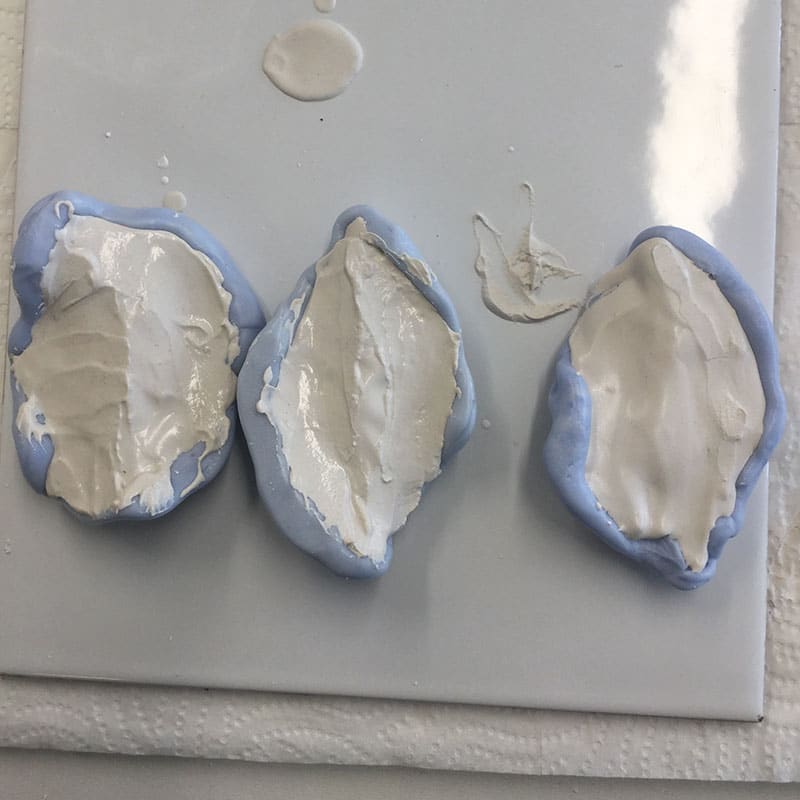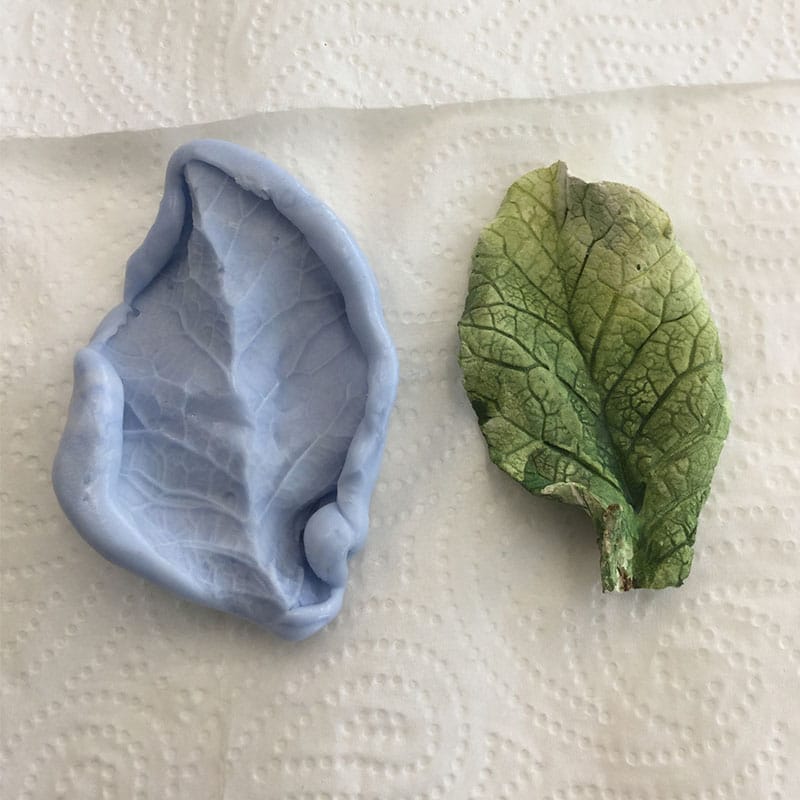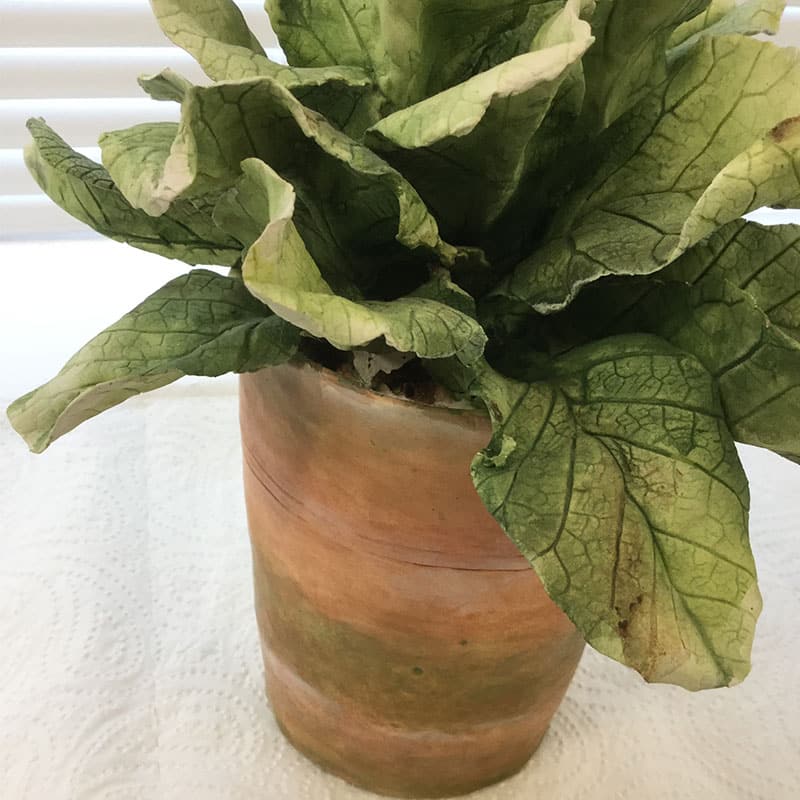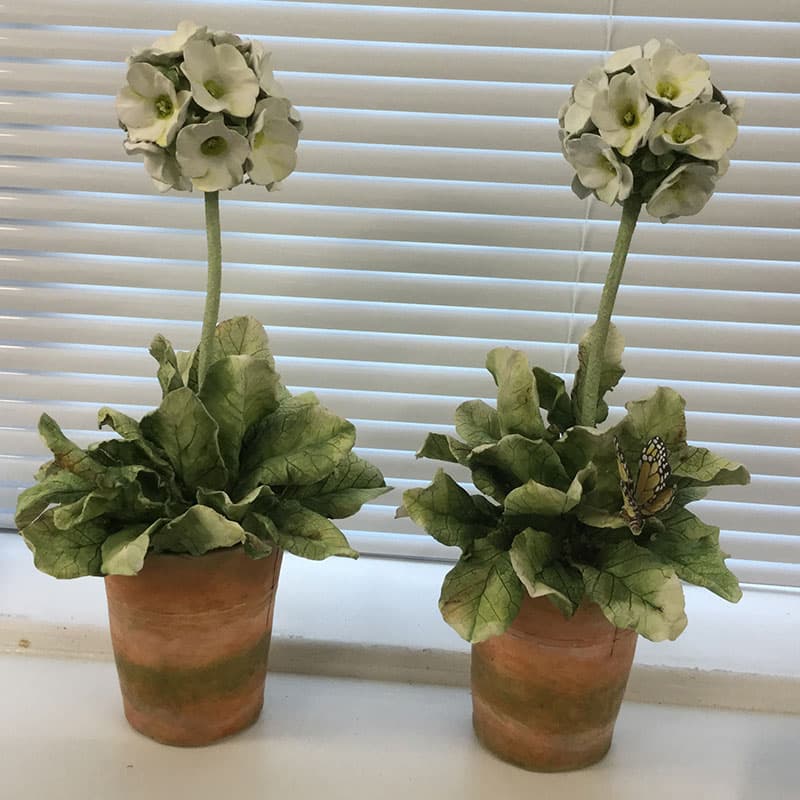 This pair of Clare Potter earthenware flowerpots came into our ceramic restoration studio with numerous missing and broken leaves and a broken petal.
Our Head of Ceramic Restoration carefully bonded all the broken pieces back into position. During the adhesion stage, balls of modelling wax were temporarily applied to provide additional support whilst the glue cured. Once the leaves and petal had been bonded back into place, any remaining losses along the restored break edges were filled and retouched.
Some of the earthenware leaves were missing and these needed to be recreated. After testing various methods, our Head of Ceramic Restoration used silicon to construct a leaf-shaped mould. Silicon is a very flexibility material, enabling her to adjust this mould to recreate the specific shape of each missing piece of leaf, whilst also ensuring a perfect fit along the break edge. These newly fashioned leaves were then carefully bonded into place, and retouched for a seamless end result that delighted their owner.
Ceramic Restoration Frequently Asked Questions
I've broken my favourite porcelain vase – help! What do I do?
The first thing to do is not to panic. Most things can be restored very successfully!
For insurance purposes, it is often a good idea to photograph the broken object in situ before collecting all the pieces together (even the really small shards and fragments), as these will be used for restoration if you choose to go down that route.
If you email us a photograph of your damaged vase, along with approximate dimensions, we should be able to estimate the cost of restoration without having to see the piece in person.
If you decide to proceed and we receive all the broken fragments, our Head of Ceramic Conservation will thoroughly examine the vase and the extent of the damage, allowing us to confirm the cost of restoration. At this point we will request written authorisation from you to proceed with treatment, which will not start until we receive this.
Where is your ceramic restoration studio based?
Our ceramic restoration studio is based in our art restoration studios in Mitcham, South London (Unit 5 Liongate Enterprise Park, 80 Morden Road, Mitcham, CR4 4NY), a stone's throw from Wimbledon and conveniently located just off the A24 and A297.
The nearest Tube station is Morden. Alternatively, the Liongate Enterprise Park has a dedicated tram stop, Belgrave Walk.
What's the safest way of getting my broken ceramic to you for restoration?
There are various options for getting your ceramic to us to be restored, although we do strongly advise against sending them through the post.
The simplest and safest way to get your broken ceramics to us is by dropping them off at our ceramic restoration studio in person (open Mon – Fri 08:30 – 17:00).
Alternatively you may wish to use a professional shipping company or courier. If you opt for a courier, please be aware that some couriers do not insure against damage incurred to ceramics when in transit.
If your object is located in Central London we offer a complimentary Thursday collection and delivery service which you may wish to take advantage of.
What sort of ceramics do you restore?
We restore a wide range of glazed and unglazed, painted and unpainted, gilded and ungilded ceramics, including:
Un-fired and low-fired ceramics (e.g. archaeological material)
Earthenware (e.g. delftware; majolica)
Terracotta
Stoneware
Bone China
Porcelain
Architectural ceramics (e.g. tile panels)
In our ceramic restoration studio we also restore certain non-ceramic materials which call for a similar skills set and expertise. For example we restore glass (to find out about our glass restoration services, please click here), enamel, jade and alabaster amongst other materials.
If you have an object or an artwork in a material that you do not specifically see mentioned on our website, we will almost certainly have the inhouse expertise to restore it to the highest standard. Please email or phone 020 8874 4005 (Mon – Fri 08:30 – 17:00) for some information about your object and we can advise.
What sort of ceramic restoration services do you offer?
Our specialist ceramic restoration services include:
Conservation cleaning
Stain removal
Dismantling old or poor quality repairs
Crack filling
Rebonding broken ceramics
Restoring chips and missing sections
Restoring wear and damage to painting, glazing and gilding
Recreating missing elements
We offer museum standard repairs, where a broken object is cleaned and bonded back together and the repair is toned to a neutral colour that is easily distinguishable from the original. This provides a visible record of the break in the life of the ceramic.
We also carry out 'invisible' repairs to ceramics which most of private individuals opt for. In this instance, the broken ceramic is cleaned, bonded back together and any breakage lines or losses are filled and retouched to match the surrounding original surface.
What does 'reversible restoration' mean?
Our Ceramic restoration studio works to industry-wide best practice conservation guidelines, which states that restoration and conservation treatments must be reversible (removable) to ensure that today's restorations do not hinder the work of future conservators.
This means that wherever possible, the materials used in our treatments do not affect the original object and can be removed by a trained conservator without risking damage to the object.
In ceramic restoration, what's the difference between Cleaning and Stain Removal?
When we refer to the technique of cleaning a ceramic, we mean removing surface dirt. If the ceramic is glazed then this will involve cleaning dirt that has accumulated over the glaze.
Stain removal is a more interventive treatment which we use to remove dirt or discolouration that has seeped through small voids in the glaze, for instance the very fine series of surface cracks that are sometimes known as crazing. We may use a poultice cleaning method to 'draw out' the staining or insert a conservation-grade peroxide to bleach the underglaze staining, or a combination of both.
Stain removal is one of those treatments where success is not always guaranteed, and we will always try to manage expectations by making clear in our treatment proposal how effective we consider treatment likely to be.
I've broken a favourite plate – after it's been restored, can I still use it?
We work to industry best practice ceramic restoration and conservation guidelines which state that the materials used to restore ceramics should be removable without damaging the object. Because of this, many of the materials we use are water soluble and none of the restoration glazes we apply are fired in a kiln, making them very much for decorative purposes only.
Although cleaning your plate with an ever so slightly damp cloth should be fine, we strongly advise against using your plate in a way that will require it to be washed or exposed to abrasive cleaning agents.
If your plate forms part of a dinner service or tea set that you enjoy using, then the most straight forward solution would be to source a replacement piece online, depending on how rare the design is.
If the plate has sentimental value then you may wish to have this piece restored and then mounted with a bespoke presentation mount, so you can continue to enjoy the original.
How long will it take you to restore my ceramic?
The time needed to successfully restore a broken ceramic can vary because it is dependent on quite a few factors including the extent of the damage, the type of ceramic we are restoring and the processes and materials required to achieve a high quality and long lasting restoration. For example, repairing a hairline crack on an earthenware plate will take less time than having to fashion a missing hand for a porcelain figurine. Furthermore, some of the materials we use for bonding broken ceramics back together have relatively long cure times (up to seven days). Most of our clients opt for a form of restoration where the repair is invisible, which may involve applying many very thin layers of paints and glazes to achieve a seamless finish. This will take longer than a toned but visible repair.
We pride ourselves on carrying out ceramic restoration to the highest standards and using techniques that will affect a long-lasting repair and achieving these results takes time. We get immense satisfaction from restoring objects to a standard that utterly delights their owners and frequently exceeds their expectations.
If some of the materials used to restore ceramics are water soluble, what's the best way of keeping my restored ceramic clean?
The best and safest way to keep a ceramic clean is to carefully clean the piece using a dry lint free cloth, or a very slightly damp cloth. However, some pieces are best cleaned by professionals, for instance if they are particularly valuable or if they have a lot of intricate detailing that risks catching or snagging on a cleaning cloth.
To prevent the build up of dust, you may wish to think about how and where you display your piece. Protecting a ceramic from dust doesn't necessarily mean keeping it in a traditional display cabinet – many clients commission us to make very contemporary-looking bespoke Perspex boxes for their ceramic objects. To find out more about our bespoke object display mounts email us, or visit our Mount Making page.
Is it cheaper to replace rather than to restore broken ceramics?
It depends what it is and how you wish to have something restored.
Most of our clients opt for a form of restoration where the repair is invisible, which may involve applying many very thin layers of paints and glazes to achieve a seamless finish. This will take longer – and therefore be most costly – than a visible repair where the broken object is cleaned and bonded back together and the repair is toned to a neutral colour.
If the broken ceramic isn't particularly valuable then opting to replace will probably be a cheaper and may potentially be a more satisfactory solution. For example, if you have broken an item that forms part of a dinner service which you enjoy using, we can restore the piece to look as good as new however, the nature of the materials used during restoration means that the piece cannot be used in the same way as before.
That said, if the broken ceramic is unique it clearly cannot be replaced, or if the piece is made by a desirable artist such as Ai Weiwei or Jeff Koons, restoring it will obviously be far cheaper than replacing it.
If you have a ceramic or collection of ceramics that you value, we strongly recommend you make sure that your current insurance policy provides sufficient coverage, in the unfortunate event of something breaking.
What can I do to reduce the risk of my ceramics breaking (or breaking again)?
Avoid handling objects by handles, rims, finials etc. If the piece has been restored then remember that the repair will be weakest part of the ceramic, so avoid applying any undue pressure to these areas.
Avoid traditional spring-loaded hanger mounts on plates, particularly on plates that have been restored because of the pressure they place on the object
Ask us for advice on how to display your ceramic so that potentially vulnerable spots are given additional support. The beauty of a bespoke mount is that it is created around the unique requirements of your object and can be finished in a way that reflects your own taste, or complements the room in which the piece will be displayed.
Remember that restored items may be bonded with water soluble adhesives, so must not be soaked in water or bleach. Similarly, extremes of heat and humidity should be avoided.
To find out more about our ceramic restoration and decorative arts restoration services, or to discuss a project