RESTORATION & CONSERVATION SERVICES | DECORATIVE ARTS & OBJECTS | GILDING SERVICES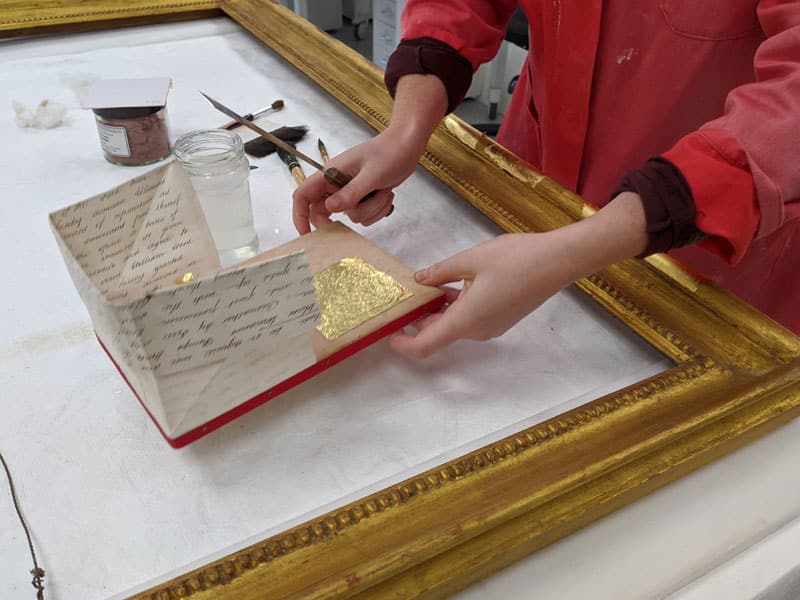 Gilding is the term used to describe the process of applying platinum, gold or silver leaf to a pre-prepared substrate, usually wood, metal, plaster or gesso.
Over the years, gilding can become scratched, worn and covered by dust and other accretions and may require – or benefit from – our expert gilding services.
Our specialist conservators clean, restore and gild a wide range of antique, modern and contemporary pieces including furniture, objects, mirror frames and picture frames; as well as providing world class gilding services for historic and luxury interiors. We are preferred choice of prestigious galleries and art dealers, leading interior designers, property managers of historic and listed buildings, and museum professionals.
Gilding services include water gilding, oil gilding and acrylic gilding using the full spectrum of precious metals, as well as faux gold leaf and faux silver leaf. Our gilding services also include verre eglomisé, the highly skilled process of decorating gilded glass.
Depending on the age of the piece and the wishes of our client, gilding can be toned to seamlessly replicate an aged gilded finish, as well as lacquered to best protect it.
Why Use Plowden & Smith's Specialist Gilding Services?
Whether you need to have a precious work of art, piece of furniture, object or interior gilded, Plowden & Smith should be your first choice, because:
The training and skill set of our gilders is of the highest standards. Unlike other gilding firms, we only employ qualified fine art conservators meaning that the quality of our work and attention to detail is unmatched.
Our professionalism is second to none. From the first phone call to our friendly and helpful client services team, to the calm expertise of our conservators carrying out the work, every single detail of your project, no matter how seemingly small, is important to us.
We are based in London and can respond rapidly to short notice requests.
If gilding forms just one part of a large restoration project, our comprehensive restoration services to wood, metal, stone, ceramics, glass and fine art and furniture means that we can take on many other elements of the work, saving you money and time.
Gilded Picture Frames and Mirrors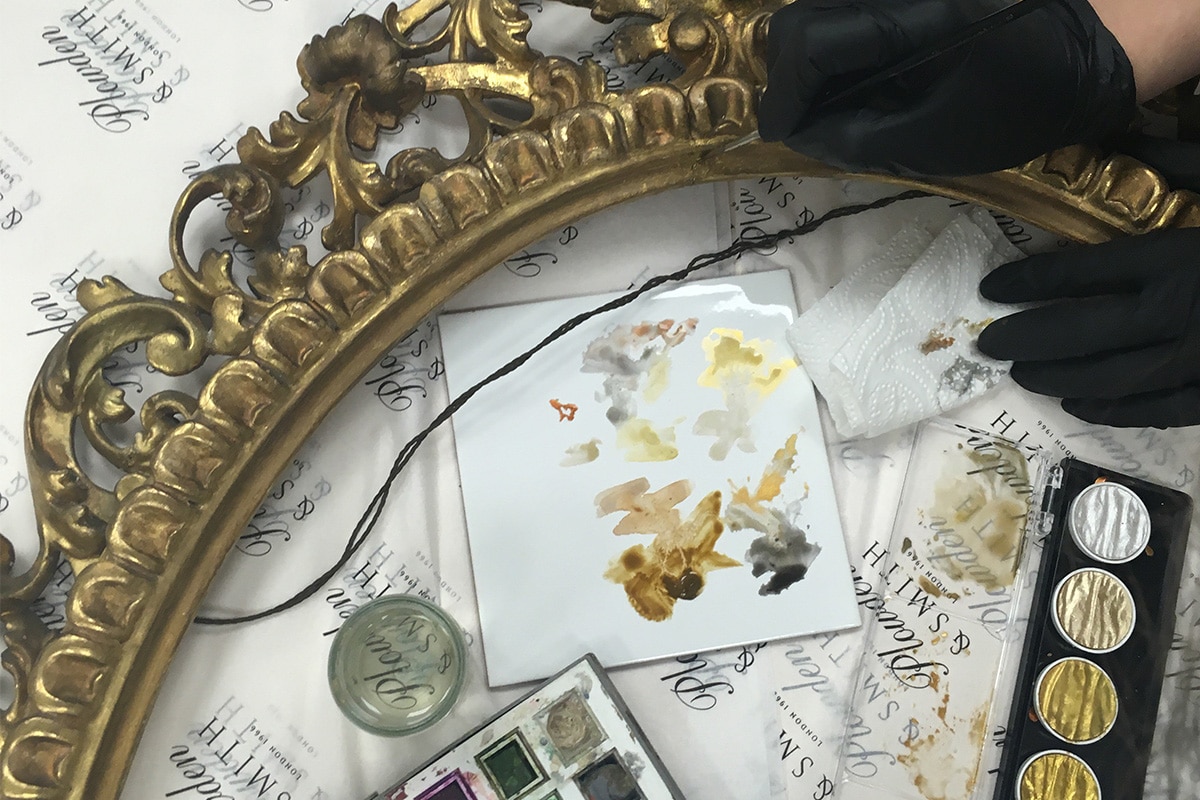 Gilded picture frames usually either consist of a carved wood frame, or a simpler wood frame which has had ornately moulded plaster applied to it. In both cases, these scrolling elements are vulnerable to damage or loss as temperature and humidity levels in a room change.
Where gilded elements are missing or irreparable, our specialist furniture restorers can hand carve a precise replica in an appropriate wood, or our gilding department can cast precise plaster replicas as part of the treatment.
Depending on the age of the piece, and the wishes of the client, our gilding can be toned in or aged to replica the appearance of antique gilding, or to seamlessly match extant original sections of gilding.
Gilding Services for Interiors and Architectural Details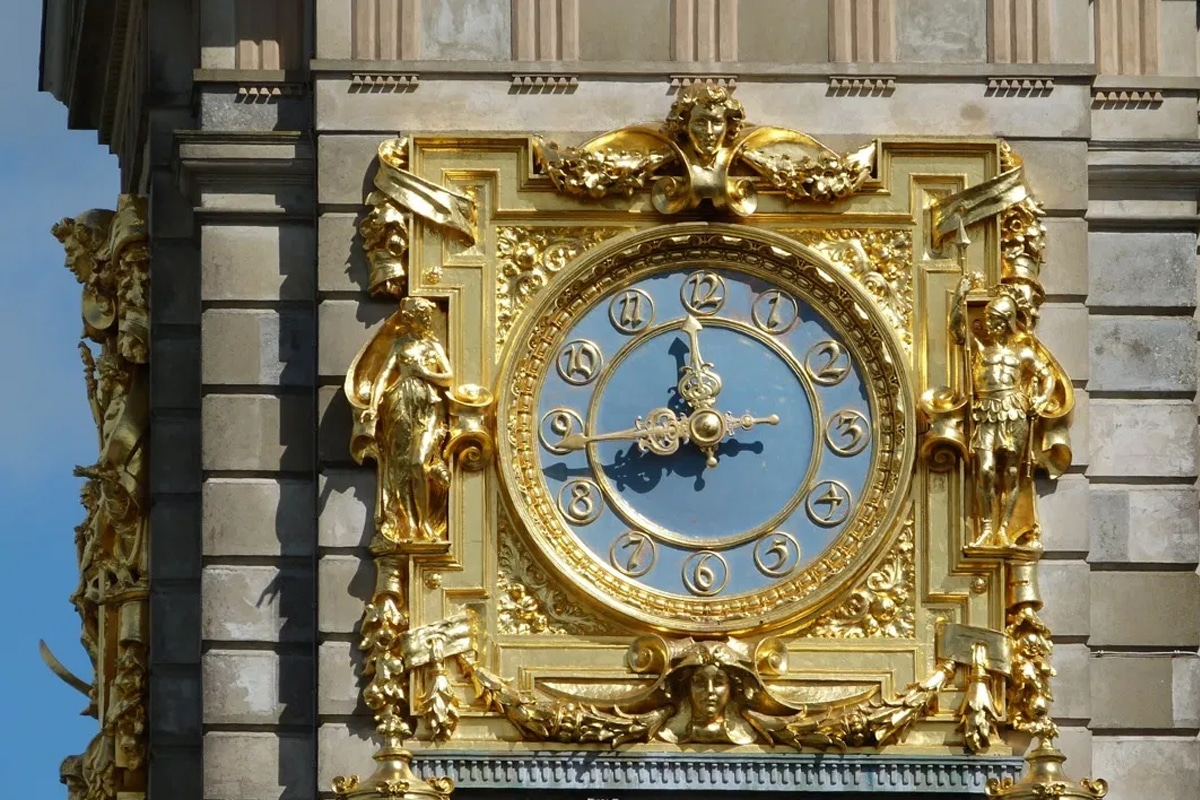 Plowden & Smith is the UK's foremost specialist company in the revival and restoration of heritage and luxury interiors, including gilded detail.
We work with owners and leading interior designers on ambitious gilding projects for prime residential interiors, stately homes, private members clubs, hotels and restaurants.
Our interior gilding services include the application of precious metal leaf to ceiling and wall surfaces, furniture and fine art objects, outside statuary and architectural features. We also restore, replicate and install verre eglomisé glass panels for objects and interior decoration schemes.
Unlike other specialist decorative firms, every member of Plowden & Smith's team is a qualified fine art conservator, guaranteeing the highest level of skill and experience, and outstanding end results on the most challenging projects.
We have been reviving important interiors for over 54 years and our clients know they can rely on us to meet, and frequently exceed, even the highest expectations on projects where nothing less than perfection is good enough.
Selected Interior and Architectural Gilding Projects Include:
Replicating two large gilded mirror frames that had been stolen from Danson House, a Grade I Listed Palladian mansion. This project involved working from existing records to closely replicate two new wooden frames and scrolling gesso detailing. The new frames were gilded and then aged to match the missing originals.
Gilding sections of the balcony in the magnificent Kings Library at the British Museum.
Gilding the life size bronze goddess statue (sometimes described as Arethusa) surmounting the 'Diana' marble, stone and bronze fountain in Bushy Park (part of the Royal Parks Collection), designed in 1637 for King Charles I.
Conserving the late-seventeenth century gilded Speaker's State Coach, built to convey the power and status of the Speaker of the House of Commons. The intricate process of conservation included ultra-sound scans, the meticulous removal of old layers of gilt and the repair and consolidation of the delicate velvet and silk upholstery. A detailed ongoing maintenance conservation programme was compiled for the National Trust Carriage Museum for use by their own conservation team.
Gilding the ornate clock face on Cliveden Clock Tower at Cliveden House, formerly the home of the Astor family.
Restoring damage to an original 19th Century gilded ceiling moulding in a private residence in South West London. This project involved regilding the restored sections of moulding, and then toning these areas in to seamlessly match the original gilding.
Gilding and Gilding Restoration Case Studies
Gilding Our Lady of Peace Statue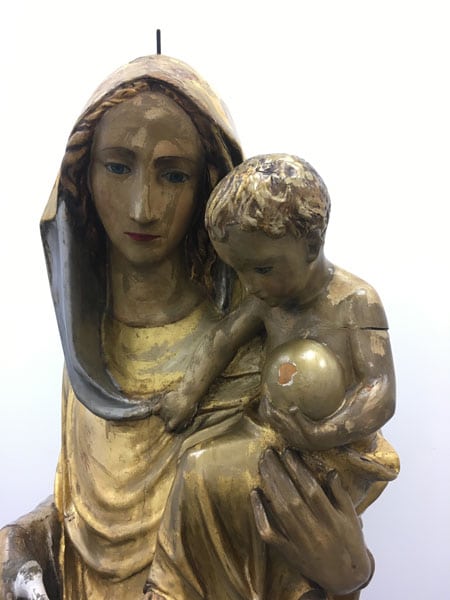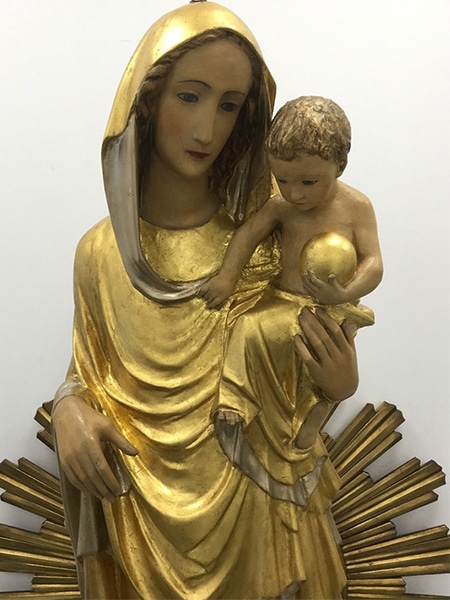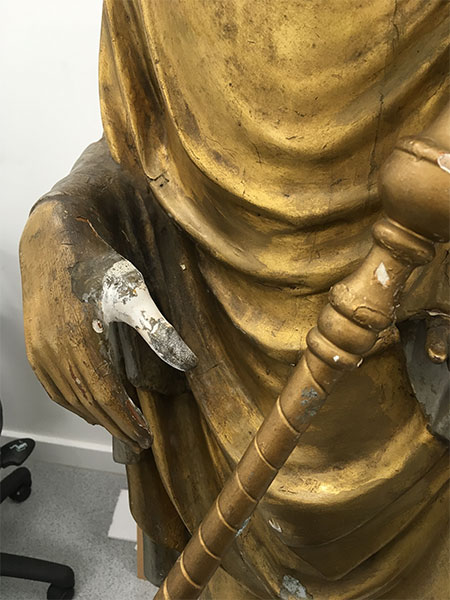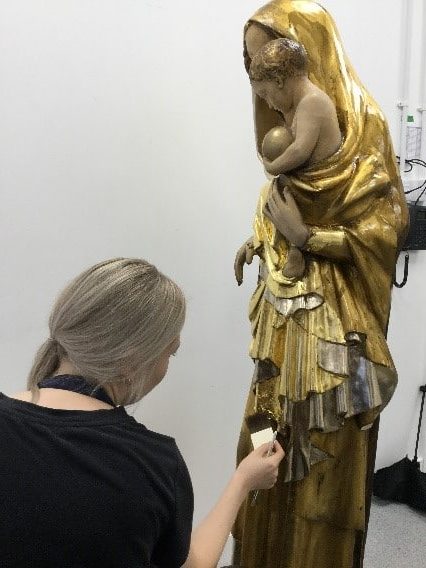 The carved and gilded wooden figural statue, Our Lady of Peace, was designed in 1920 by the artist Martin Travers for St Mary's Church in Belgravia to mark the end of the First World War.
As with many historic buildings, the environment of a church can pose a unique set of challenges for artworks. Fluctuations in humidity and temperature, potential for damp, the use of candles and oils in services and the impact of pests can lead to a whole host of conservation issues. Many years of candle soot, layers of varnish, and previous repairs had left Our Lady of Peace in need of cleaning and restoration treatment, including restoring a detached thumb on the Virgin Mary's right hand.
The cleaning of Our Lady of Peace required a multi-layered approach. After an initial dry clean of all the pieces, the figure, crown, sceptre and sunburst were then cleaned using a bespoke-mixed solution.
During cleaning, areas of bronze paint were revealed which appear to have been historically applied to the surface in an attempt to restore damaged areas of gilding. Since the statue was to be fully regilded and with respect for the conservation code of ethics, this bronze paint was retained.
Examination of the statue revealed that certain areas of the gilded surface of Our Lady were lifting; possibly the result of temperature and humidity fluctuations affecting the surface of the statue. These flaking areas were consolidated to minimise further loss over time.
Areas of loss were filled, and the surface was fully oil gilded using 23.5 carat gold and platinum leaf.
The result is a significantly brighter statue, which was toned using watercolour and acrylics to create a closer match to the original colour. Finally, the facial details and flesh tones were retouched to complete the treatment.
Gilding a Crucifix from Buckfast Abbey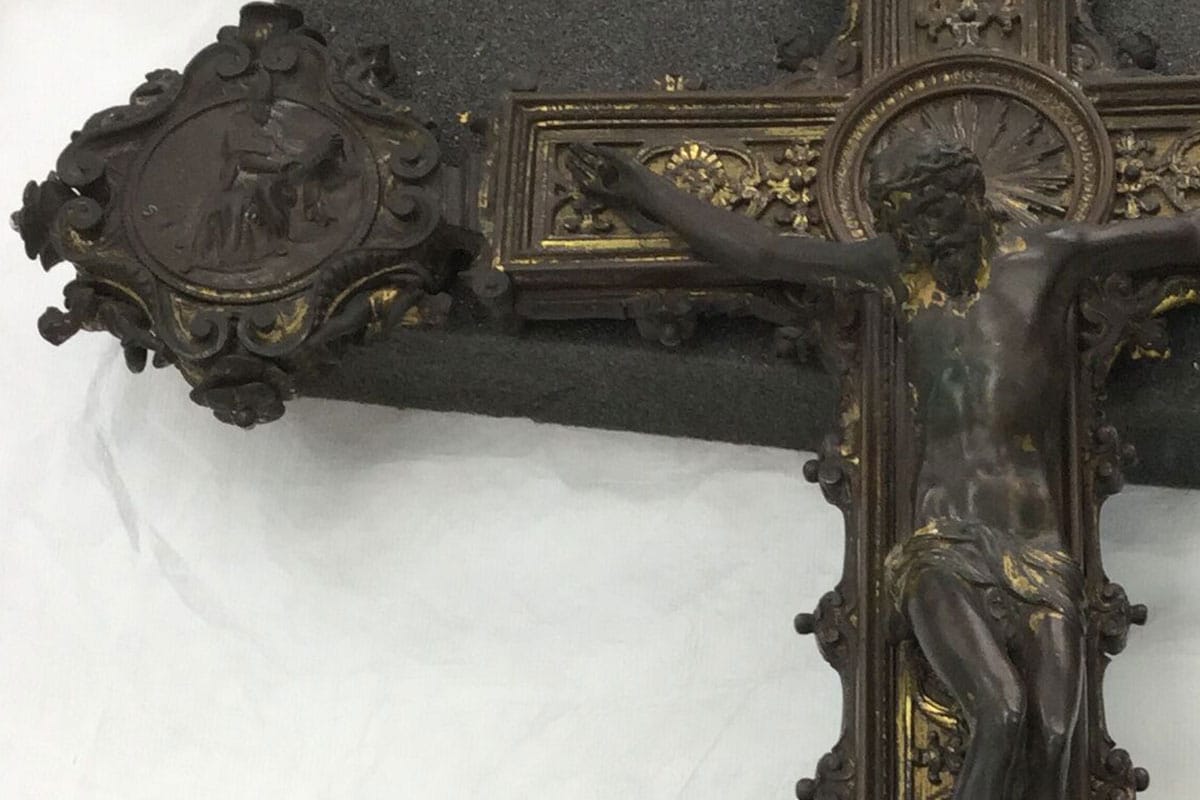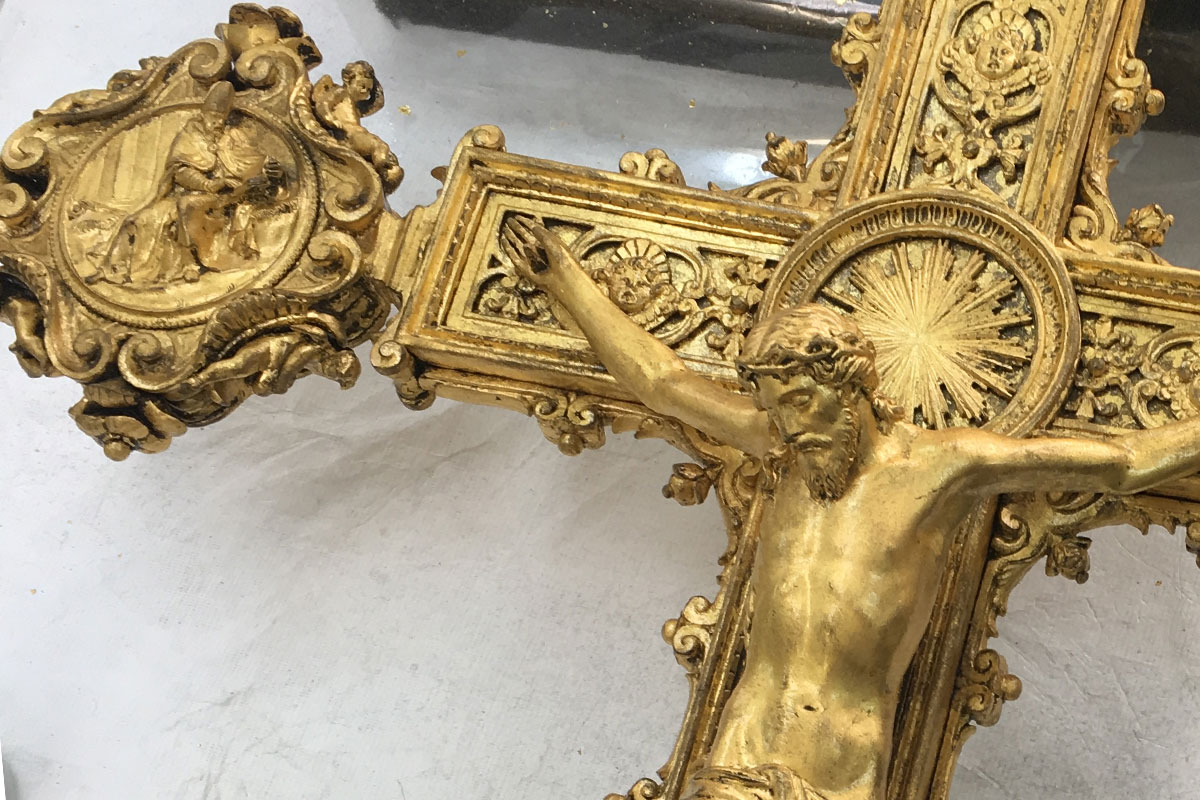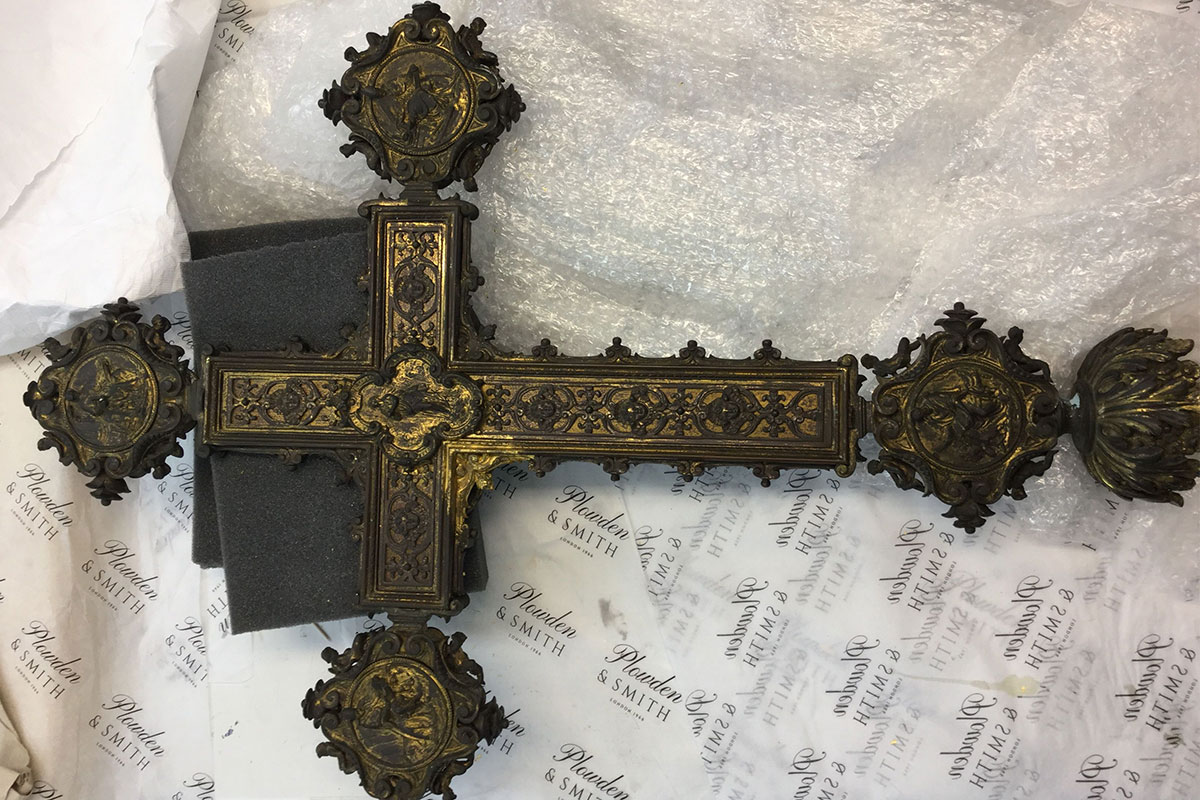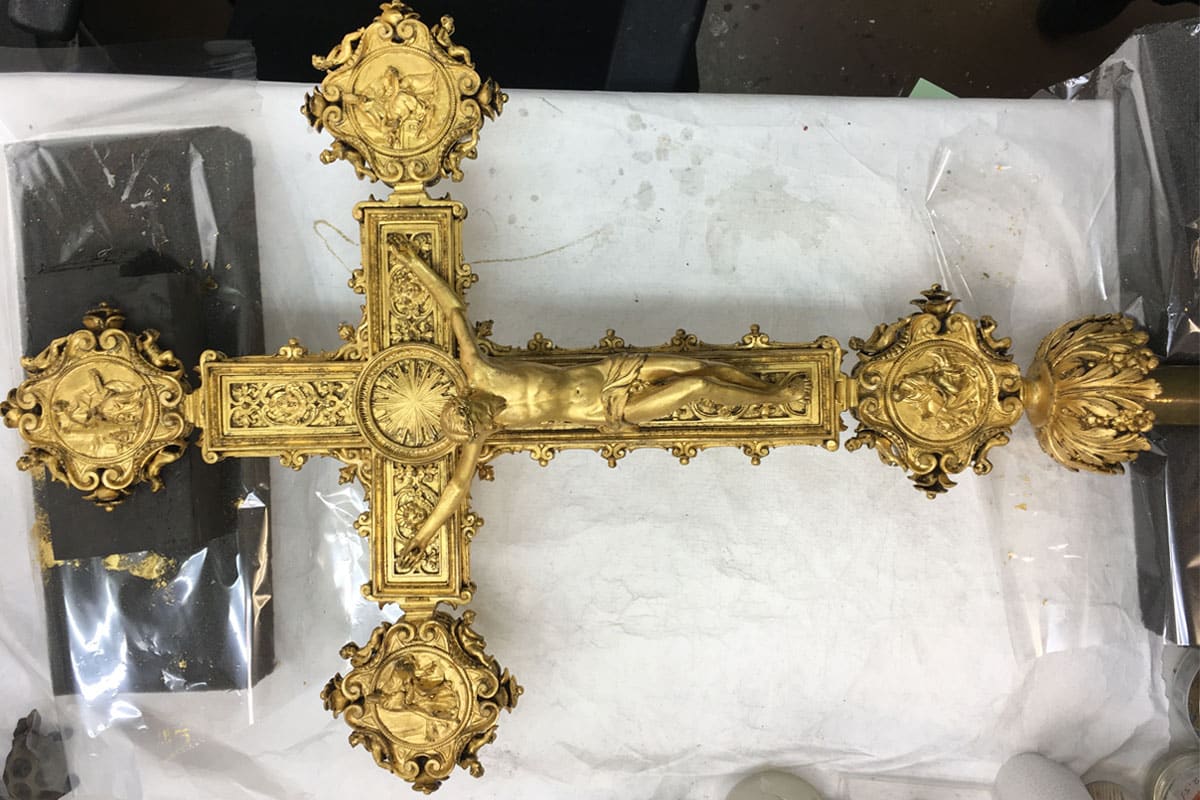 This gilded crucifix from Buckfast Abbey arrived in our gilding studio requiring treatment to revive its appearance.
First, our specialist conservator painstakingly cleaned the surfaces to remove dust and dirt. The crucifix was then gilded and carefully 'distressed' to give the newly gilded finish an historic appearance, consistent with the age of the crucifix.
Finally, a conservation-grade lacquer was applied to help protect the gilded surface.
Gilded Wood Tibetan Manuscript Cover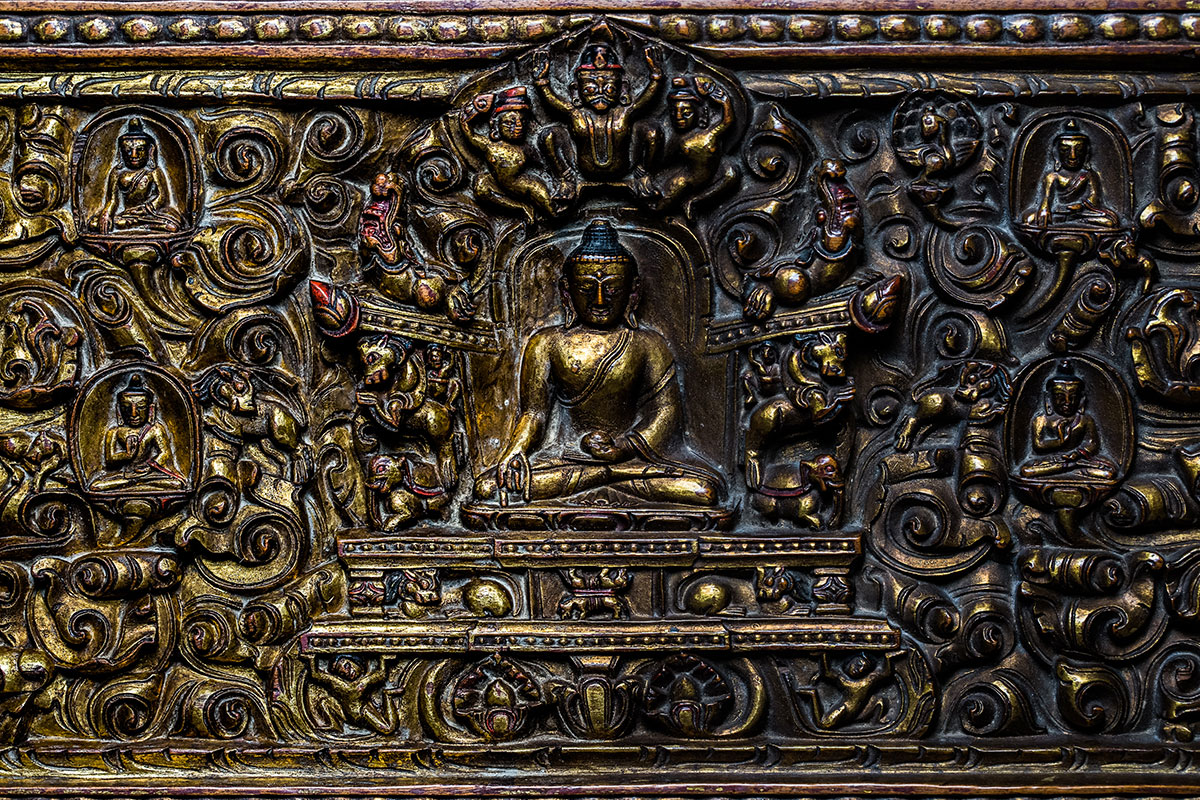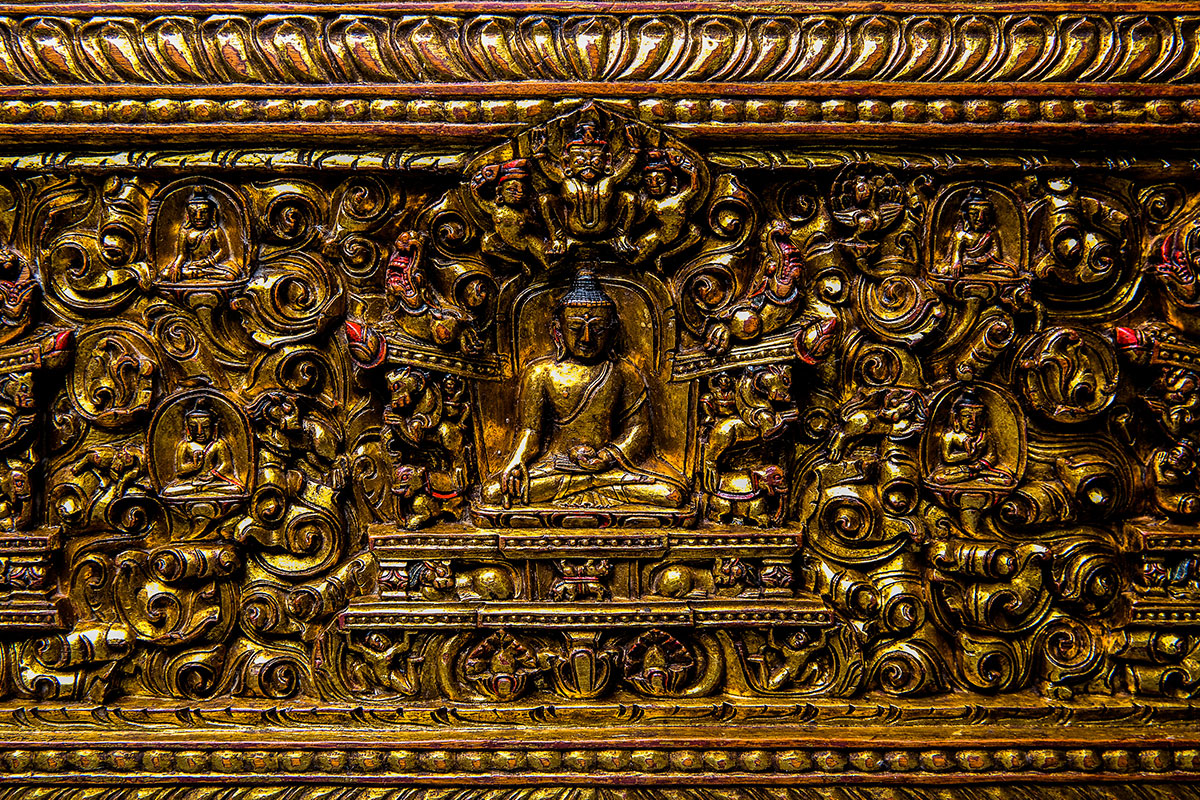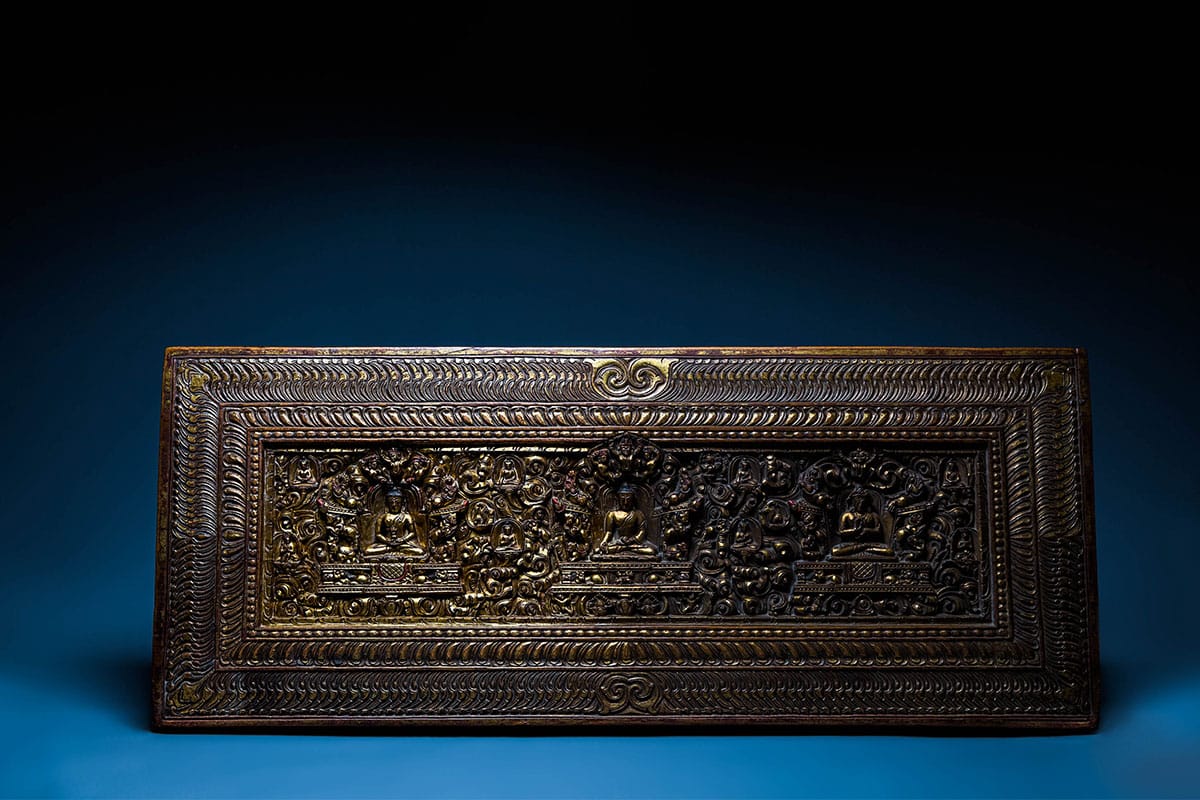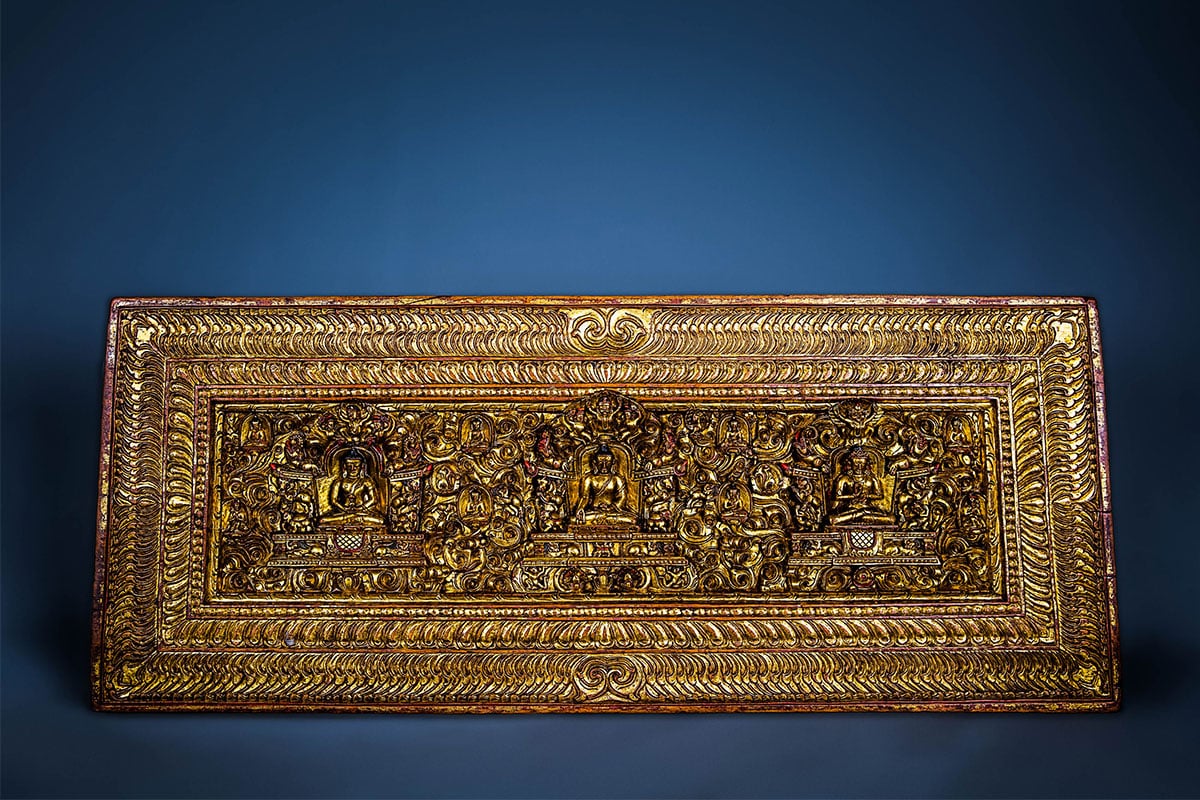 When this Tibetan manuscript cover arrived at Plowden & Smith, its beautiful, detailed carving was partly hidden under a thick layer of oxidised waxes, general grease and dirt. The back of the panels had abrasions, screw holes and losses of the original paint.

The gilded surface is water sensitive therefore we mixed an appropriate solution that would remove the water-soluble dirt while preserving the original coating.
The result was very effective and under UV light it's possible to see the orange fluorescence of the shellac layer – evidence that it was neither removed nor damaged by the cleaning.

This method is highly controllable, allowing us to reveal even more detail in the panels.
After treatment, we compared before and after pictures using a digital microscope; this showed us that we'd been able to retain the original coating while bringing out the original detail of the piece.
Verre Eglomise Demonstration
Verre Eglomisé is the ancient process of gilding precious metals on the reverse side of glass creating a soft mirrored effect.
Verre eglomisé is found on fine pieces of antique furniture, including cabinets, mirrors, plinths, tables, bureaux, screens and chairs.
We restore broken and damaged sections of historic verre eglomisé using traditional methods. Missing elements, or entire panels of verre eglomise are painstakingly replicated.