RESTORATION & CONSERVATION SERVICES | MODERN AND CONTEMPORARY ART CONSERVATION
Modern and Contemporary Art Conservation
In the 57 years that we have been restoring modern and contemporary art, we have built up a formidable knowledge of different materials and the way they to react to specific environments.
The skill of our specialists, coupled with their vast experience, enables us to preserve, stabilise and augment the structure and surface of almost any artwork or installation, regardless of how challenging the problem or the environmental conditions.
We work closely with a number of artist studios, either acting in a consultancy-type role, or providing technical support with preventive and remedial treatments.  
The intense and ever-changing nature of a contemporary art studio demands flexibility and precision on the part of their wider support network and our long track record of successful problem solving means we can easily adapt our treatments to keep pace with changing circumstances.
We also enjoy excellent, long standing relationships with many international art galleries, working in close collaboration with their Technicians, Operations Managers and Registrars, who rely on our skill, judgement, flexibility and discretion.
Our services include:
• Advising on, or undertaking, the cleaning and maintenance of unusual or non-traditional materials. Over the years we have treated many unusual materials, including chocolate, plasticine, wax, found objects, human skin, plastics, and cake,
• Training sessions to gallery staff on object handling and how to spot some of the early warning signs of disintegration,
• Offering a consultancy service and technical support to artist studios, particularly when they are working with a challenging material or structure,
• Problem solving for electrical and kinetic art, including restoring old and new Neon lights, motors, and mobiles,
• Technical support to shipping firms whilst they handle and pack works of art,
• Providing an impartial third-party opinion on a wide range of issues relating to the fabrication, condition and maintenance of artworks,
• Fabricating bespoke plinths and mounts. If requested, these can integrate discreet security fixings, a service we provide to the RA Summer Exhibition to help avert potential damage or theft.
Artists we have worked on or with include:
Josef Albers
Carl Andre
Jean Arp
John Baldessari
Banksy
Fiona Banner
Matthew Barney
Mária Bartuszová
Lynda Benglis
Max Bill 
Alighiero Boetti 
Fernando Botero 
Louise Bourgeois
Frank Bowling 
Rembrandt Bugatti 
Alberto Burri 
Agustín Cárdenas  
Anthony Caro 
Enrico Castellani 
Lynn Chadwick 
John Chamberlain
Jake And Dinos
Chapman Eduardo
Chillida Christo
Lygia Clark
George Condo
Nigel Cooke
Tony Cragg
Martin Creed
John Currin
Salvador Dalí
Richard Deacon
Berlinde De Bruyckere
Wim Delvoye
Niki De Saint Phalle
Peter Doig
Jean Dubuffet
Marcel Duchamp
Tracey Emin
Max Ernst
Spencer Finch
Urs Fischer
Barry Flanagan
Dan Flavin
Lucio Fontana
Naum Gabo
Anya Gallaccio
Ellen Gallagher
Theaster Gates
Isa Genzken
Alberto Giacometti
Antony Gormley
Dan Graham
Subodh Gupta
Andreas Gursky
Philip Guston
Peter Halley
Richard Hamilton
Duane Hanson
Barbara Hepworth
Damien Hirst
David Hockney
Carsten Höller
Jenny Holzer
Gary Hume
Robert Irwin
Allen Jones
Michael Joo
Donald Judd
Anish Kapoor
Alex Katz
Mike Kelley
Anselm Kiefer
Phillip King
Martin Kippenberger
Yves Klein
Jeff Koons
Yayoi Kusama
Michael Landy
John Latham
Fernand Léger
Sol Lewitt
Richard Long
Tsuyoshi Maekawa
Piero Manzoni
Helen Marten
Henri Matisse
Gordon Matta-clark
Paul Mccarthy
Allan Mccollum
Julie Mehretu
Fausto Melotti
Joan Miró Mondongo
Piet Mondrian
Henry Moore
Mariko Mori
Juan Muñoz
Oscar Murillo
Bruce Nauman
Alice Neel
Julian Opie
Laura Owens
Eduardo Paolozzi
Victor Pasmore
Grayson Perry
Raymond Pettibon
Pablo Picasso
Michelangelo Pistoletto
Sigmar Polke
Arnaldo Pomodoro
Kenneth Price
Richard Prince
Marc Quinn
Fiona Rae
Man Ray
Paula Rego
Jason Rhoades
Gerhard Richter
Bridget Riley
Ugo Rondinone
Mimmo Rotella
Ed Ruscha
Wilhelm Sasnal
Thomas Schütte
Sean Scully
Richard Serra
George Shaw
Cindy Sherman
David Shrigley
Daniel Sinsel
David Smith
Frank Stella
Rudolf Stingel 
Thomas Struth
Brian Sullivan 
Sophie Taeuber-arp 
Lenore G. Tawney 
Wolfgang Tillmans 
Rosemarie Trockel 
William Turnbull 
Cy Twombly 
Lee Ufan 
Bill Viola 
Jeff Wall
Andy Warhol
Ai Weiwei
Franz West
Rachel Whiteread
Hannah Wilke
Hank Willis Thomas
Rose Wylie
Andrea Zitte
Contemporary Art Conservation Case Studies
"WALL", STIK – Migration Museum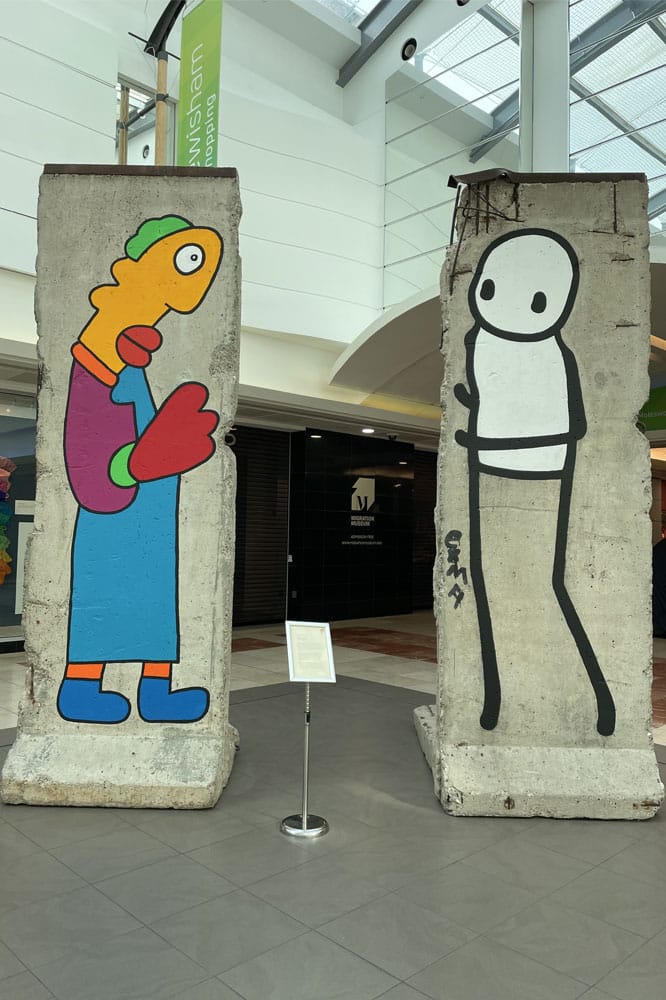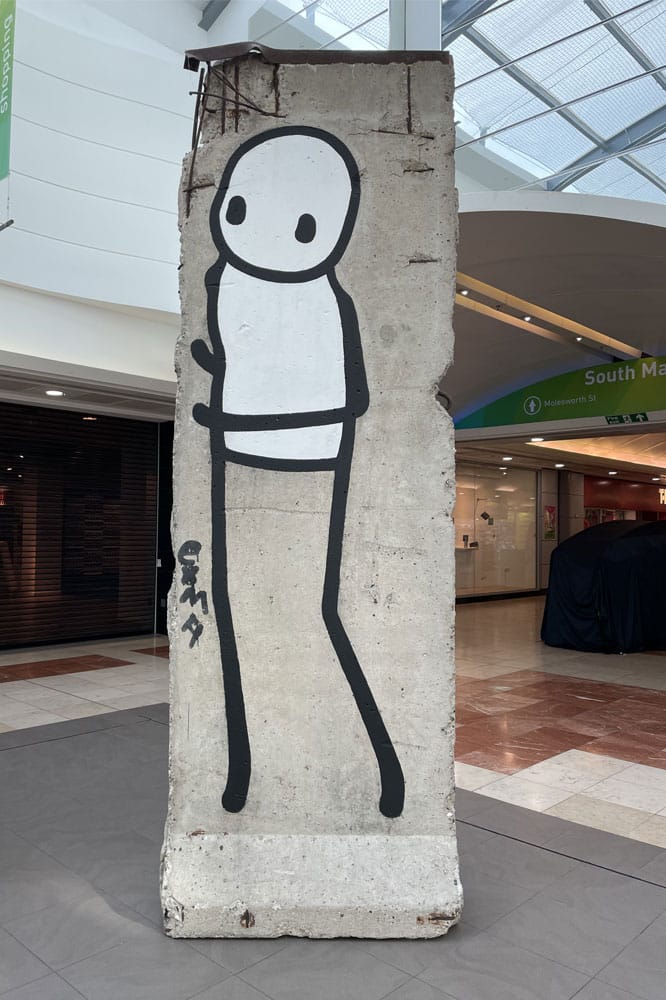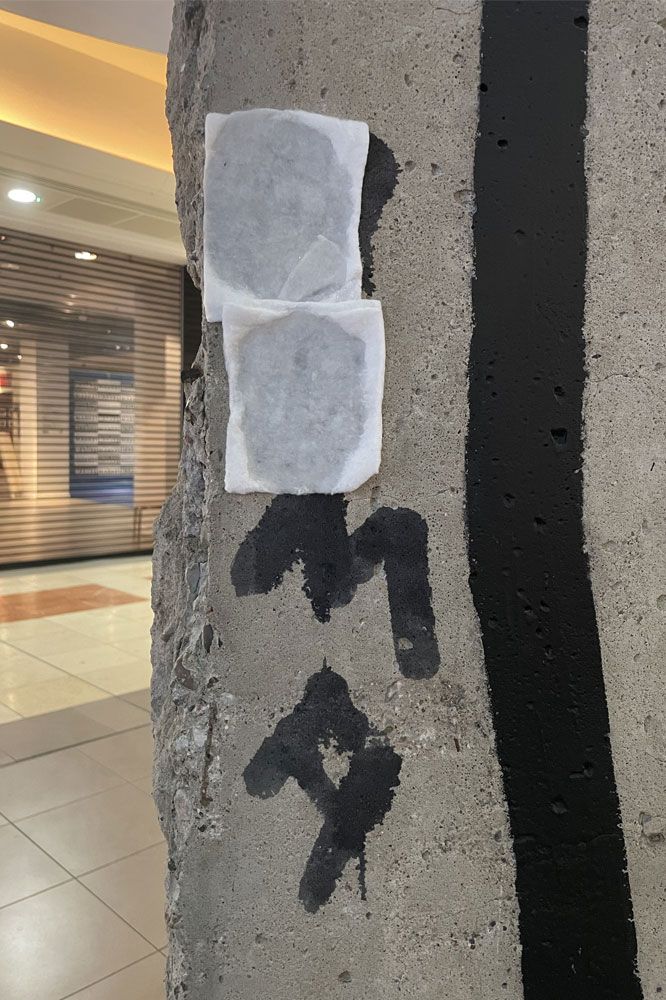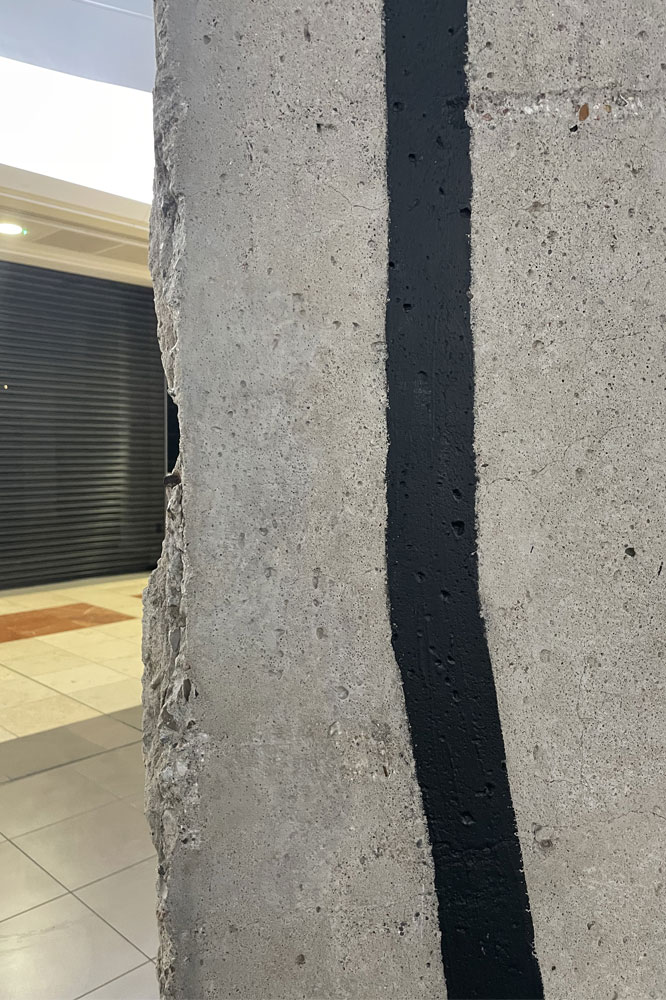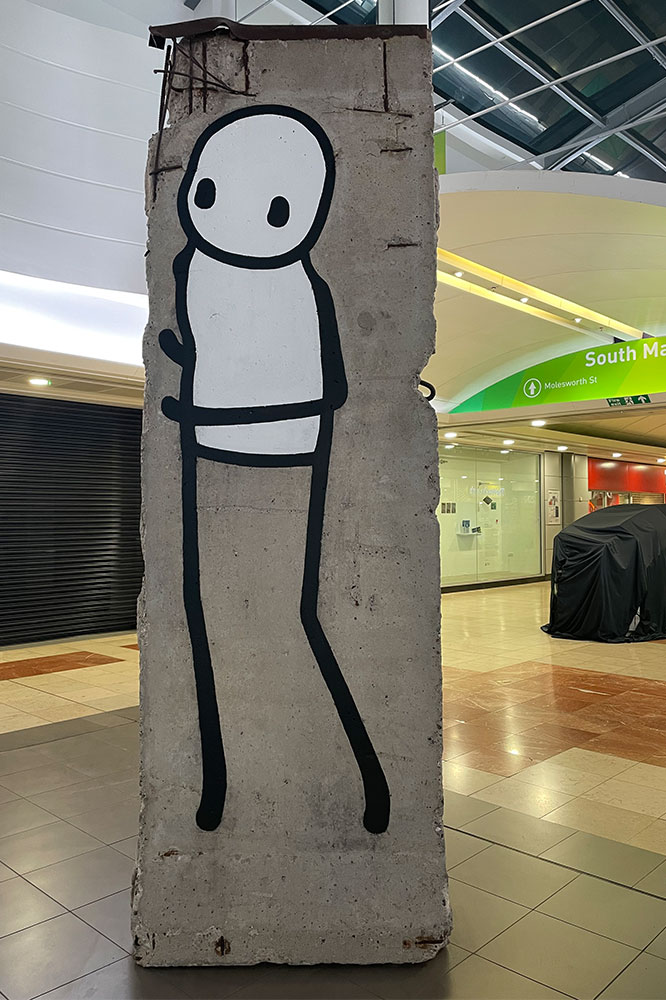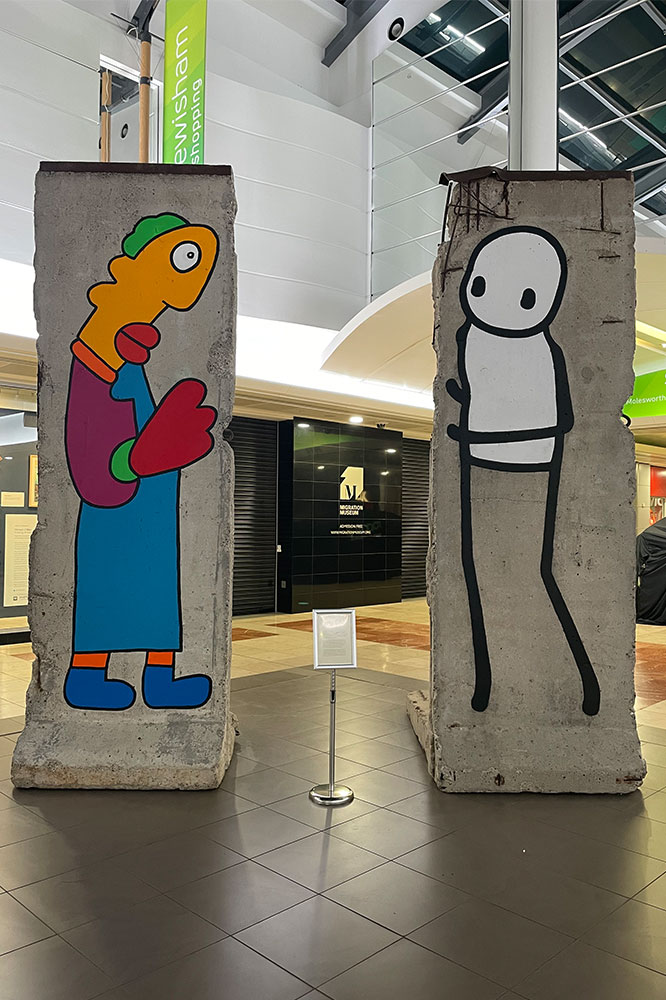 WALL is a contemporary artwork on display at the Migration Museum, based in Lewisham Shopping Centre. It consists of two separate surviving segments of the Berlin Wall, which have been painted on by contemporary artists STIK and Thierry Noir.
The variety of specialists under one roof makes Plowden & Smith an ideal restore contemporary art, which often features mixed materials.
We were approached by the Migration Museum to remove or – failing that – minimise the appearance of a graffito tag, that was detracting from the appearance of the artwork.
WALL was assessed in situ, which confirmed that the tag had been made with a heavy-duty felt pen, traditionally used for graffiti tagging because its ink will intensely penetrate any porous surface. In the case of WALL, the concrete render presented a porous surface, making the tag almost impossible to completely remove by safe means.
After the initial assessment, a member of our Painting Restoration team that specialises in contemporary art conservation carried out cleaning tests to identify the best possible method of removing the ink from the tag.
The cleaning tests performed with gels and solvents proved most effective in removing superficial residues of the ink and reducing the black pigmentation/dye. Aliphatic and Aromatic solvents were also tested, but as they presented similar results to less toxic solvents, the decision was made not to use them in our restoration of this contemporary artwork.
Cleaning successfully reduced the tag stain from very dark to light grey. Finally, residual staining was carefully retouched to simulate the texture and colour of the surface render. The end result is an extremely discreet retouching that the naked eye does not appreciate unless pointed out.
Banksy, Flying Copper | Contemporary Art Restoration Project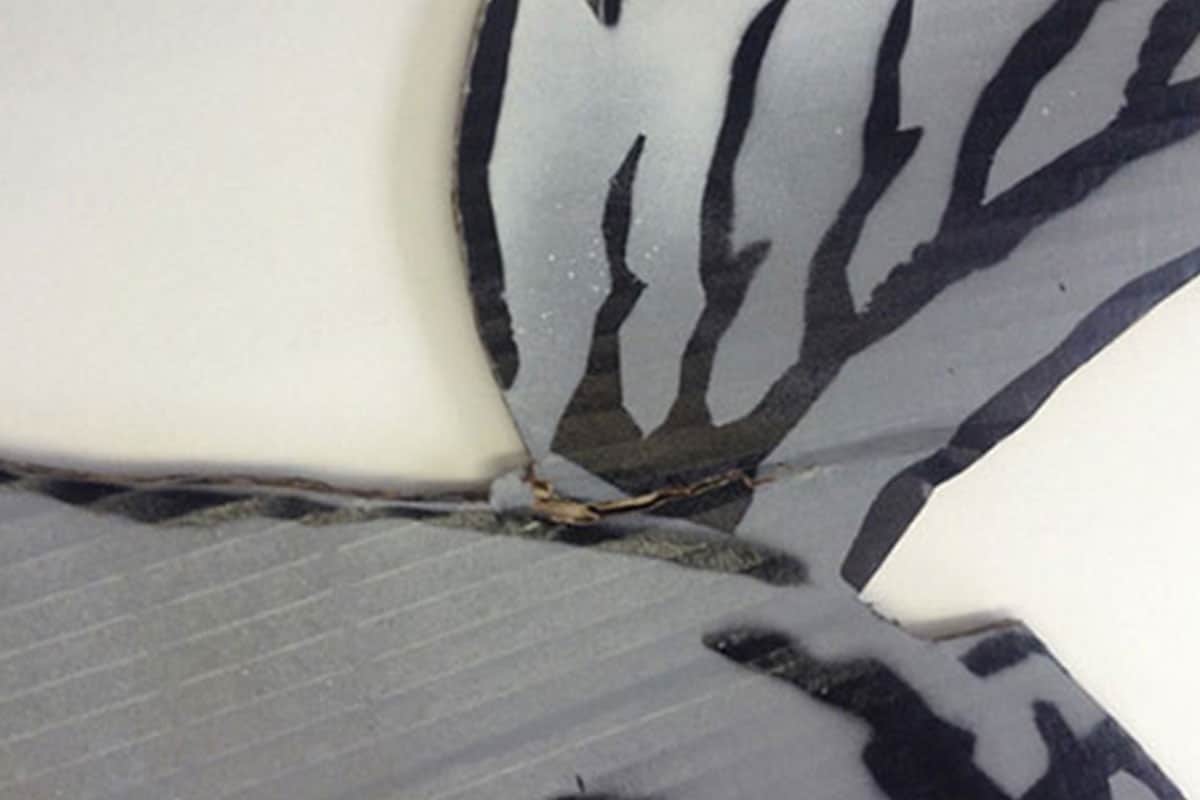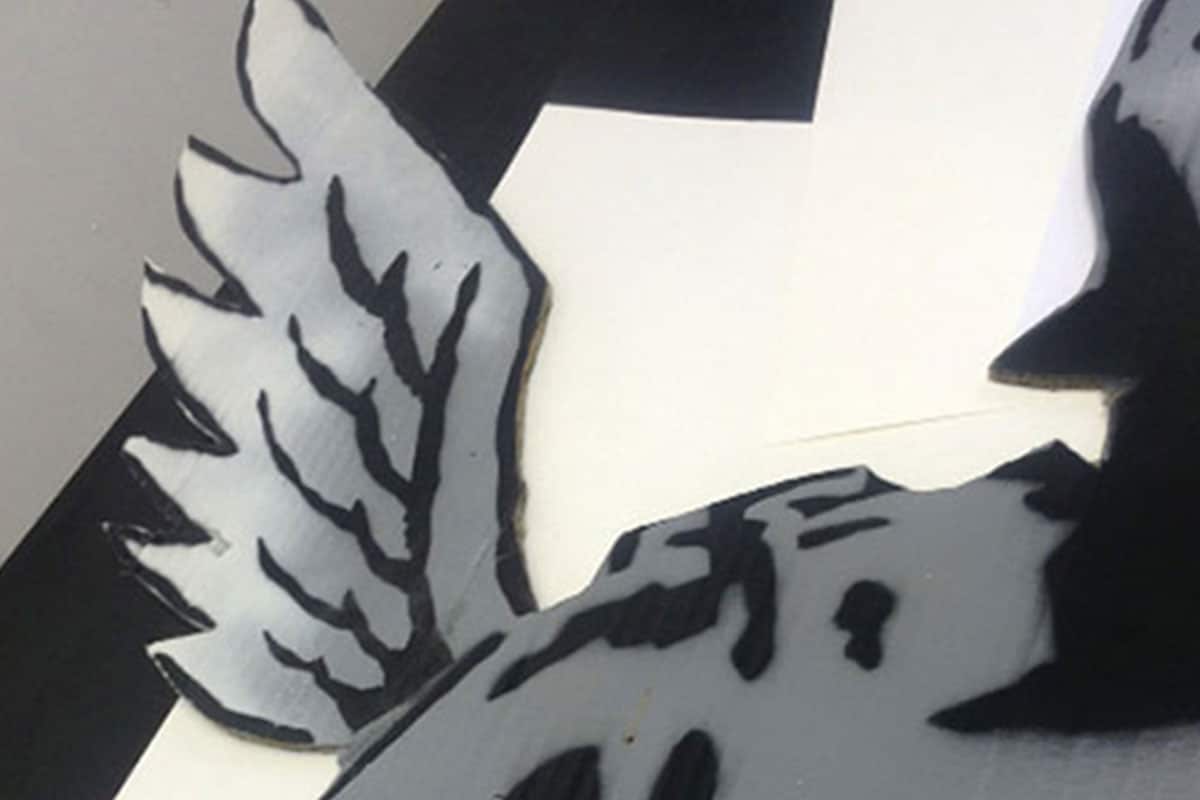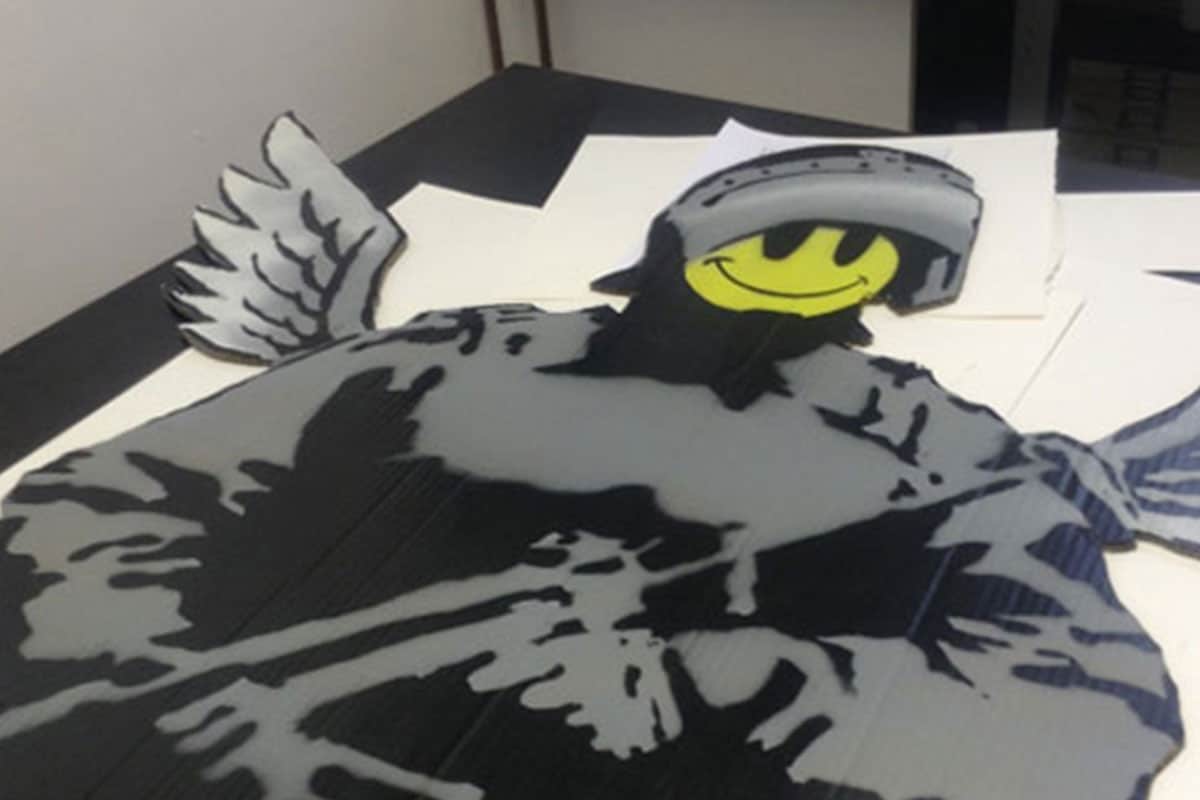 Over the years, Plowden & Smith has treated a number of works by the elusive street artist, Banksy.
Flying Copper is one of Banksy's Happy Copper paintings, consisting of spray paint on cardboard. The artwork was brought to us with multiple tears to the card, particularly at the point the delicate wings tapers into the torso of the figure. 
Our paper conservation department repaired the tears using layers of Japanese tissue and wheat starch paste. This repair technique serves to strengthen the cardboard, thus contributing to the long-term conservation of the artwork. Finally, the repairs were retouched to make them visually unobtrusive.
Emergence, Monumental Bronze Sculpture by David Breuer-Weil | Contemporary Art Restoration Project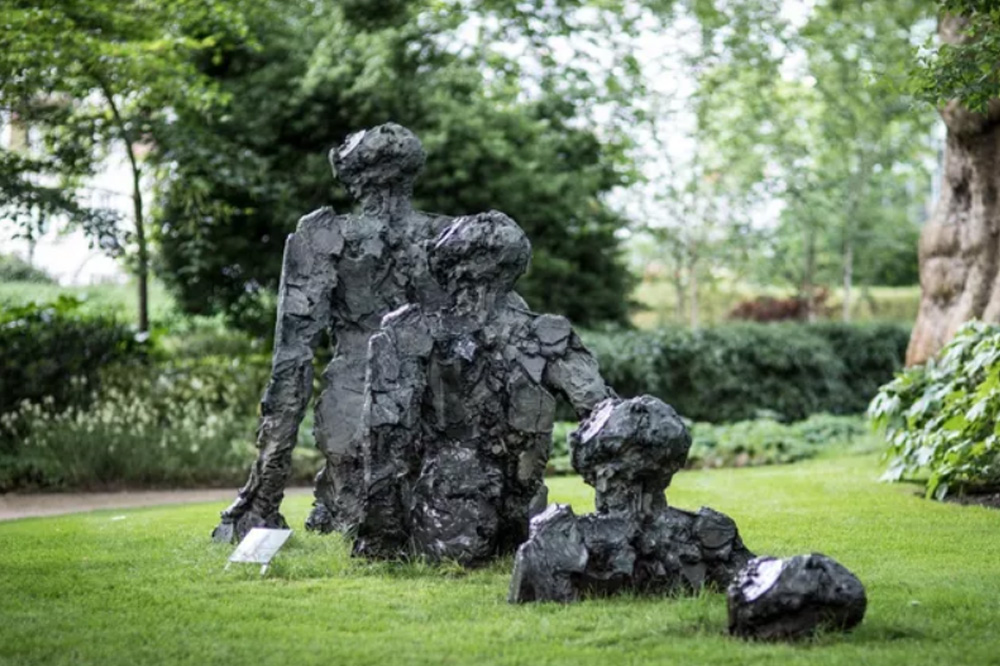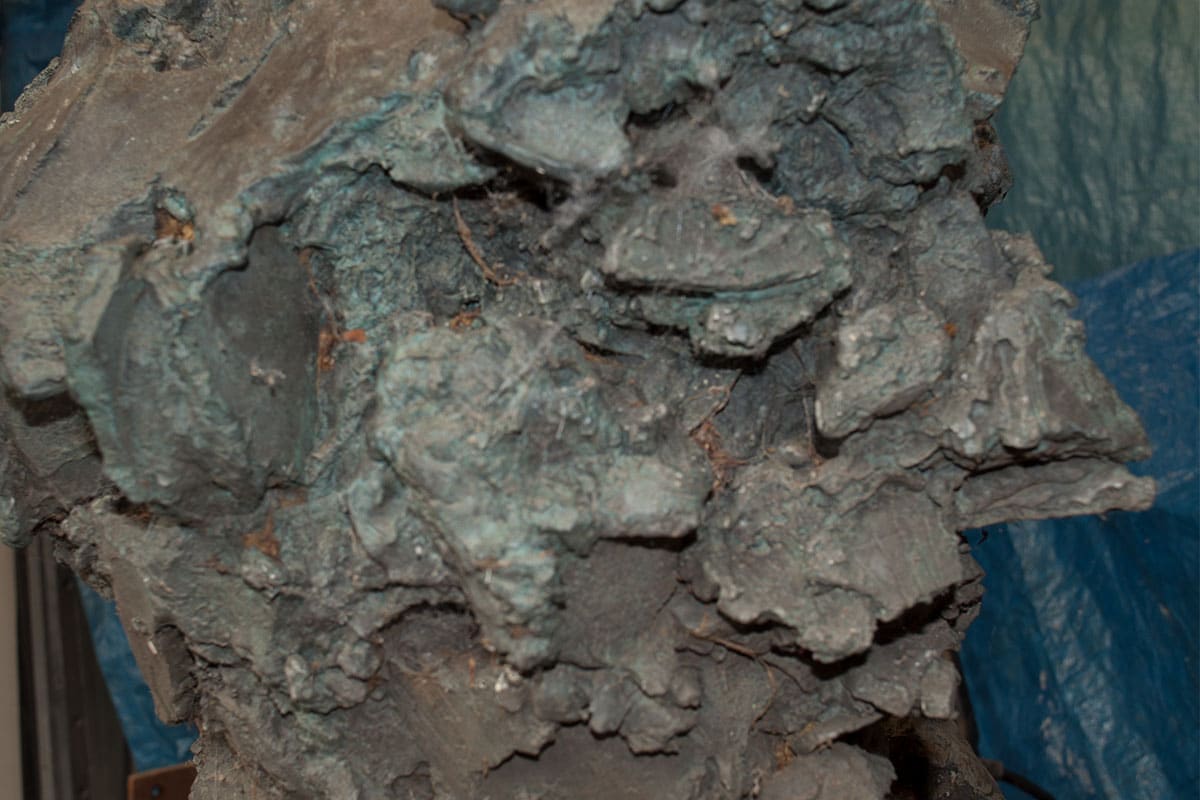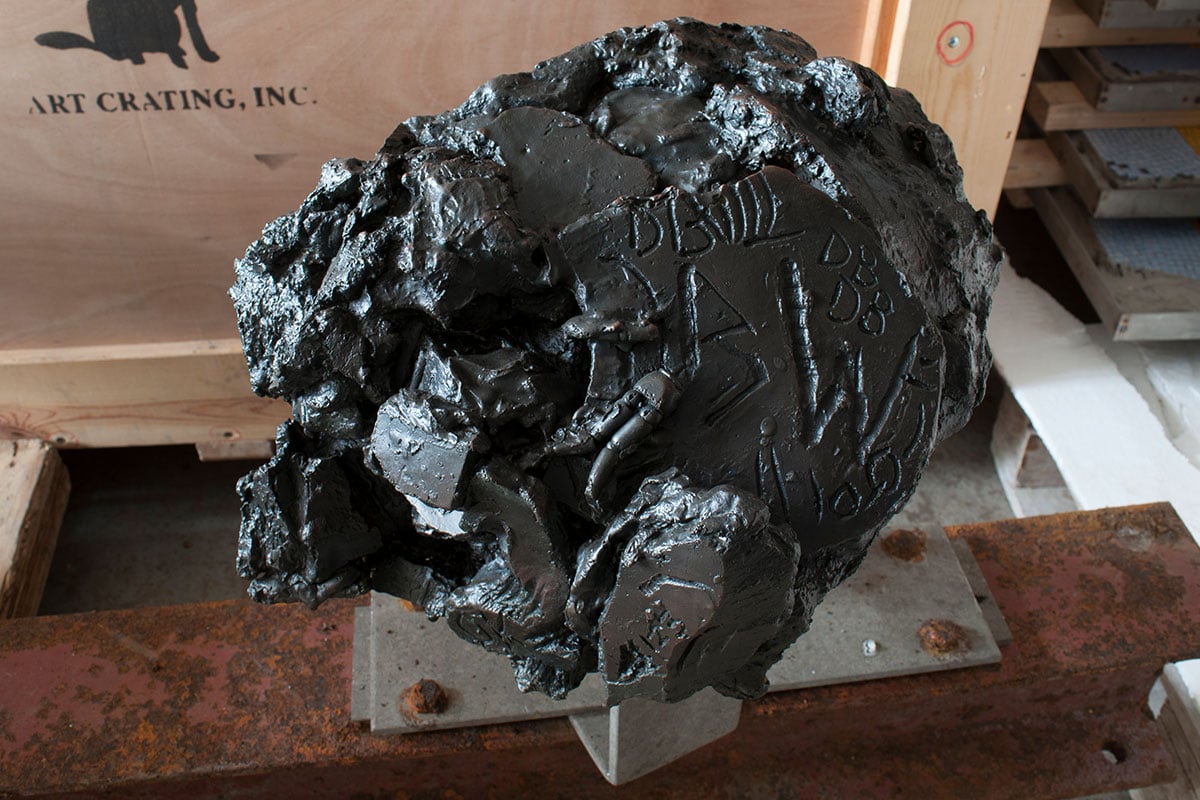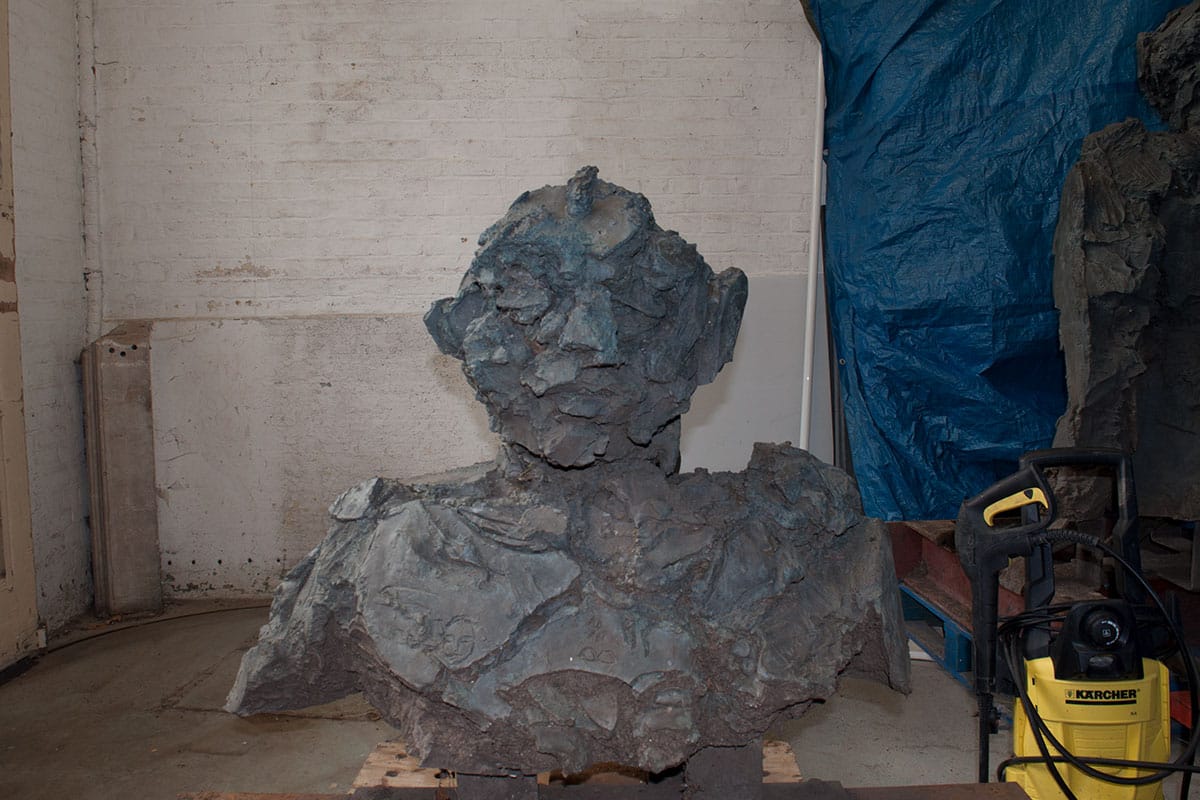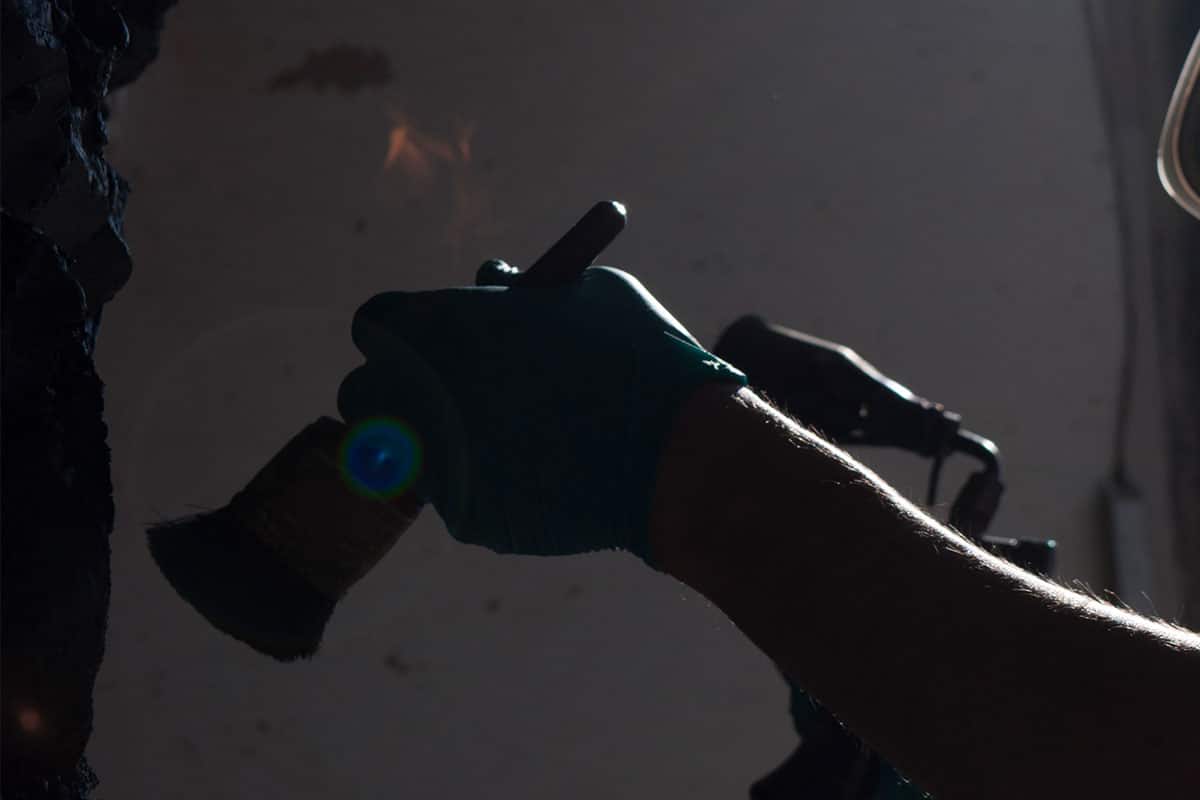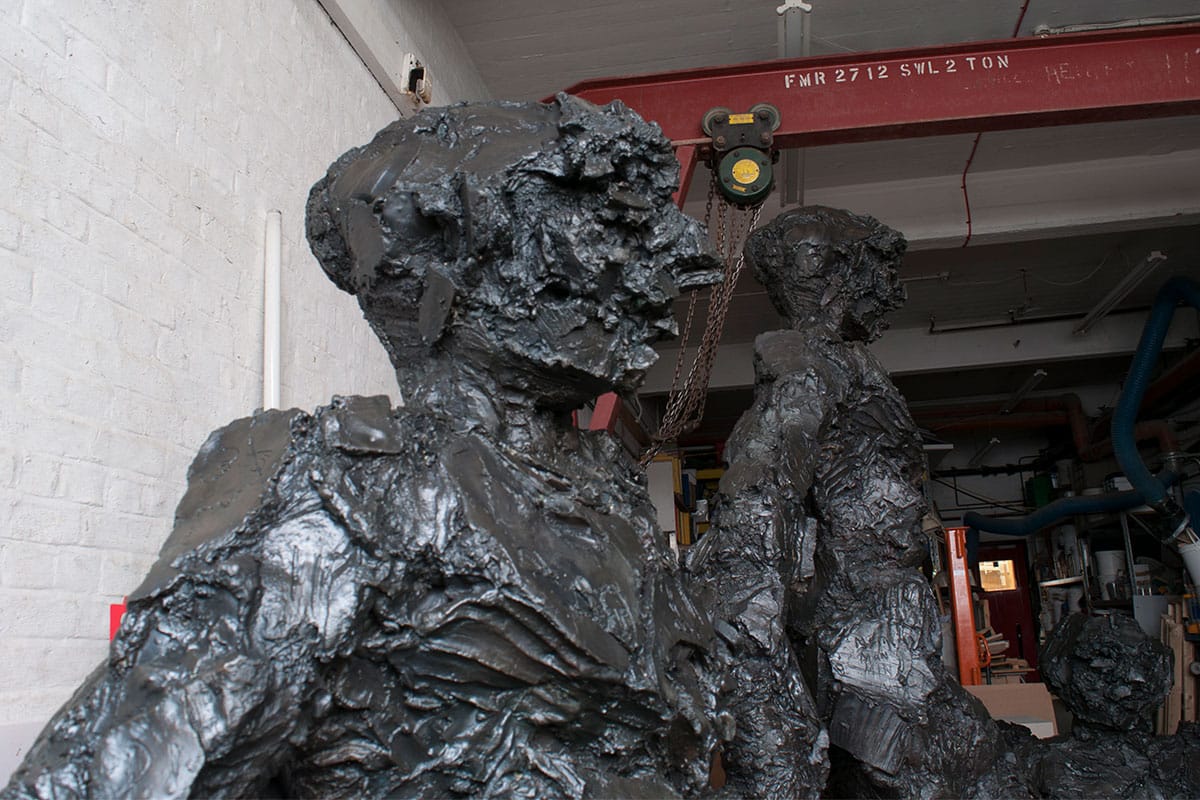 Our sculpture restoration studio is used to welcoming visitors of all ages and sizes, but David Breuer-Weil's monumental bronze sculpture 'Emergence' has to be one of the largest.
For many years, this four-part sculpture's home had been a garden square in central London. Acidic rain, air pollution and bird droppings are just some of the factors that can corrode the patination on outdoor sculptures. Over time, and if left untreated, this can seriously impact both their appearance and structural stability. Emergence came in for sculpture restoration treatment to correct typical weather-related wear and damage.
After carefully removing all traces of dirt and debris, our sculpture restoration team applied coloured wax using a hot wax method to restore patination loss. Once completed a final wax was applied, which not only improves the overall appearance of the sculpture but also provides it with an additional protective layer.
To find out more about our modern and contemporary art conservation services, or to discuss a project