RESTORATION & CONSERVATION SERVICES | FINE ART RESTORATION | PRINTS, MULTIPLES AND PAPER CONSERVATION
Prints, Multiples and Paper Conservation
"When I decided to get some conservation work done on a fragile piece of paper, the first people I thought to turn to was Plowden & Smith. My instinct proved correct.
When I was a child my grandmother passed me an 18th century licence to practice medicine in the City of London. It had belonged to one of my ancestors, a well know medic of his time. Quite how this scrap of paper had made it down through the generations remains a mystery, but it did. When my eldest daughter decided to become a doctor I decided I should do something to the licence and present it to her on her graduation.
The delicate piece of paper I passed to your studio was showing significant age-related wear, creasing and tears. Without professional attention there was no doubt that its degradation would accelerate and, ultimately, that it would be lost.
The transformation in the hands of your talented paper conservators has been astonishing; the licence has been completely – but sensitively – revitalised. My daughter was overcome by the gift of the licence, which has been framed immaculately by you so that it is not just protected, but can be properly appreciated and enjoyed for many generations to come. Thank you so much."
– James Alexander, Brighton and Hove
Our paper conservation department carry out a wide range of preventive and complex interventive treatments on paper: including on fine art, parchment, three-dimensional paper objects, bound volumes, photographs and archival material.
Our paper conservators have extensive research and practical conservation experience with some of the most complex materials, including adhesives, unusual substrates, lead white and iron gall ink.
Paper conservation treatments to restore appearance and stability include flattening, cleaning, washing, fumigating against mould, tear repairs, de-acidifying, tape and adhesive removal, infilling losses and retouching, and hinging into mounts.
We also carry out surveys, assessments and condition reporting projects, as well as mounting a diverse selection of works on paper for display or exhibition.
Following treatment and where needed, our experts will apply a non-acidic conservation-grade backing and museum quality non-reflective, UV-filtering glass to the work to prevent further deterioration.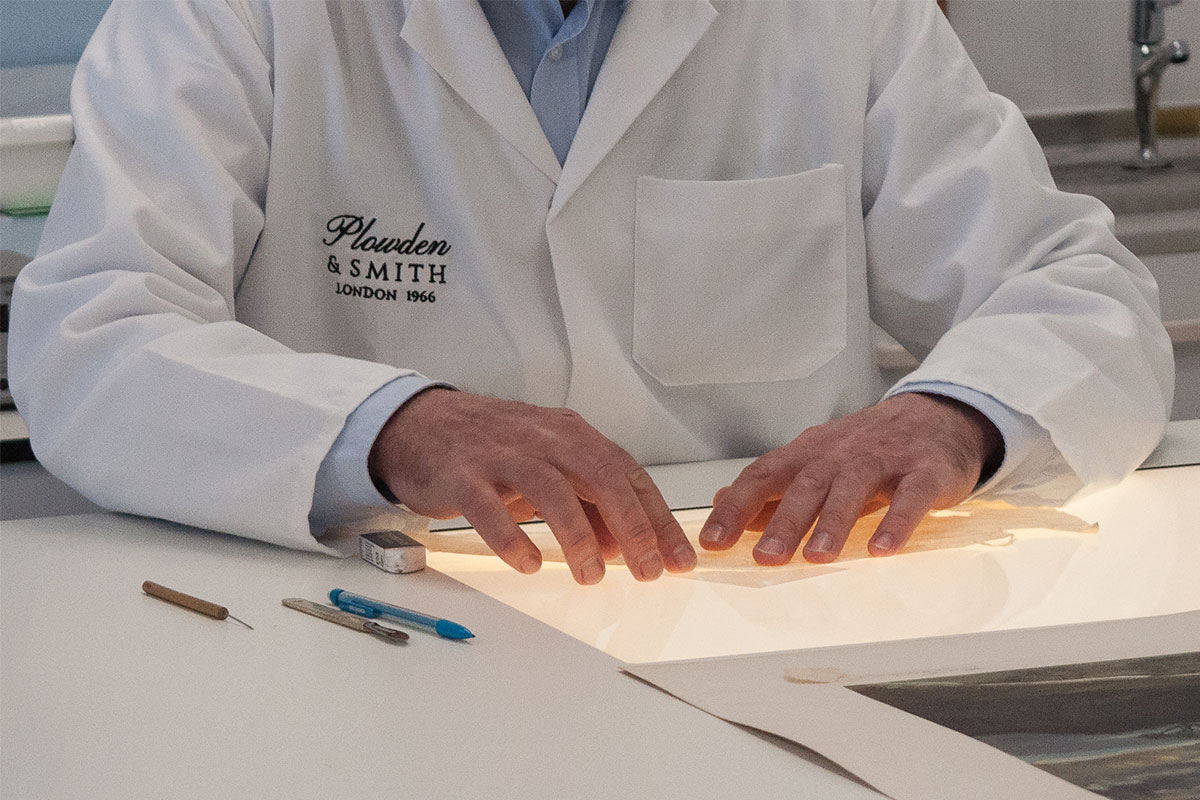 Paper Conservation Case Studies
Conserving an 18th Century Doctor's Licence to Practice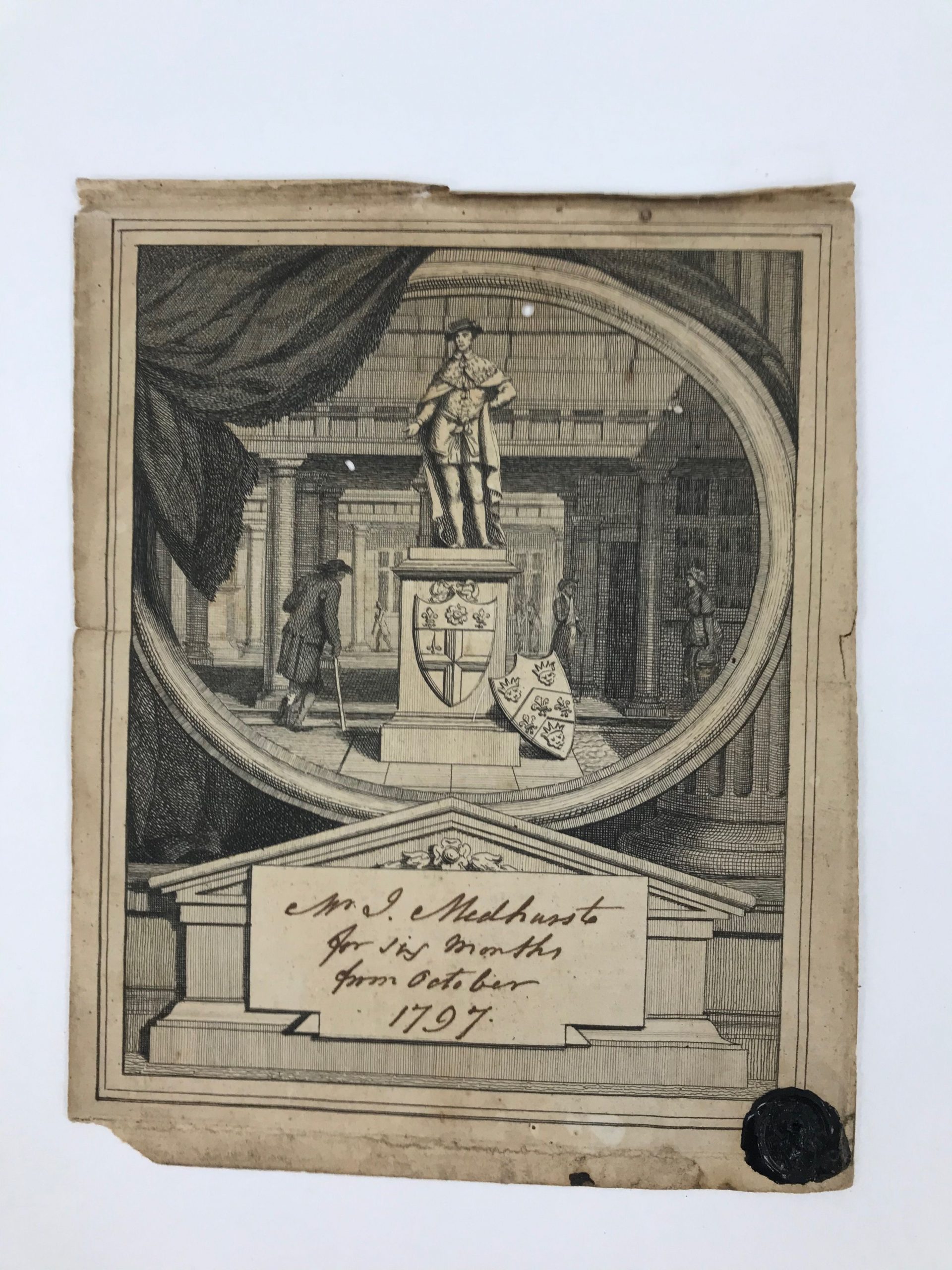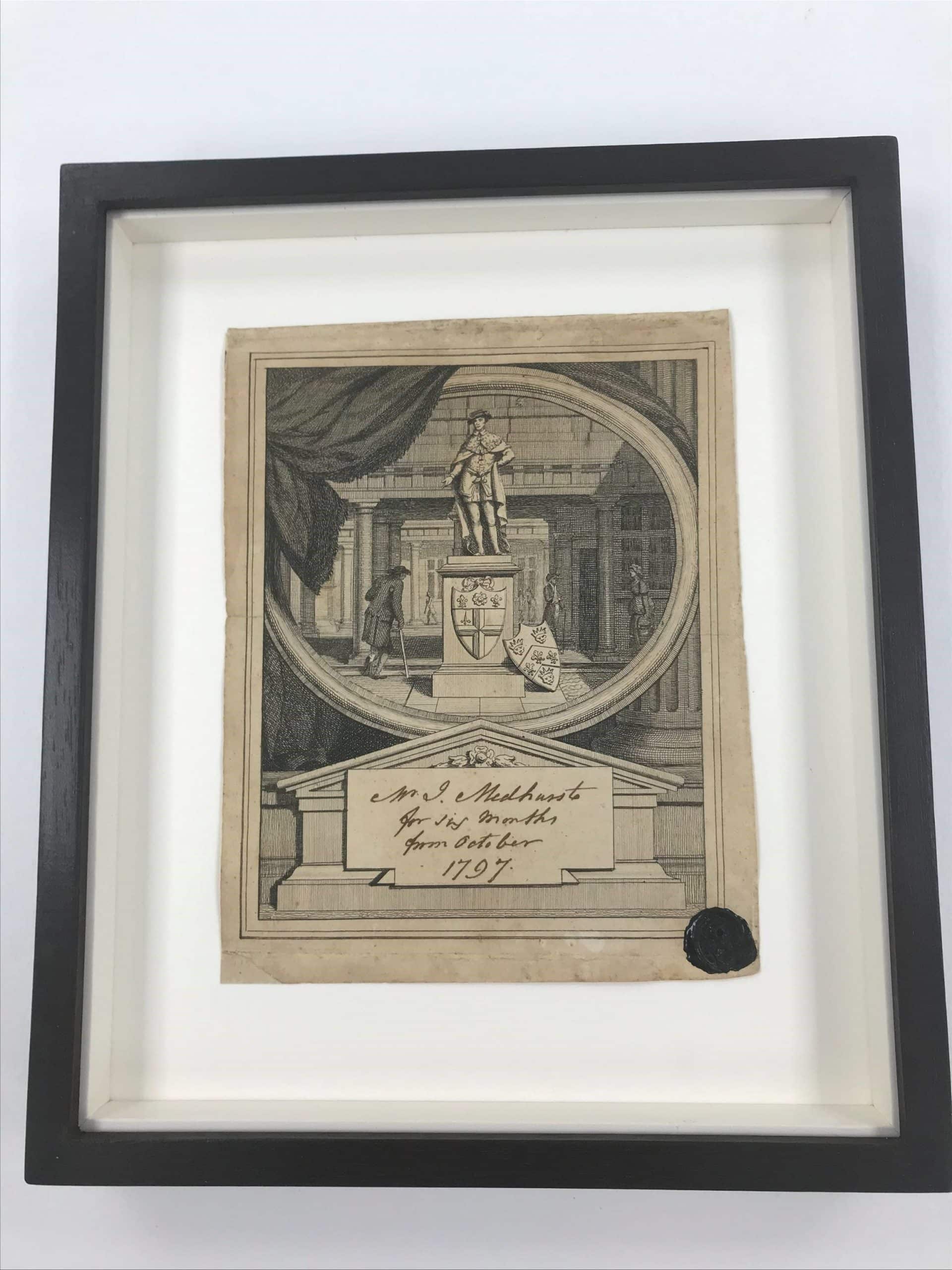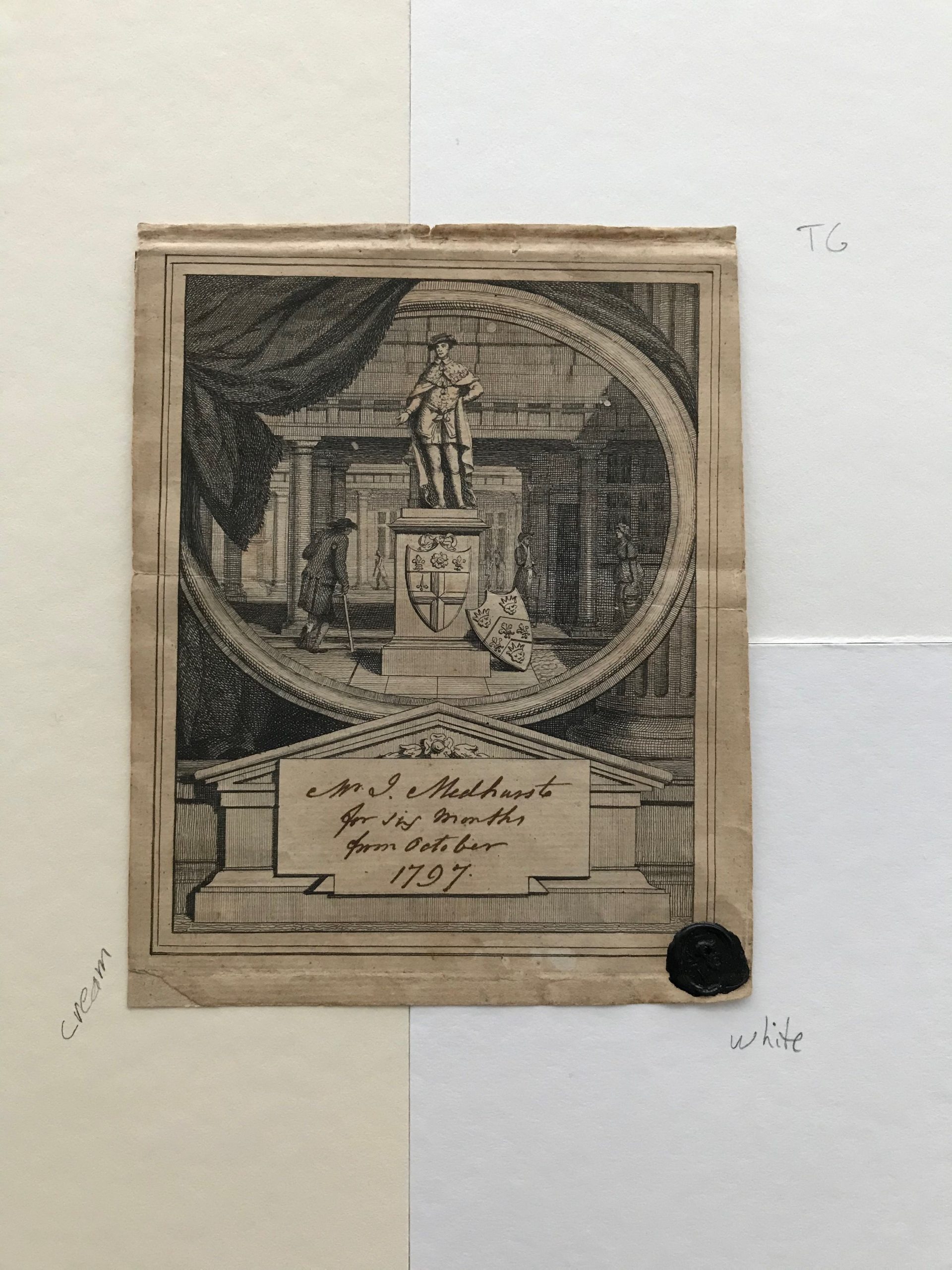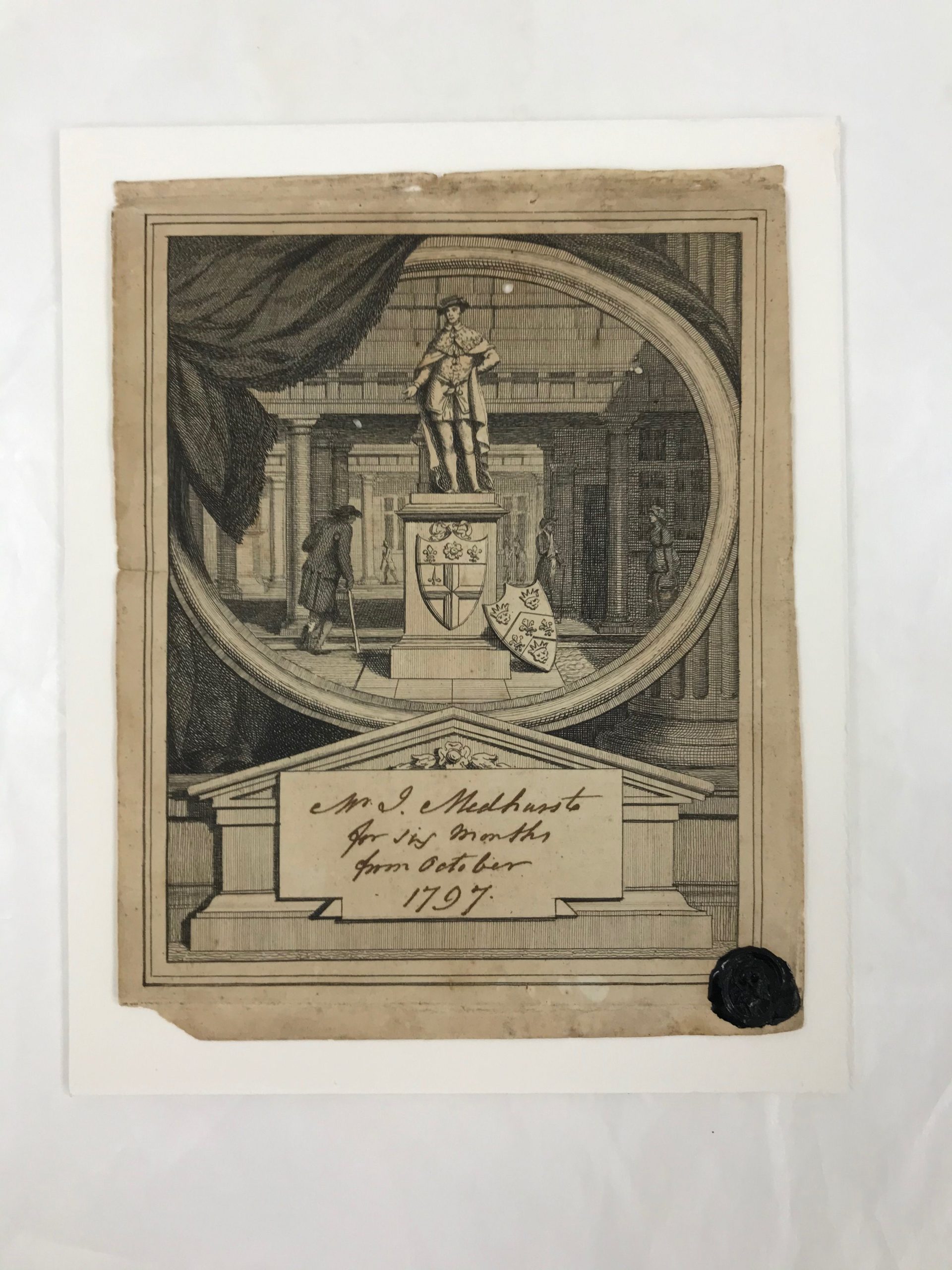 This 18th Century doctor's license to practice (which dates from 1797) would have been frequently handled and folded by its original owner, resulting in deeply worn creases and other signs of wear to the document. The license came into our studio for some well-earned paper conservation treatment, and a new bespoke mount.
Upon examination in our Paper Conservation studio, the existing backing of the license to practice was found to have insect damage, and the document itself indications of having been eaten by pests.
As the document features iron gall ink and had retained its original black wax seal, paper conservation treatments involving water were not possible. This meant that our Senior Paper Conservator was limited to dry surface cleaning methods to remove the insect frass (excrement).
Our Senior Paper Conservator then examined the delicate paper on the studio light table to assess the full extent of its damage and weaknesses, in order to decide on the best treatment approach.
The chosen method of paper conservation involved reinforcing the historic folds with Japanese tissue to the verso of the document and infilling any holes using closely matched paper from our historic paper stock. Our Senior Paper Conservator then carefully toned these repairs for a seamless match.
Finally, the document was mounted on a sympathetic museum-grade board and the license to practice set within a brand-new conservation-grade bespoke frame.
Brigitte Bardot 'Cigar' Silver Gelatin Print, Terry O'Neill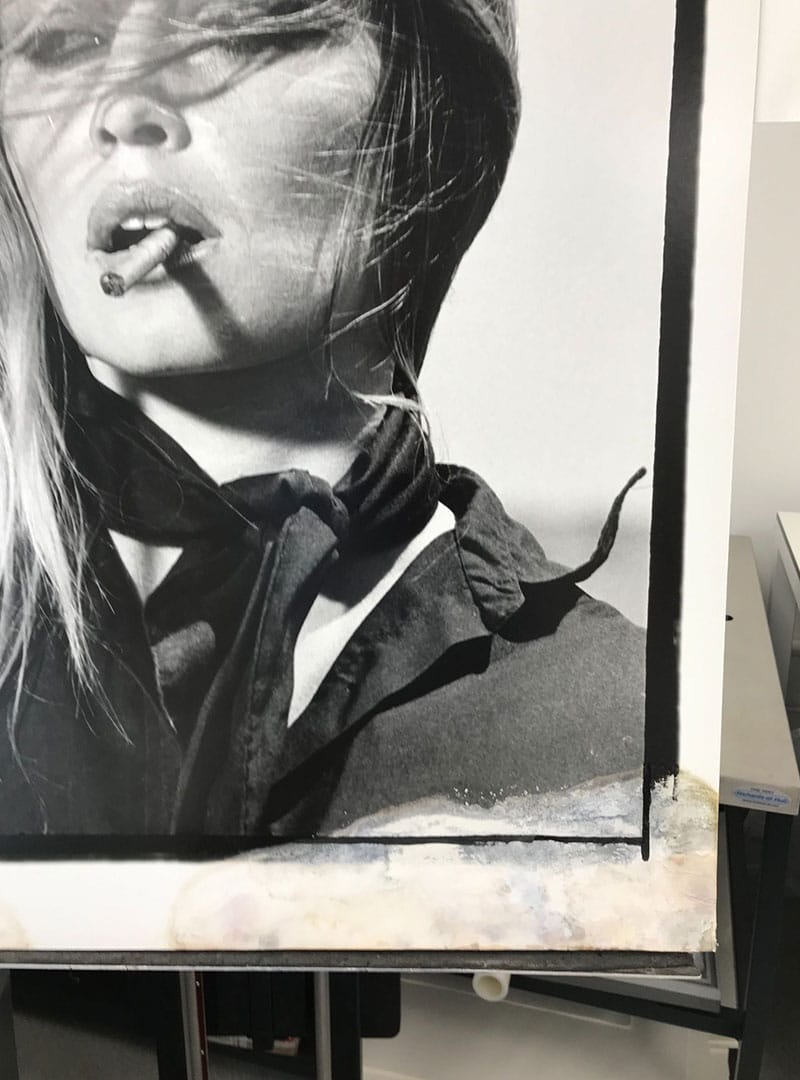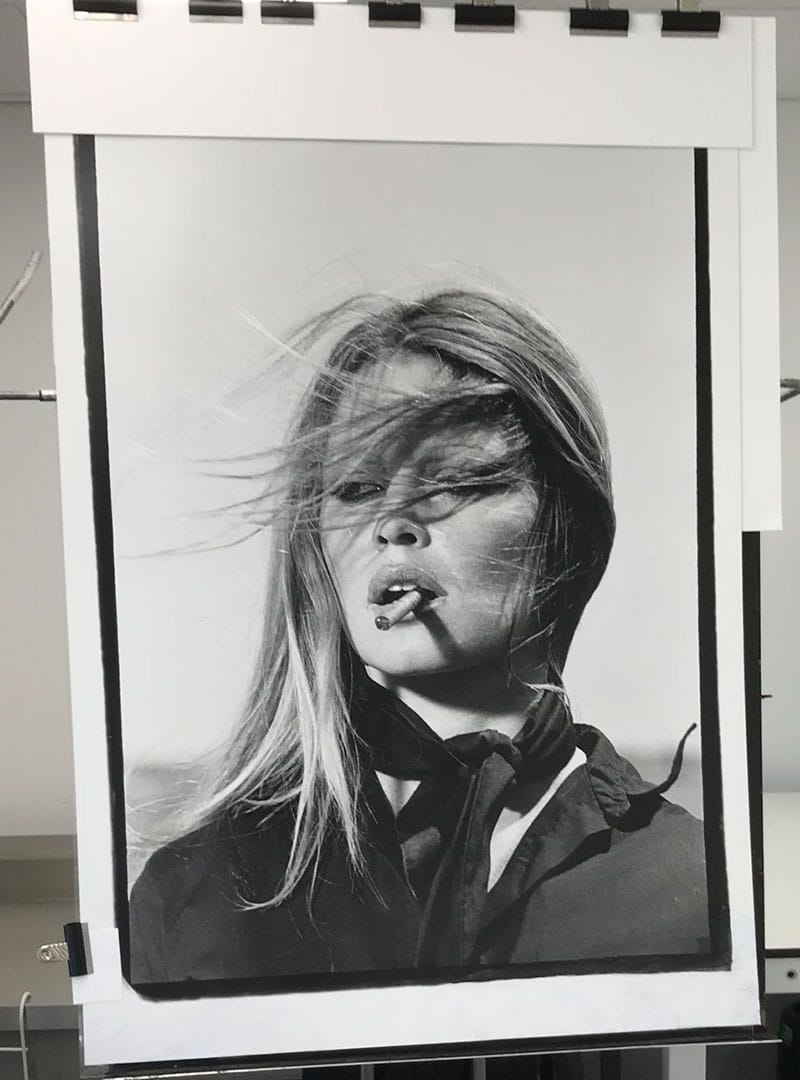 This limited-edition silver gelatin Brigitte Bardot print by Terry O'Neill came into our Paper Conservation Studio for treatment after suffering water damage.
Due to the adhesive properties of the gelatin, the photo and the card mount had partially stuck together, causing further damage to the print. Careful separation was needed before any conservation treatment on the piece could begin.
Following separation, the print was cleaned for potential mould on both the front and reverse sides. Fragile or lifting areas were burnished using a bone folder and a layer of Bondina, conservation-grade non-woven polyester, applied to stabilise the surface.
The damaged areas were then meticulously retouched using watercolour paints, and a gelatine finish was applied to improve the surface texture of the print.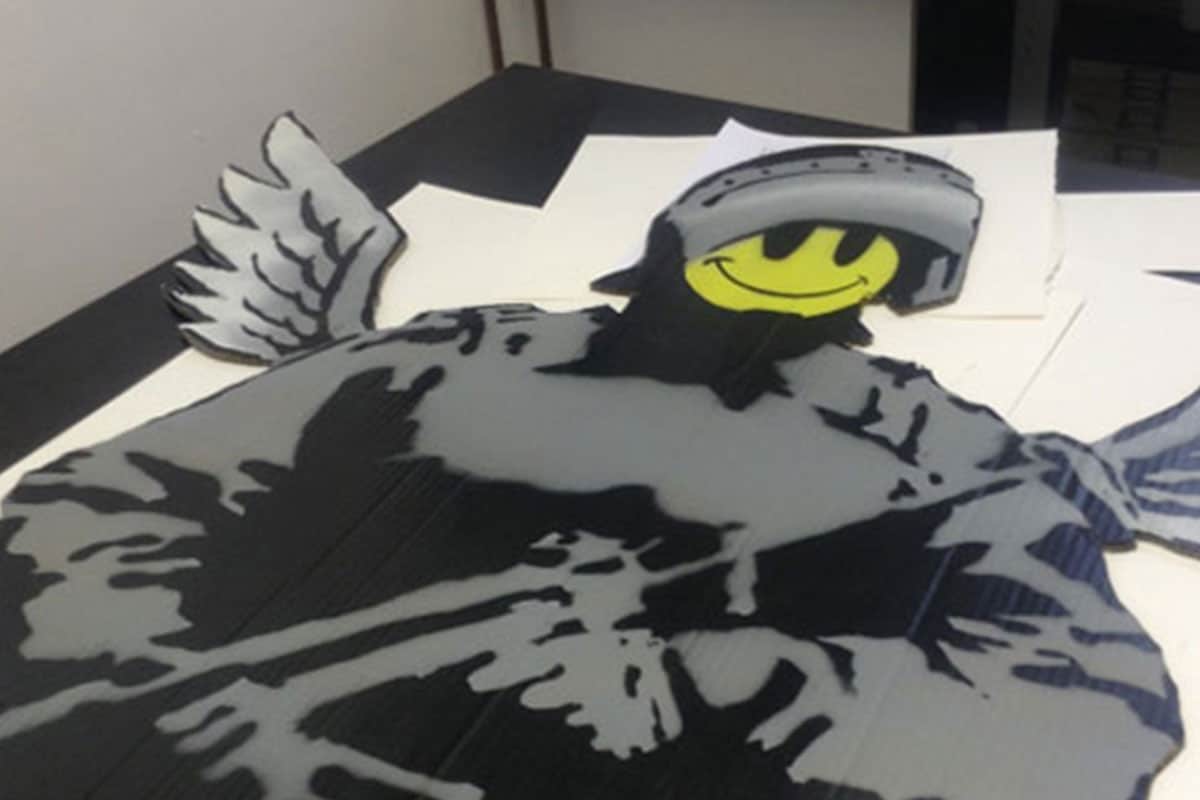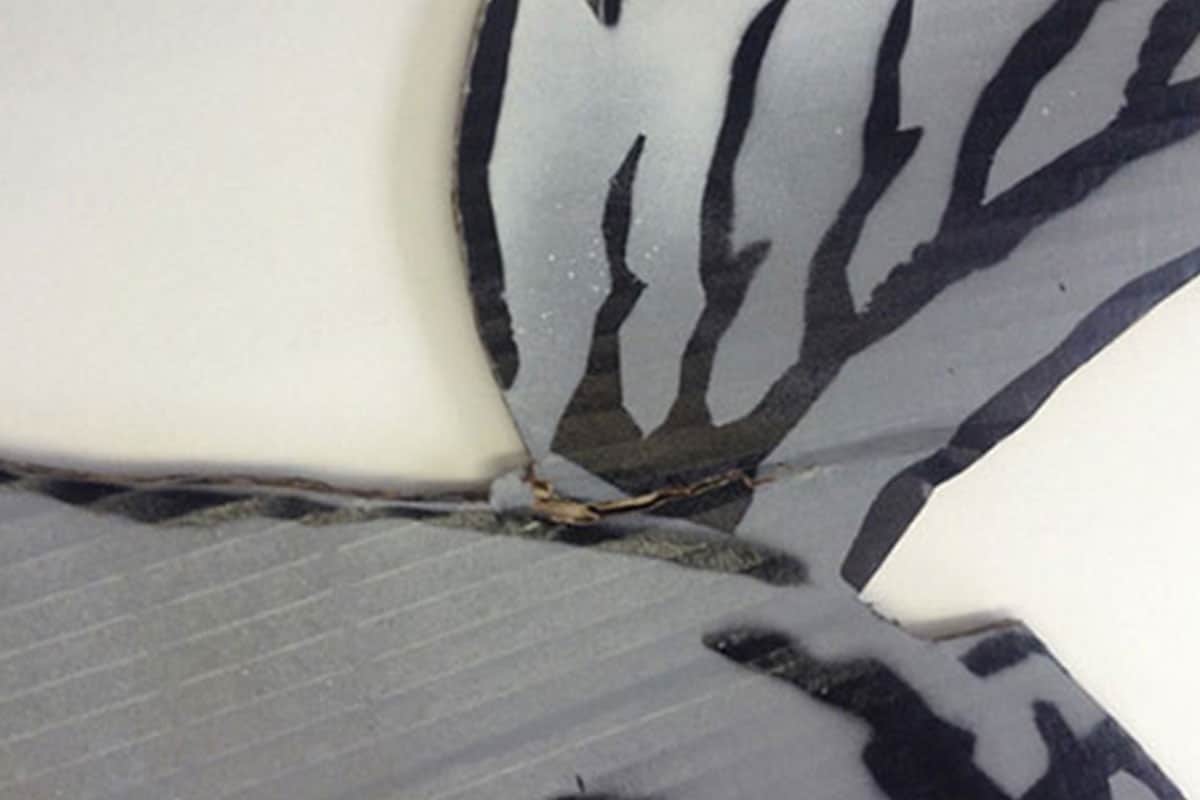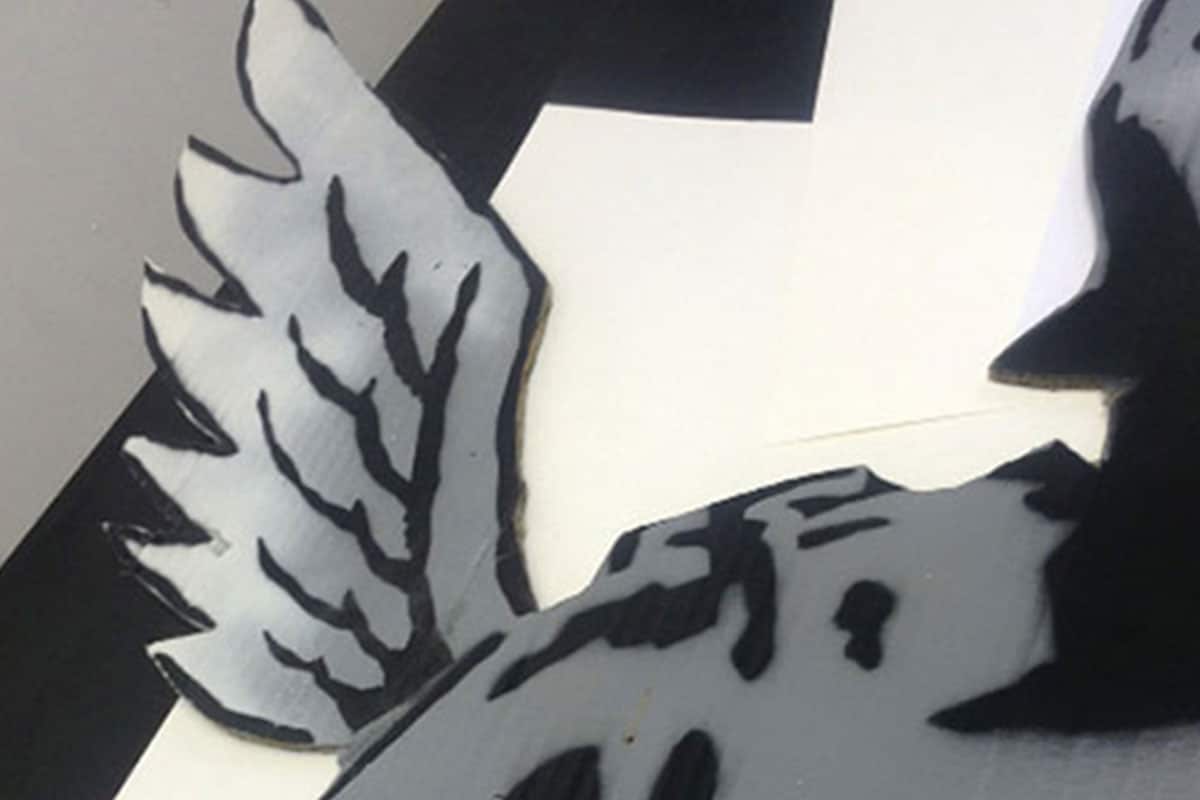 Over the years, Plowden & Smith has treated a number of works by the elusive street artist, Banksy.
Flying Copper is one of Banksy's Happy Copper paintings, consisting of spray paint on cardboard. The artwork was brought to us with multiple tears to the card, particularly at the point the delicate wings tapers into the torso of the figure. 
Our paper conservation department repaired the tears using layers of Japanese tissue and wheat starch paste. This repair technique serves to strengthen the cardboard, thus contributing to the long-term conservation of the artwork. Finally, the repairs were retouched to make them visually unobtrusive.
Find out more about our Contemporary Art Conservation services here.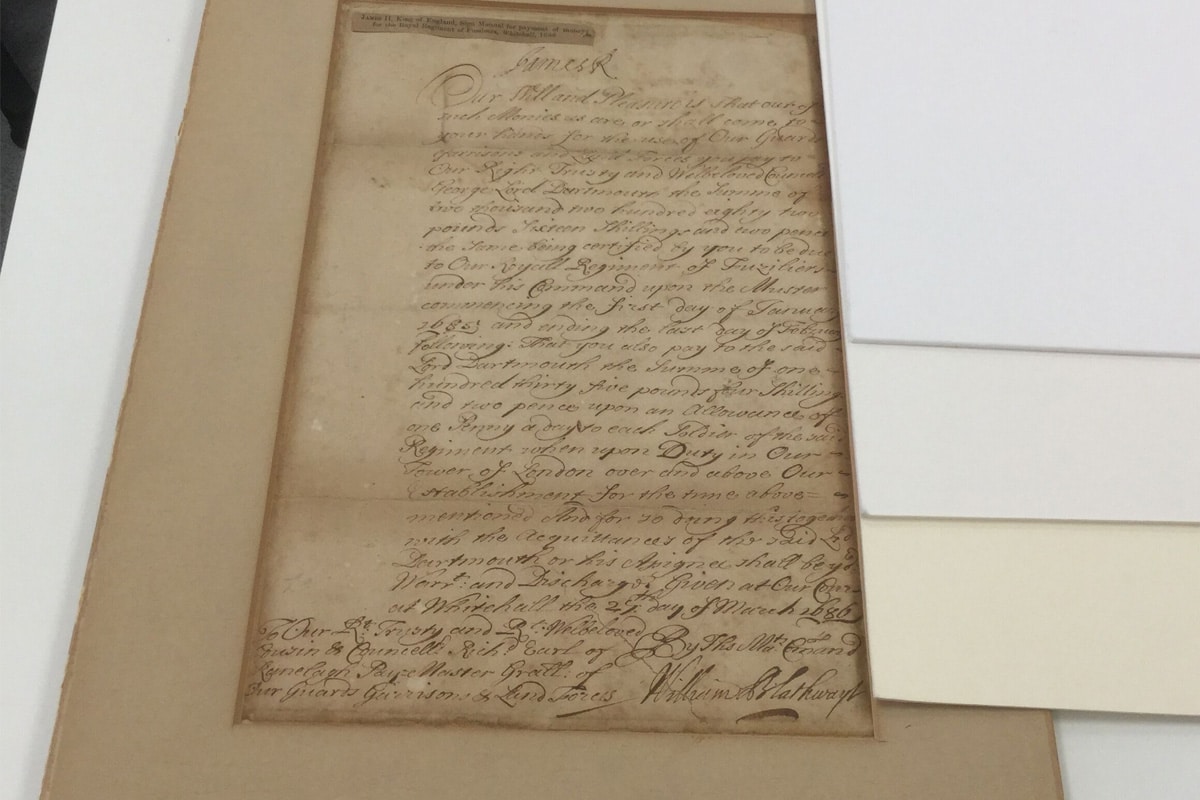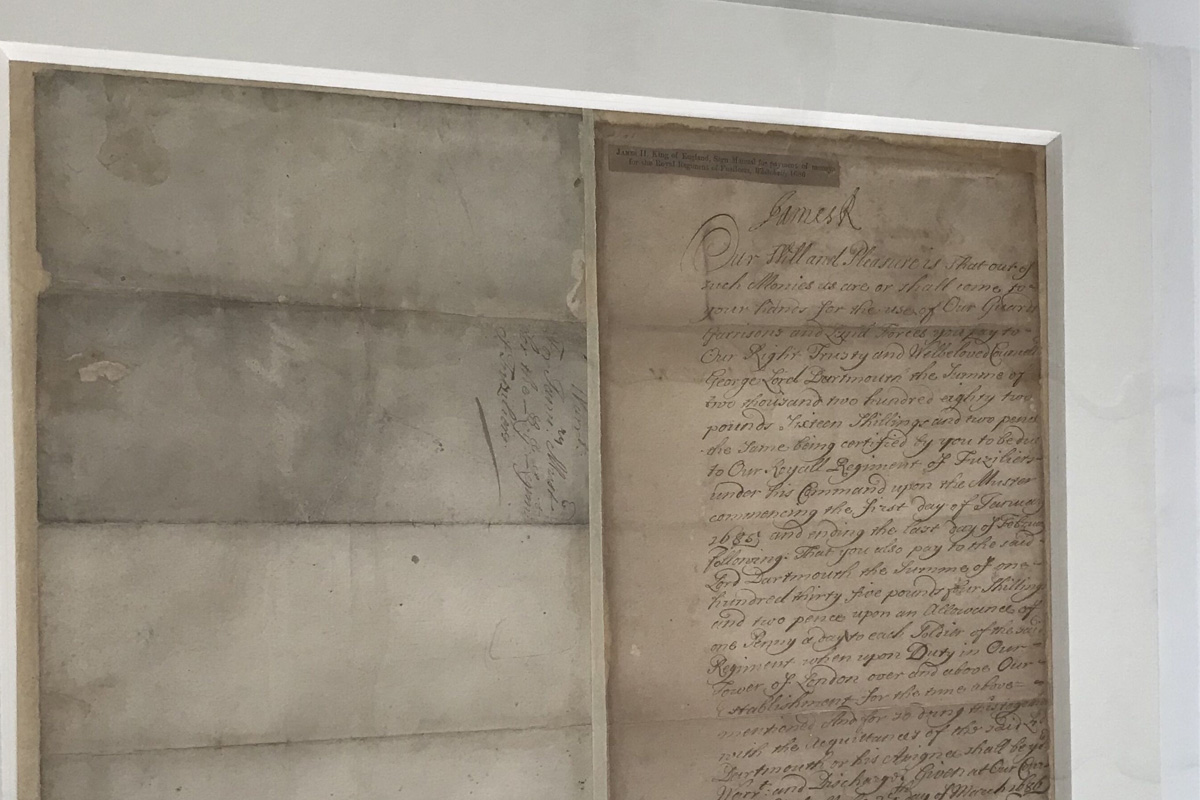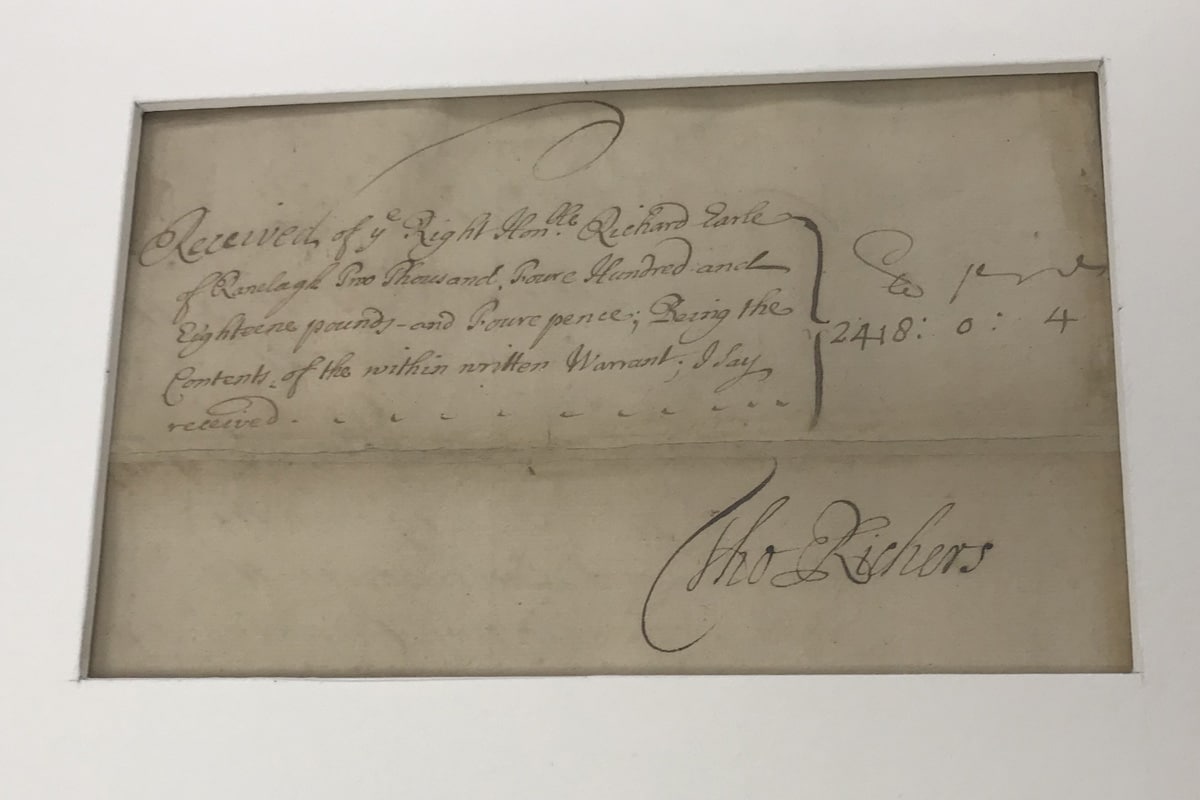 This document, which dates from 1686, is a Royal Warrant for the payment of the raising (formation) of the Royal Fusiliers and includes the signature of James II.
The writing on the inside and reverse of this document was only discovered when one of our Senior Paper Conservators removed the work from its frame to allow the document to be mounted.
Following treatment, which included some pigment-work, we devised a display method that would show both sides of the document. In this instance, an undermount with a window cut into it so that the manuscript on the reverse is not lost.