RESTORATION & CONSERVATION SERVICES | DECORATIVE ARTS & OBJECTS | GLASS RESTORATION
"Following the very upsetting accident with my beautiful glass lamp shade it was put in a cupboard for many years, before I could bring myself to looking into having it repaired, which I doubted would be possible.
I found Plowden & Smith via an internet search. From the first contact with the team, to the amazing end result it has been pleasure working with Plowden &Smith. I would highly recommend them."
– P. Reinarz, Private Collector – France
We restore all glass and enamal objects, including Ancient Roman vessels, works by Lalique and Faberge, Chinese and Japanese cloisonee, and flat glass panels (including reverse painted glass), often used in mirrors and furniture. All glass restoration treatments are created around the precise requirements of each individual object and client.
Cracks & losses in clear glass can be discreetly repaired using a clear epoxy resin which is non-yellowing and matches the refractive index of the glass.
The surface of frosted glass can be replicated by the application of a matt glaze or careful abrasion of the resin fills.
Enamel restoration is carried out using epoxy resin mixed with coloured pigments & fumed sillica powder & glass microballoons. 
Glass Restoration Case Study | Sabino Paris Lamp Shade
This 1930s Sabino Lamp Shade features a press moulded and polished glass shade in the 'waterfall' design, mounted on a silver-plated base.
Unfortunately, the lamp was knocked off an occasional table at a party, causing substantial breakage to the glass shade. Sadly, the transparent nature of glass means that it is almost impossible to achieve an invisible repair, however selecting the right materials and applying them with great skill can still produce a very discreet result.
The first stage of treatment is to thoroughly clean the glass, paying particular attention to the broken edges. The presence of dust not only risks compromising the bonding process, but may also result in the appearance of unsightly dark lines along the repairs.
It is then a case of working out where everything goes and in what order. Each piece needs to be bonded back to the shade in the correct sequence otherwise a piece may be 'locked out' of the final repair resulting in a gap. In this instance, the larger fragments were located and reinstated first and the smaller pieces were inserted around the main breakages.
In cases where it was not possible to reattach the original shards of glass, layers of Epoxy resin were painstakingly applied to fill any gaps. Epoxy resin was chosen because it not only dries clear, but has a refractive index that is similar to the original glass.
In order to replicate the frosted look of the glass, a matte glaze was then applied with an airbrush. The result is a very discreet repair.
The tall, top heavy design of the lamp is fundamentally unstable, so our experts opted to 'weight' the silver-plated base to help prevent any further accidents.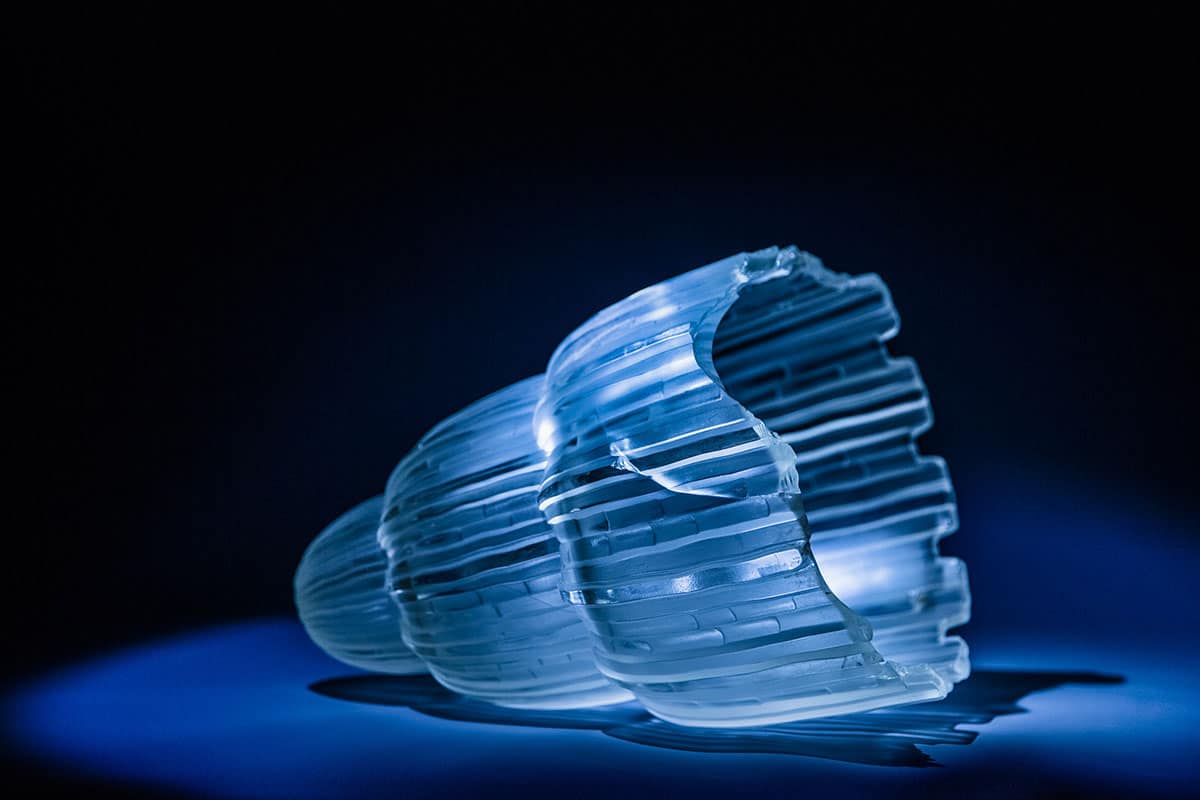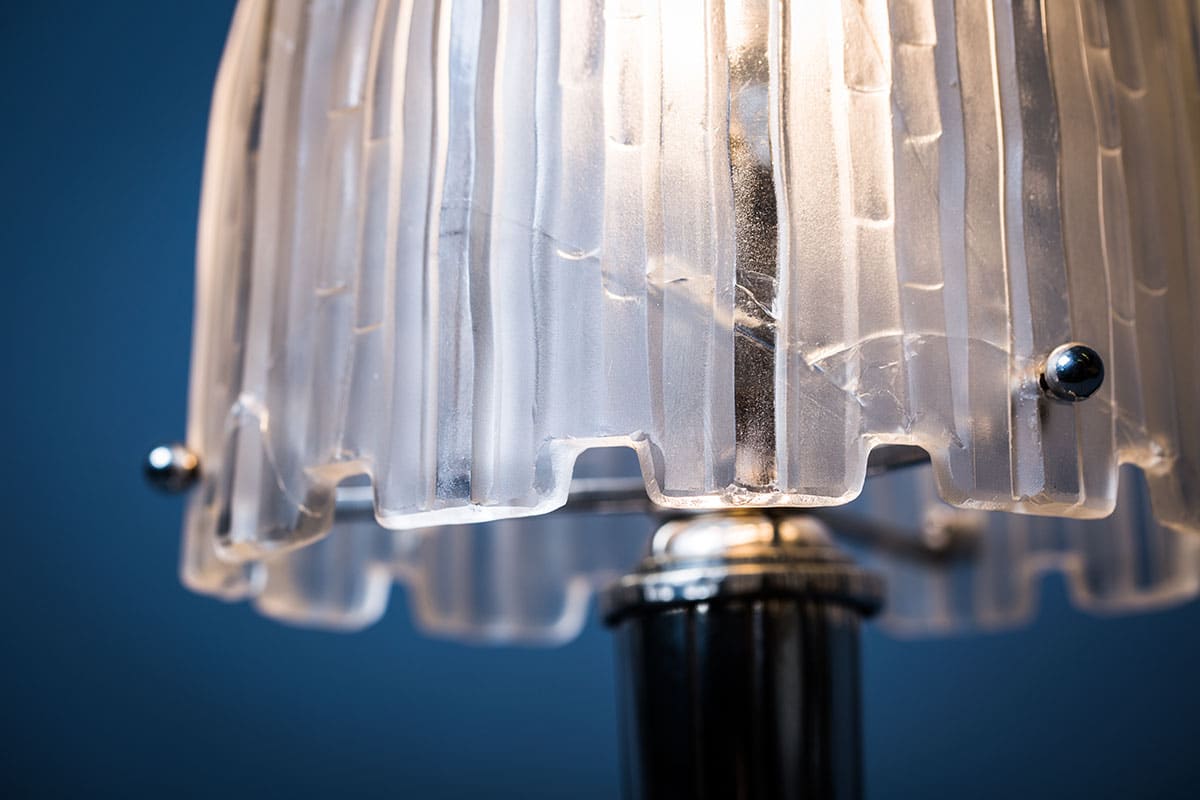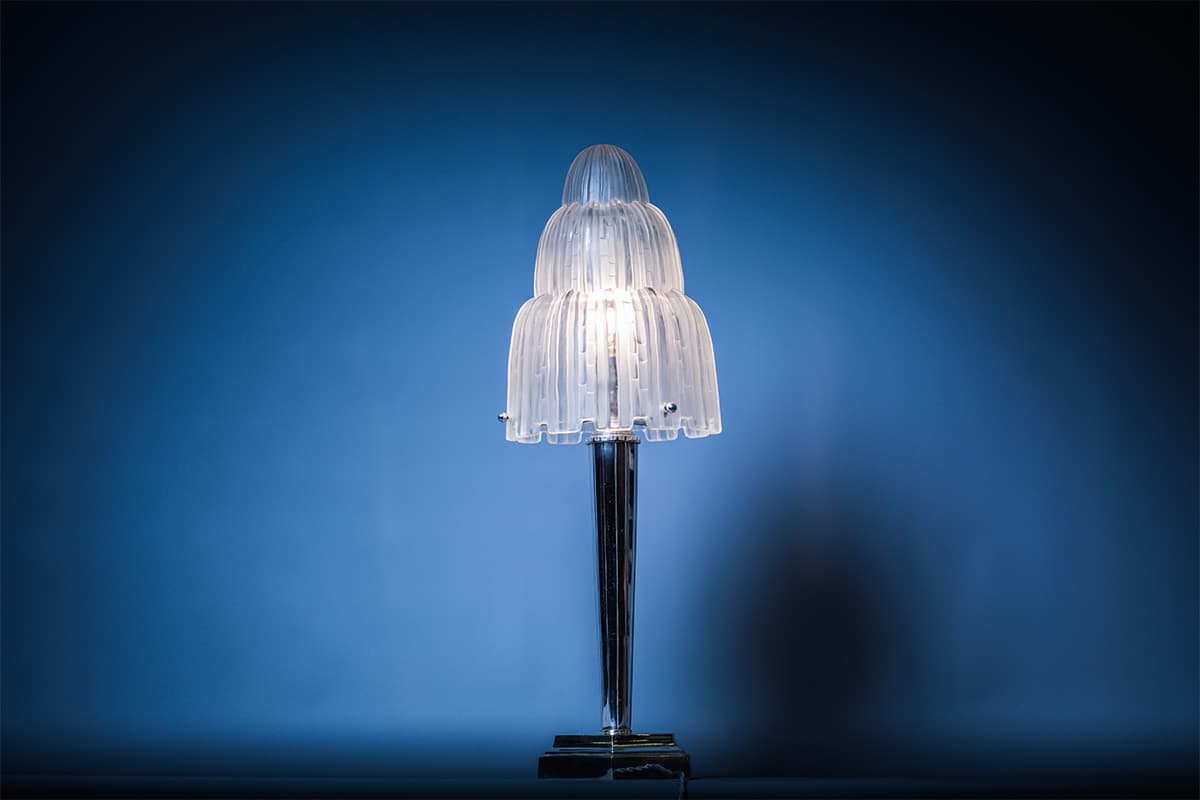 To find out more about our glass restoration or decorative arts services, or to discuss a project
please get in touch