RESTORATION & CONSERVATION SERVICES | DECORATIVE ARTS & OBJECTS | GLASS RESTORATION
"The mirror just arrived… It is phenomenal.
The craftsmanship and attention to the restoration is superb. We couldn't wish better.
Please accept our great appreciation and thanks to everyone involved in this splendid job, and of course specifically Madeleine."
– Princesse Anne de La Tour d'Auvergne Lauraguais, London
We restore all glass and enamal objects, including Ancient Roman vessels, works by Lalique and Faberge, Chinese and Japanese cloisonee, and flat glass panels (including reverse painted glass), often used in mirrors and furniture. All glass restoration treatments are created around the precise requirements of each individual object and client.
Cracks & losses in clear glass can be discreetly repaired using a clear epoxy resin which is non-yellowing and matches the refractive index of the glass.
The surface of frosted glass can be replicated by the application of a matt glaze or careful abrasion of the resin fills.
Enamel restoration is carried out using epoxy resin mixed with coloured pigments & fumed sillica powder & glass microballoons. 
Glass Restoration Case Studies
Restoring a Glass Cameo Vase
This beautiful glass cameo vase came into our glass restoration studio in about twenty pieces of varying size.
To ensure the most successful restoration it is important that broken fragments are spotlessly clean and free of any dirt or residual grease. The main body of the vase was cleaned using deionised water and a mild detergent, and any stubborn dirt removed with industrial methylated spirits.
The broken sections were then assembled and then secured in place with heated wax. Clear epoxy was applied along the break edges with a spatula and the pieces bonded back together by capillary action. Any losses were then filled with epoxy resin, which was hand tinted to match the body colour. These restorations were polished with cushioned abrasive cloths.
To fill any fine break lines, and to achieve a flawless finish, several layers of restoration glaze were applied with an airbrush.
Finally, this restoration glaze was polished to a fine shine with cushioned abrasive cloths and missing gilding on the stem, carefully regilded with gold leaf.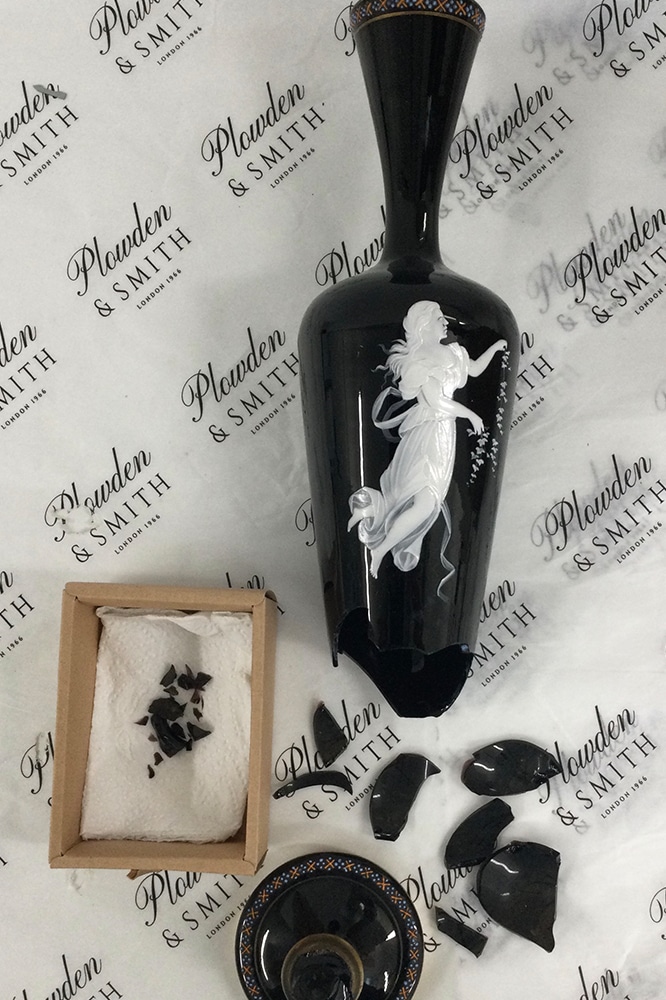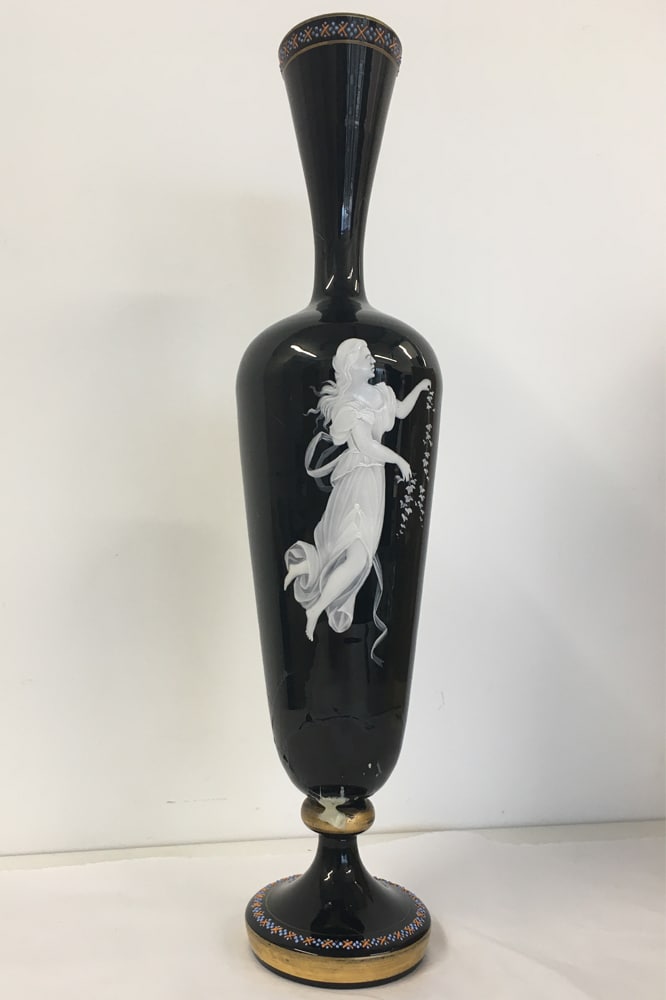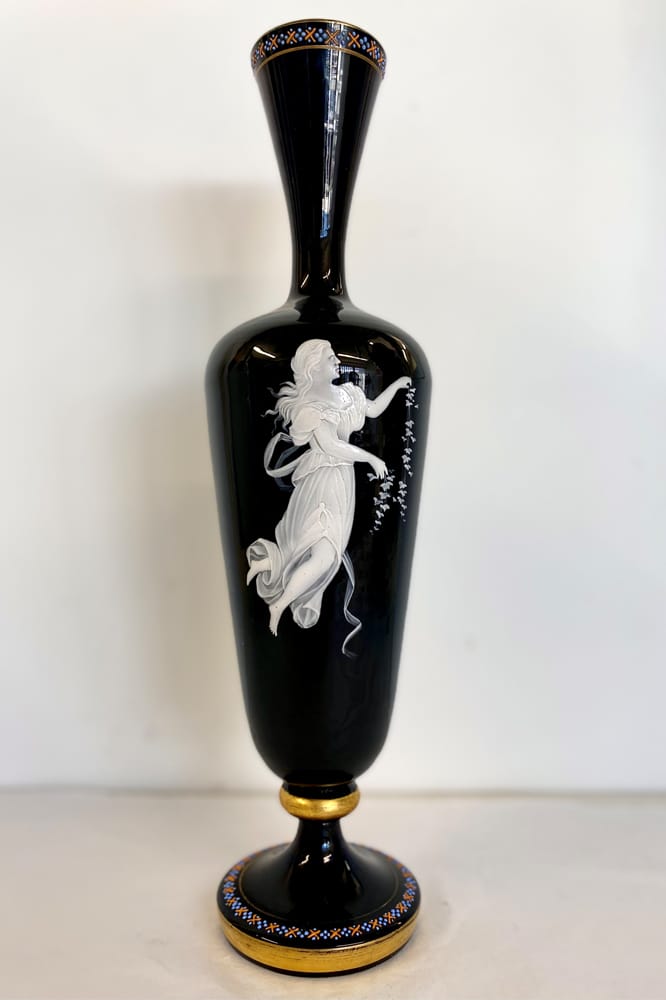 Glass Restoration Case Study | Sabino Paris Lamp Shade
"Following the very upsetting accident with my beautiful glass lamp shade it was put in a cupboard for many years, before I could bring myself to looking into having it repaired, which I doubted would be possible.
I found Plowden & Smith via an internet search. From the first contact with the team, to the amazing end result it has been pleasure working with Plowden &Smith. I would highly recommend them."
– P. Reinarz, Private Collector – France
This 1930s Sabino Lamp Shade features a press moulded and polished glass shade in the 'waterfall' design, mounted on a silver-plated base.
Unfortunately, the lamp was knocked off an occasional table at a party, causing substantial breakage to the glass shade. Sadly, the transparent nature of glass means that it is almost impossible to achieve an invisible repair, however selecting the right materials and applying them with great skill can still produce a very discreet result.
The first stage of treatment is to thoroughly clean the glass, paying particular attention to the broken edges. The presence of dust not only risks compromising the bonding process, but may also result in the appearance of unsightly dark lines along the repairs.
It is then a case of working out where everything goes and in what order. Each piece needs to be bonded back to the shade in the correct sequence otherwise a piece may be 'locked out' of the final repair resulting in a gap. In this instance, the larger fragments were located and reinstated first and the smaller pieces were inserted around the main breakages.
In cases where it was not possible to reattach the original shards of glass, layers of Epoxy resin were painstakingly applied to fill any gaps. Epoxy resin was chosen because it not only dries clear, but has a refractive index that is similar to the original glass.
In order to replicate the frosted look of the glass, a matte glaze was then applied with an airbrush. The result is a very discreet repair.
The tall, top heavy design of the lamp is fundamentally unstable, so our experts opted to 'weight' the silver-plated base to help prevent any further accidents.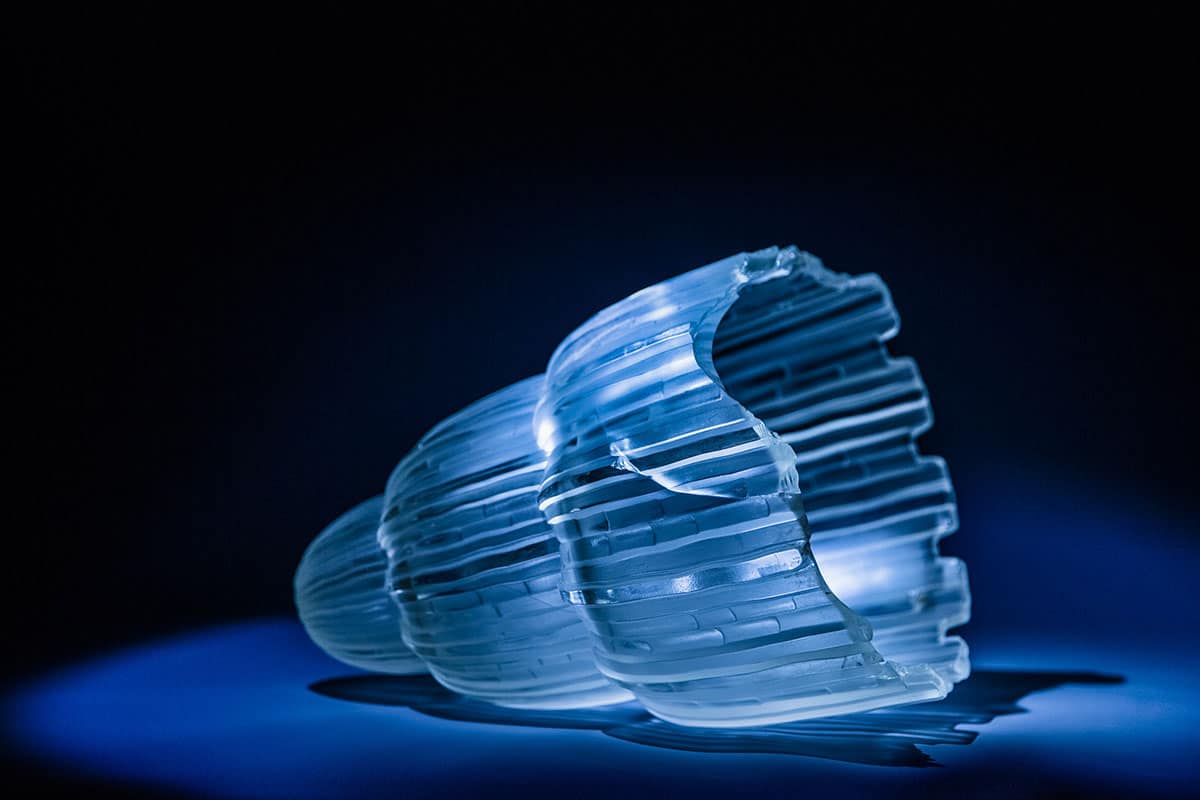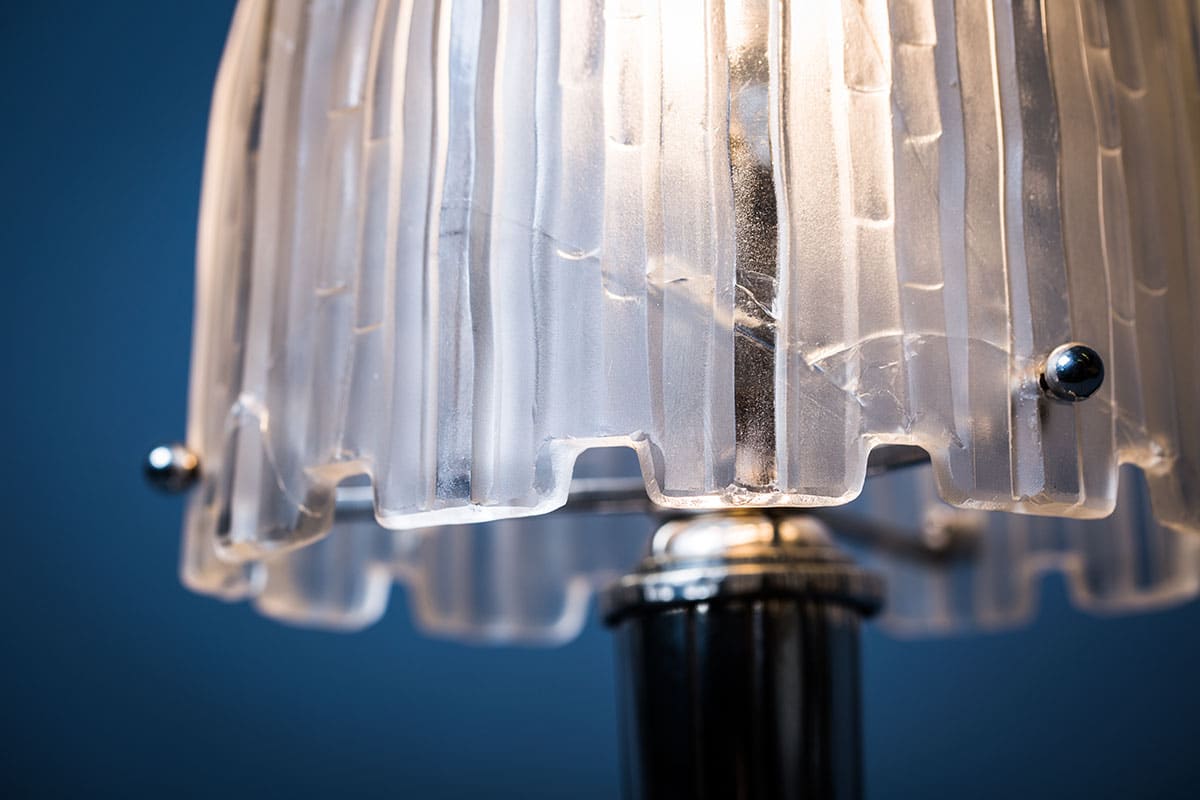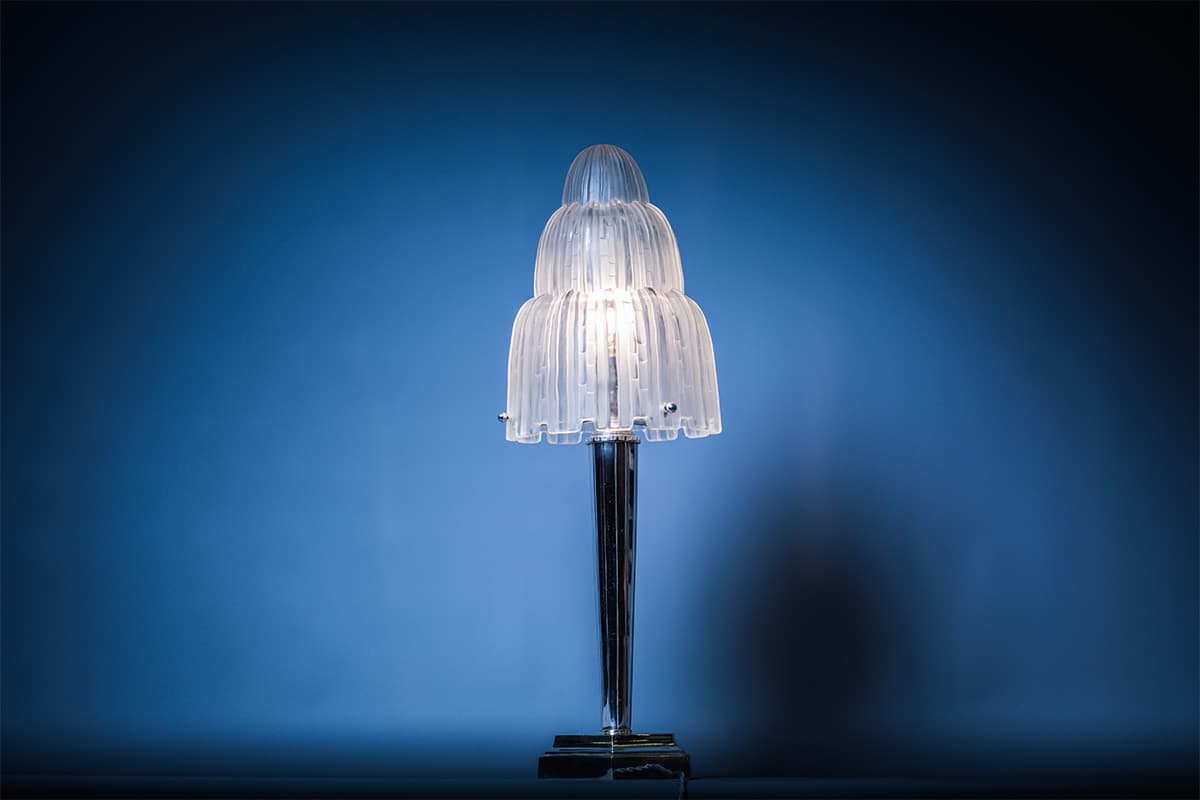 Glass Restoration Frequently Asked Questions
What sort of glass do you restore?
We restore all types of glass objects, from Ancient Roman vessels to works of art by Lalique – as well as rock crystal, Egyptian faience and enamelwork made by companies such as Limoges and Fabergé.
We also restore glass interior elements and detailing, including the glass sections of stained-glass windows, glass altar panels and mirrors.
Our expertise in the field of glass restoration is widely recognised. Clients know they can rely on us for the most sympathetic and long-lasting repairs, and we are the trusted and preferred choice of professional and private clients based all over the UK.
Can my restored drinking glass be used as normal?
Unfortunately, we do not recommend using restored glass objects for domestic use.
Our methods for restoring glass adhere to industry best practice guidelines, which state that the materials used to restore glass should be removable by a professional conservator, without undue risk of damaging the object.
As such, many of the materials we use in glass restoration are soluble in very hot water. In practical terms this means that regularly washing your restored-drinking glass would eventually lead to the breakdown of the repair.
However, an object such as a restored glass fruit bowl could possibly be safely used, if cleaning was carried out occasionally using a damp cloth.
Can I use my glass lampshade after restoration?
Yes, you can safely use your glass lamp after restoration as the resin that is frequently used for these sorts of repairs can withstand relatively high temperatures.
However, do be aware that prolonged exposure to extreme heat would cause the restoration to breakdown over time, therefore if you have doubts about how much heat your restored lamp should be exposed to, opt for an LED bulb or check with us first.
Can scratches be removed from glass?
Yes potentially, although polishing scratches out completely can be quite a risky procedure as it may abrade the surface of the object. Instead, it is often preferable to reduce the visibility of fine scratches with the application of an acrylic glaze or varnish. In the case of very deep scratches, we would usually fill them with a thin layer of epoxy resin or acrylic glaze or varnish, however the scratches may still be visible.
In such cases, we will discuss with you how visible the scratches are likely to be after treatment so you can make an informed choice about whether or not you wish to go ahead with restoration.
How do I find out how much it will cost to get my glass restored?
If you email us a photograph of your broken glass object, along with its approximate dimensions, we should be able to estimate the cost of glass restoration from this information alone.
If you decide to proceed, once we receive and examine your object we will then confirm the cost of treatment and request written authorisation from you to proceed.
What is the best way of getting my glass object to you for restoration?
There are various options for getting your glass object to us for restoration, although we do strongly advise against sending it through the post.
The simplest and safest way is usually by dropping it off at our glass restoration studio in Mitcham (open Mon – Fri 08:30 – 17:00). Alternatively, you may wish to use a professional shipping company or courier. If you opt for a courier, please be aware that some couriers do not insure against damage incurred to glass objects when in transit.
If your glass object is located in Central London, we offer a complimentary Thursday collection and delivery service which you may wish to take advantage of.
What sort of processes and materials do you use in glass restoration?
We use various conservation-grade adhesives, including epoxy resins which give a similar refractive index to glass, or can be tinted to match the colour of the glass we are restoring.
In line with industry best practice guidelines, the materials we use for carrying out glass restoration are reversible, meaning that they can removed by a professional conservator without undue risk of causing damage to the object.
Is it possible to achieve an invisible repair with broken glass?
Sadly, the transparent nature of glass means that it is almost impossible to achieve an invisible repair, however selecting the right materials and applying them with great skill can produce a very discreet result.
Some types of glass that are less transparent are potentially more likely to be restored to a level that is almost invisible, however this is very dependent on the nature of the damage.
When we are preparing treatment advice and estimates for glass restoration we will indicate how successful the end result is likely to be so you can make an informed decision about whether you would like us to proceed with restoring your glass object
I have broken my crystal chandelier? Help!
Firstly, try not to panic! Crystal chandeliers can usually be restored very successfully.
We offer a complete chandelier conservation and restoration service, including professionally cleaning chandeliers, rewiring chandeliers (and all other light fittings) and restoring or rebonding broken or damaged parts of chandeliers, for example glass armatures and glass lustres. Alternatively, we can replace broken or missing elements with exact replicas.
If you have any questions or would like to find out how much it would cost to restore your chandelier, please email photographs, along with approximate dimensions, to info@plowden-smith.com.
Do you Restore Mirrors?
Yes, we restore antique mirrors. We also meticulously replicate antique mirror glass if a replacement is deemed preferable.
This is often the case with clients who have a mirror frame with no glass, or mirror glass that is so heavily oxidised, using it on a daily basis is proving impractical.
Many clients ask us to replace heavily oxidised or broken original mirrors, with a replica that features an agreed level of 'age', or oxidisation only in certain areas, for example along the edges.
What is Glass Gilding?
Glass Gilding or verre églomisé, as it is also known, is the decorative process of gilding the reverse side of a piece of glass with gold or silver leaf. To find out more about our glass gilding or verre églomisé services, please visit our Gilding Services page.
To find out more about our glass restoration or decorative arts services, or to discuss a project
please get in touch