What inspired you to become a metals restorer?
From a young age, I always enjoyed working with my hands – dismantling things to find out how they were made and repairing old objects, especially ones of an industrial or mechanical character.
I studied Conservation of Historic Objects at Lincoln University and then completed an internship in the Conservation of Industrial and Mechanical Objects at National Museums Scotland. The latter experience meant I was predominantly working with metal objects, which led to me becoming a metals restorer.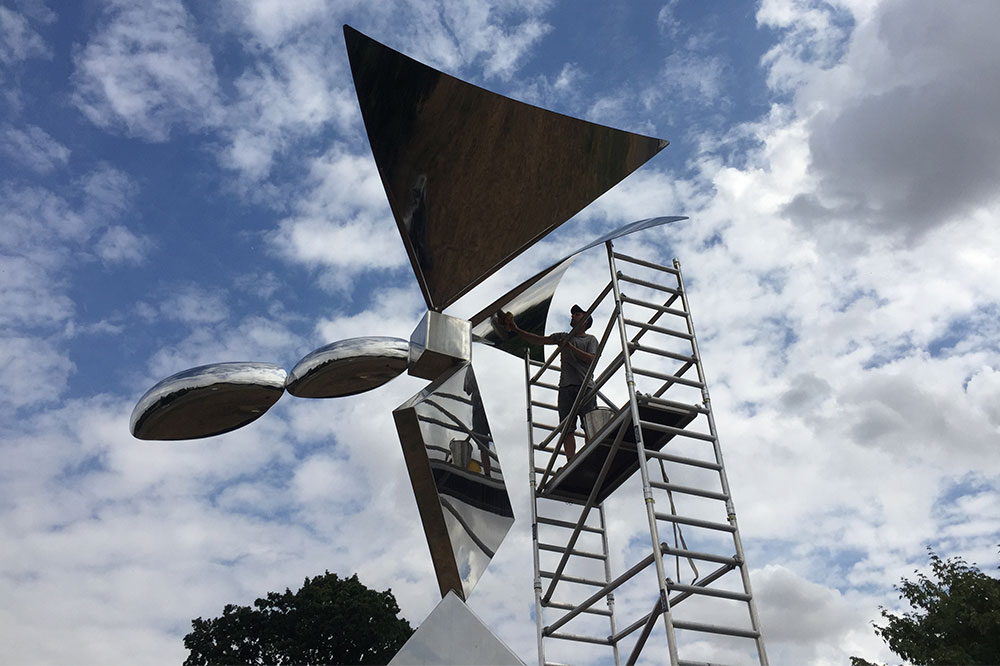 Conservation cleaning Harlow's impressive public sculpture trail.
Please describe what you restore and the kind of work you do?
In the course of a year, I work on a great many metal sculptures, which can encompass small bronzes displayed on a table or shelf, to massive outdoor monuments that require me to work off a cherry picker.
As well as sculptures, I also restore a vast range of decorative or historic metal objects such as silver candelabra, trays and tea services, brass plaques, vintage toys and models, old scientific instruments, and antique and modern lighting.
My work also takes in architectural elements made from metal. Projects I've enjoyed working on include conservation cleaning the 17th Century Tijou Screen at Hampton Court Palace; and removing graffiti and heavy corrosion from the copper-clad Thames Tide Gauge Hut next to Westminster Pier.
I use a variety of skills and techniques in my work: including soldering, welding, polishing, hot waxing, copper work, gold and silver plating, and fabricating replacement elements.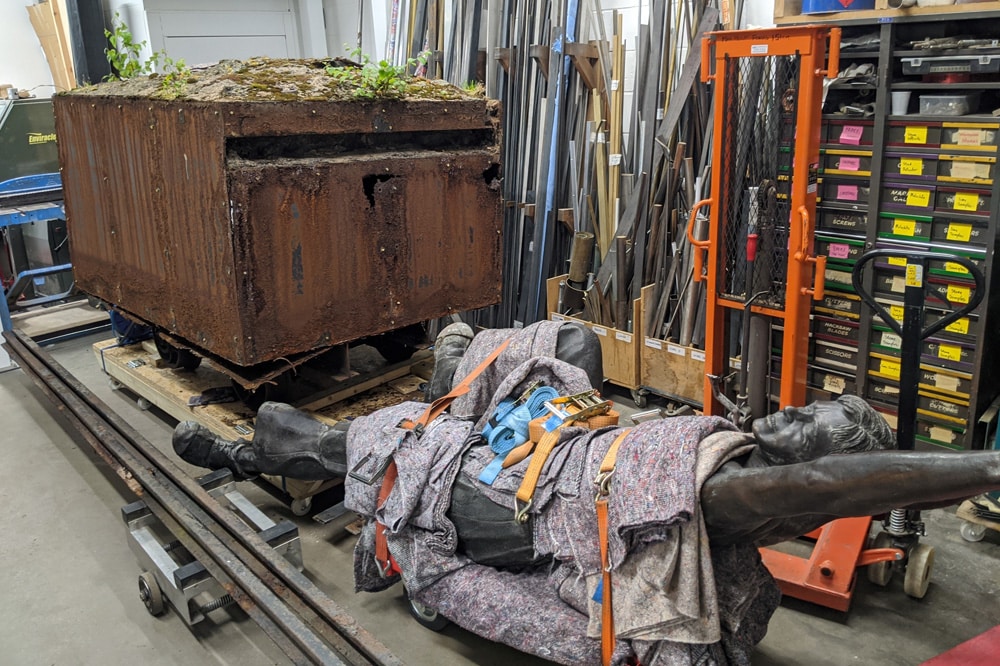 The 2021 PSSA Marsh Award Winning Project for Restoration, awaiting treatment in our workshop.
Do you work alone, or as part of a team?
Although I usually work independently, I sometimes work alongside colleagues if the object we are restoring features non-metal elements or is especially large.
For example, a favourite project of mine was restoring the Silverdale Mining Tribute Monument, located near Newcastle-Under-Lyme. This 4-metre high bronze and steel local landmark commemorates the miners of the Silverdale colliery and is an important piece of British mining history. Leading the Plowden & Smith team who undertook its restoration was a great honour – especially when the project won the annual PSSA Marsh Award for the best restoration of a public sculpture or monument.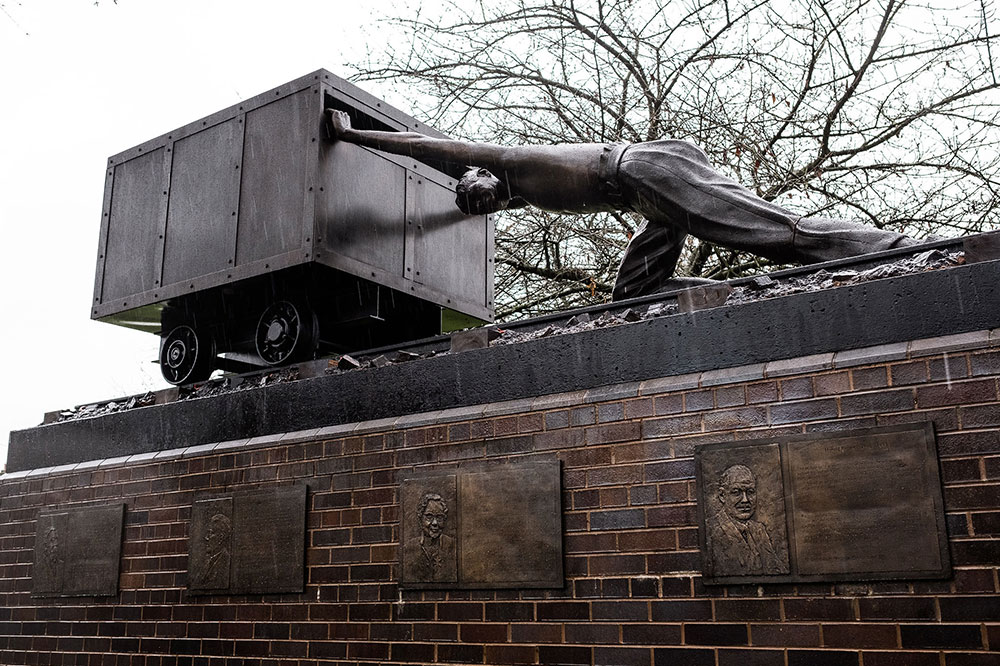 The same sculpture, after restoration and back at home in Silverdale, near Newcastle-under-Lyme.
How do you value working with old objects and restoring them?
In the long term, metal will degrade. Many objects come into the Plowden & Smith workshop in a very poor state of repair – sometimes literally falling apart – and it's not without challenge to preserve them. The whole reason I became a restorer is because I enjoy working with old objects, but in addition to this, it's very satisfying to think I am helping to extend their lifespan through good quality interventive treatment. Seeing the end-result, and especially the owner's delight when their restored object is returned to them, is a great feeling.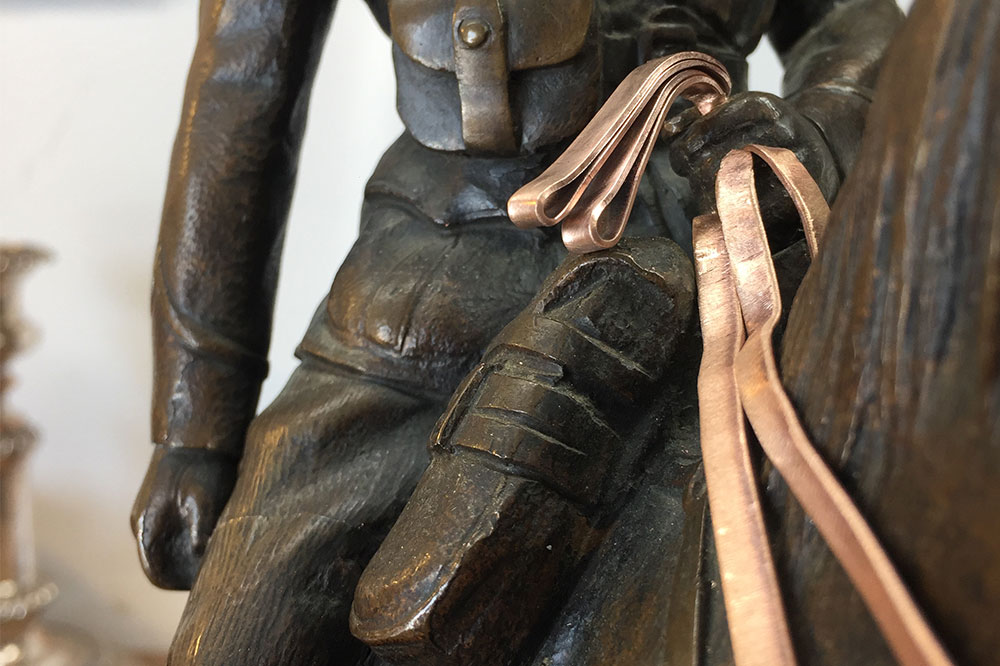 New reins meticulously crafted by Hal, shown here before being patinated.
What does your workshop look like?
The Plowden & Smith metals workshop has a good range of facilities, including a polishing and welding shop, bandsaw, metalworking lathe, guillotine, sheet metal bender, and shelves full of old but very useful metalworking tools. We have well-lit benches to work at and generous storage – you can never have too much storage!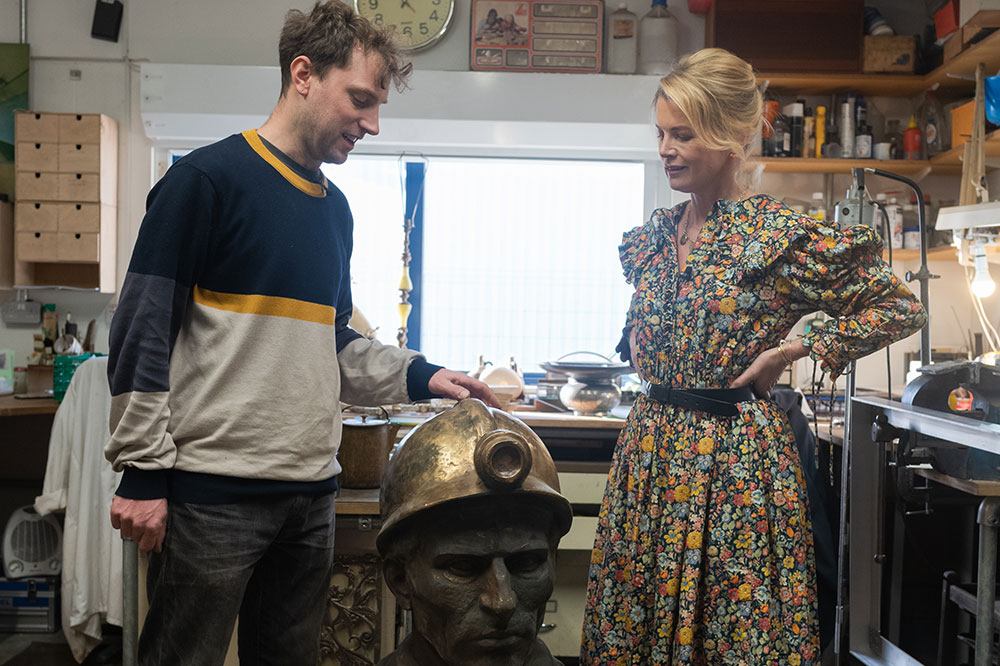 Hal giving Alexandra Tolstoy a tour of the Metals Restoration workshop.
What tools are your trade essentials?
One of the treatments I frequently carry out is hot waxing bronze sculptures. I have a favourite old bristle brush which has travelled far and wide with me (it accompanied me to Saudi Arabia last year) and which must have buffed many hundreds of pieces. Every restorer will have favourite tools they use over and over again – I have particular screw drivers and hammers which are never far from reach.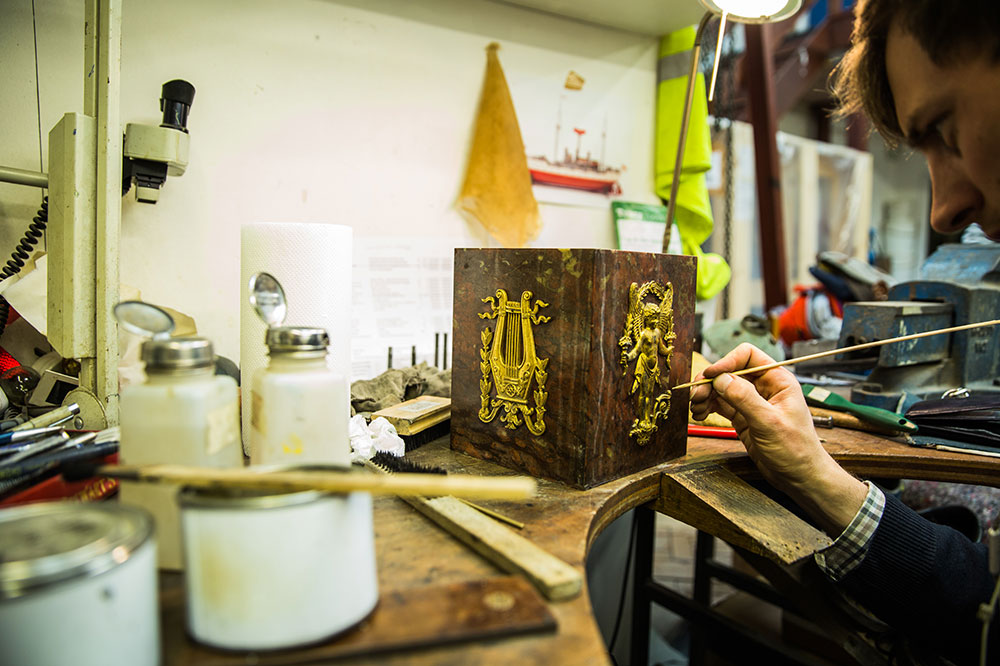 At work restoring ormorlu.
Who are your clients and what is the variety of work like?
Plowden & Smith has been in business since 1966, and over the decades has built up a varied client base. We work with lots of private individuals, but we also work with many professionals and businesses involved in the art world: including specialist insurers, auction houses, art galleries, antique dealers, museums, independent curators, art brokers, and historic buildings and sites of worship.
Due to the diversity of our clients and the range of Plowden & Smith's specialist departments, the work we do is extremely varied, and I like the fact that every day is different.
An abridged version of this interview was first published in Reclaim Magazine, March 2023