RESTORATION & CONSERVATION SERVICES | FINE ART RESTORATION | SCULPTURE RESTORATION
"Just wanted to say a huge thank you on behalf of the Stanley Picker Trust for all your help and hard work in getting the artwork cleaned and safely back to us in the gallery. It looks amazing and we're all so pleased to see it in its rightful place once again."
– Lorraine, Stanley Picker Trust
Sculpture restoration at Plowden & Smith is carried out by experts trained in the care and conservation of the wide range of materials used for sculpture including marble, plaster, terracotta, bronze, as well as unstable materials more commonly found in contemporary sculptures or installations, including resins, silicones and organic materials.
Sculpture restoration treatments include conservation cleaning, repairing broken elements, restoring finishes using specialist techniques, including hand retouching, airbrushing, patinating, gilding, waxing, polishing and lacquering.
Our sculpture restoration team draws on their vast experience to find innovative solutions to major structural issues, including replicating missing elements, drilling and doweling to strengthen repaired sections, rebuilding internal armatures and creating bespoke external mounting solutions.
We carry out sculpture restoration projects in the UK and all over the world, working on single pieces or entire collections. We restore historic works of art, including important pieces by Canova and Bernini; as well as 20th Century and modern sculptures by Henry Moore, Lynn Chadwick, Alberto Giacometti, Barbara Hepworth, Arnaldo Pomodoro and Elisabeth Frink.
We also clean and restore contemporary sculptures, including works by Antony Gormley and Anish Kapoor.  Find out more about our modern and contemporary art conservation services.
We work closely with many studios, trusts and official bodies, including the Jenny Holzer Studio and the Henry Moore Foundation.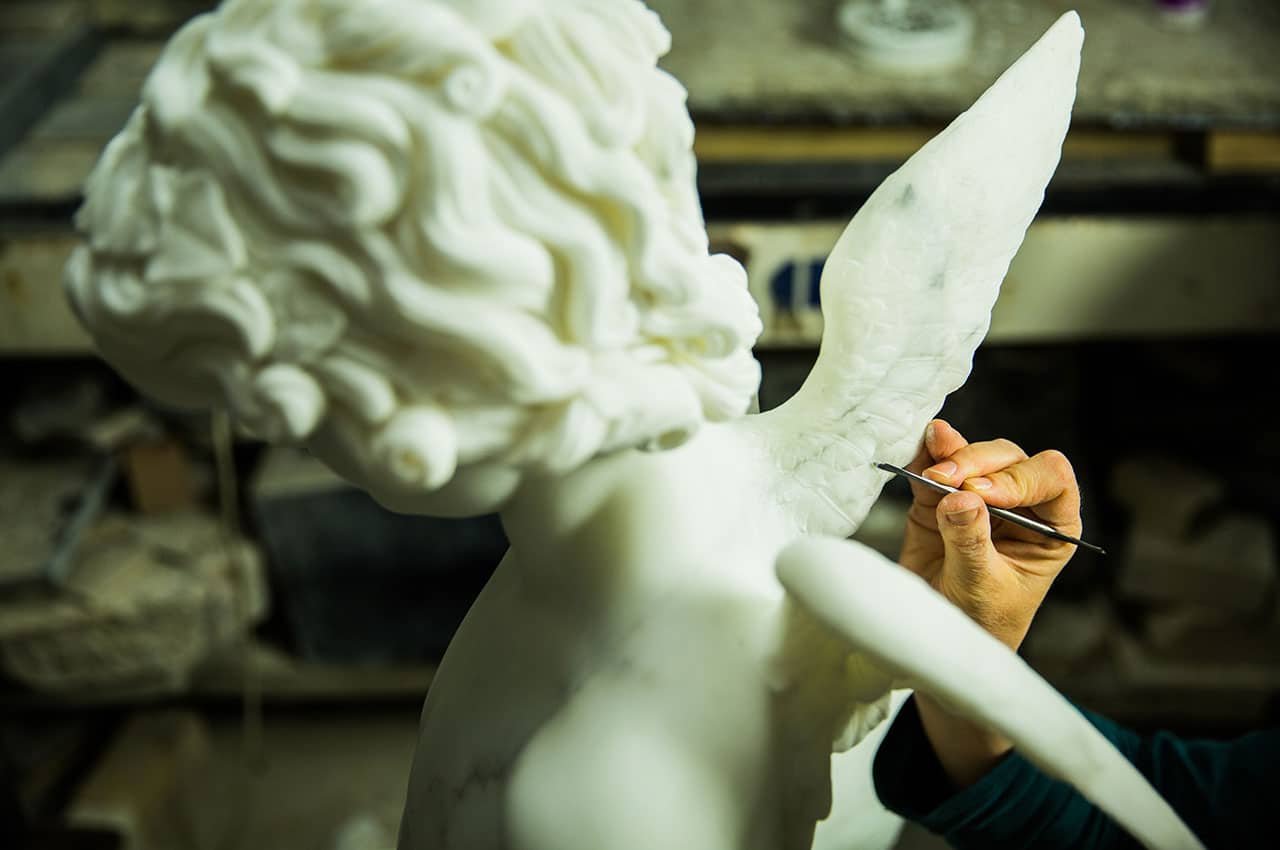 Sculpture Restoration Case Studies
19th Century Alabaster Sculpture Restoration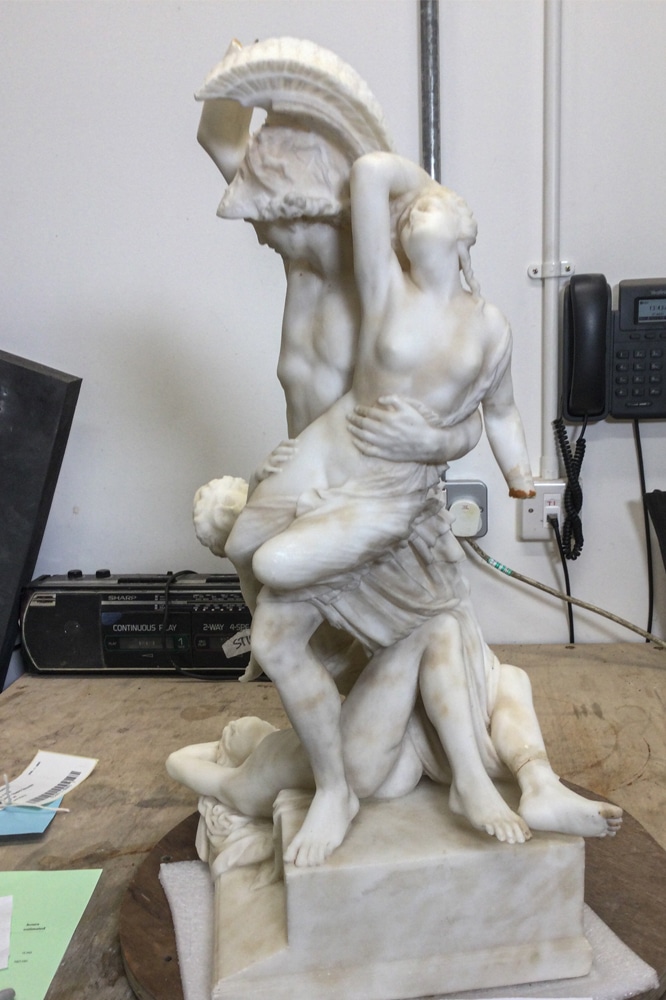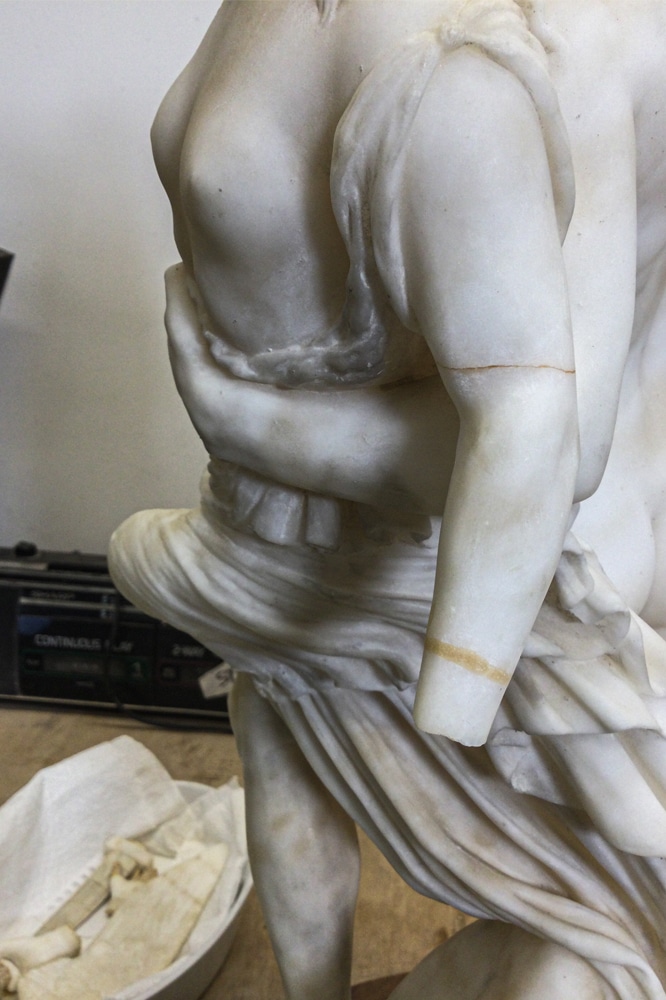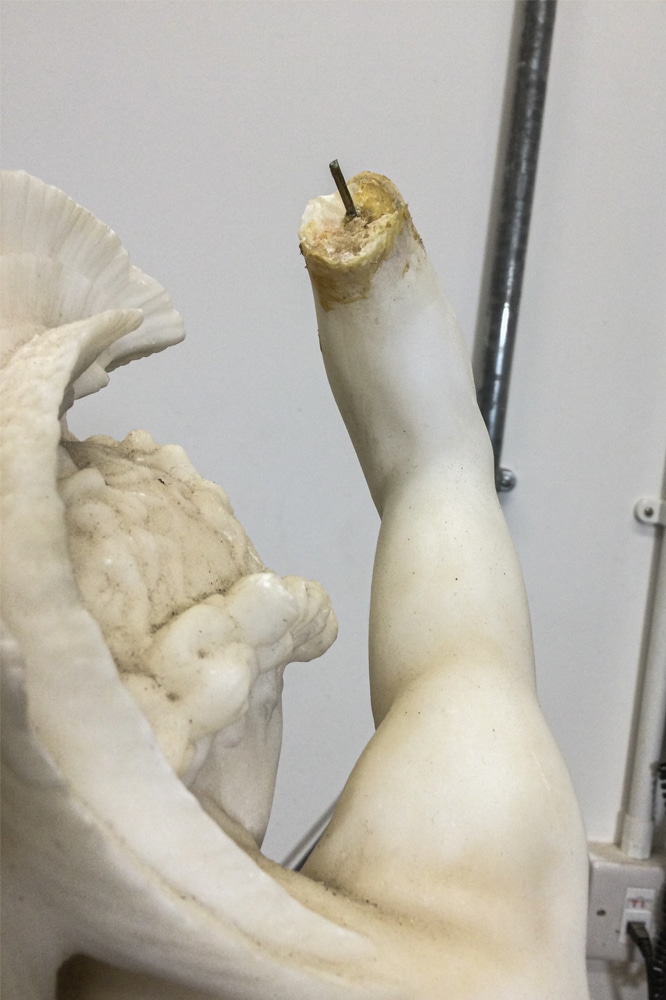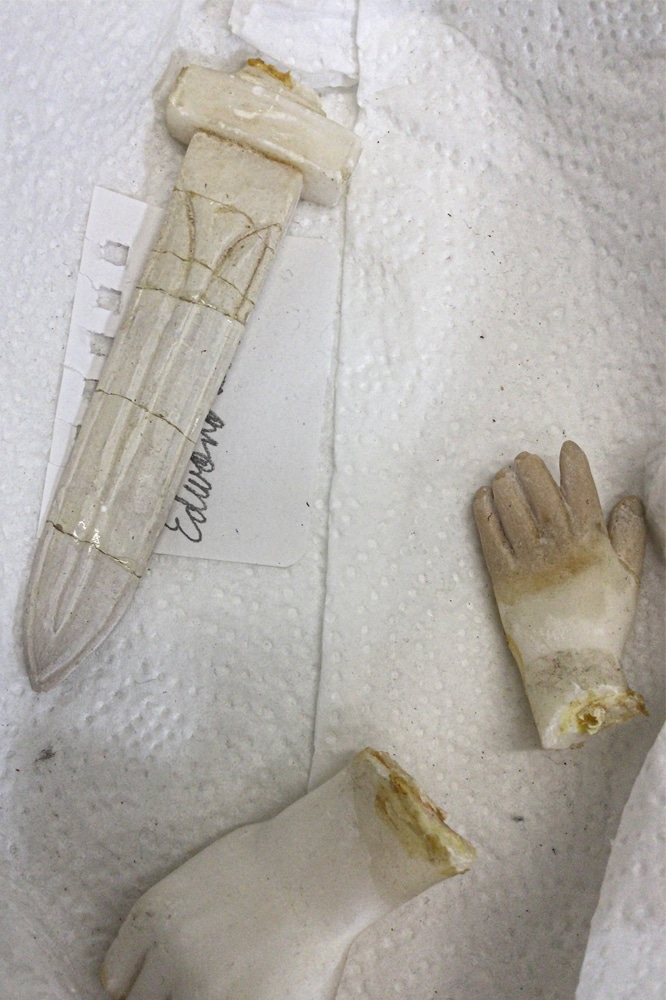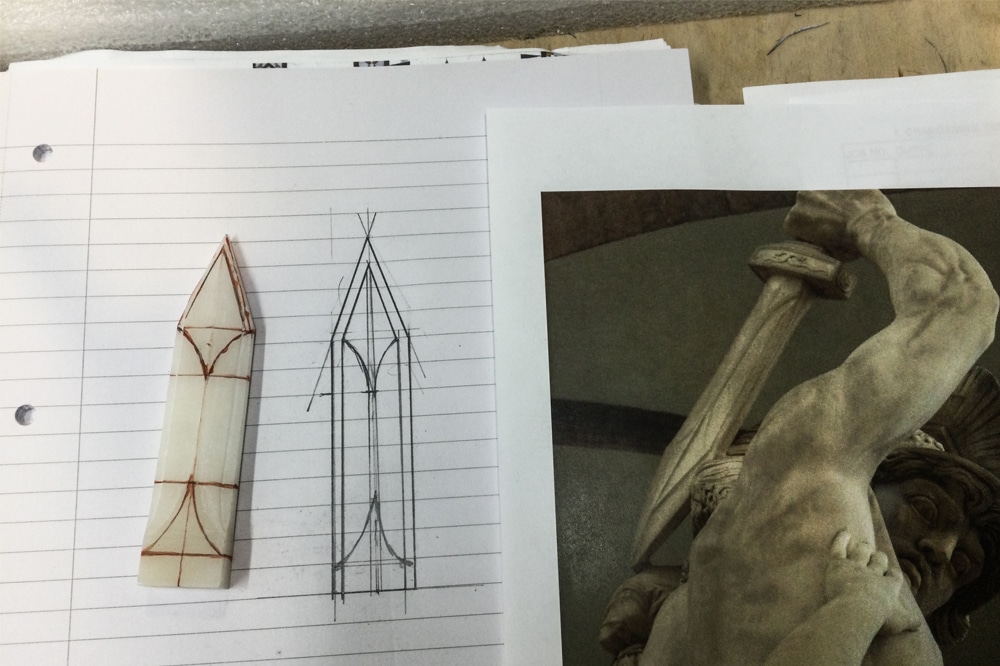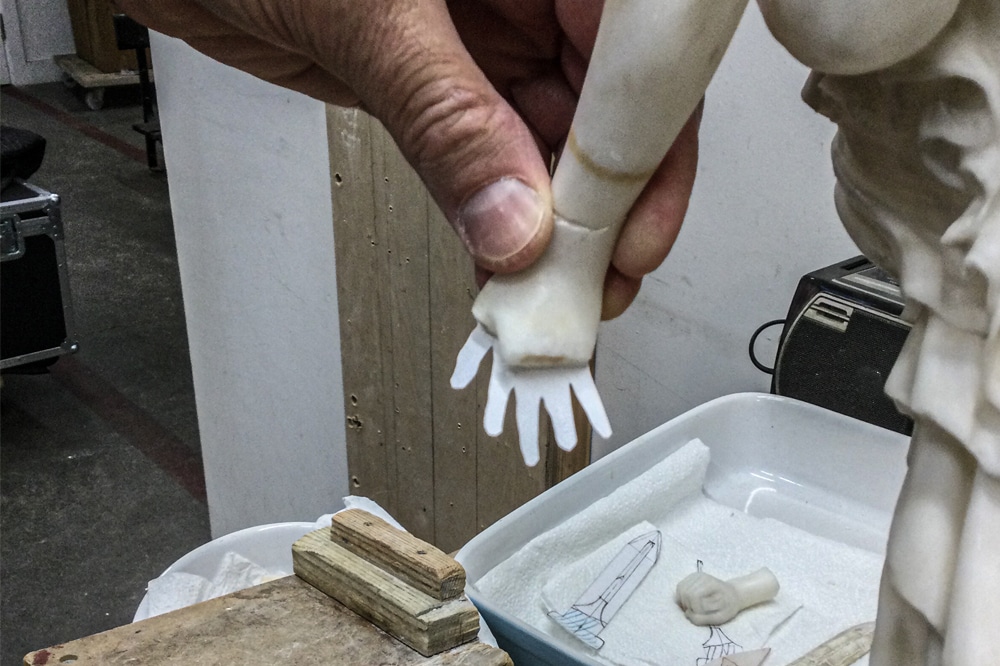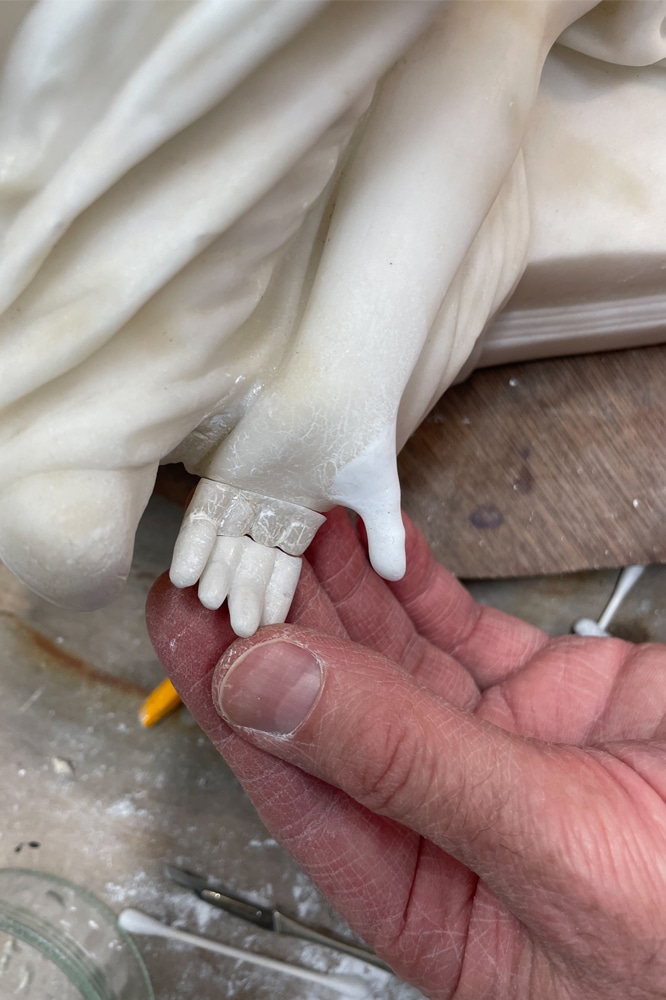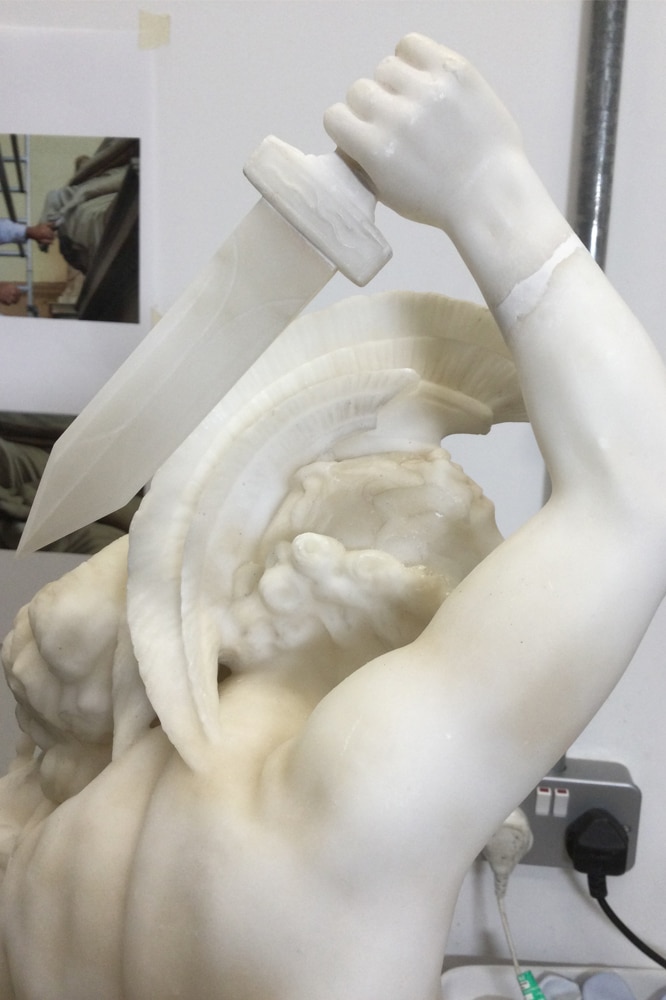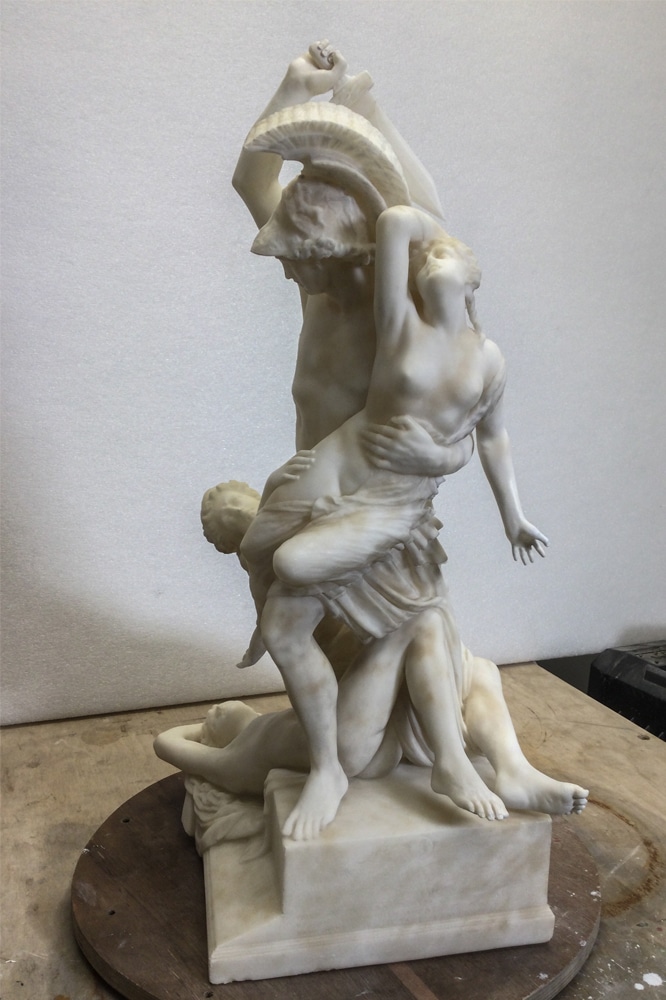 The Rape of Polyxena is arguably the most famous work by Romantic sculptor, Pio Fedi (1815–1892). The marble sculpture, which was unveiled in 1866, is located in the Loggia dei Lanzi in Florence.
This 19th Century copy of the Rape of Polyxena is sculpted in alabaster. It came into our sculpture restoration studio for extensive restoration work, carried out by our Head of Stone Restoration, who forms part of our specialist sculpture restoration team.
The work had previous poor repairs and losses. A significant part of our treatment involved dismantling the earlier sculptural restoration and replacing these inferior non-original elements, using conservation-grade materials and reversible techniques.
Our sculpture restoration started by removing old adhesive to detach the various poorly-carved later applied hands, fingers, toes, as well as the warrior's sword that had also been replaced.
After carefully studying the lines on the original parts of the alabaster sculpture, and images of Pio Fedi's sculpture; our Head of Stone Restoration painstakingly carved and finessed new alabaster elements.
The smaller elements were bonded into position; but with the larger sword, a small dowel made from carbon fibre was applied to strengthen the repair and ensure its longevity.
One of the warriors had a long drip run of adhesive, which our Head of Stone Restoration removed and discreetly retouched.
Once restored, the sculpture was waxed, which enhances the appearance of the alabaster and also provides it with an additional protective layer.
Japanese Crane and Turtle Bronze Sculpture Restoration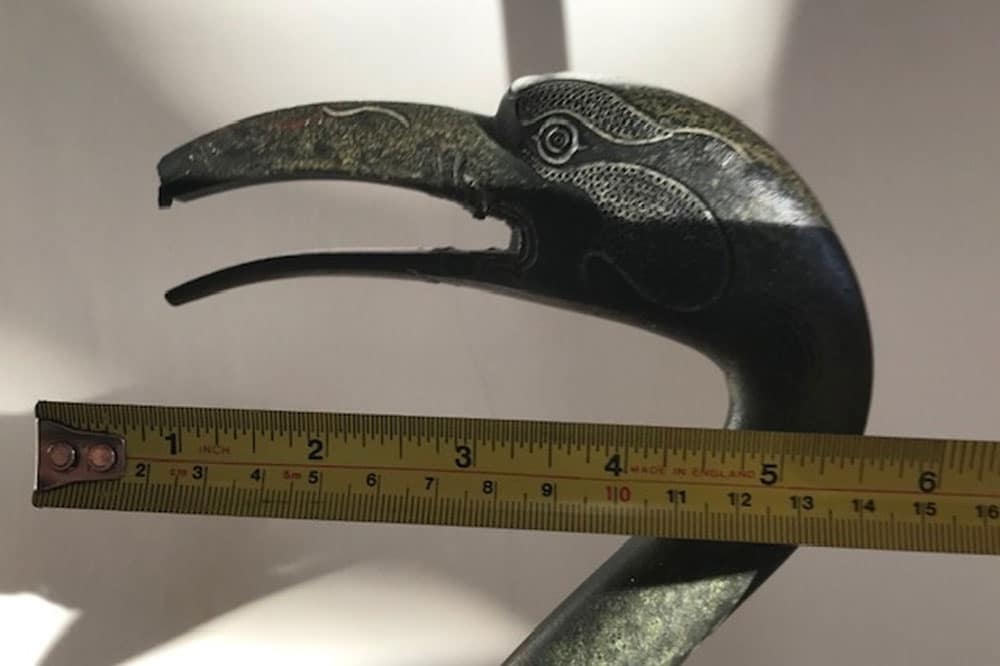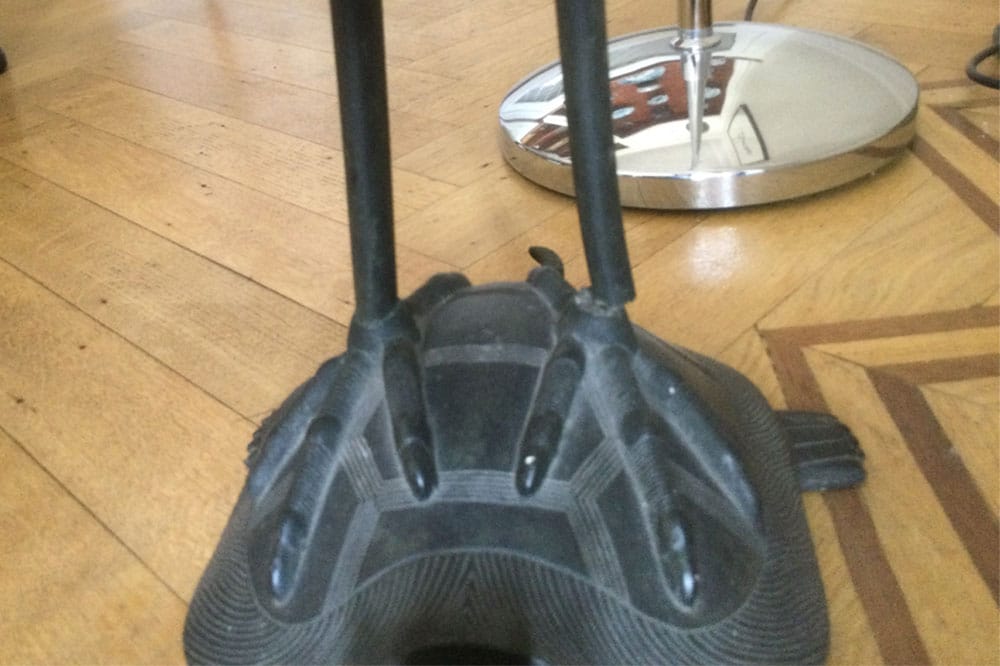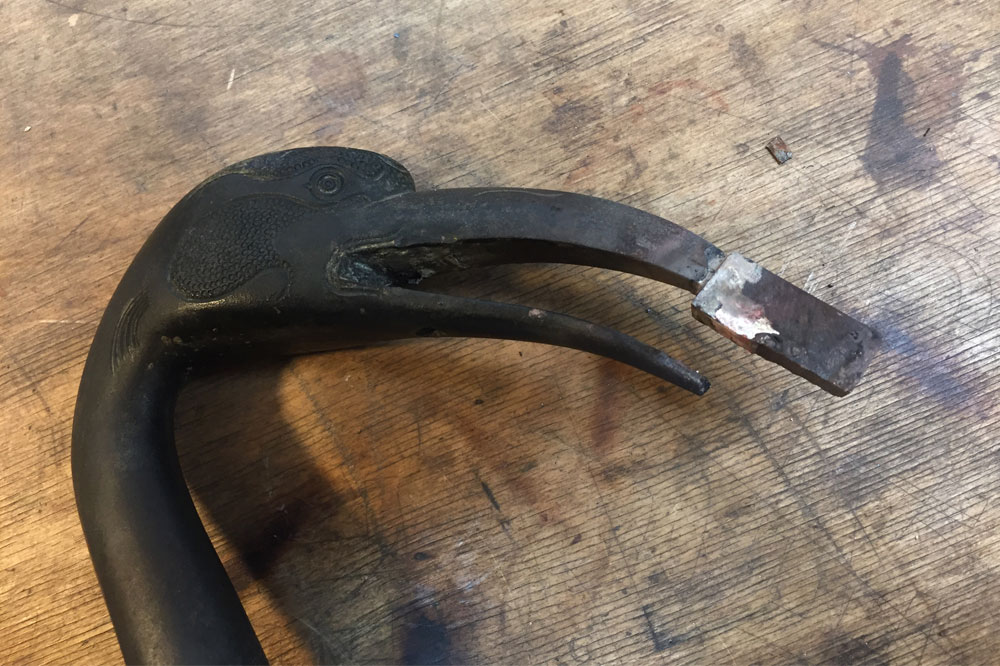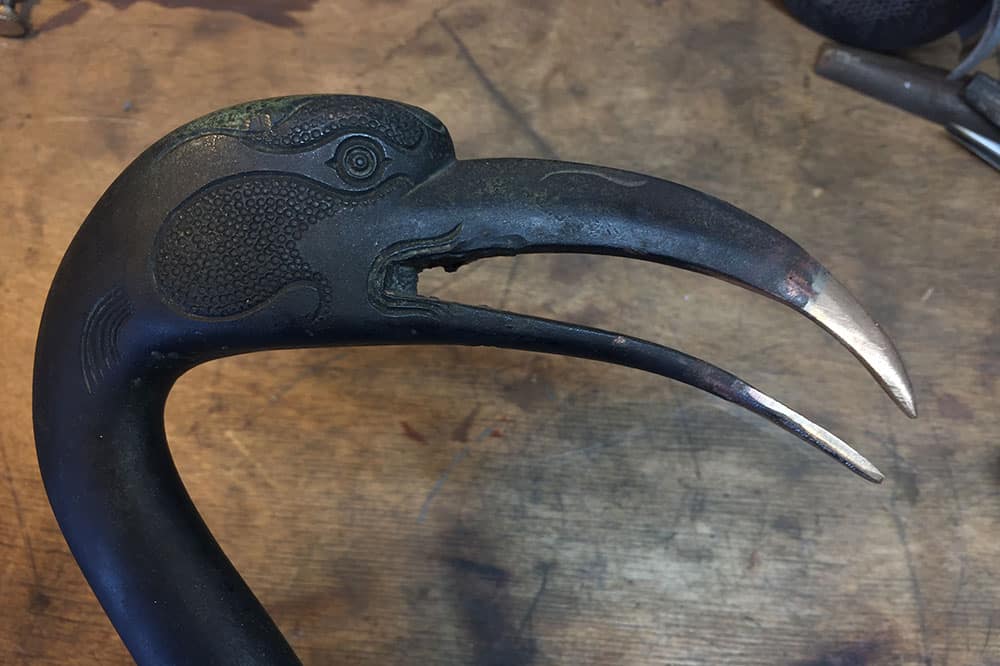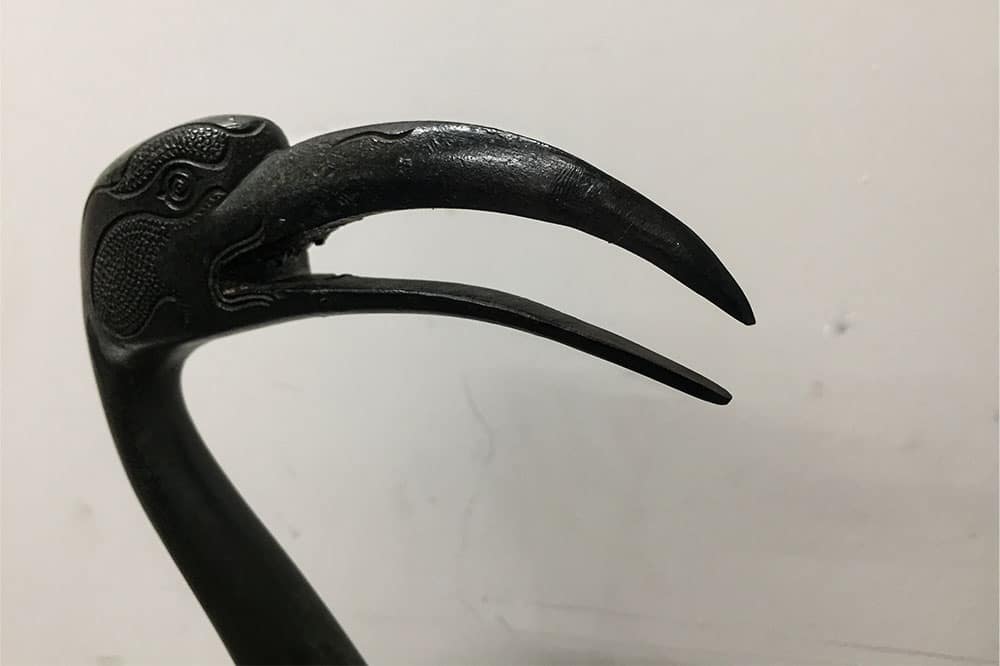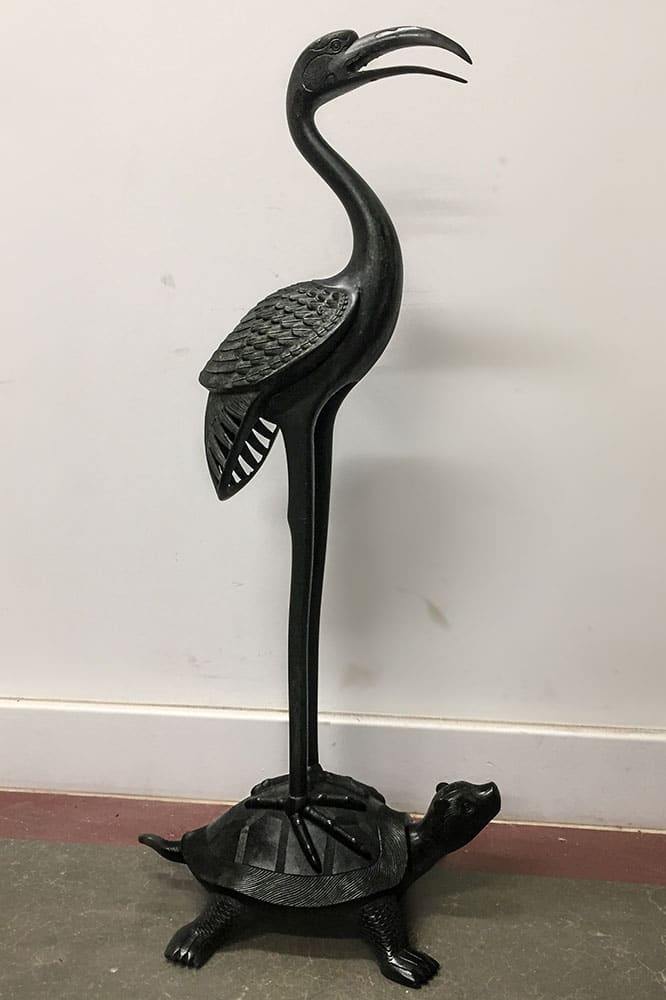 This Japanese bronze crane and turtle sculpture is a possible reference to the Japanese saying that "cranes live for one thousand years, and turtles for ten thousand."
The bronze sculpture came into our sculpture restoration studio with what may have been impact-related damage. The tip of the crane's bronze beak was missing and one of its legs had snapped, leaving a small section of leg behind in a fixing hole in the turtle's shell.
Upon inspection in our sculpture restoration studio, our sculpture restorer discovered the remnant of an old join in the crane's beak, indicating that the bronze beak may either have been fabricated from two parts, or it may have been previously restored.
To restore the snapped crane's leg, our sculpture restorer first had to remove the intact leg and broken leg-end from the shell of the turtle. This was achieved by desoldering the joins (effectively by heating the existing lead solder to turn it to liquid and release the legs). Once the break edges of the broken leg had been thoroughly cleaned, it was silver soldered back together.
As the tip of the crane's beak was missing, our sculpture restorer needed to fabricate a new section of beak. This was achieved by silver soldering a block of bronze to the snapped end of the upper and lower beak. The outline of the new beak's tip was drawn onto this block to guide our sculpture restorer. Initially a grinder was used to get rid of the bulk of the unwanted new bronze. Later, when approaching the outline of the beak, our restorer switched to more delicate hand files. This approach of forming the beak whilst the new material is in situ guarantees a more seamless join between the old and new sections. Liver of Sulphur was used on the restored sections to match the original patinated bronze surface.
Finally, the whole sculpture was waxed to bring out the subtle lustre of the bronze and highlight the cast detailing.
Silverdale Mining Monument – Bronze Sculpture Restoration Project
Public Statues and Sculpture Association (PSSA) Marsh Award Winner 2021 – Best Sculpture Restoration Project of the Year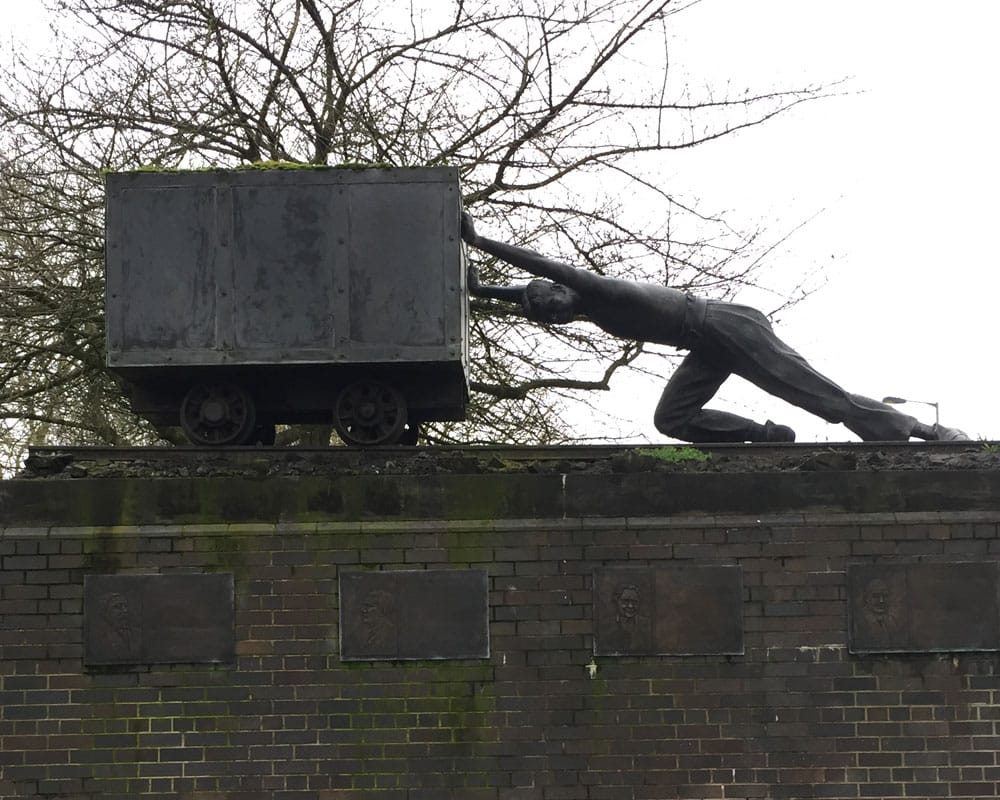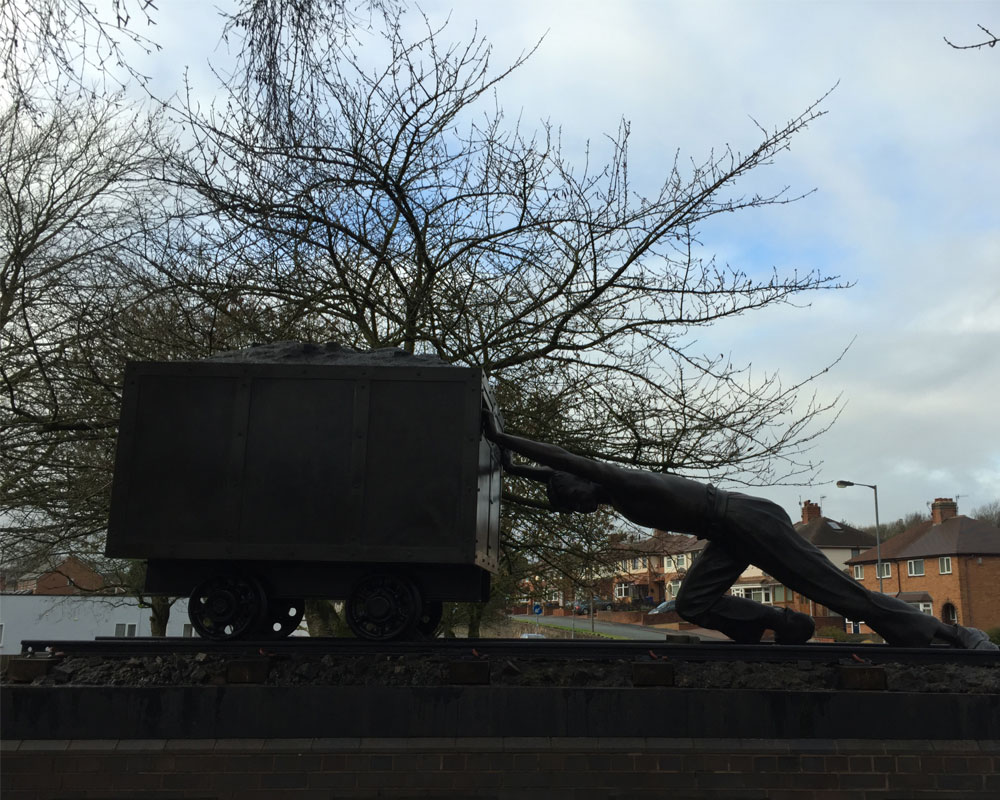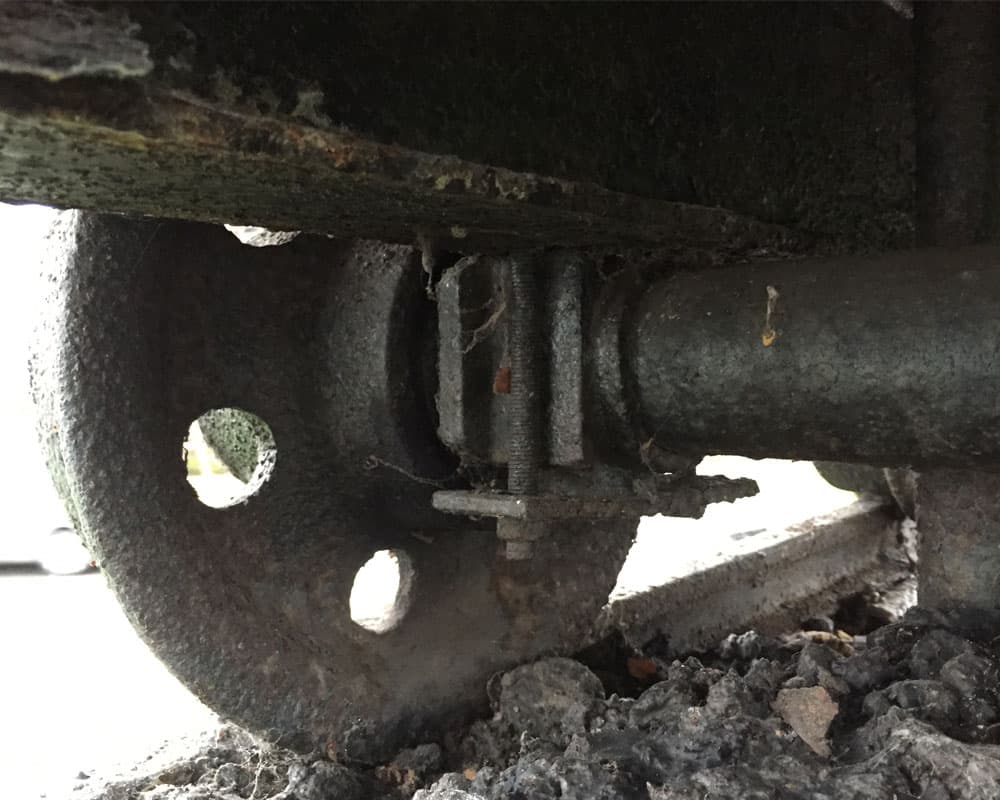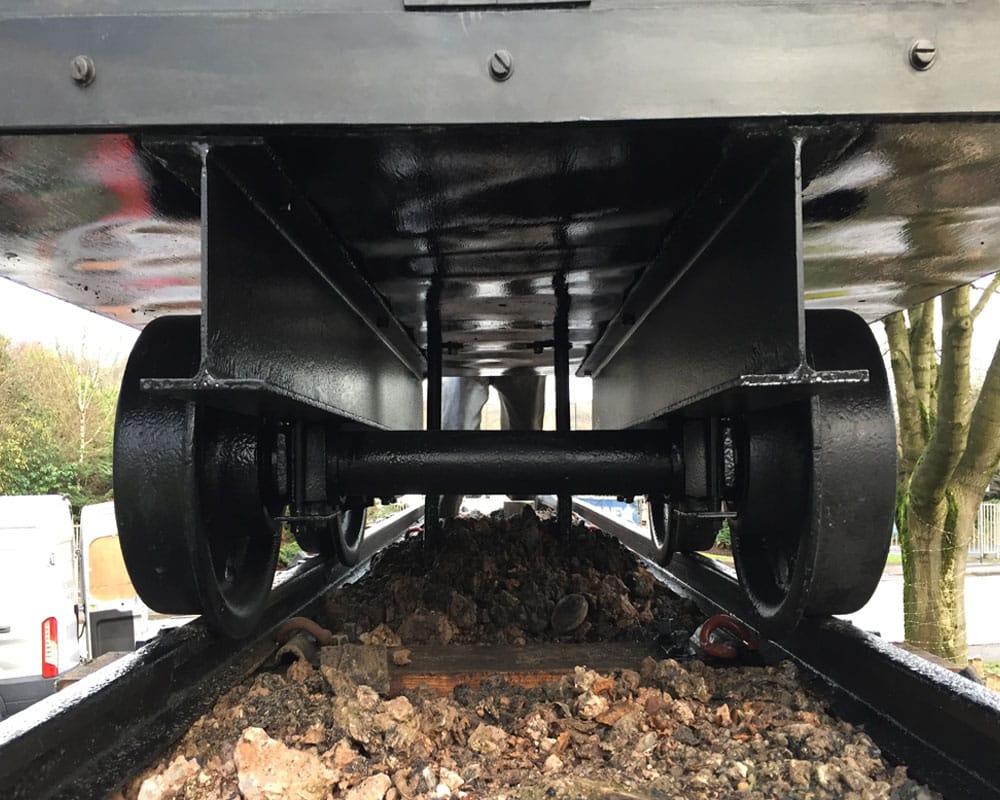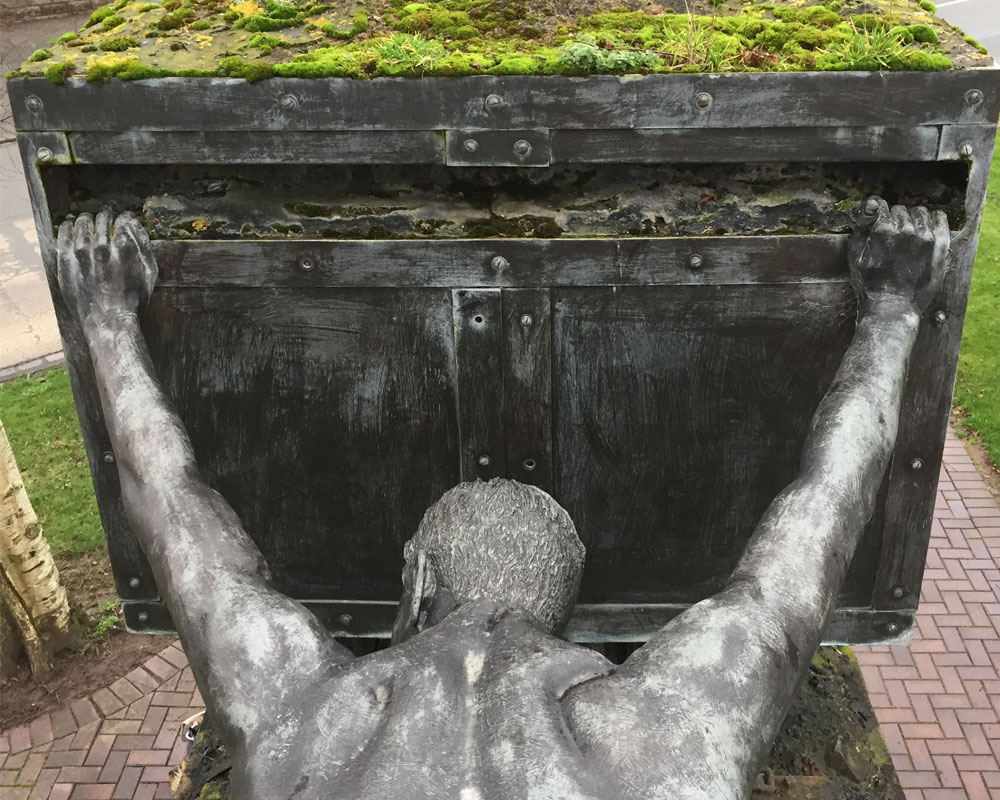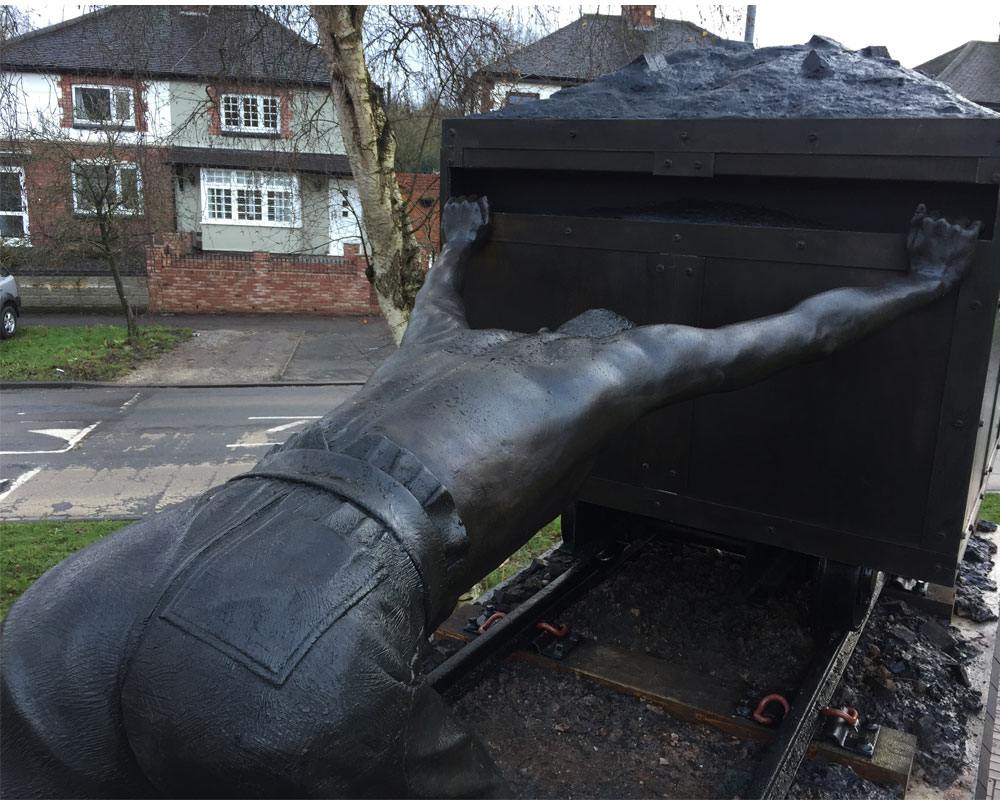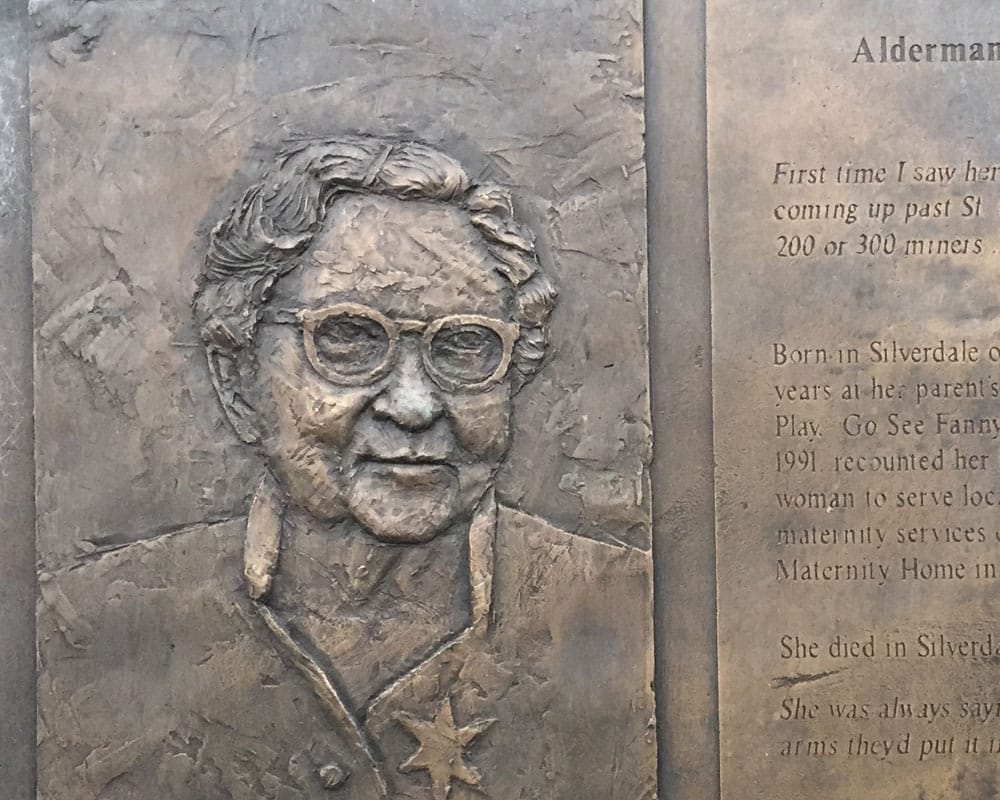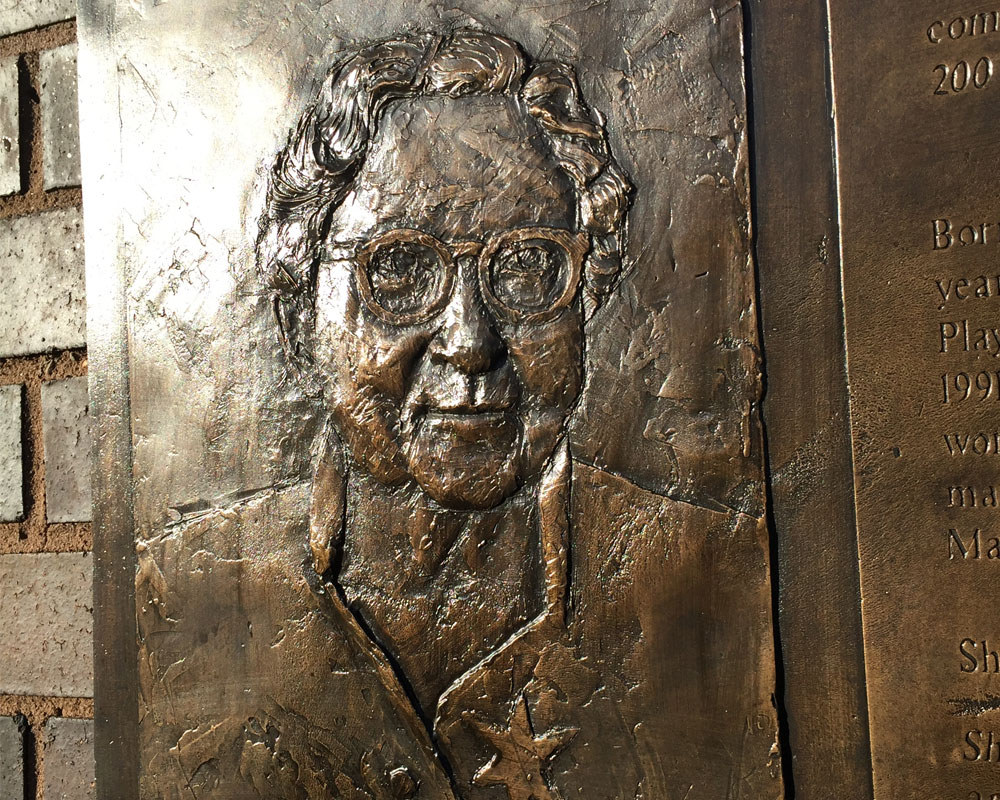 The Silverdale Mining Monument in Silverdale, Newcastle-under-Lyme is a large bronze sculpture commemorating the Silverdale Colliery and the people who worked there. The sculpture has been on permanent outdoor display since 1996.
In 2020, some 24 years after its installation, Plowden & Smith was commissioned by the Silverdale Parish Council to restore the bronze sculpture.
Following its careful deinstallation, the monument was transported to our workshop for specialist sculpture restoration treatment.
A key part of restoring the sculpture was our treatment of the significantly deteriorated coal wagon. This included: fabricating a new and better designed galvanised internal frame; hot waxing the original patinated brass outer cladding elements; shot blasting and repainting the original wheels and supporting beams; and restoring and painting the concrete coal mounted on the top of the wagon.
The bronze figure of the miner was hot waxed, as were the bronze plaques displayed around the sculpture's brick plinth base. Hot waxing the bronze not only revives its appearance, but also provides an additional layer of protection from the elements – an important consideration with outdoor sculpture.
No detail of restoring this sculpture was too small to be overlooked: the rotten wood sleepers were replaced; the rails and chairs were shot blasted and patinated – even the tiny chairscrews were shot blasted and patinated.
Finally, just prior to reinstallation, the brick plinth base was carefully cleaned to remove years of ingrained dirt and plant matter.
Leaping Carp Okimono Sculpture Restoration
"Thank you again for the amazing restoration job. I love the new bespoke mount and am thrilled to have my fish looking so special again!"
– Viktoria, Private Client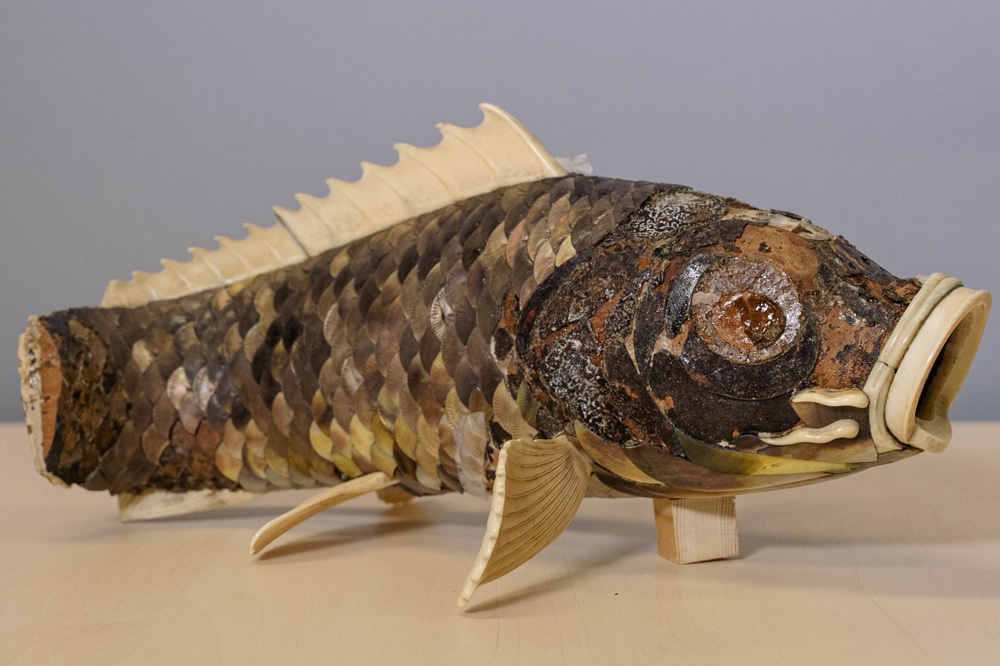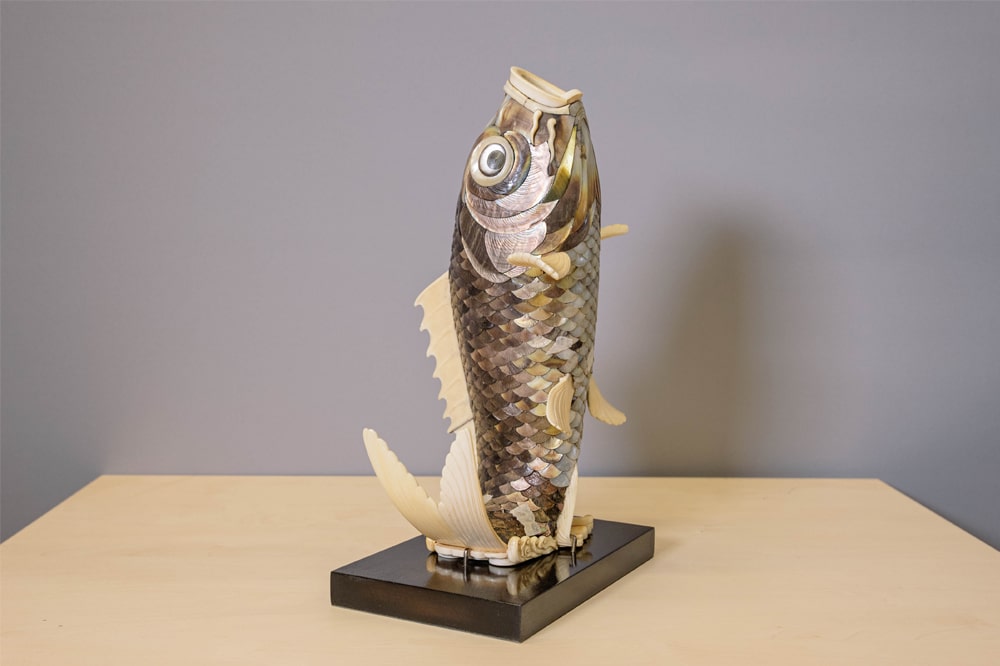 Sculpture Restoration 5 Minute Video | Restoring a Japanese Meiji Period Leaping Carp Okimono Sculpture 
One smaller-scale sculpture restoration project we took on was restoring this late 19th or early 20th Century Meiji period leaping carp okimono (in Japanese, okimono means ornament for display, objet d'art, decorative object).
In traditional Japanese culture, the leaping carp is a symbol for healthy and successful boys – reflecting the fact that only the strongest carp can leap over small waterfalls to spawn. Sadly, the condition in which this okimono arrived in our sculpture restoration studio, hardly suggested qualities of good health and strength!
Many of the mother of pearl scales on the fish were loose or missing – a result of shrinkage of the wooden carcass and degradation of the fish glue. Larger sections of the fish had also become loose, including the eyes and surrounding face and gills. The caudal (tail) fin at the base of the sculpture had become completely detached and had broken into several sections. This family treasure was desperately in need of care and attention, which involved a range of specialist sculpture restoration techniques.
Scales still attached to the wooden carcass were stabilised with fish glue thinned down with warm water (to allow the consolidant to run in and around each loose scale). When cured, the excess glue was carefully removed with a warm damp cloth. The rest of the fish was cleaned with cotton buds and saliva. Due to the enzymes it contains, salvia is excellent at grabbing and taking hold of old dust and dirt.
New wooden pieces were carved and bonded into position to enable the fin to be reattached at the base of the sculpture. The many loose pieces were reinstated in precisely the right location – a process not dissimilar to tackling a complicated jigsaw puzzle!
Missing scales were then replicated by carefully carving clam shell shapes from mother of pearl.
In addition to restoring the sculpture, our sculpture restorer also created a bespoke polished wood base to display the leaping carp in its correct, upright position. The inclusion of discreet security fixings gently secure the okimono to its new stylish mount, providing additional protection after it returns home.
Marble Sculpture Restoration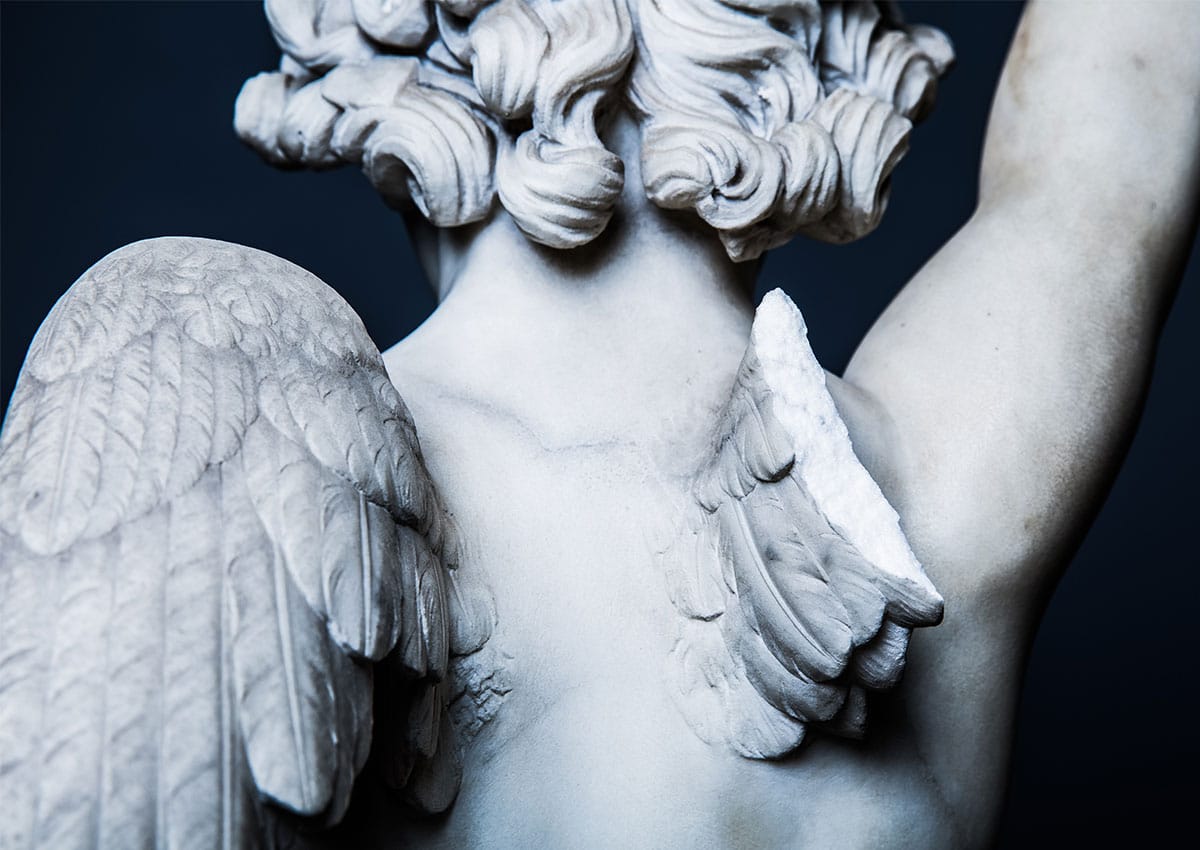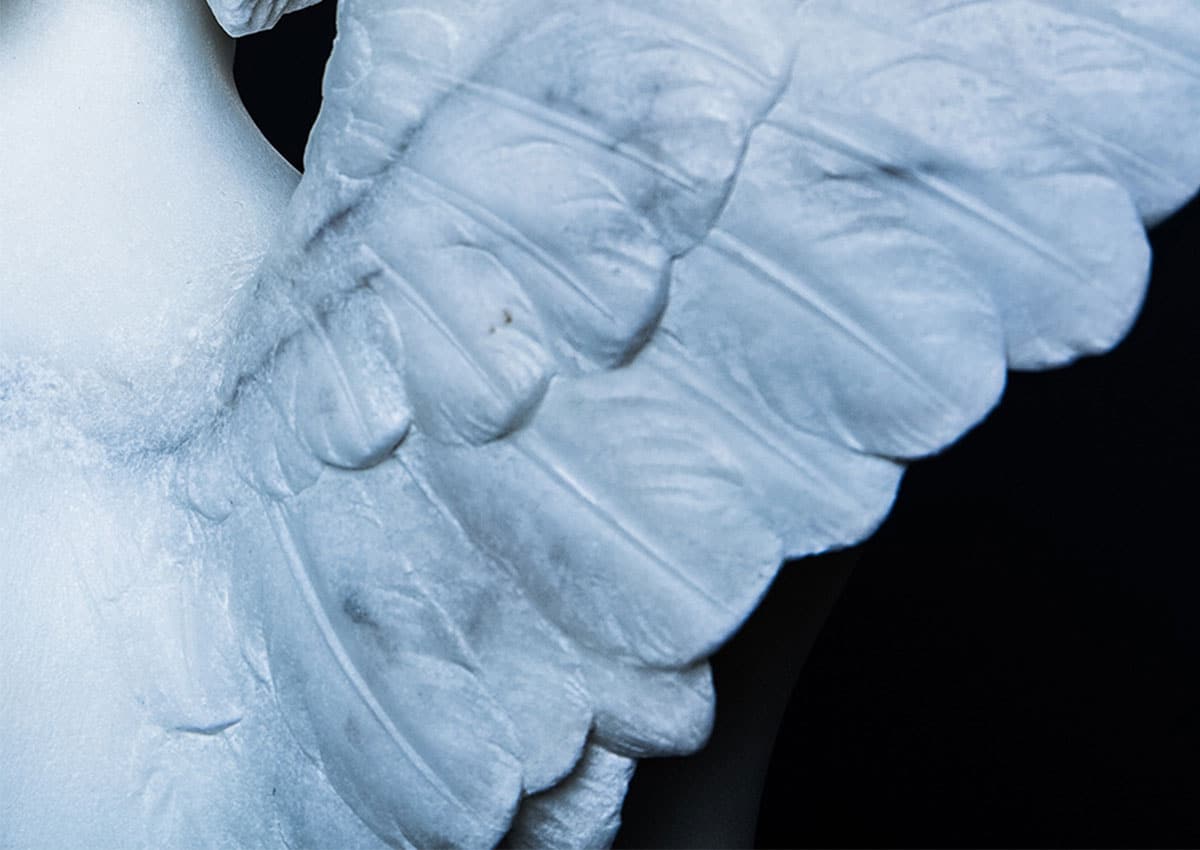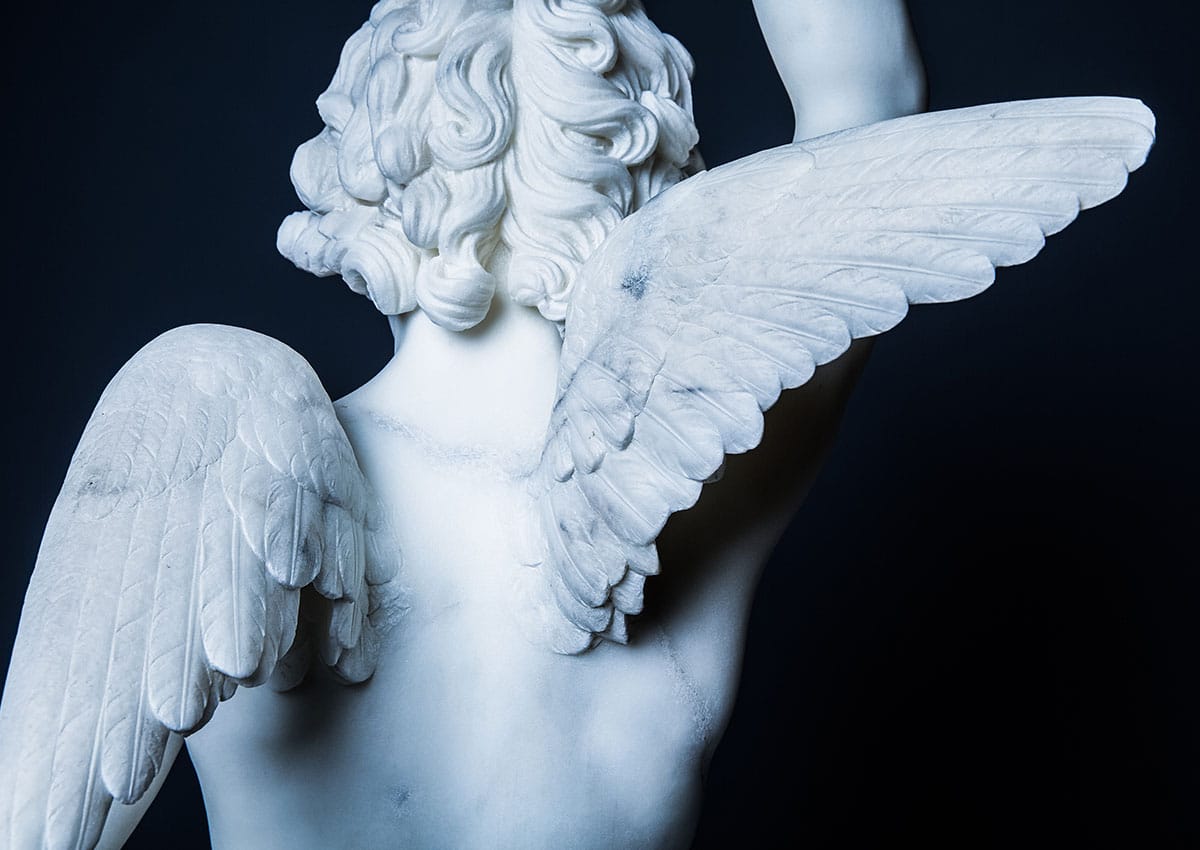 This marble sculpture came in for restoration work because of the cherub's broken wing. Conscious of the size and weight of the broken element, we drilled the wing and inserted a dowel to strengthen the repair and prevent the likelihood of repeat damage along the point of weakness. The break edges were then carefully bonded together. Any remaining gaps or small missing sections of marble along the repair were filled using conservation-grade materials and the whole area was painstakingly retouched to achieve a result that is virtually flawless to the naked eye.
At the client's request, the cherub was also cleaned with a poultice to remove the thick layer of dirt that was obscuring the more intricate detailing on the sculpture.
17th Century Wood Sculpture Restoration
Shortlisted for Museums + Heritage Conservation or Restoration Project of the Year 2019
"As you probably know, Samson returned to Norfolk on Monday, amongst much excitement from colleagues here at Norfolk Museums Service. He is looking truly splendid! 
It has been a complex project in so many ways and full of challenges from all angles. But I just wanted to express my gratitude to everyone at Plowden & Smith who contributed to this project and who have been so helpful and accommodating"
– Man-Yee Liu, Head of Conservation, Norfolk Museums Service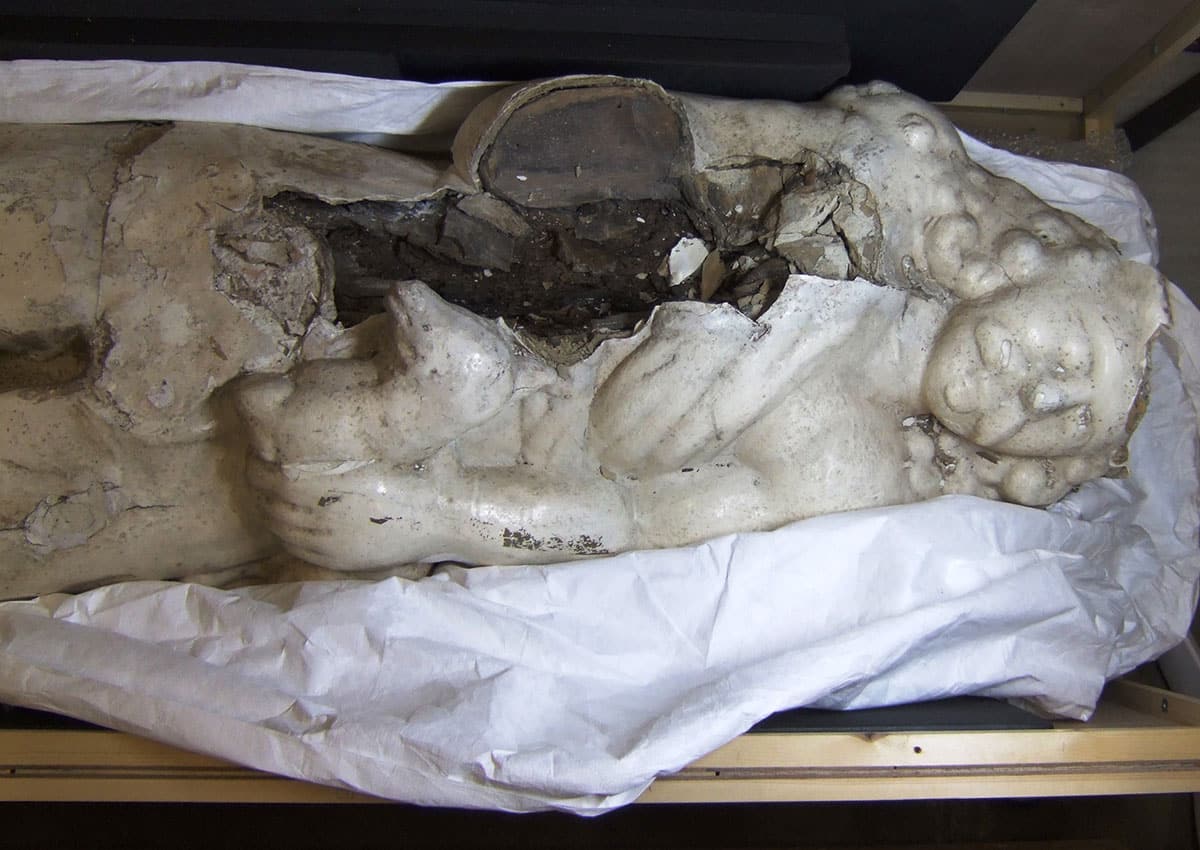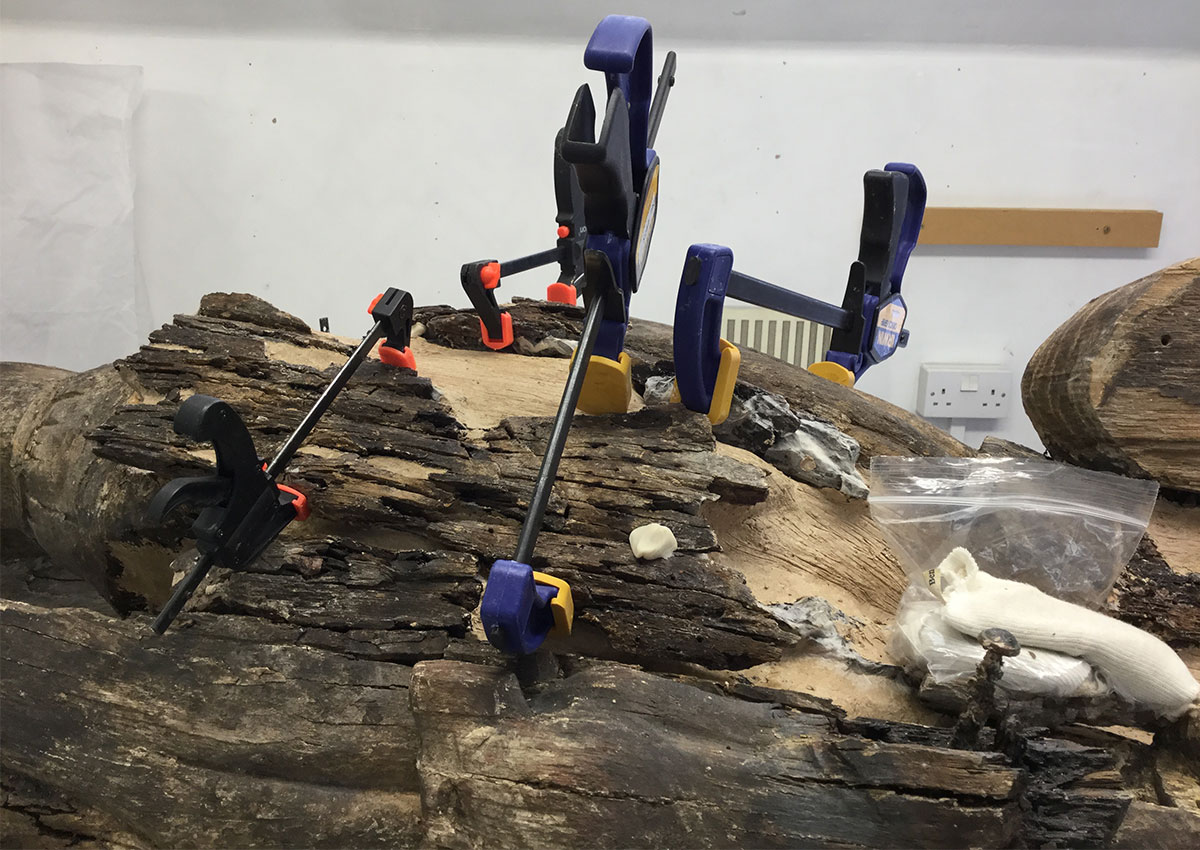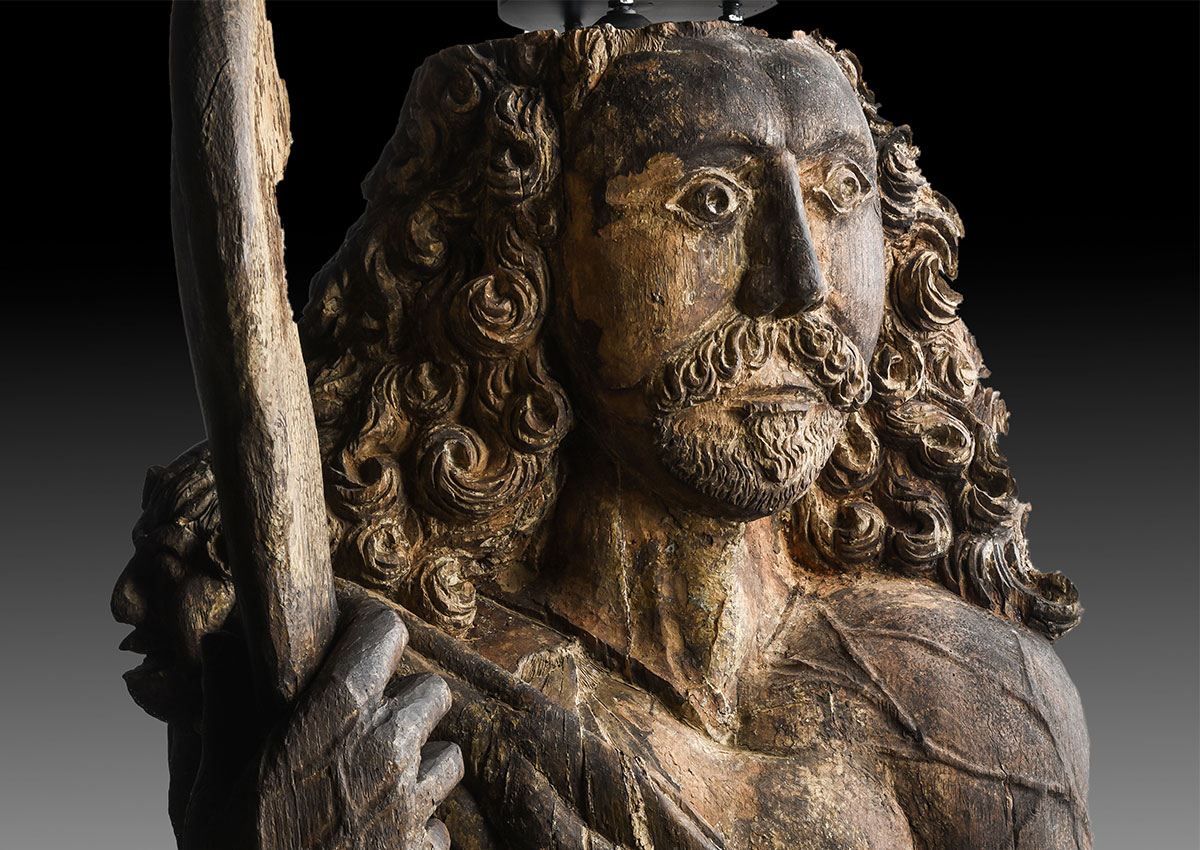 Samson, a mid-17th Century carved wooden statue, came into our sculpture restoration studio from the Museum of Norwich.
Samson underwent sculpture restoration treatment to remove a rock-solid shell of paint comprising some 60 layers and weighing 28kg. He also received treatment for wet rot and biological growth that was so significant it had resulted in the loss of both his feet and a large section of his torso.
Whilst our sculpture restoration team was conserving Samson, our mount making team were also busy creating a conservation-grade mount to enable Samson to go on display at the Museum of Norwich.
Throughout his time with us, and at the request of Norfolk Museum Services, Samson's treatment was shared via digital platforms and local BBC and ITV news channels to share progress with his significant community fan base. Norfolk Museum Services forward-looking approach to his restoration, culminated in Samson being transformed into an augmented reality model for the BBC Civilizations app.
This major sculpture restoration concluded with us installing Samson in his new home at the Museum of Norwich. 
Contemporary Bronze Sculpture Restoration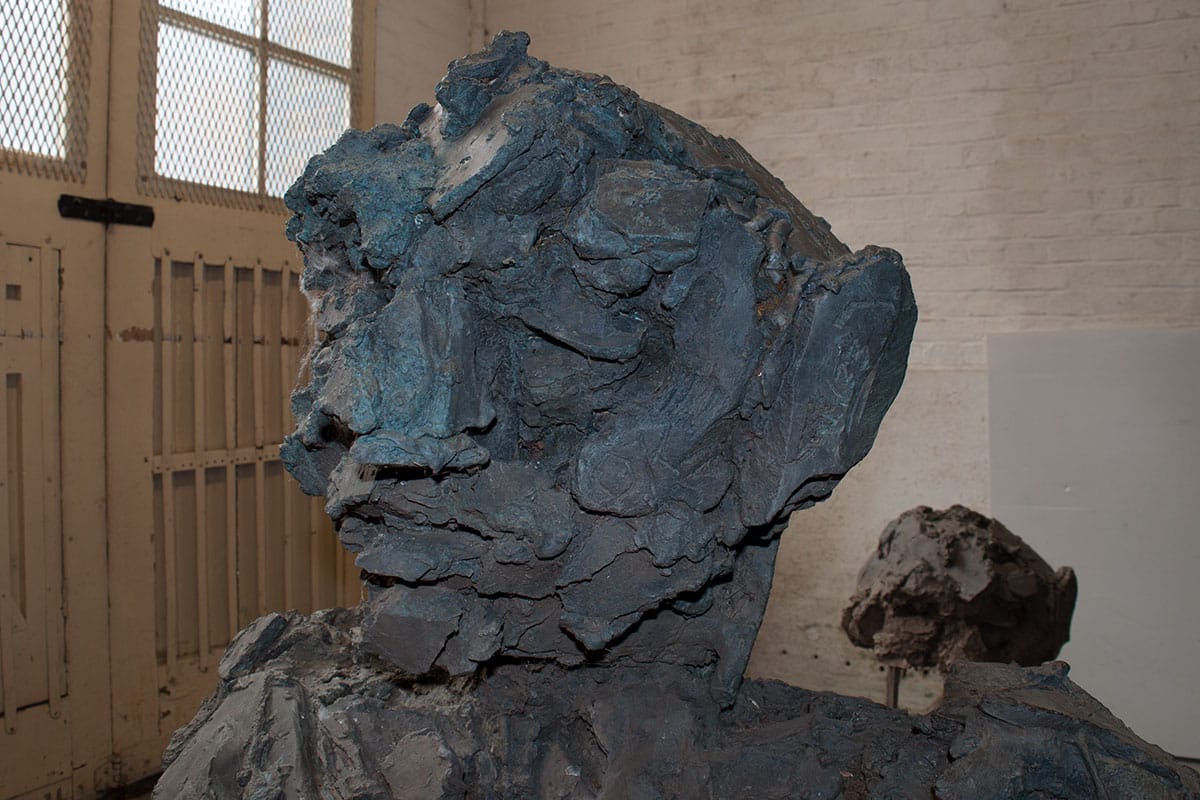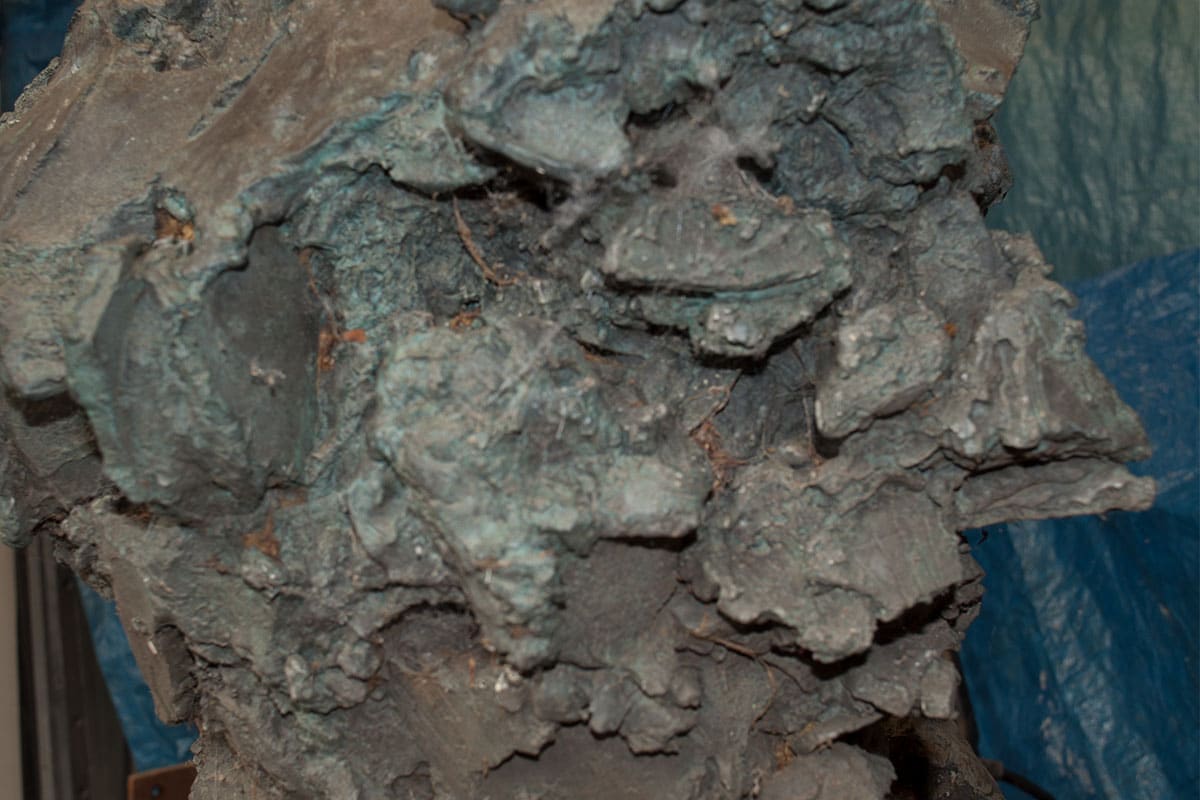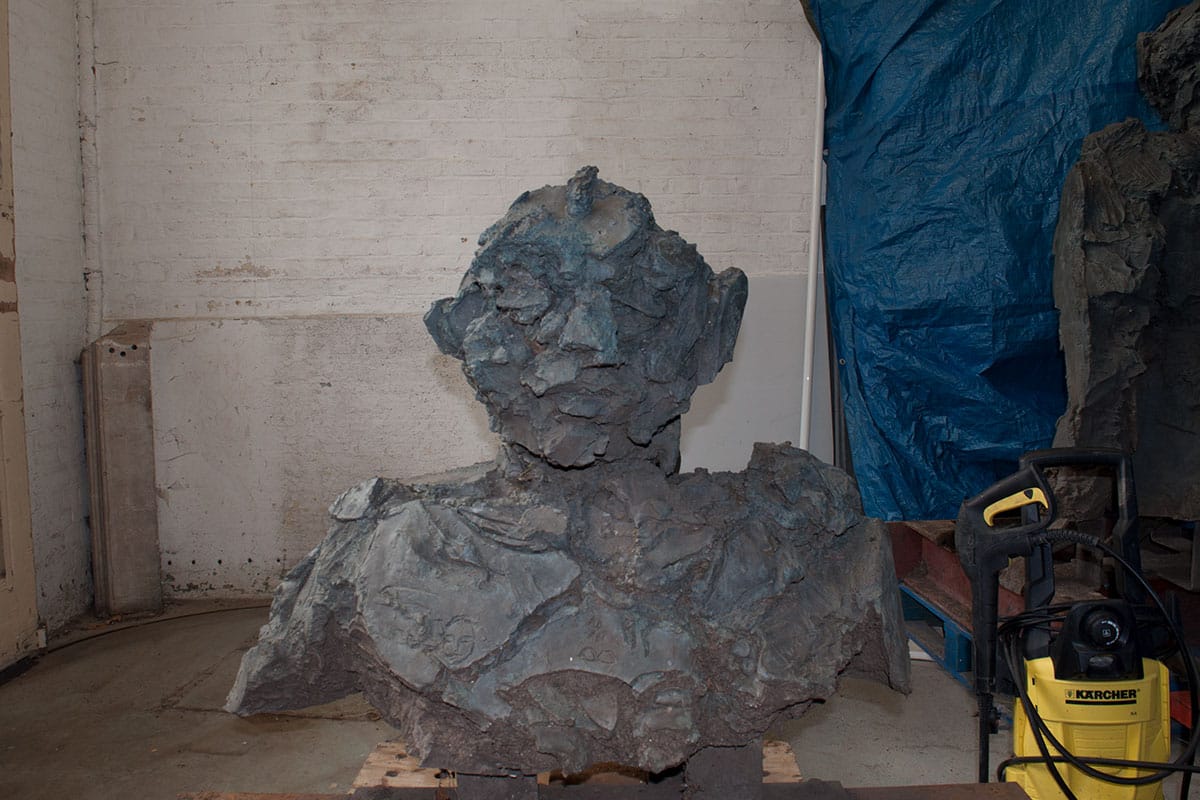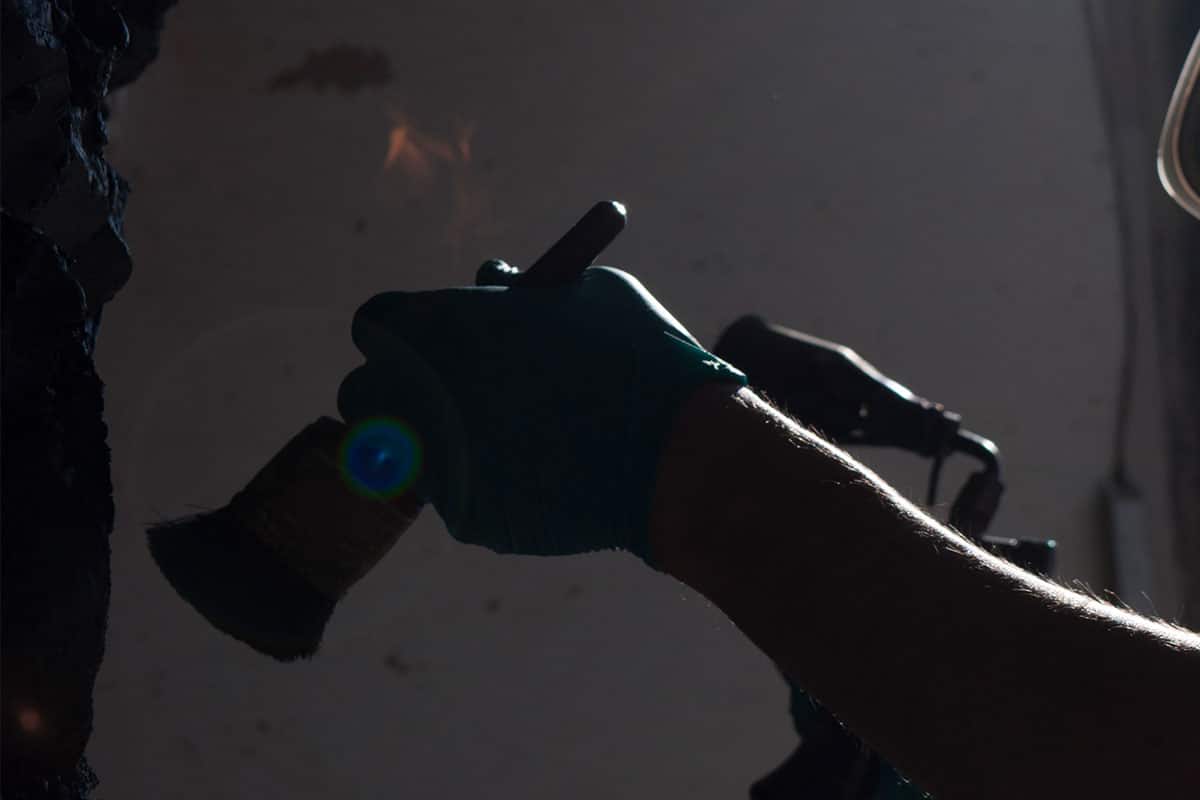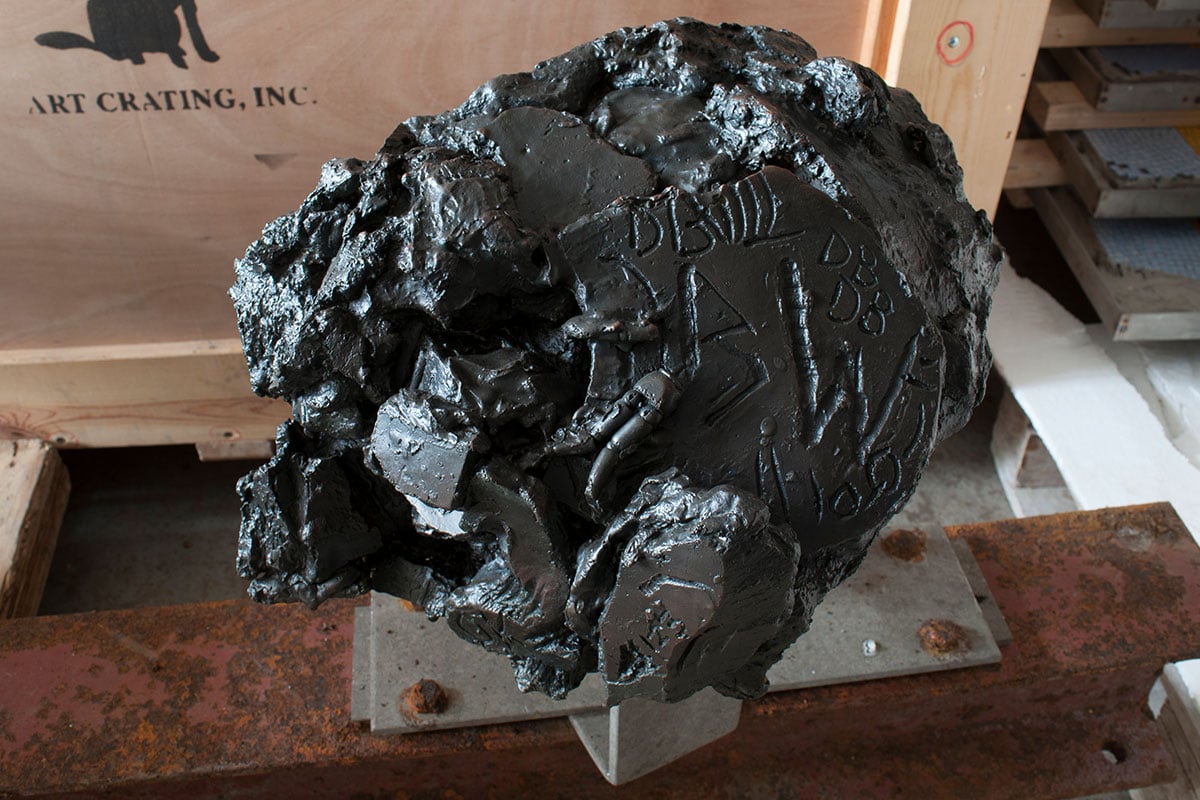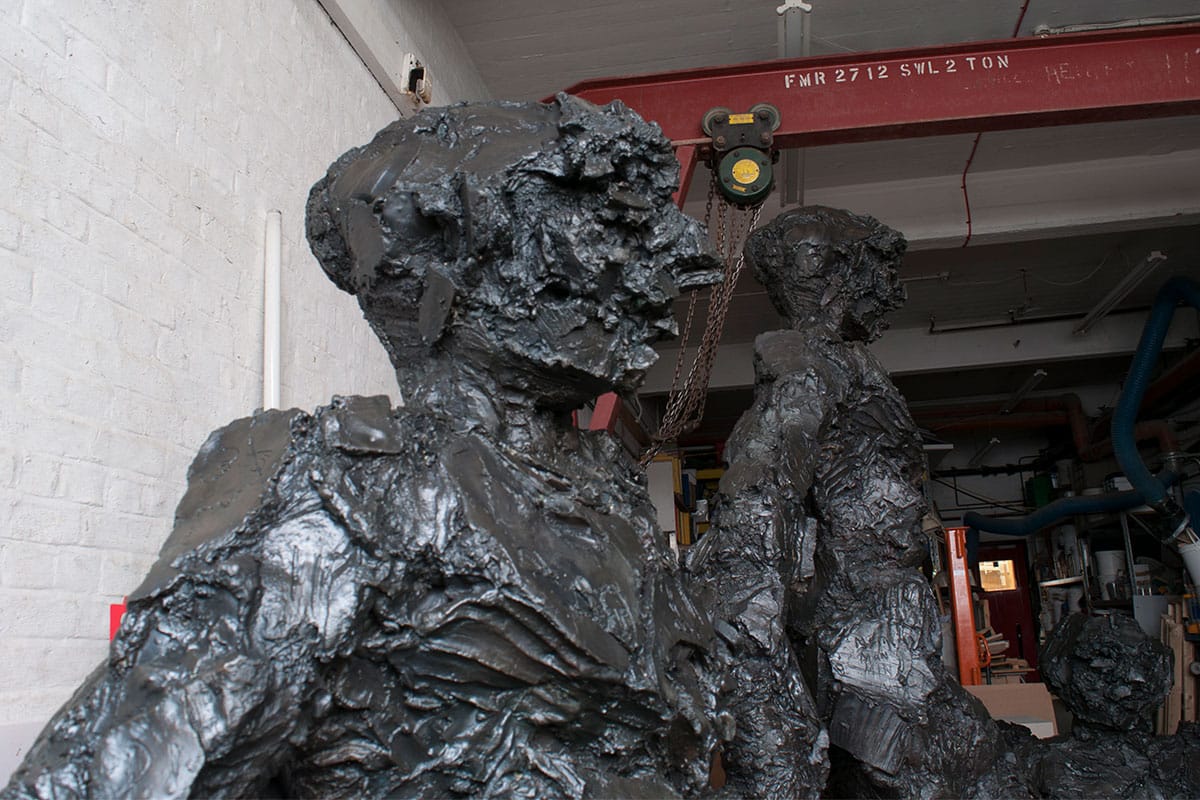 Our sculpture restoration studio is used to welcoming visitors of all ages and sizes, but David Breuer-Weil's monumental bronze sculpture 'Emergence' has to be one of the largest.
For many years, this four-part sculpture's home had been a garden square in central London. Acidic rain, air pollution and bird droppings are just some of the factors that can corrode the patination on outdoor sculptures. Over time, and if left untreated, this can seriously impact both their appearance and structural stability. Emergence came in for sculpture restoration treatment to correct typical weather-related wear and damage.
After carefully removing all traces of dirt and debris, our sculpture restoration team applied coloured wax using a hot wax method to restore patination loss. Once completed a final wax was applied, which not only improves the overall appearance of the sculpture but also provides it with an additional protective layer.
"London to Paris", Eduardo Paolozzi, c.2000 | Contemporary Wood Sculpture Restoration Project
Nominated for the Public Monuments and Sculpture Association (PMSA) Marsh Award 2016 – Best Sculpture Restoration Project of the Year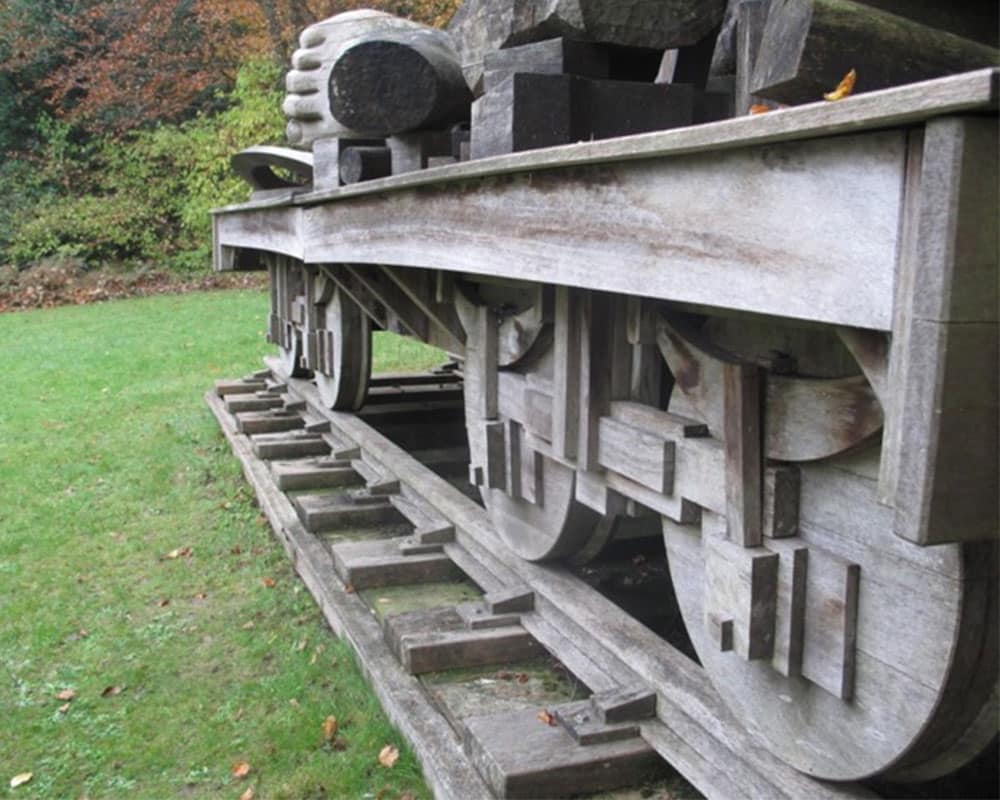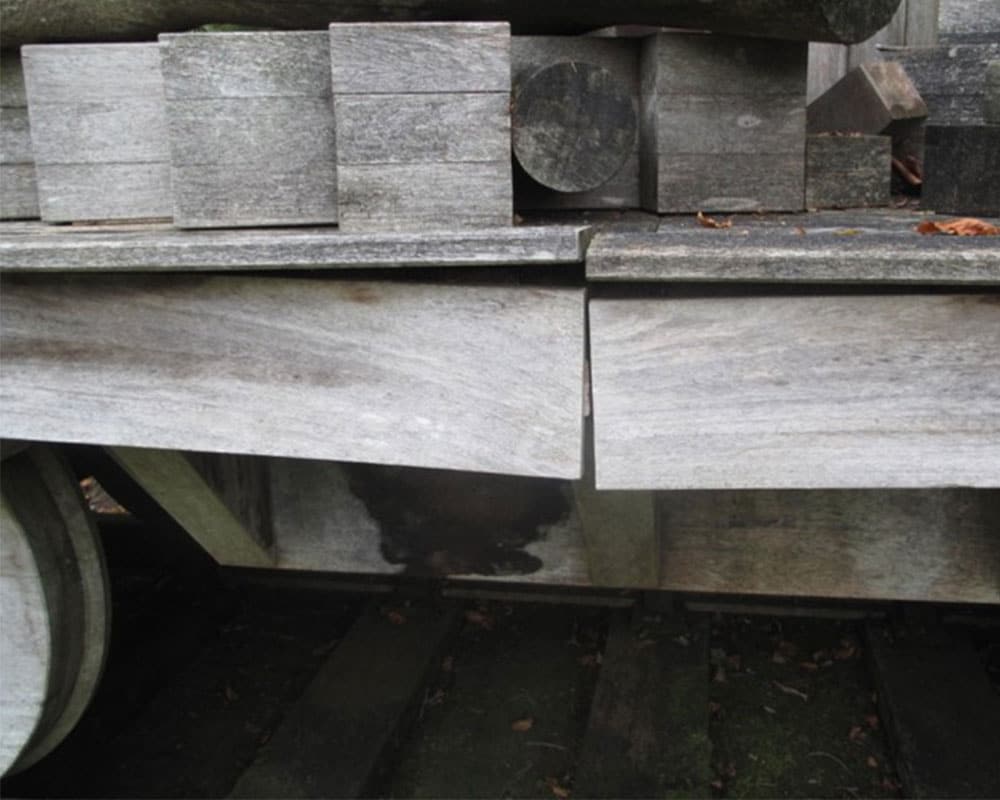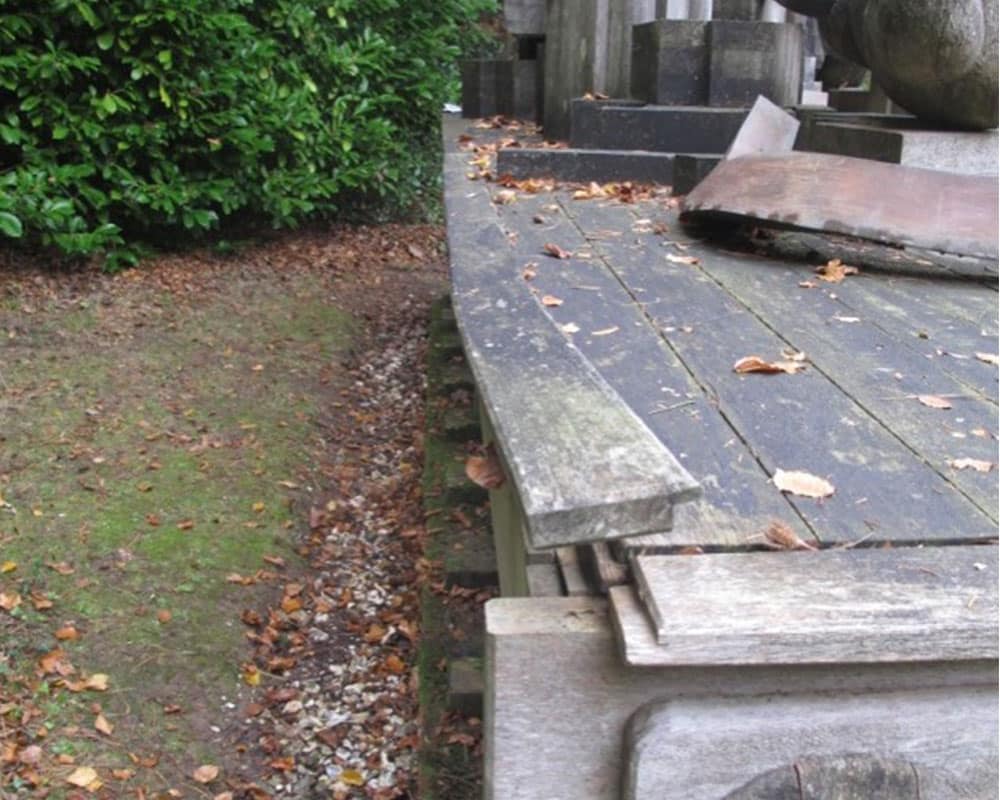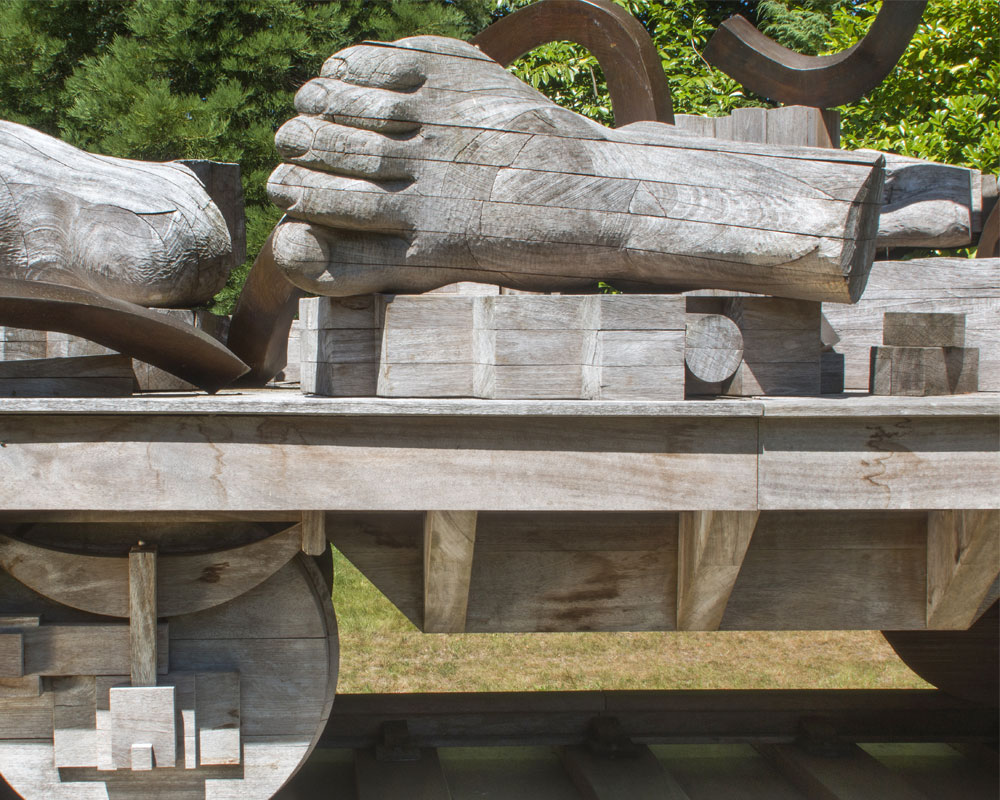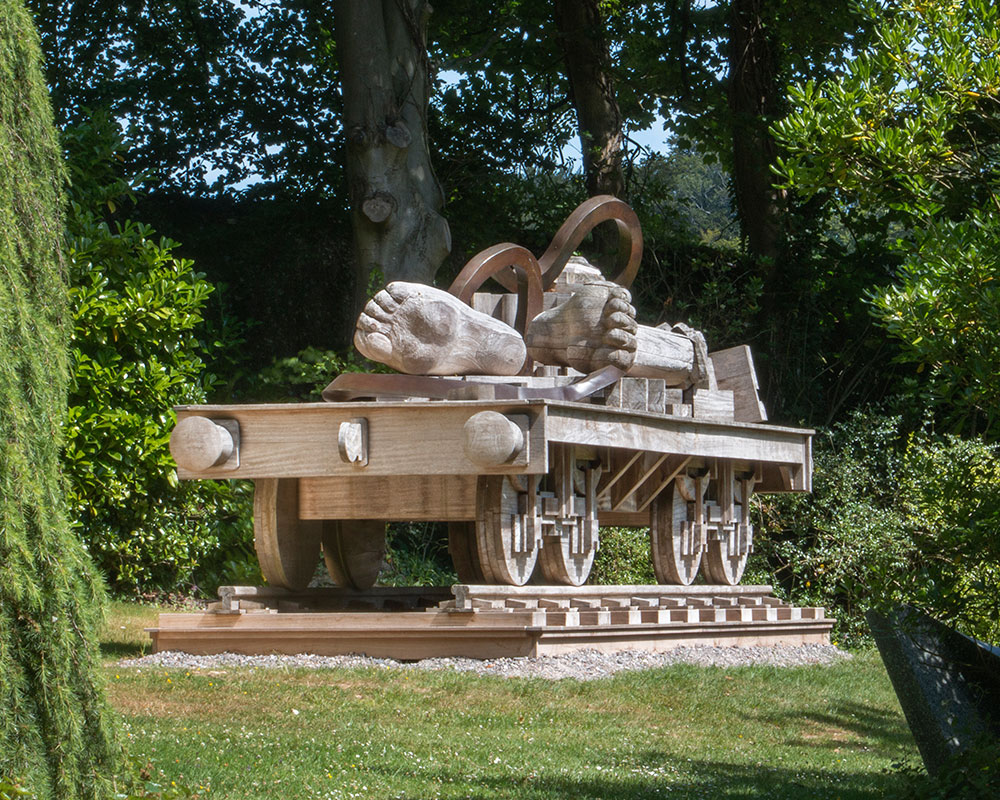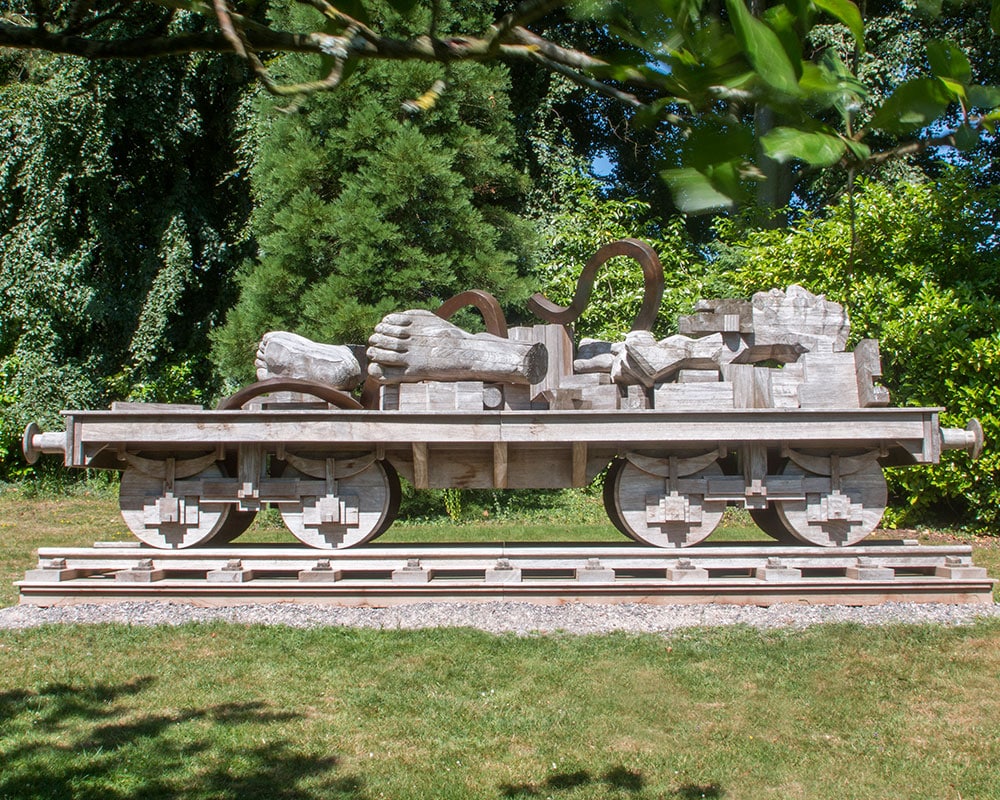 Eduardo Paolozzi's monumental sculpture, 'London to Paris, 2000' is one of Paolozzi's last major works. Commissioned by the Cass Sculpture Foundation, it has been on display outdoors since it was first installed.
The sculpture is constructed from Iroko wood and bronze, with steel fixings. Over time, these materials had become affected by years of exposure to the elements resulting in mildew and moss growth, wood movement and warping, and rot caused by trapped moisture.
Plowden & Smith's sculpture restoration team was asked to restore London to Paris, to help ensure the sculpture's long term good health.
The treatment process began by carefully dismantling the sculpture and documenting the placement of each piece. The individual pieces were then cleaned, and the warped and rotten areas restored. The bronze sections were cleaned and waxed to protect the existing patina.
We were delighted when our sculpture restoration work on London to Paris was recognised with a nomination for the prestigious PMSA (Public Monuments and Sculpture Association) MARSH award.