RESTORATION & CONSERVATION SERVICES | FINE ART RESTORATION | SCULPTURE RESTORATION
Sculpture restoration is carried out by experts trained in the care and conservation of the wide range of materials used for sculpture including marble, plaster, terracotta, bronze, as well as unstable materials more commonly found in contemporary sculpture or installations, including resins, silicones, and organic materials.
Sculpture restoration treatments include conservation cleaning, repairing broken elements, restoring finishes using specialist techniques, including hand retouching, airbrushing, repatinating, re-gilding, waxing, polishing and lacquering.Our sculpture restoration team draws on their vast experience to find innovative solutions to major structural issues, including replicating missing elements, drilling and doweling to strengthen repaired sections, rebuilding internal armatures and creating bespoke external mounting solutions.
We carry out sculpture restoration projects in the UK and all over the world, working on single pieces or entire collections. We restore historic works of art, including important pieces by Canova and Bernini; as well as 20th Century and modern sculpture by Henry Moore, Lynn Chadwick, Alberto Giacometti, Barbara Hepworth, Arnaldo Pomodoro, and Elisabeth Frink.
We also clean and restore contemporary sculptures, including works by Antony Gormley and Anish Kapoor.  Find out more about our modern and contemporary art conservation services.
We work closely with many studios and official bodies, including the Jenny Holzer Studio and the Henry Moore Foundation.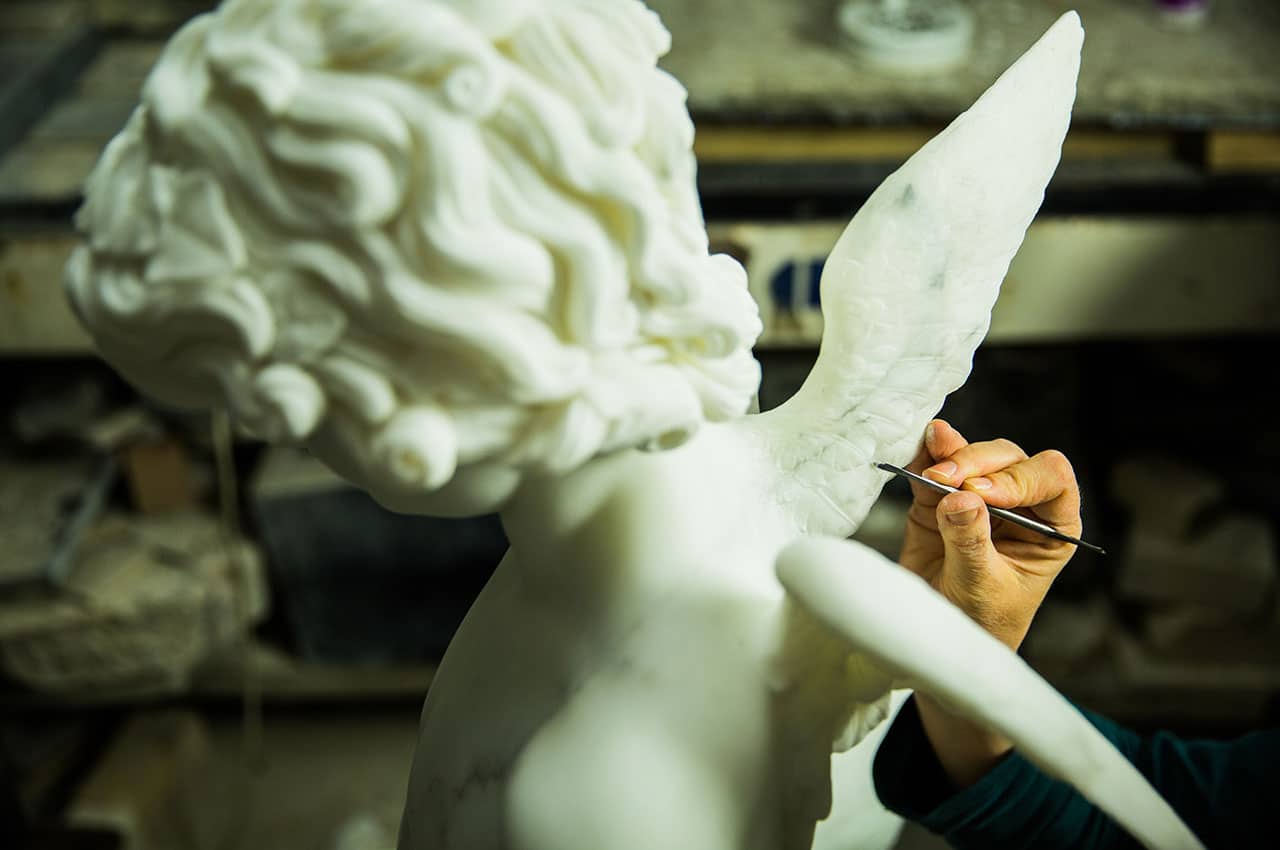 Sculpture Restoration Case Studies
Restoring the Bronze Silverdale Mining Monument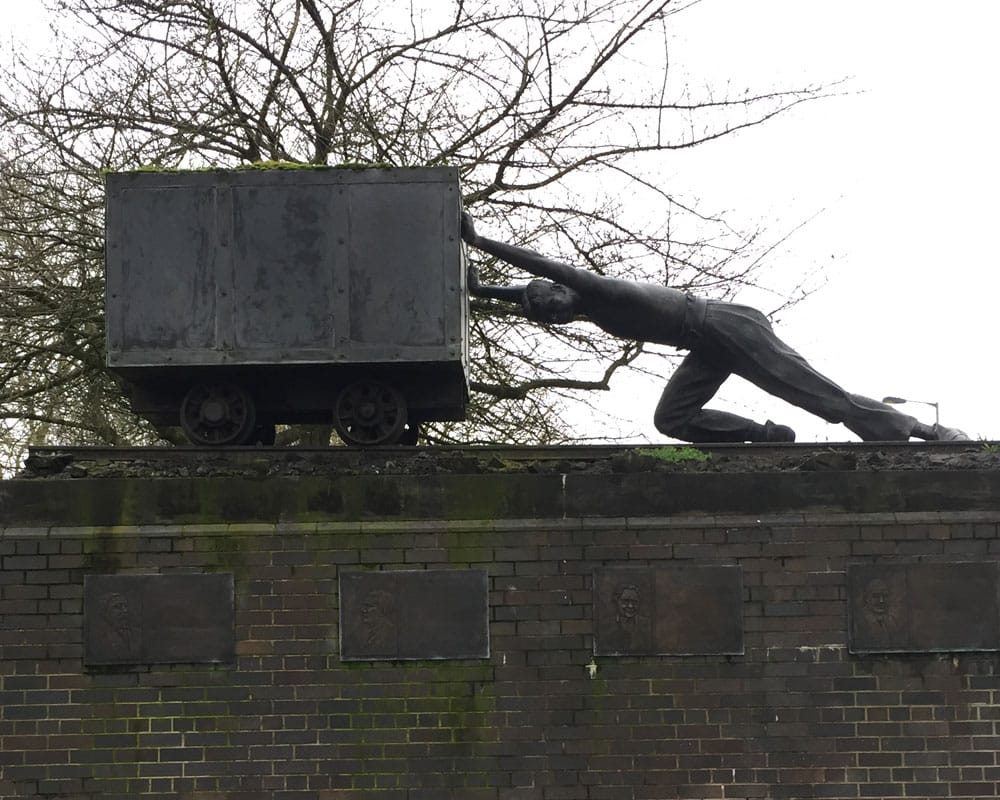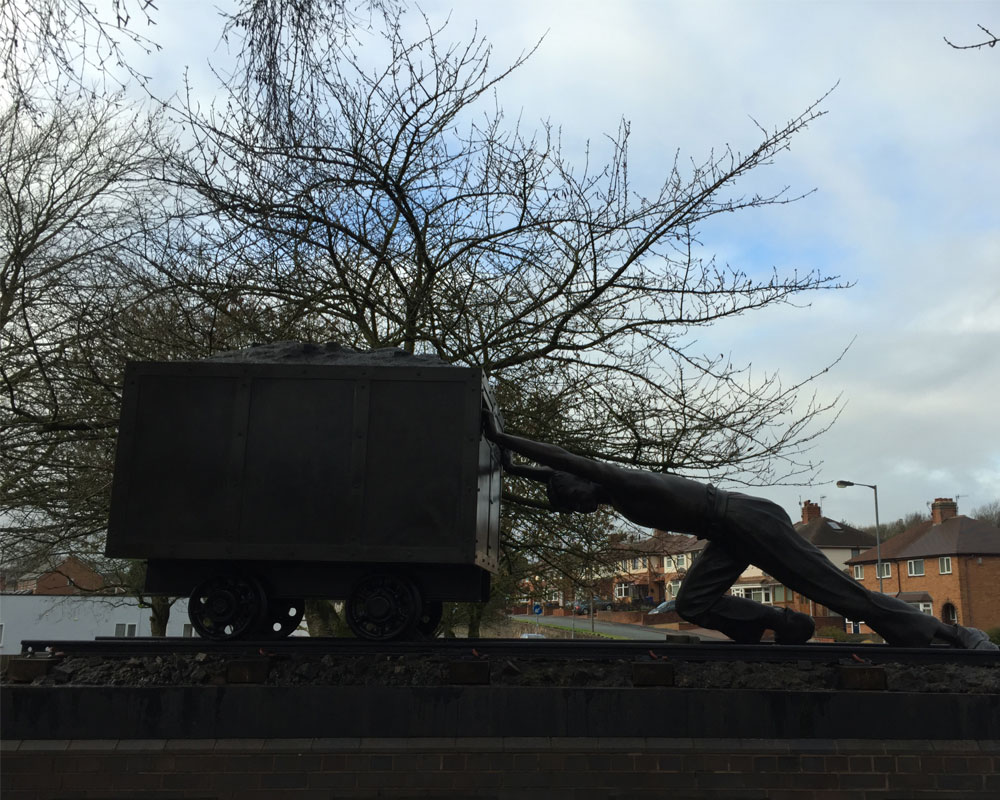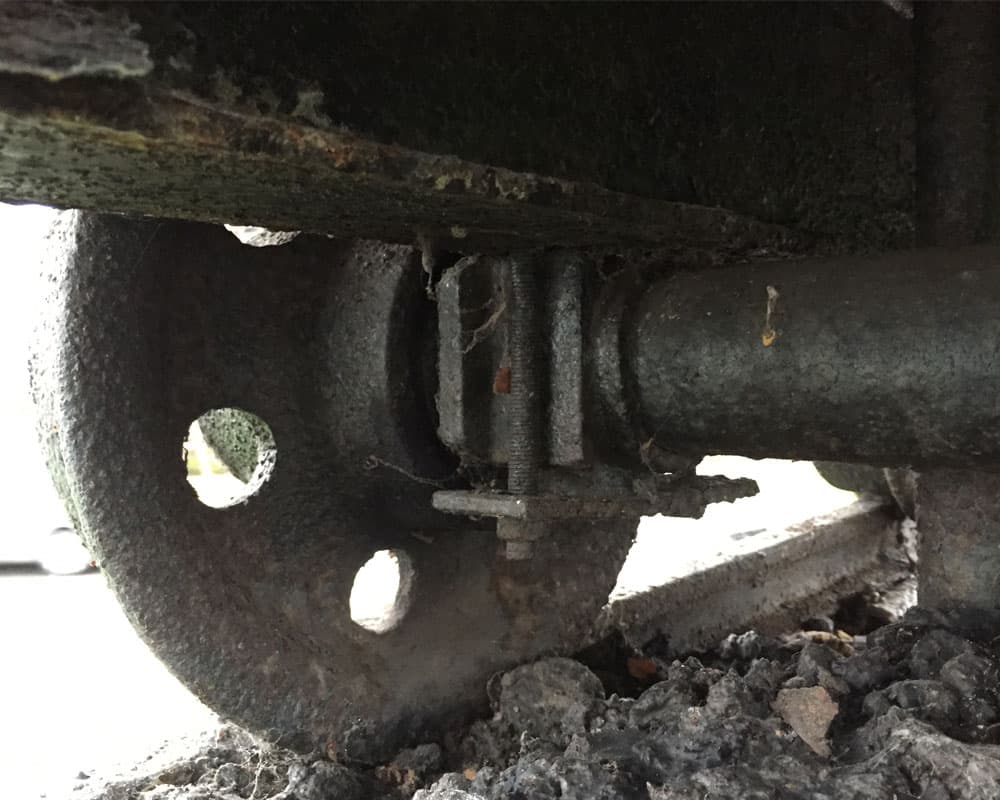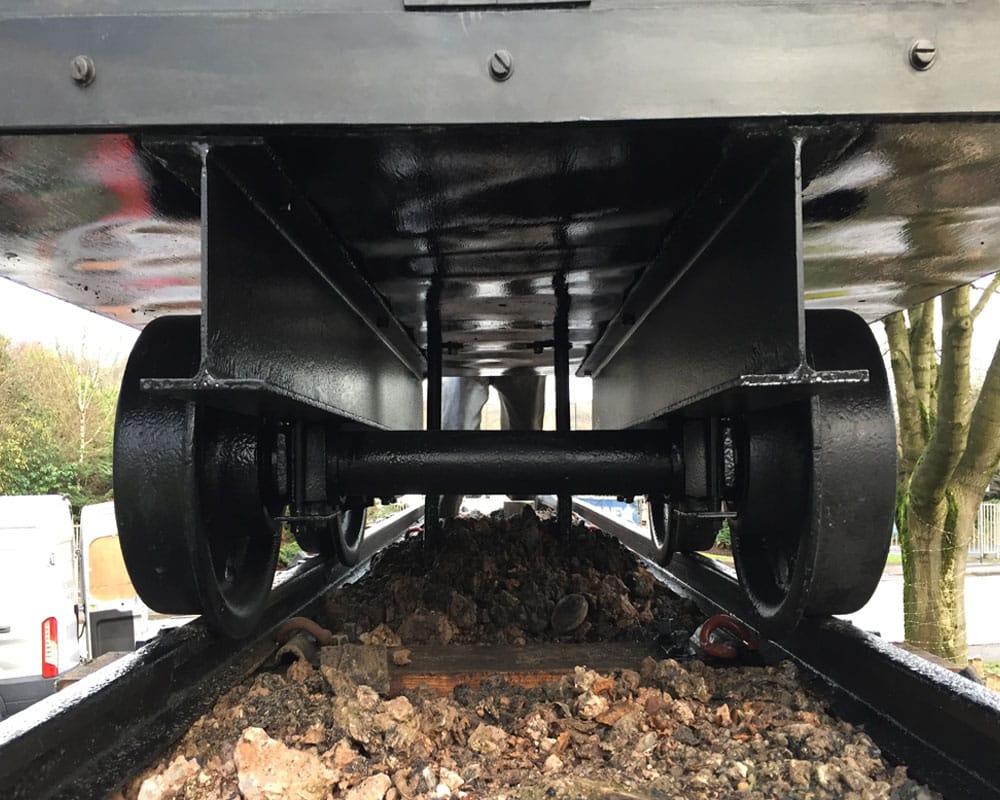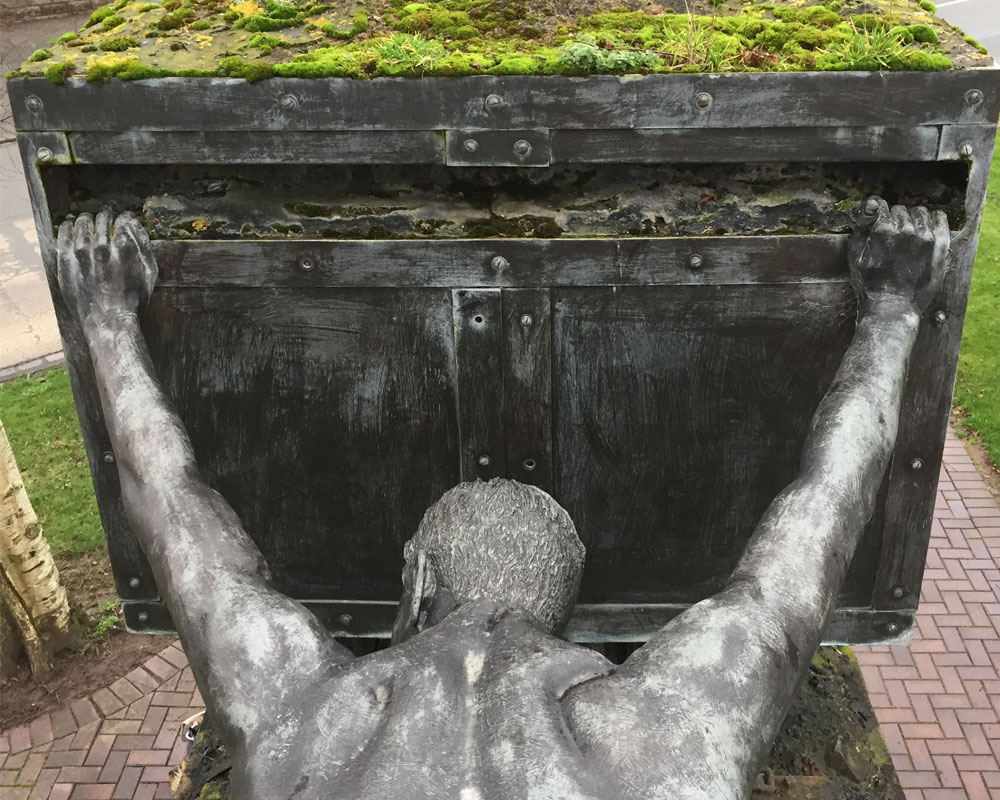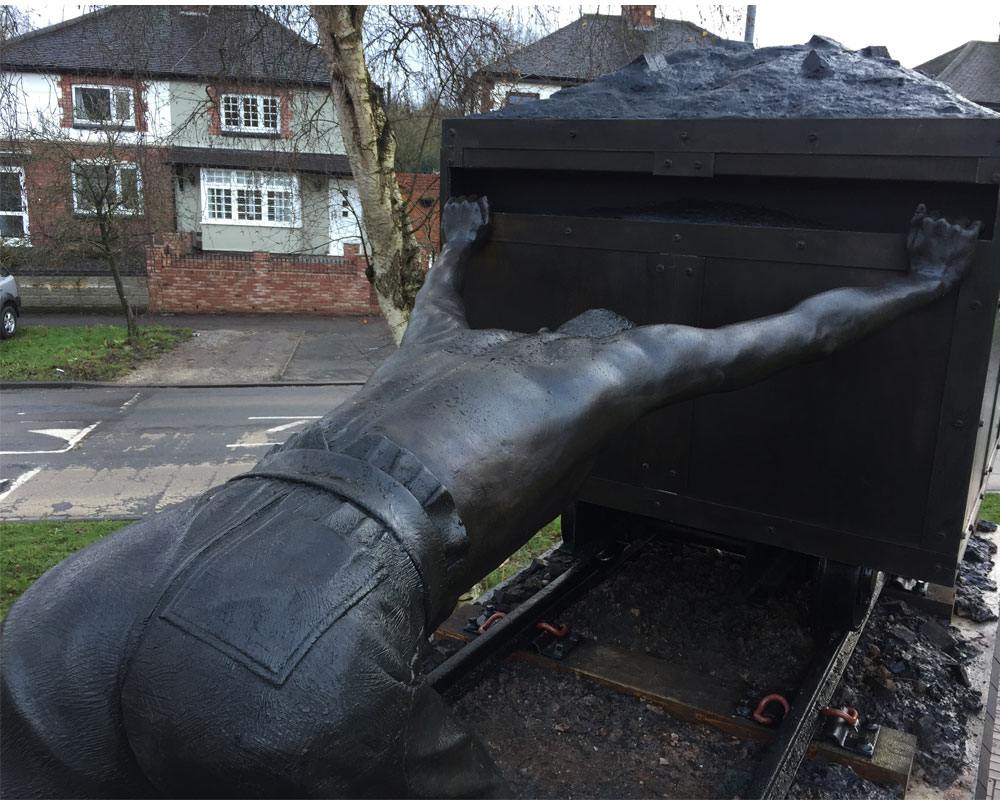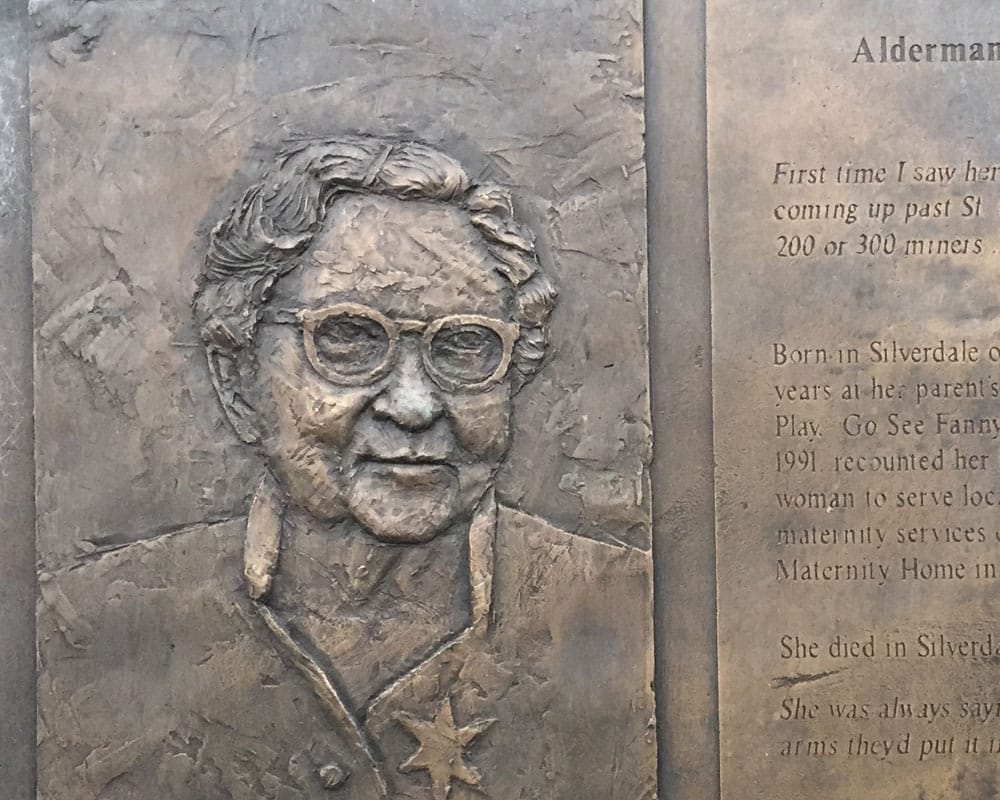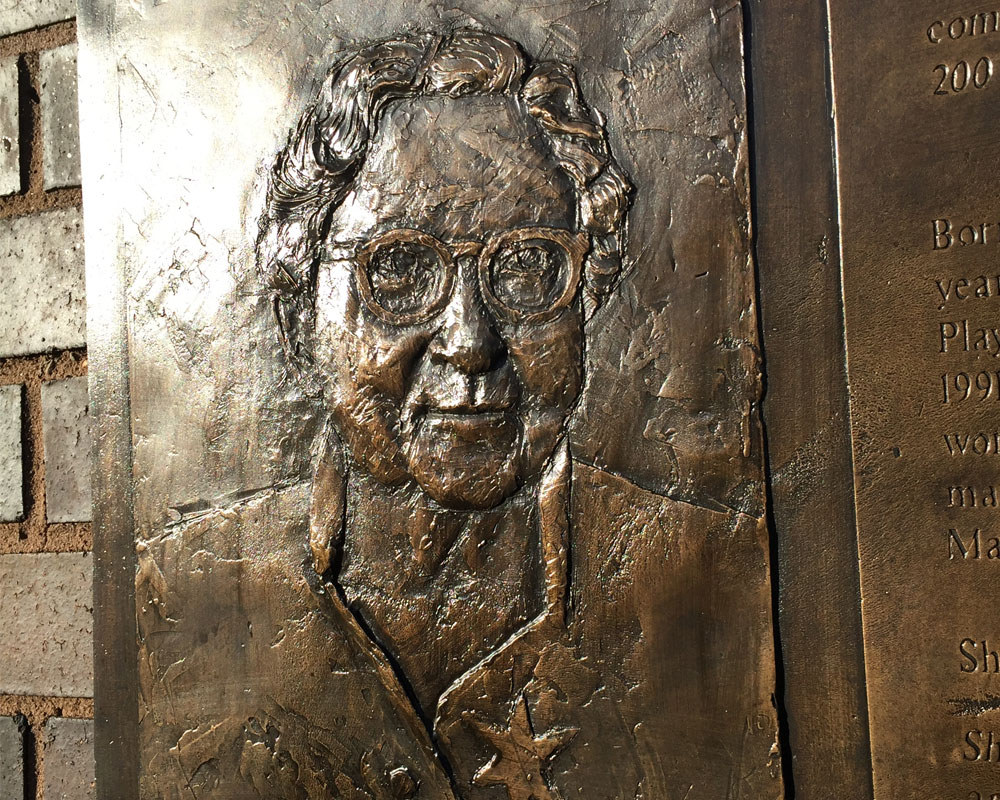 The Silverdale Mining Monument in Silverdale, Newcastle-under-Lyme is a large scale-bronze sculpture commemorating the Silverdale Colliery and the people who worked there. The sculpture has been on permanent outdoor display since 1996.
In 2020, some 24 years after its installation, Plowden & Smith was commissioned by Silverdale Parish Council to restore the bronze sculpture.
Following its careful deinstallation, the monument was transported to our London-based workshop for specialist sculpture restoration treatment.
A significant part of restoring the sculpture was our treatment of the significantly deteriorated coal wagon. This including fabricating a new and better-designed galvanised internal frame, hot waxing the original patinated brass outer cladding elements, shot blasting and repainting the original wheels and supporting beams; and restoring and painting the concrete coal mounted on the top of the wagon.
The bronze figure of the miner was hot waxed, as were the bronze plaques displayed around the sculpture's brick plinth base. Hot waxing the bronze not only revives its appearance, but also provides an additional layer of protection from the elements – an important consideration with outdoor sculpture.
No detail of restoring this sculpture was too small to be overlooked: the rotten wood sleepers were replaced; the rails and chairs were shot blasted and repatinated – even the tiny chairscrews were shot blasted and patinated.
Finally, just prior to reinstallation, the brick plinth base was carefully cleaned to remove years of ingrained dirt and plant matter.
Restoring a Marble Statue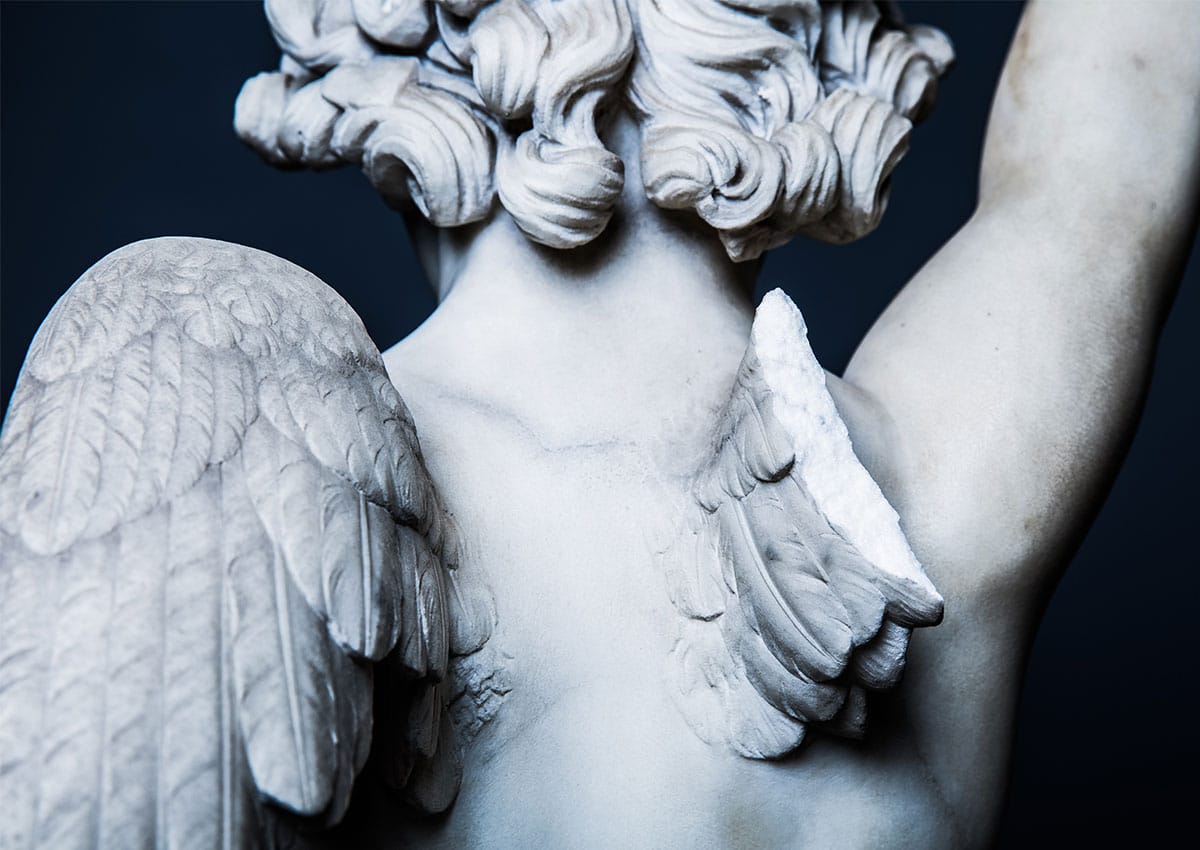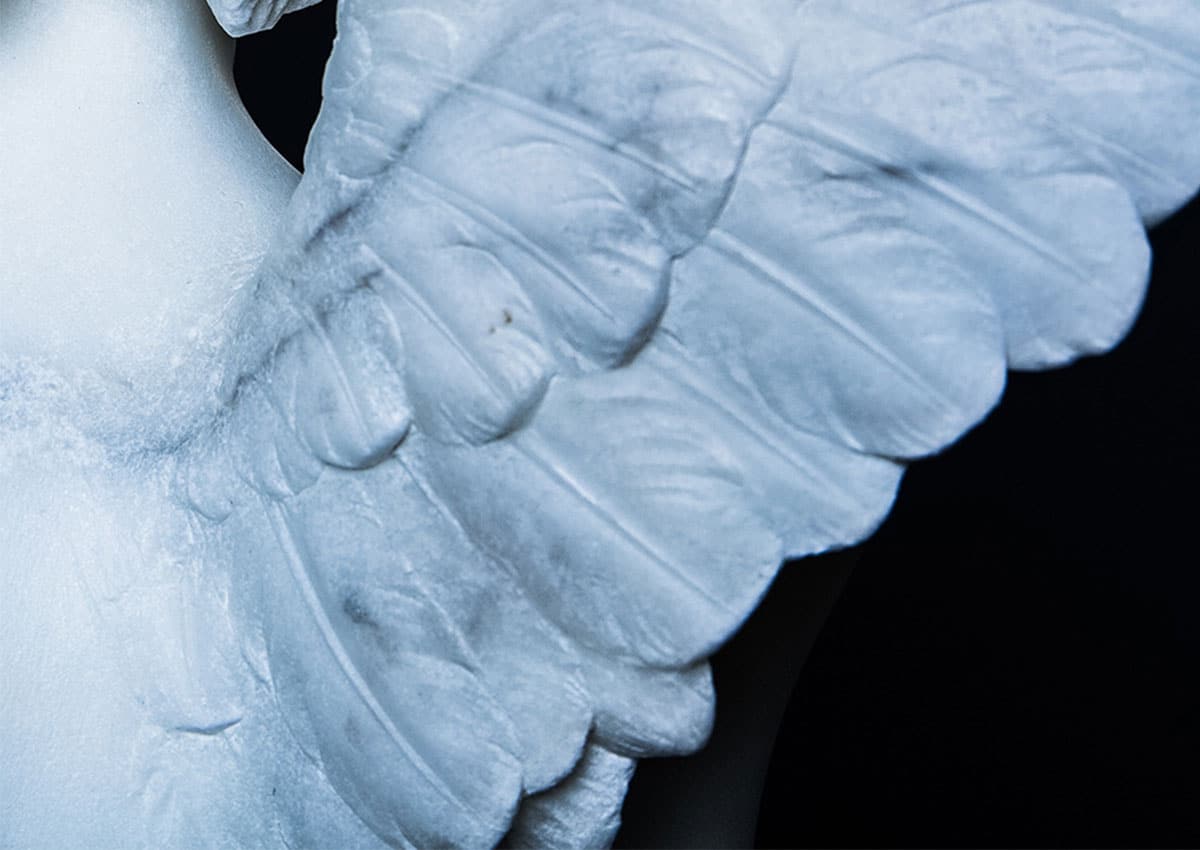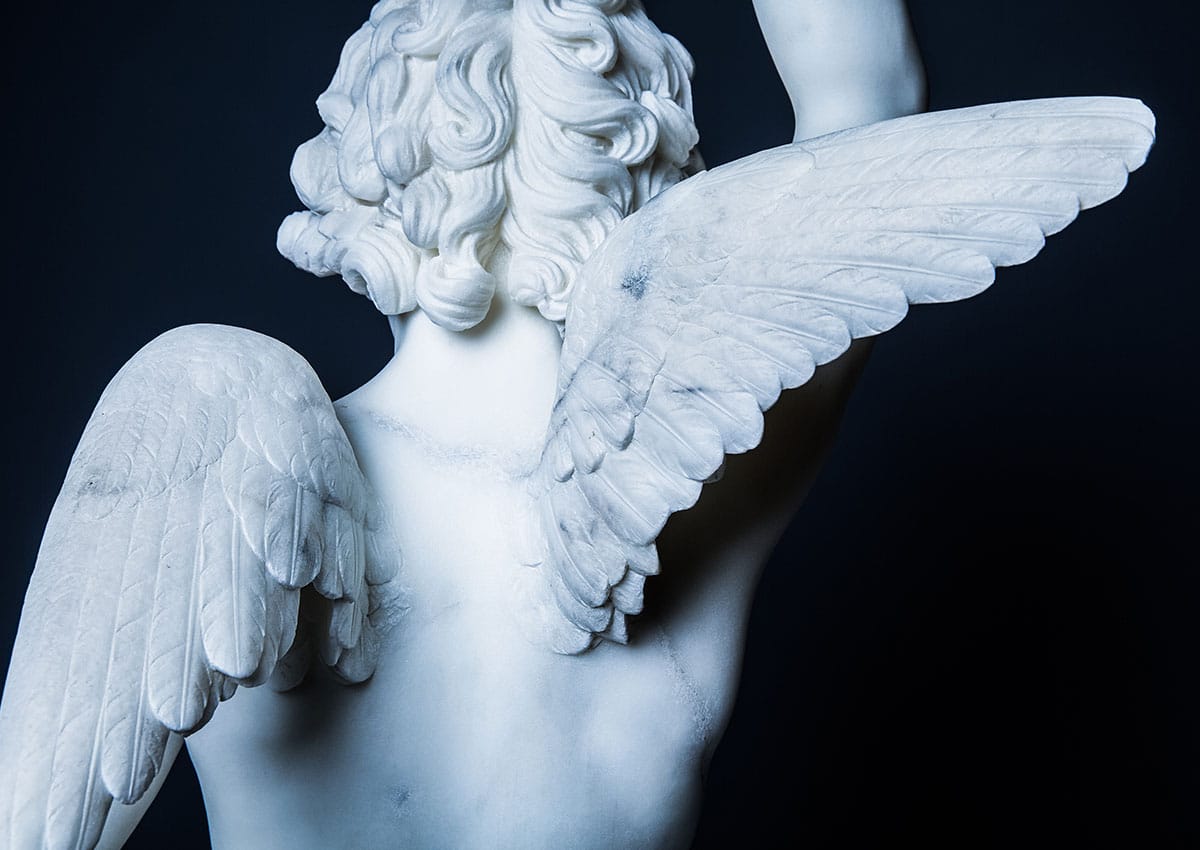 This large marble cherub came in for restoration work because of its broken wing. Conscious of the size and weight of the broken element, we drilled the wing and inserted a dowel to strengthen the repair and prevent the likelihood of repeat damage along the point of weakness. The break edges were carefully bonded together. Any remaining gaps or small missing sections of marble along the repair were filled using conservation-grade materials and the whole area was painstakingly retouched to achieve a result that is virtually flawless to the naked eye.
At the client's request, the cherub was also cleaned with a poultice to remove the thick layer of dirt that was obscuring the more intricate detailing on the statue. 
Restoring a 17th Century Wood Sculpture
Shortlisted for Museums + Heritage Conservation or Restoration Project of the Year 2019
"As you probably know, Samson returned to Norfolk on Monday, amongst much excitement from colleagues here at Norfolk Museums Service. He is looking truly splendid! 
It has been a complex project in so many ways and full of challenges from all angles. But I just wanted to express my gratitude to everyone at Plowden & Smith who contributed to this project and who have been so helpful and accommodating"
– Man-Yee Liu, Head of Conservation, Norfolk Museums Service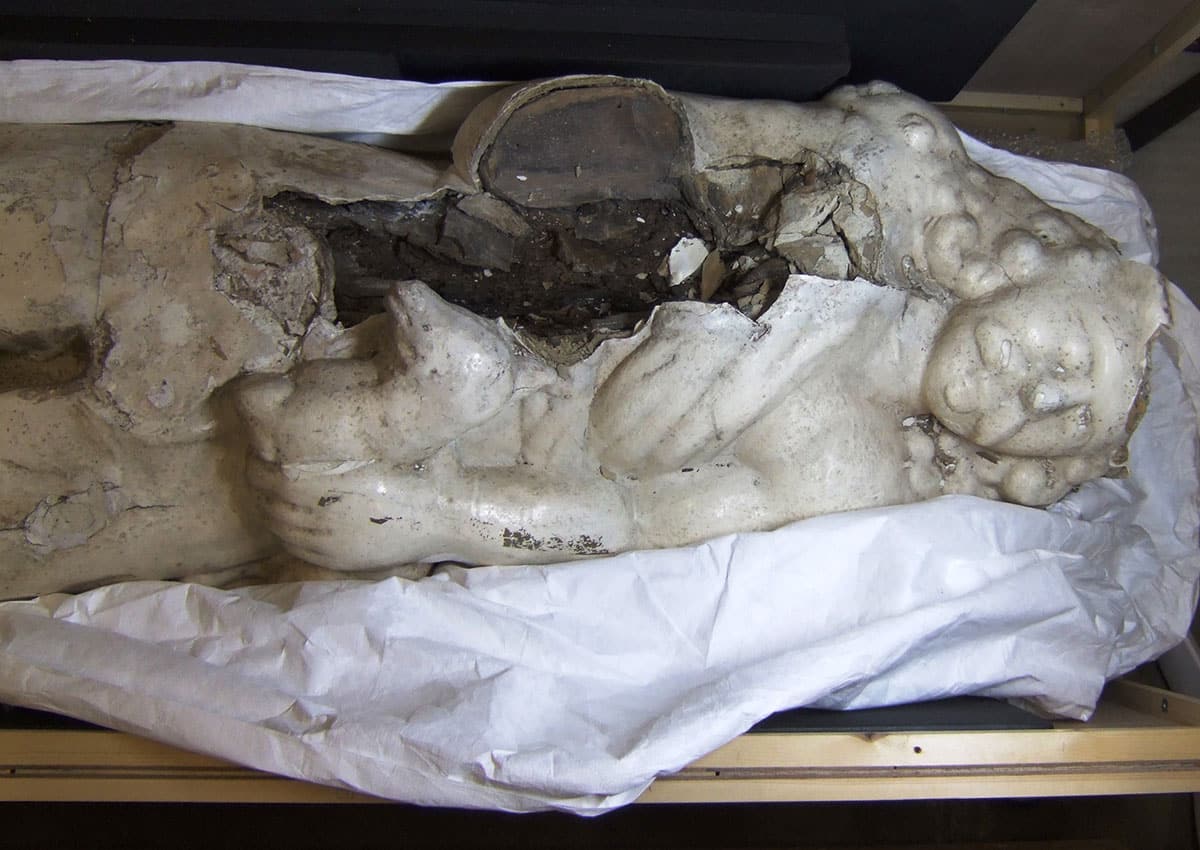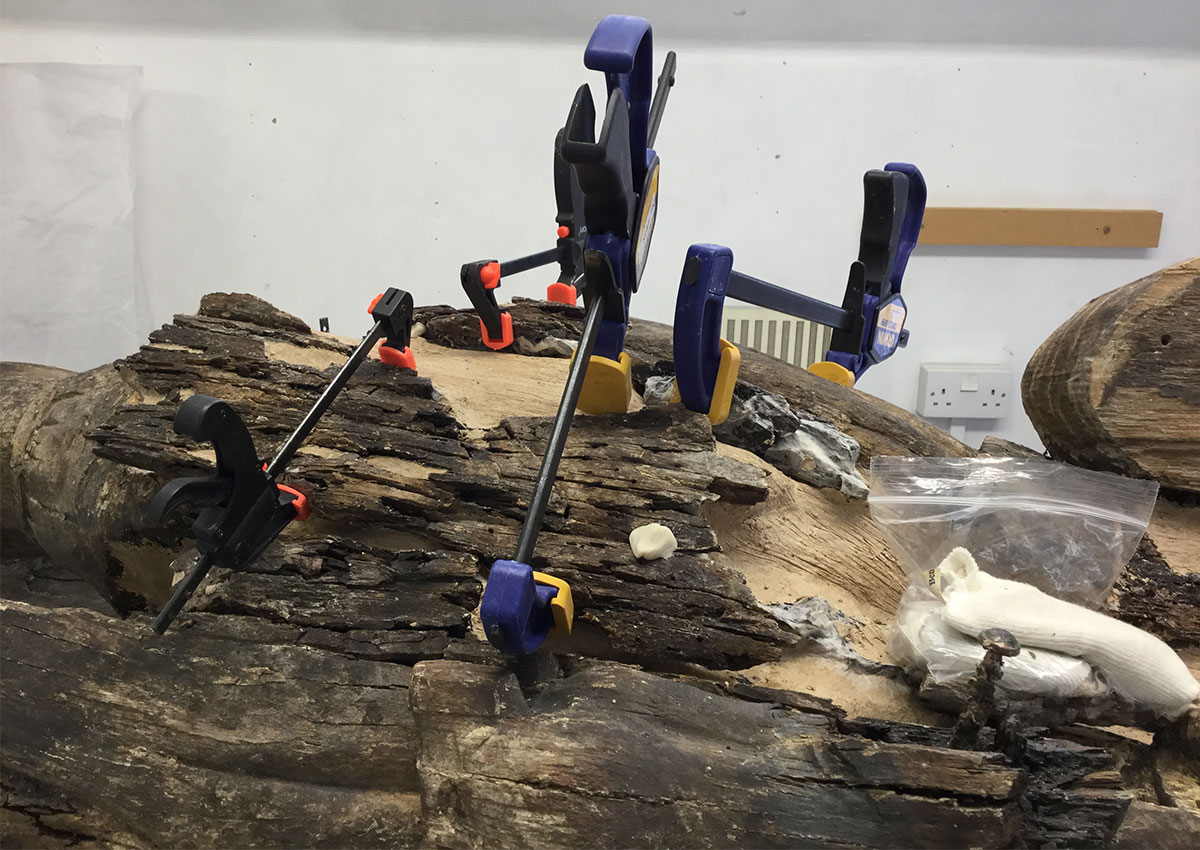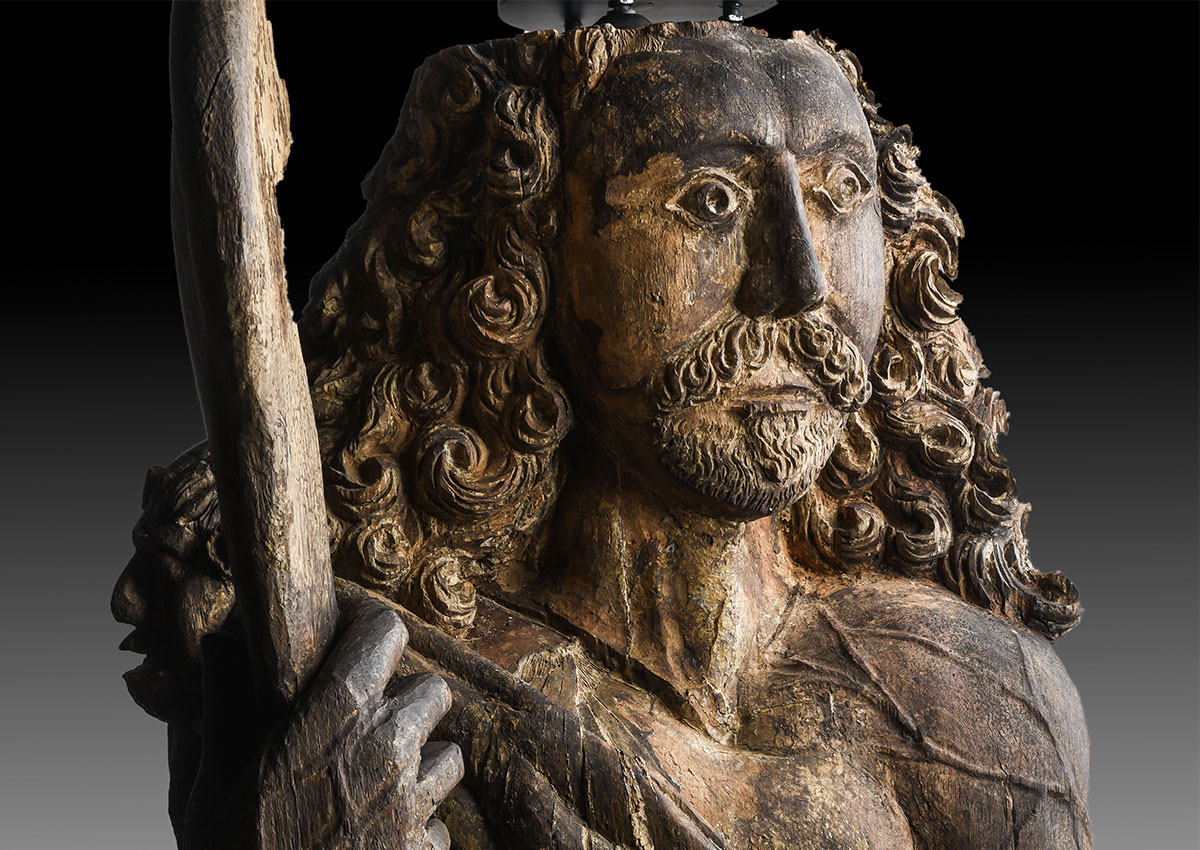 Samson, a mid-17th Century carved wooden statue, underwent treatment for the removal of a rock-solid shell of paint comprising some 60 layers and weighing 28kg, as well as treatment for wet rot and biological growth that was so significant it had resulted in the loss of both feet and a large section of his torso.
Samson spent three years undergoing painstaking treatment to remove the paint and consolidate the rotting core. Throughout this time, Samson's treatment was shared via digital platforms and local BBC and ITV news channels to facilitate access and share his progress with his significant community fan base. NMS and P&S's forward-looking approach to making conservation treatment more open, culminated in securing the transforming of Samson into an augmented reality model for an app to accompany the BBC Civilizations television series. This major conservation project concluded in 2018, when P&S's exhibitions team made Samson a conservation-grade display mount system.
Restoring a Contemporary Bronze Sculpture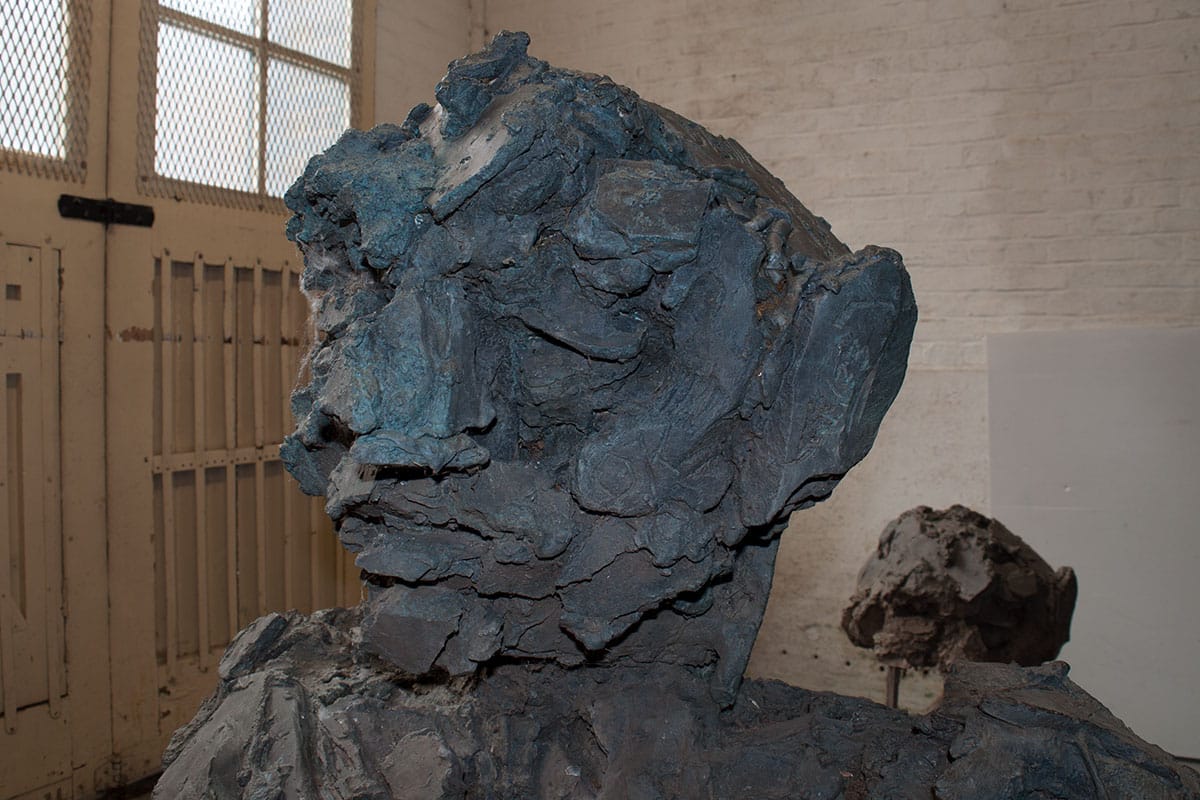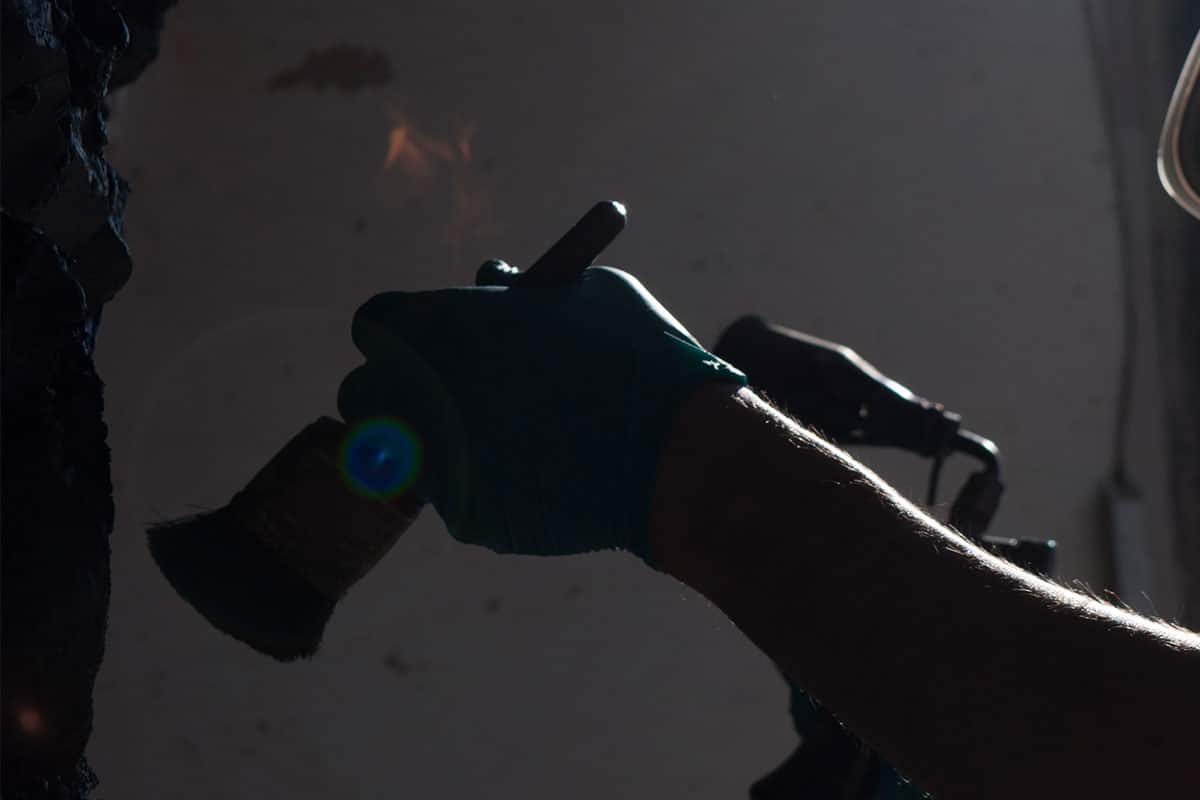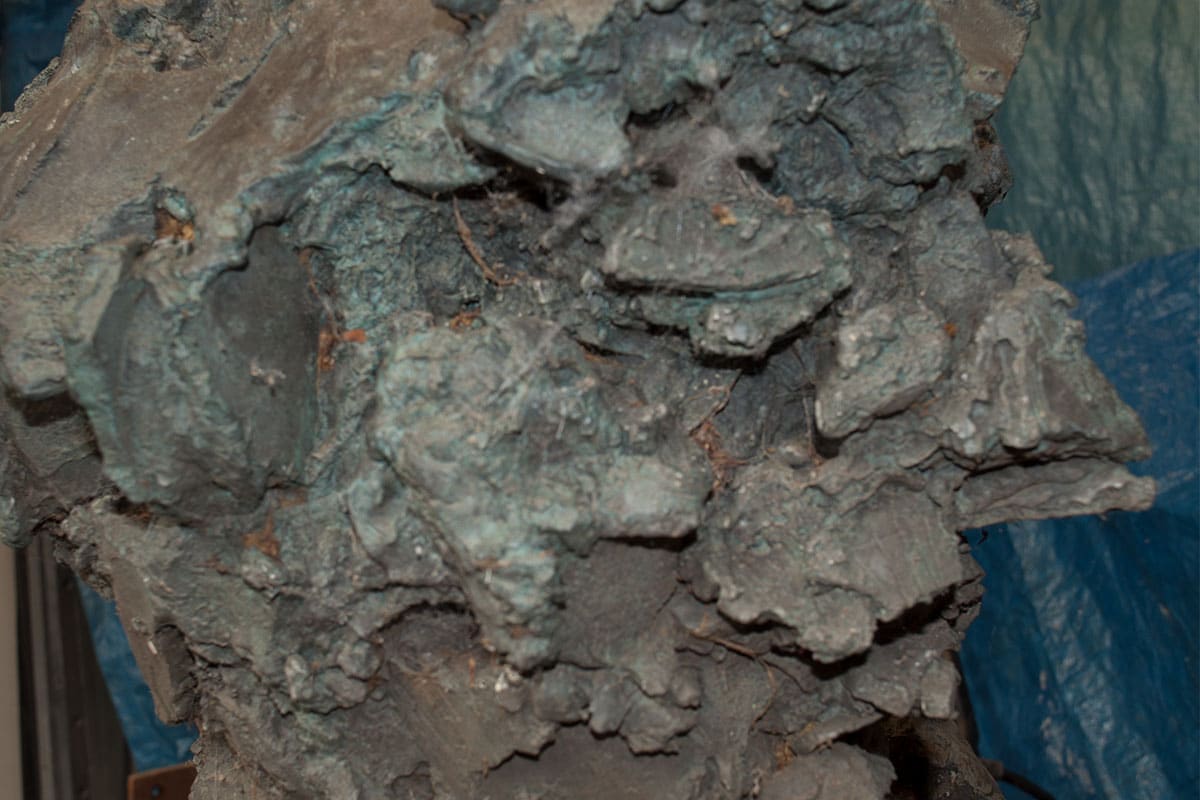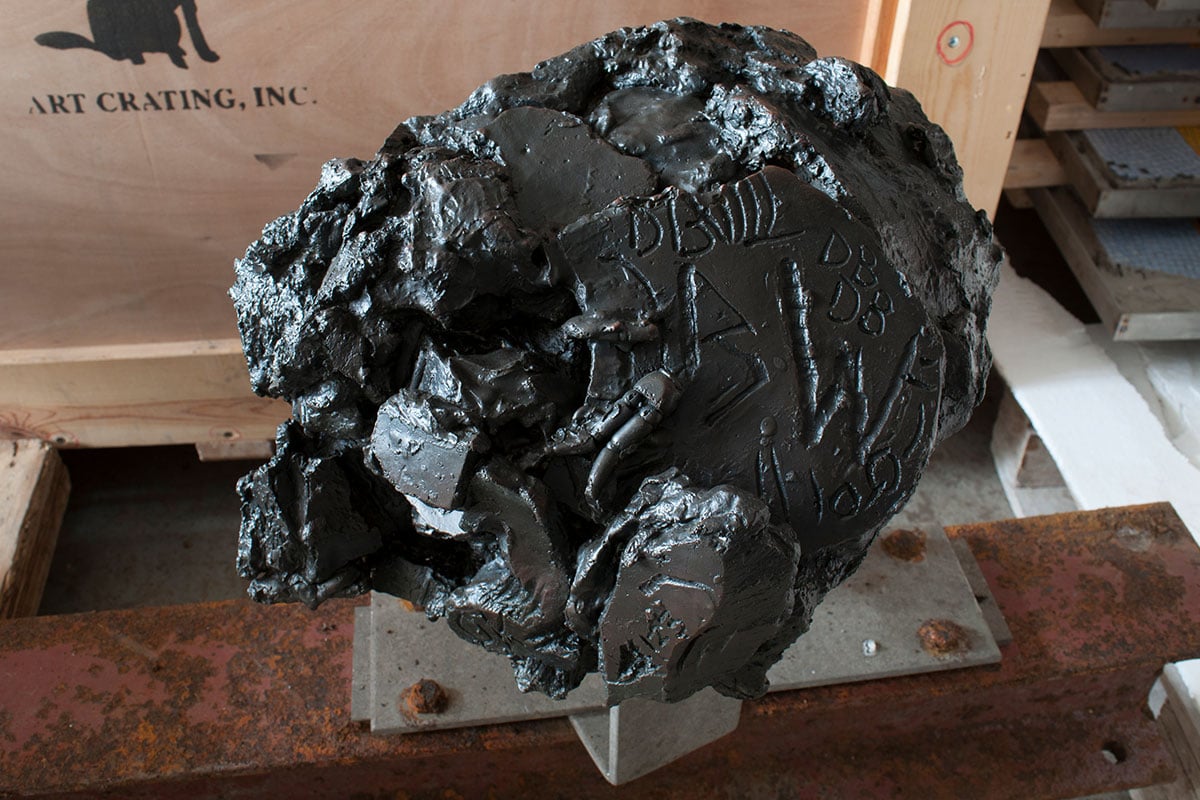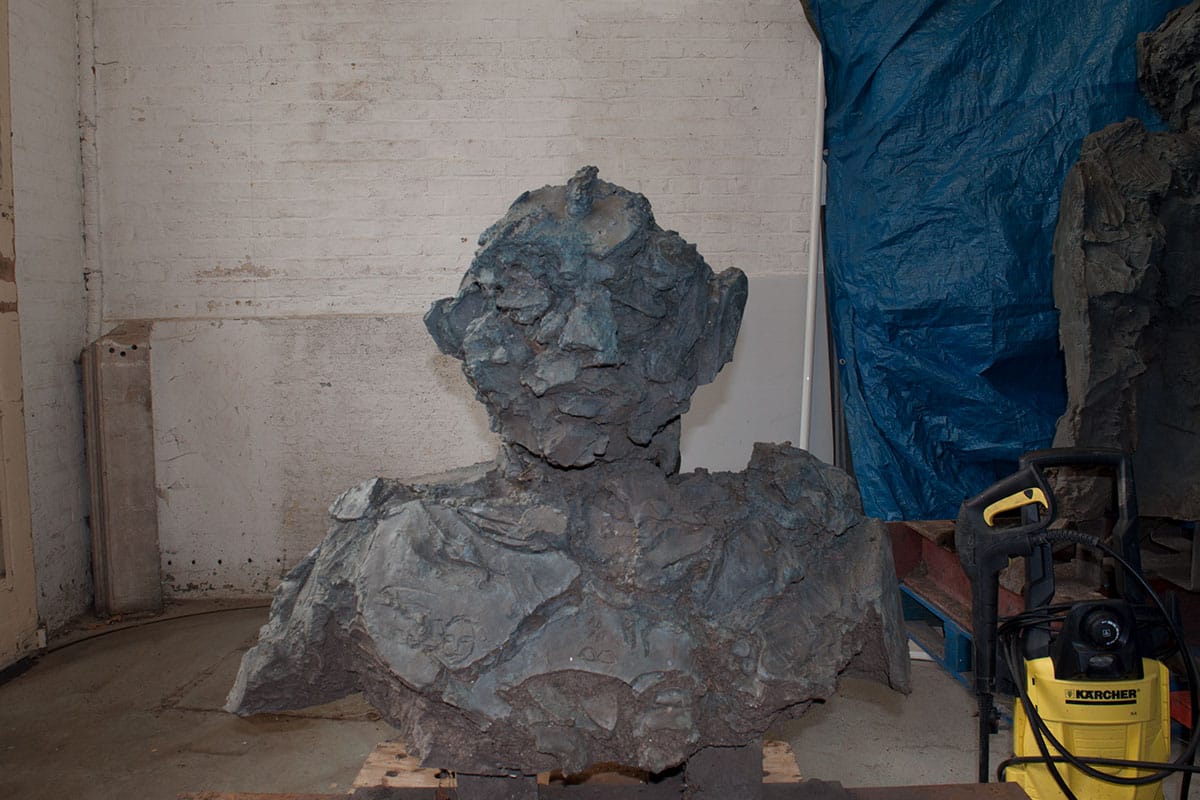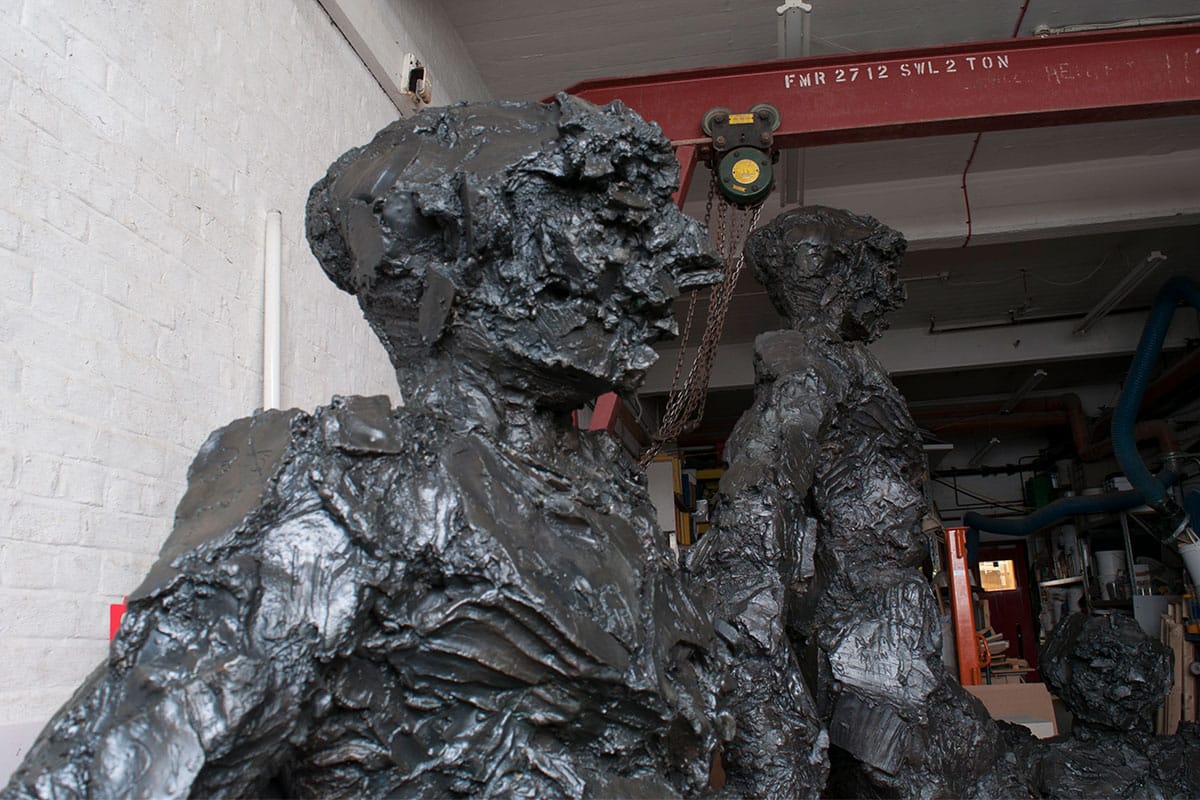 The Plowden & Smith studio is used to welcoming visitors of all ages and sizes, but David Breuer-Weil's monumental bronze sculpture 'Emergence' has to be one of the largest.
Until recently, this four-part sculpture's home has been a private square in central London and, as is the case with all outdoor sculptures, showed typical signs of weather-related wear.
Acidic rain, air pollution, and bird droppings are just some of the factors that can corrode the patination on metal sculptures. Over time, and if left untreated, this can seriously impact both the appearance and structural stability of an art work.
After a thorough conservation clean to remove all traces of dirt and debris, we applied coloured wax using a hot wax method to integrate patination loss. A final wax afterwards not only improved the overall appearance but also provided a protective barrier.
Restoring "London to Paris", Eduardo Paolozzi, c.2000
Nominated for the Public Monuments and Sculpture Association (PMSA) Marsh Award 2016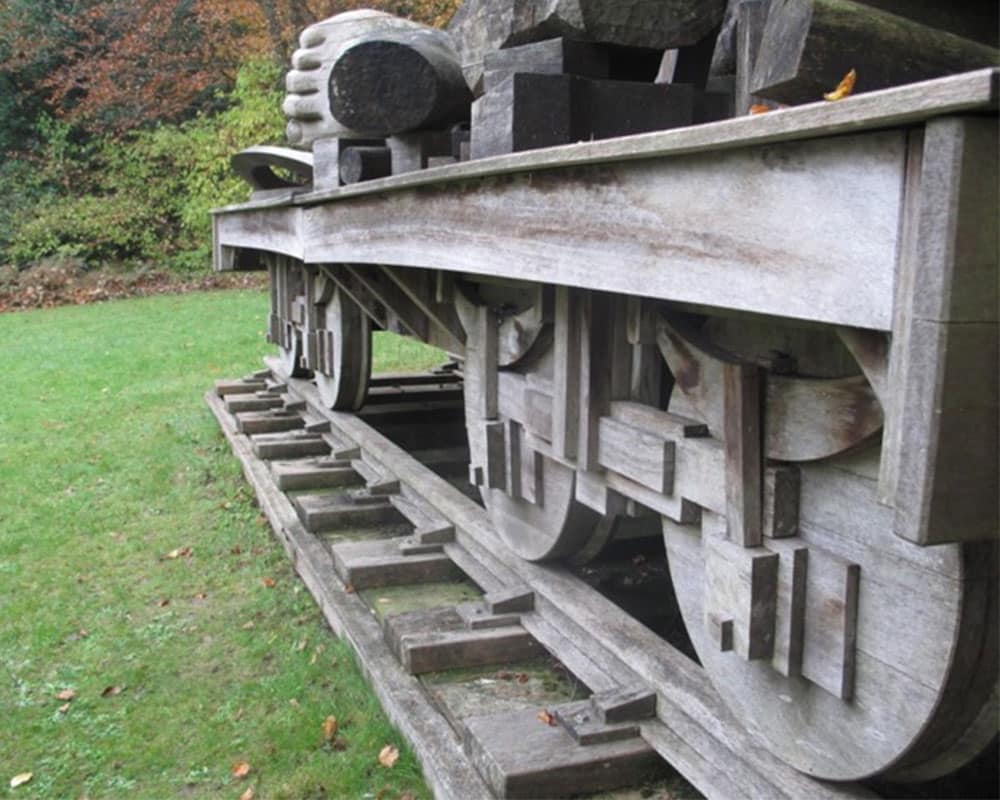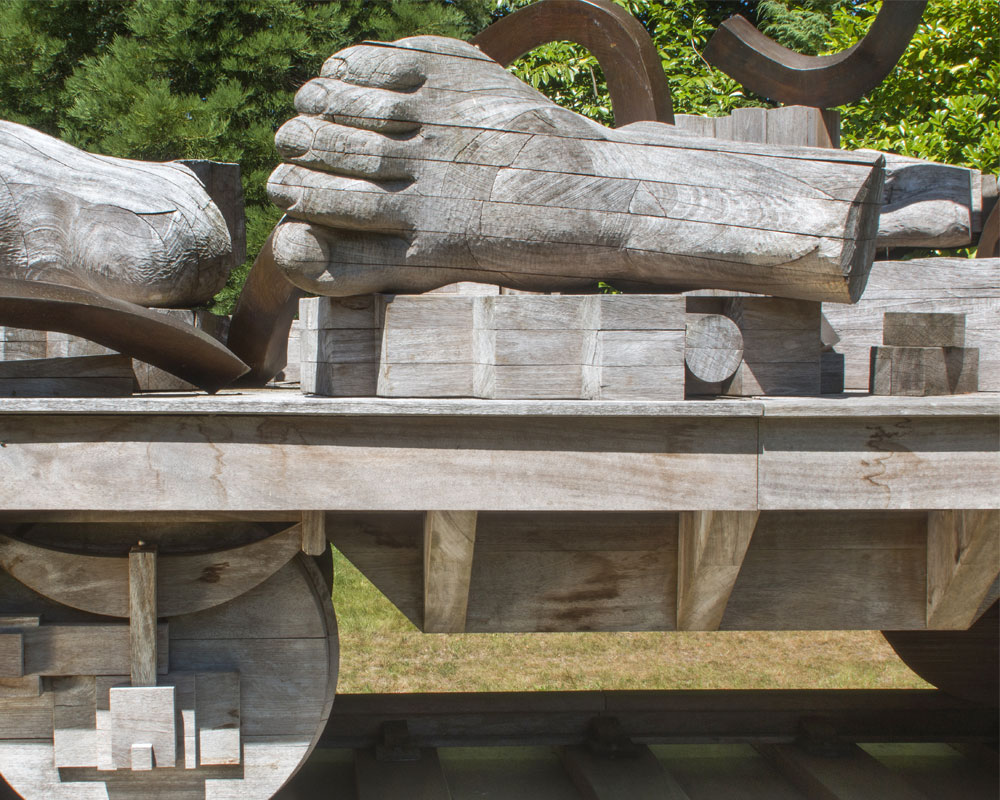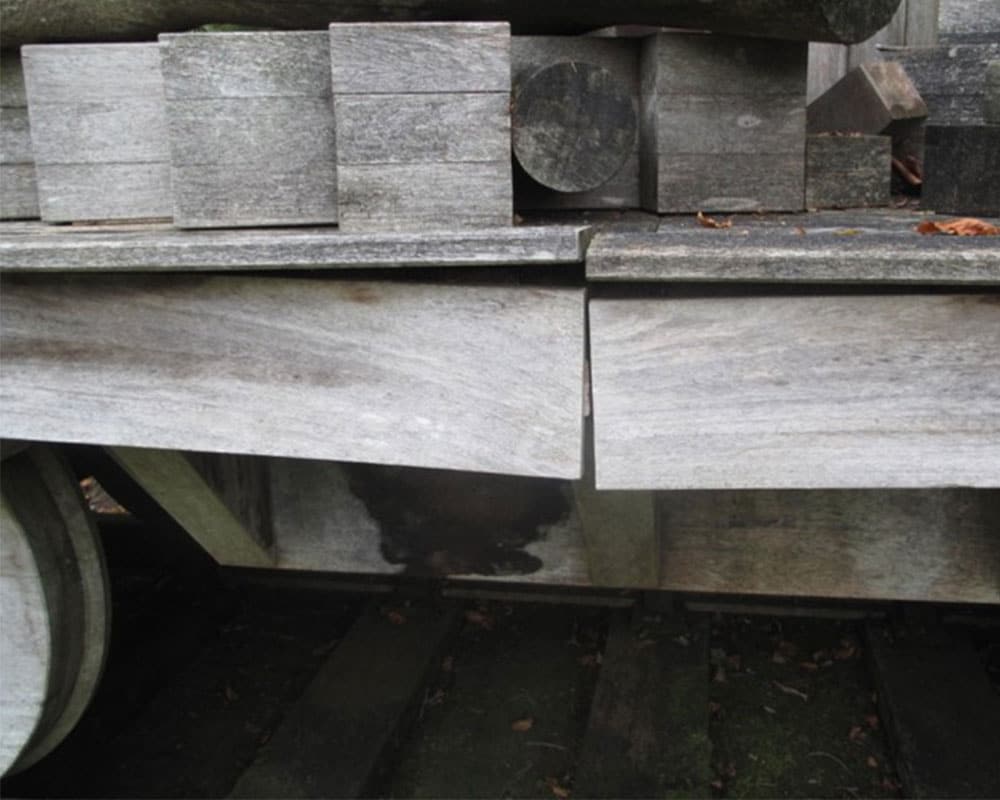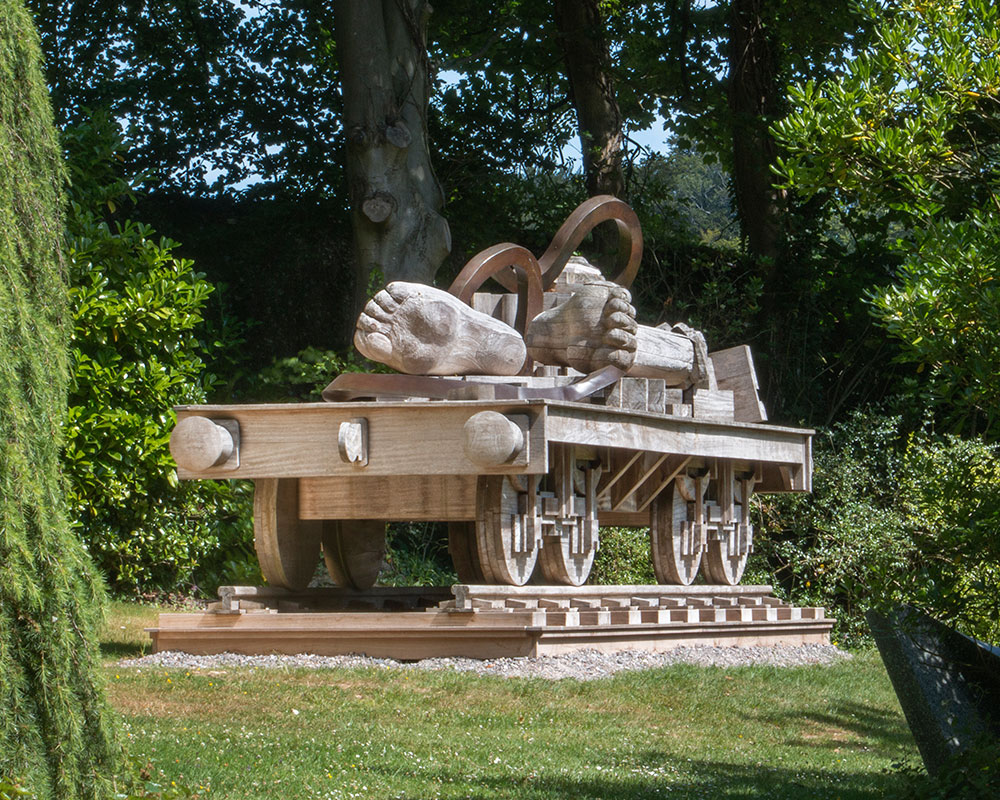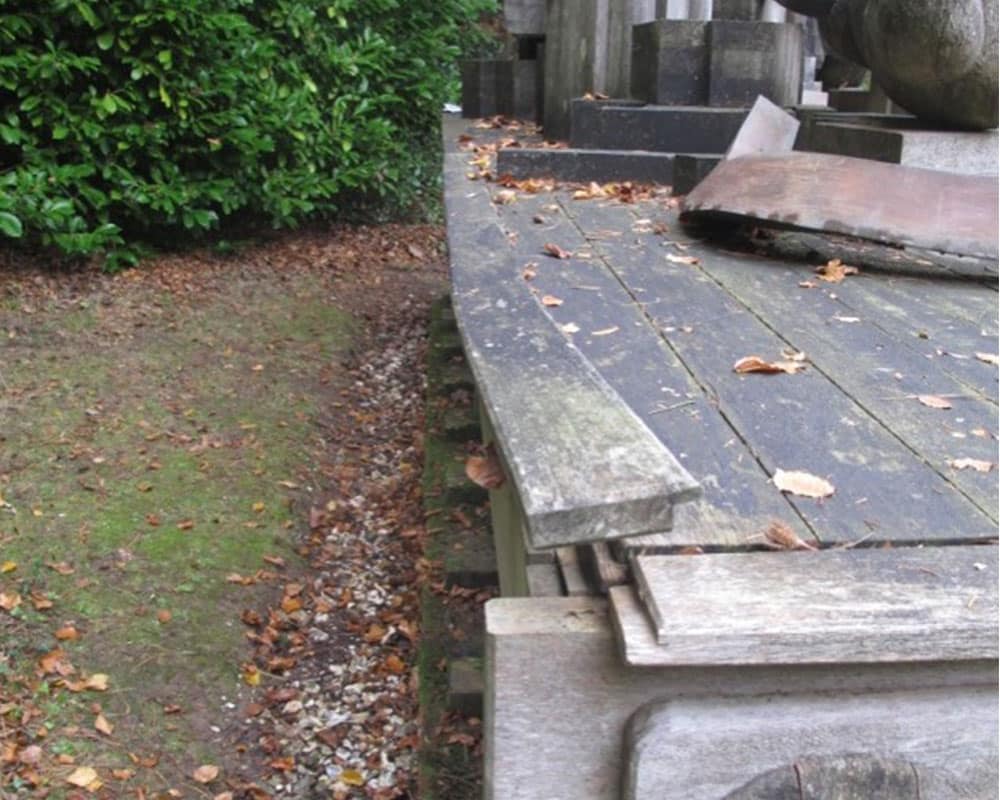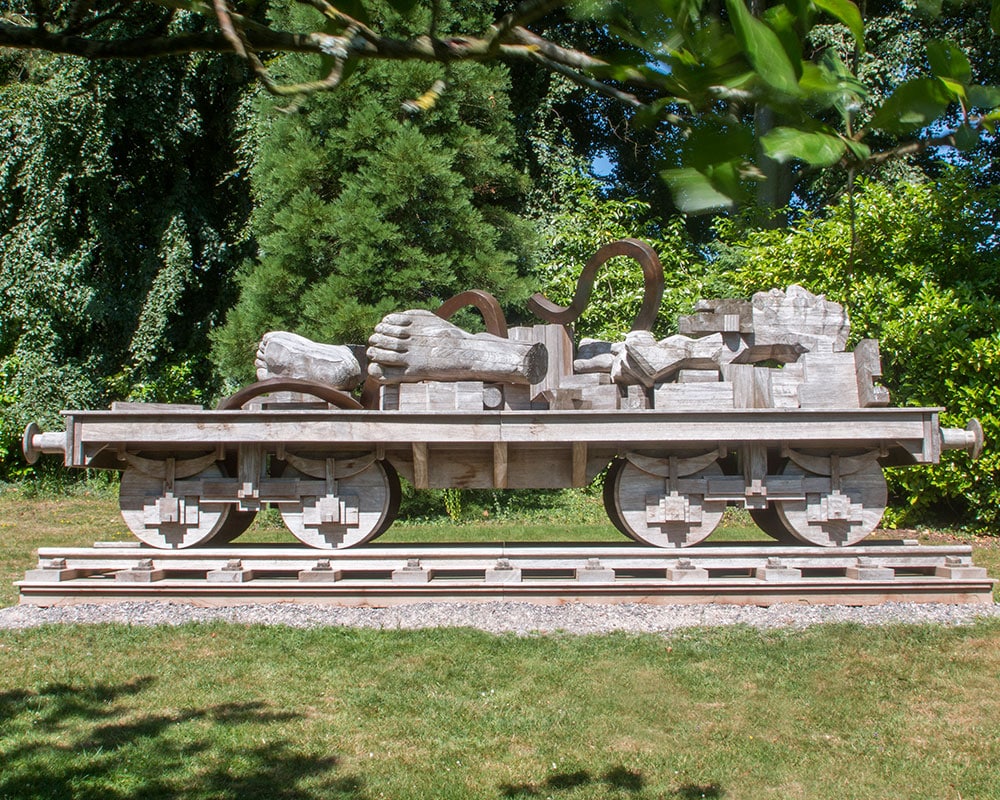 Eduardo Paolozzi's monumental sculpture, London to Paris, 2000 is one of Paolozzi's last major works. Commissioned by the Cass Sculpture Foundation and on display outdoors since it was first installed.
The sculpture is constructed from Iroko wood and bronze, with steel fixings and over time, these materials had become affected by years of exposure to the elements resulting in mildew and moss growth, wood movement and warping, and trapped moisture causing rot in some areas.
Plowden & Smith was approached by the Cass Sculpture Foundation to restore London to Paris to help ensure the sculpture's long term good health.
The treatment process began by carefully dismantling the sculpture and documenting the placement of each piece. The individual pieces were then cleaned, and the warped and rotten areas restored. The bronze sections were cleaned and waxed to protect the existing patina.
We were delighted when our restoration work on London to Paris was recognised with a nomination for the prestigious PMSA (Public Monuments and Sculpture Association) MARSH award.