Photo by Andreas von Einsiedel
Clare Pardy, Associate Director of specialist art and heritage Insurance firm, Hallett Independent reflects on the joy of antiques, and why their ability to lend comfort to a room – along with their 'Green' credentials – make them the perfect choice for post-Covid homes…
Like many people, I look with a certain puzzled envy at those idealised minimalist interiors in smart interior design magazines. I have long realised that this approach doesn't work for me, but I have sometimes felt rather guilty about all the stuff my husband and I have accumulated over the years.
But now I have had an epiphany! Why feel guilty when actually by buying period, antique, vintage whatever you want to call it, you are, in a very real way, helping to save the planet. What could be greener than re-cycling, refurbishing, restoring and re-imagining?
As we slowly emerge from lockdown, this thought process seems even more apposite as we are all spending more time at home, and seek comfort, security as well as visual stimulation from our surroundings. The joy of at last being able to read all those art catalogues, catch up on the novels that have coalesced around the bed and go through a shoal of family photographs. Not to mention, the surprisingly fun activity of re-hanging the pictures and re-arranging the furniture – a process that really makes you look again at rooms and how they work.
Deprived of the ability simply to go out and replace the old with the new, we are looking again and what can be repaired, conserved and restored. Brown furniture, for long the Cinderella of the auction houses and trade, can be transformed in the hands of an expert restorer, pictures given a new lease of life by a more sympathetic frame and those broken shards re-assembled into treasured pot.
Not everything needs professional help of course and in the last month or so, we have set about re-painting the garden furniture, replacing the backs of old silver frames and laundering loose covers. There are limits though; mid-way through trying to reglaze a wonderful pair of Victorian garden cloches, we realised that professional help was indeed needed, as was the case with an early Georgian armchair that inexplicably gave way under my husband, and a fabulous 18th Century weathercock the surface of which, having been expertly waxed by Plowden & Smith, now animates a kitchen wall.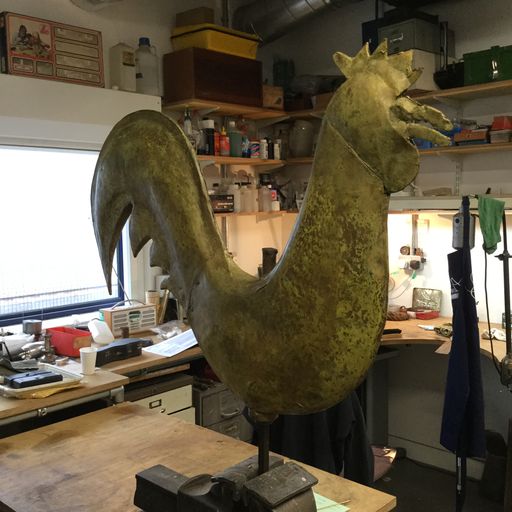 Clare's weathercock in the Plowden & Smith studio, where it underwent restoration. This piece now adds character and charm to Clare's kitchen.
I have lost count of the number of friends and relatives who have told me that it is such a shame, but their children simply aren't interested in inheriting anything in the house. It is now all about 'investing in experiences' and leading a simpler and less cluttered life. Both of which I am in complete sympathy with, but what does this actually mean? Do my friends' children and their generation envisage a bare white room with a laptop and very little else? What the reality actually involves, in many instances, is a home full of cheaply made disposable furniture which, aside from anything else, does little good for the environment.
The advantage of buying well-made old furniture is that it is built to last and is infinitely adaptable. Just because you inherit something, your interior needn't look the same as your parents or grandparents.
Certainly, I am by no means a fan of a cluttered Victorian interior and much prefer an eclectic mix of the old and new. We inherited a few things that we've kept, but the way my husband and I have styled them in our home, means these pieces look completely different than they did in our parents' houses. Colour, lighting, fabrics – they all play a part in creating something personal and individual.
To a certain extent, I think we all learn as we go along and I remember from my first visits to TEFAF, the arts and antiques fair in Maastricht, coming across the most marvellous dealer called
Axel Vervoordt
and what he was doing then – I am talking 20 years ago or so – was truly revelatory. He would hang a wonderful slashed Fontana above an 18th Century French commode or display antiquities and contemporary sculpture together – this is of course old hat now but at the time was quite daring. Mixing old and new in this way is much more difficult to achieve than people think but when it is done well, actually makes you look at all the objects in a completely new way.
The other great fallacy is that buying antiques is more costly than buying brand new modern furniture, which I really believe is not the case. It probably takes more time to find exactly the right piece for your room but if anything, it often costs far less. Where can you buy a new chest of drawers for less than £100? Much better to buy an 18th or 19th Century version and perhaps invest in having it re-polished or replace the handles. Rather than buy a matching suite of insubstantial dining chairs made from MDF or cheap pine why not create a harlequin set by acquiring chairs one at a time – much less expensive, more satisfying and, done with some style, can really enhance the look of a room.
Everyone is talking about the good that can come out of this awful period and at the top of many peoples' lists is the real chance for society to create an improved and sustainable environment. It seems inevitable that more of us will be working more from home and a result of this will be that our homes become more central to our lives. People have definitely been spending more money on their gardens, DIY, cooking and all sorts of arts and crafts, so perhaps it will also see a renaissance in appreciating and acquiring old and quirky things.
Buying antiques really needn't be the sole domain of the super-rich. The press around art and the art world does tend to obsess over record prices and celebrity but I know that it really isn't all about Andy Warhol! So-called minor artists are often more intriguing and buying portraits for instance, where neither the sitter nor the artist is known – a subject on which I have a certain amount of experience – is very rewarding not only because they are often beautifully painted but also because they remain a bit of a mystery and there is always the remote possibility that you might find out they either depict or were painted by somebody significant.
With the home poised to play a more central role in many peoples' professional and personal lives, our interiors need to work harder for us. We need them to become even more rewarding places to live, work and play. Antique or vintage pieces are green, often visually delightful, infinitely varied, and usually well made, and as such, have an important role to play in the creation of beautiful and sustainable homes