We sit down with Plowden & Smith Director and Head of Furniture Tom Palmer to chat about his long career in furniture restoration, and some of the more memorable projects he has enjoyed working on…
What inspired you to become a furniture restorer?

I enjoyed wood working at school and that inspired me to start a career in joinery and shop fitting. During this period, I developed an interest in antique furniture and as a result of this my next career move was to go and work for an antique furniture restorer. I enjoyed it so much I wanted to learn more, so I then went on and studied furniture restoration at West Dean College in West Sussex.
Tell us about the West Dean Furniture Restoration course
The year-long course covered all areas of furniture restoration, including such essentials skills as structural repairs, consolidating loose joints, replacing whole missing sections, basic metal working skills, marquetry, veneer patching, colouring and finishing. We also studied the history of design, in order to identify furniture from different periods. It was a practical and hands on form of training, which is indispensable.
The furniture I was restoring on this course typically dated from the 17th to the 19th Centuries and was mostly owned by London Dealers. However, we also worked on furniture belonging to the West Dean manor house, parts of which date back to the 1620s.
I joined Plowden & Smith as a furniture restorer in the mid-1990s and have been there ever since!
What has been so interesting over this twenty-something year period, is to see how tastes have changed.
During the early years at Plowden & Smith, the furniture I was restoring is probably most people's idea of very traditional antique furniture – Georgian mahogany dining chairs, oak Welsh dressers, 17th Century walnut kneehole desks. These sorts of pieces were extremely desirable at the time, and still are very popular with many of our clients, including some top interior designers who specialise in the English Country House look.
We still restore traditional antique furniture, however as fashions have changed the sort of pieces we are working on in our furniture restoration studio are far much more varied. For example, at any one time we may be restoring a tubular chrome armchair by Le Corbusier, a lounge chair by Charles Eames, or furniture designed Marcel Breuer, Jean Prouve and Alvar Aalto.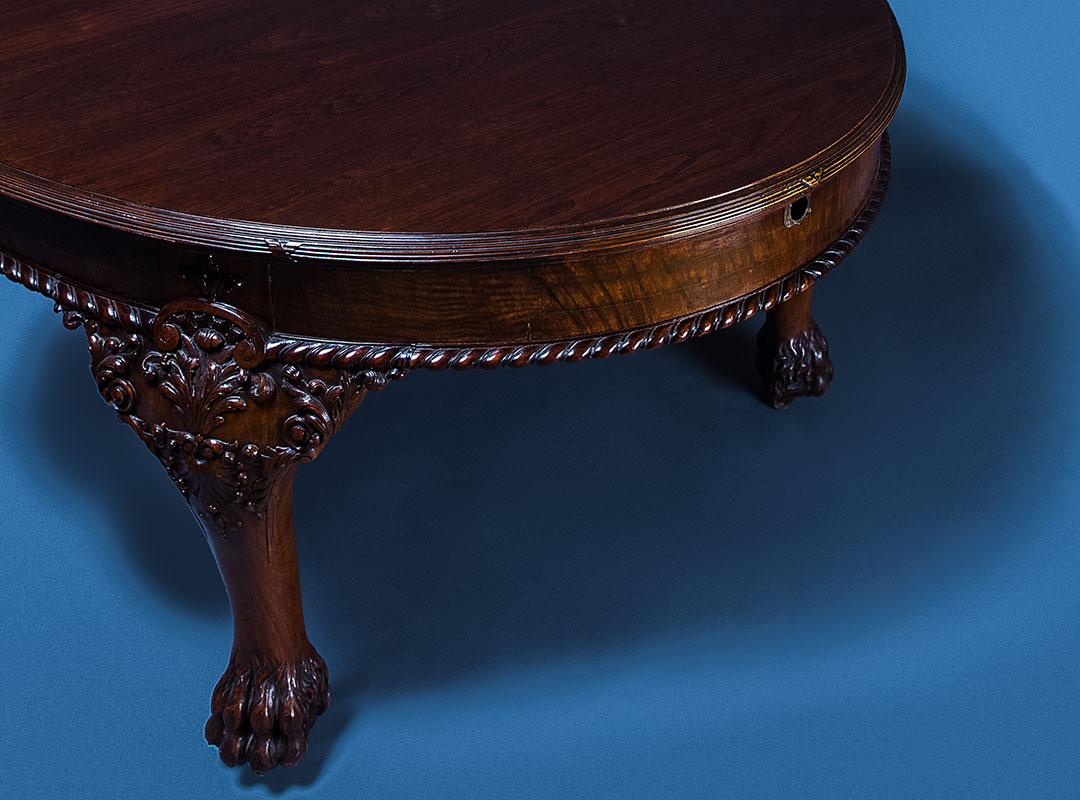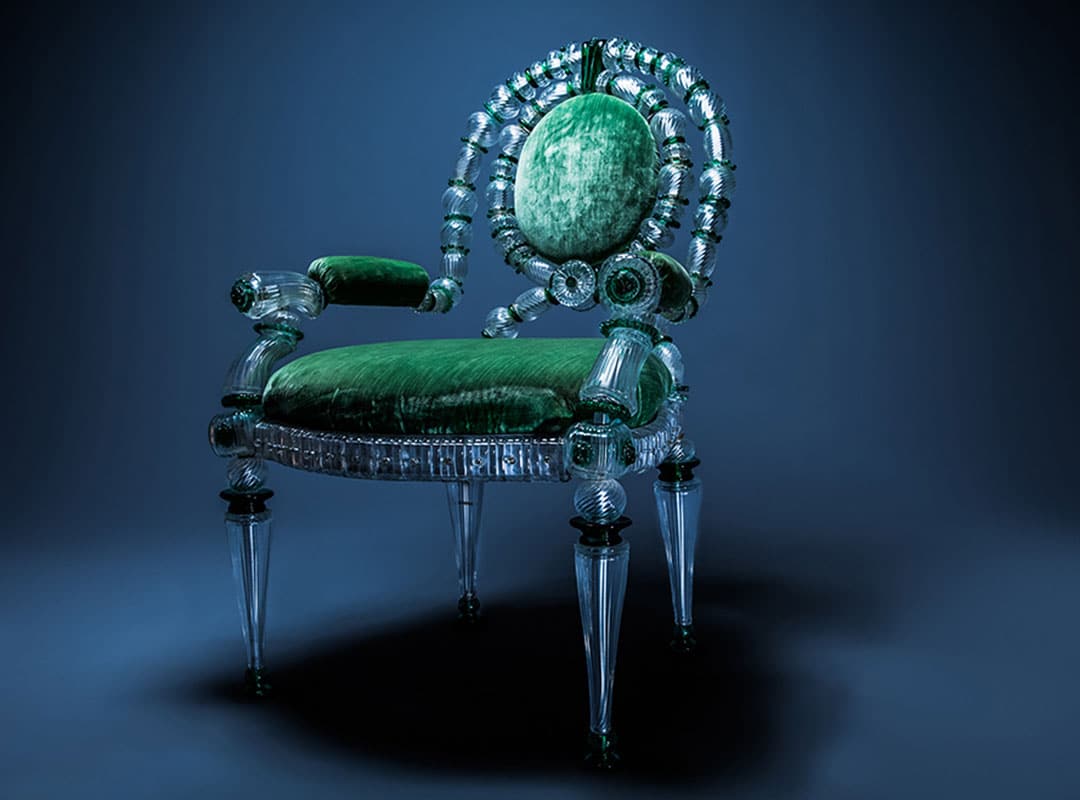 During Tom's time working in Plowden & Smith's furniture restoration workshop, traditional antique furniture such as the mahogany dining table on the left, is increasingly being joined by designer modern and contemporary furniture, often made from more unusual materials, such as this Venetian glass chair
Do these more modern pieces demand a different skill set?
The finish is one thing that is very different, and the materials used in the construction are sometimes very different. For instance, you may be restoring Plywood (processed wood), lucite (plastic), shagreen (shark or ray skin), to give just three examples of very different materials.
In addition to the materials used in modern or contemporary furniture, you will also find different finishing techniques, for example spray finishing (either with solid-colour paint or with clear lacquer), as opposed to hand finishing.
The other thing that is different with some types of modern or contemporary furniture is that what constitutes 'sympathetically restored' is potentially very different from an older piece, where signs of age are seen as an important part of a piece's provenance.
Tell us about a current project
I am currently project managing the restoration of an important 1930s plywood office interior by the iconic American architect, Frank Lloyd Wright. This interior will be one of the highlights of the new V&A East complex, so it is a fantastic project to be involved in. We've all enjoyed working with the team at the V&A, and there has been lots of publicity around this project, including a short film (link below) that was shown at this year's Tefaf Art Fair.
The project has included condition checking each section of the office, consolidating any loose plywood laminations, conservation cleaning, as well as 'mapping' the office to assist the V&A team when it's ultimately installed in its new home.
This short video first shown at the 2020 TEFAF Art Fair, introduces the V&A's major Kaufmann Office project, the restoration of which Tom is currently project managing
What has been one of the more dramatic furniture restoration transformations you've seen in the studio?
An early 20th Century walnut dining table that had once belonged to the owner's mother came into the workshop with severely lifting veneers, a result of water damage caused by a leaking potted plant.
Although the owner had taken the precaution of covering the table with a heat proof mat and a waterproof cloth, she hadn't noticed that there was a hole in the waterproof cloth directly beneath the plant pot. What this meant was when she watered the pot, the water was seeping through the hole and then being absorbed by the heat proof mat, which held the water like a sponge against the veneers, creating the perfect environment for lifting the veneers.
The owner was understandably very upset and thought that the veneers would not be able to be saved, a shame because they matched other pieces in the dining room suite. Thankfully, we were able to reassure her that the veneers could be restored, which we proceeded to do over several weeks. The furniture restoration process involved completely removing the lifting veneers and pressing them flat, allowing the rest of the table to gradually dry out. The restored veneers were then bonded back on, and then coloured and repolished.
The owner was absolutely thrilled, not just because the piece had such sentimental value but also because the table had been returned to its former glory. She said that the restored table completely revived the appearance of her whole dining room.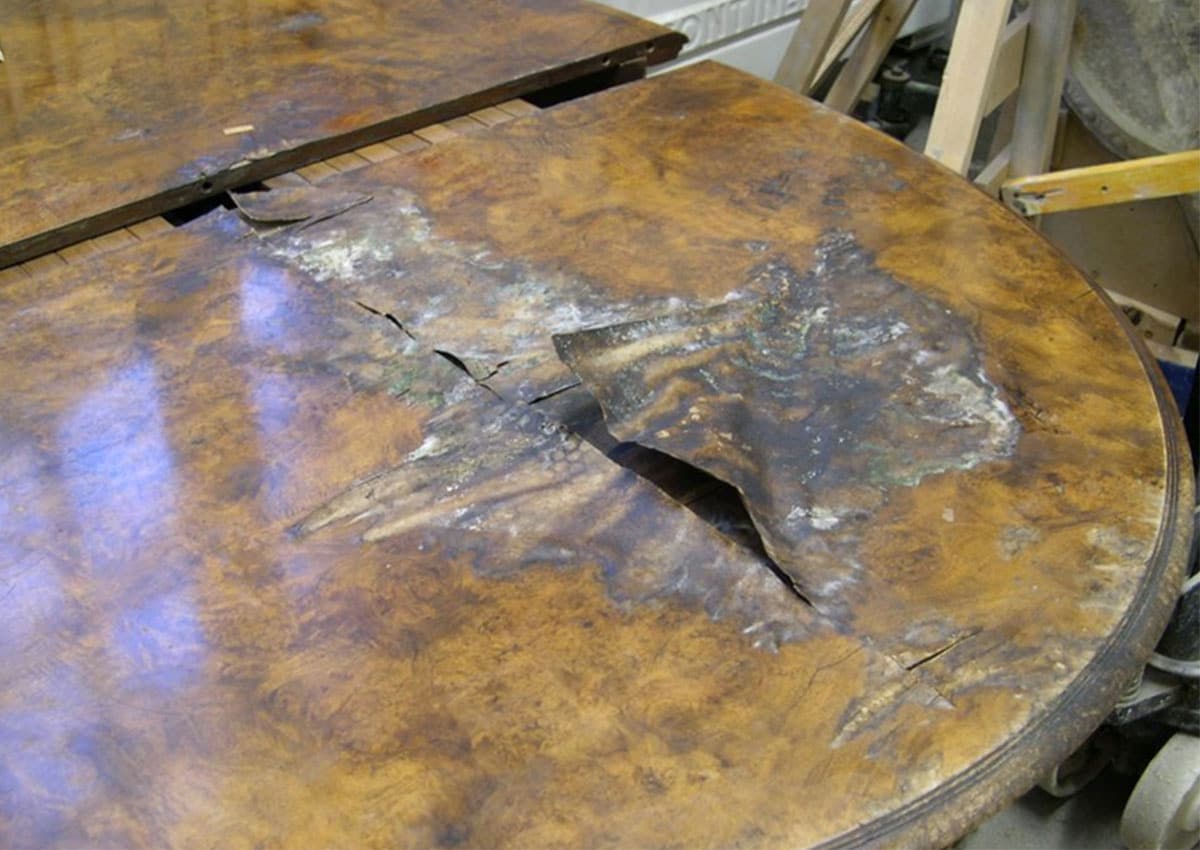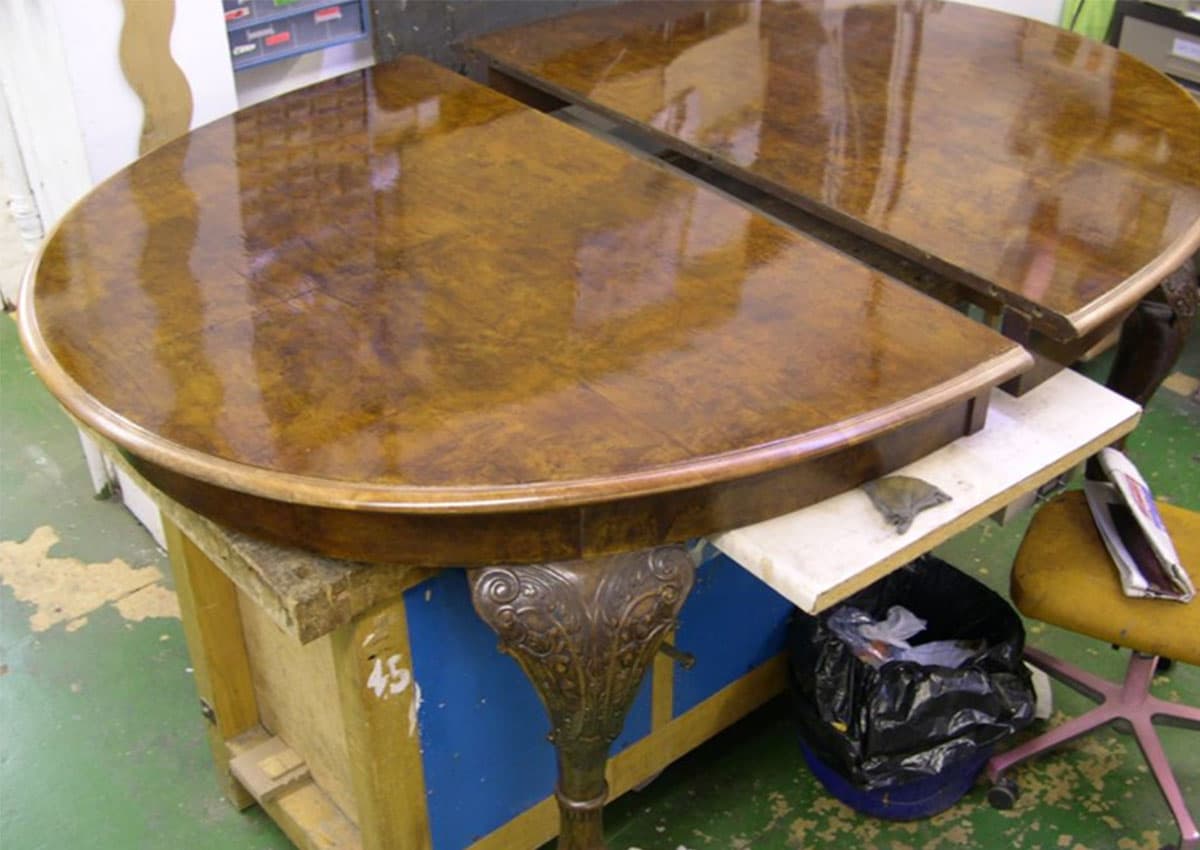 This walnut dining table with severely lifting veneers is one of the more dramatic transformations Tom has seen in the Plowden & Smith furniture restoration studio
Do you ever take on furniture restoration projects abroad?
We do, yes. As Plowden & Smith has a large team of experts we are often asked to take on projects that require a relatively large team, and these projects can take place all over the world.
For example, in 2018 an alternating team of 12 of our restorers spent three months cleaning a large and varied collection at KODE: Art Museums and Composers Homes in Bergen, Norway.
Following building work at the museum, almost 1000 objects had been contaminated with building dust. Building dust is something that should be removed by a professional furniture restorer because it is very abrasive and unless it is done in a certain way, in a controlled manner, it will result in surface damage.
The other reason why this sort of job should be handled by a professional is because building dust is particularly harmful to breath in, and in some instances may contain particles of asbestos, therefore health and safety is an important part of this sort of work.
A substantial amount of furniture in the collection required conservation cleaning, and these pieces ranged from a large carved walnut armoire to a 'May West Lips' sofa, designed by Salvador Dali. Interesting fact about the May West Lips sofa is that Edward James, who owned West Dean (where I studied furniture restoration) until his death in 1984, was a great patron Salvador Dalí and James himself was involved in the creation of the Mae West Lips Sofa.
It was another great project to get involved in. Bergen is a beautiful city, and the team at the museum were delighted with our work.
Plowden & Smith doesn't just restore furniture. What are the benefits of working in the furniture restoration workshop of a multidisciplinary restoration studio?

The furniture restoration department sits at the heart of Plowden & Smith because there is so much cross over with other departments. For example, we might need our stone restorer to clean or restore marble or other stone tabletops; or our metal restorer to clean or restore metal escutcheons, ormolu mounts or re-plate silver.
For instance, one particularly historically significant piece of furniture we restored was a pair of malachite-topped console tables presented to the 1st Duke of Wellington (of Battle of Waterloo fame) by Tsar Nicholas I during the Duke's visit to Russia. These tables featured mirrored back plates, malachite stone tops and ormolu (gilt bronze) mounts, highlighting the huge advantage of having specialists, who have spent many years training and have many years' experience focusing on restoring these materials.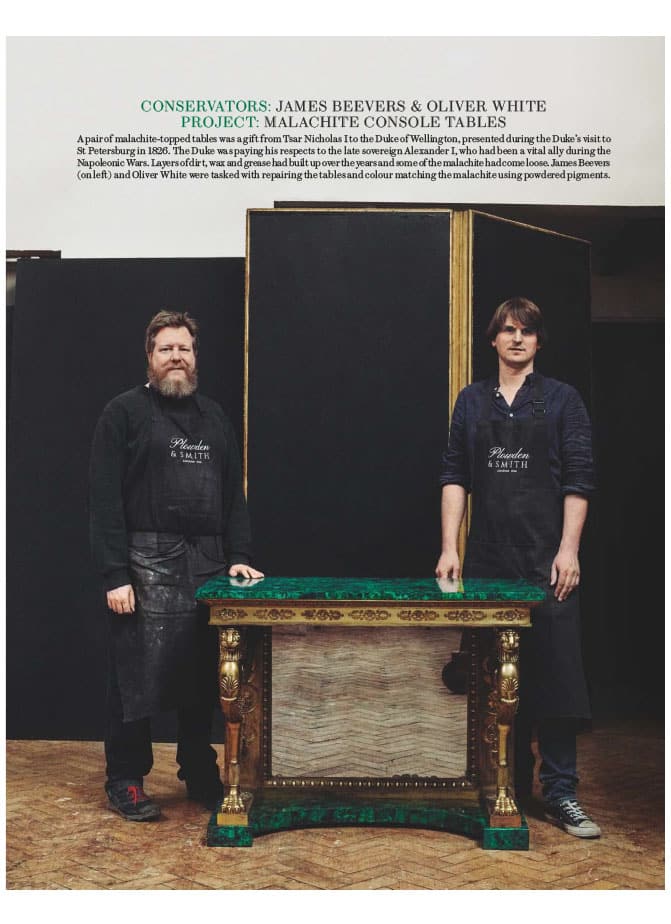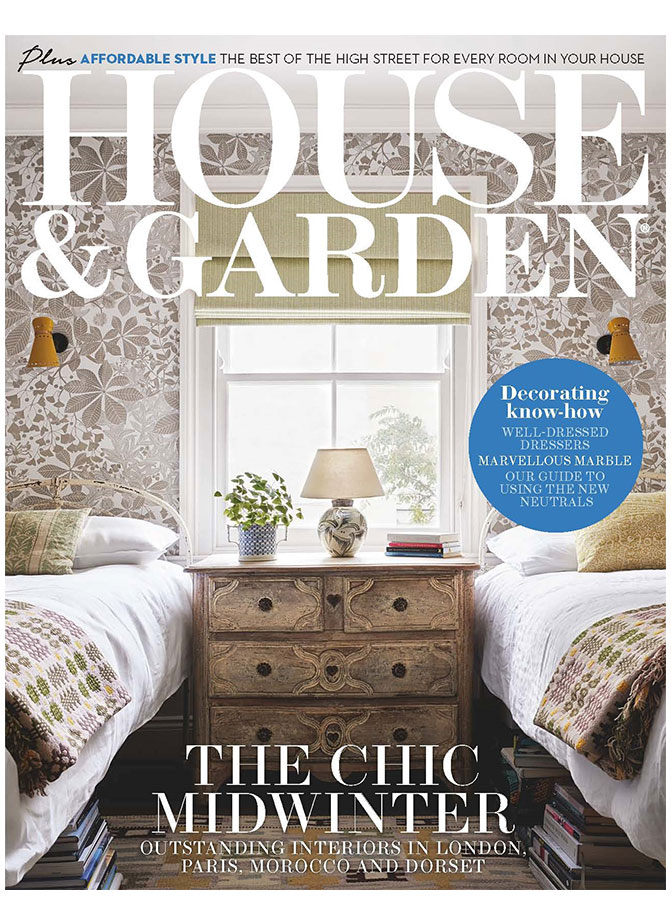 The pair of impressive malachite-topped console tables presented to the 1st Duke of Wellington by Tsar Nicholas I was one of the projects featured in a House & Garden article on the Plowden & Smith restoration studios
What do you enjoy most about the job?
I get a lot of personal satisfaction in being involved from start to finish in the furniture restoration journey, and particularly in seeing a piece utterly transformed following furniture restoration.
A lot of our clients are very fond of the furniture they send in for restoration – sometimes they are family pieces with sentimental value, or were given to them as gifts, or something they acquired these pieces when they were just starting out collecting – so it is always very nice to return restored furniture to our clients and to see their delight at the transformation.
If you have a furniture restoration enquiry that you'd like to discuss directly with Tom, his email address is tom.palmer@plowden-smith.com
Find out more about Plowden & Smith's furniture restoration services
here