In the wake of the devastating effects of Storm Dennis, and the news that over 1650 homes across the UK have been flooded, we revisit an interview with Clare Pardy, Associate Director at Hallett Independent, where she discuss a 2019 flood in the South London home she shares with her husband Stephen.
The flood saw 85 gallons of water pass through Clare and Stephen's Georgian house, causing substantial damage to the interiors and the furniture.
Clare and Stephen saw the benefit of having their insurance arranged through a specialist broker, Clare's own firm, Hallett Independent and an expert insurer, AXA XL, which resulted in the smooth running of their claim from start to finish.
Interview with Sarah Giles, Director – Business Development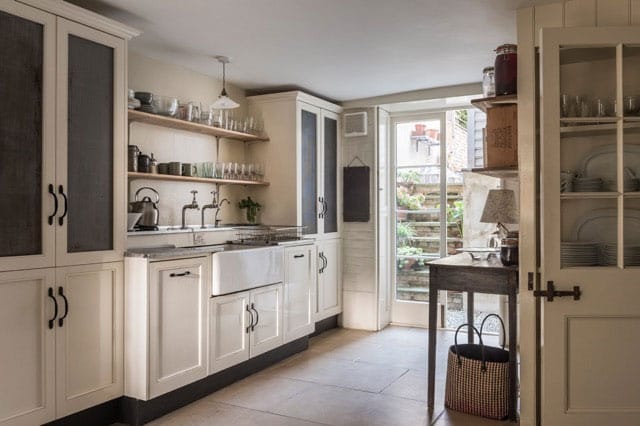 Clare and Stephen's elegant house featured in the October 2019 issue of English Home. Image courtesy of English Home
SG
I understand you were on holiday and came home to discover your house had been flooded.
CP
Yes, we had been in Berlin but luckily, we live next door to a pub and one of the regulars spotted water streaming down the inside of our first-floor drawing room window. He alerted the pub landlady who had our mobile number and rang us. We were at Cologne station, returning to London by train. We then contacted another neighbour (also the Chair of the Resident's Committee and a real force of nature!) who immediately set to work with buckets and towels, turned off the water and called an emergency plumber who established the cause as a cracked cistern in the second-floor bathroom.
SG
It sounds as if you were very lucky and have great neighbours!
CP
Yes, we were and we do. A lot of people think that if you live in central London nobody knows their neighbours, but our square is very different, and we were enormously grateful.
SG
So how much damage was actually done?
CP
Well my husband calculated that 85 gallons went through the house which is pretty alarming. However, luckily, our guest bedroom is located immediately below the bathroom with the cracked cistern and it seems that the bed absorbed an enormous amount of the water. Although we have pictures on every wall, amazingly only one small etching got water damaged, and all our books escaped unscathed which again, we were astonished at.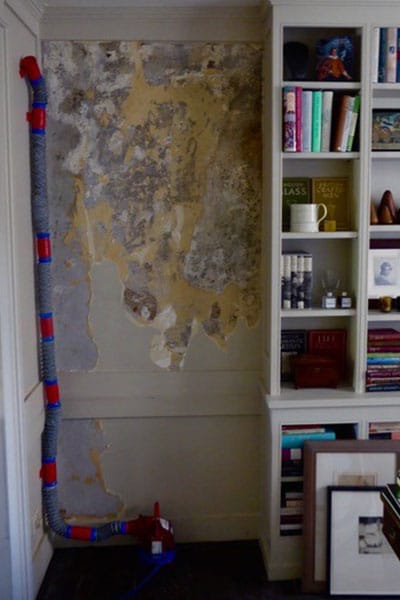 An estimated 85 gallons of water passed through Clare and Stephen's house, resulting in extensive damage to the interiors
SG
Some of your furniture was, however, damaged?
CP
Yes, a Regency demi-lune card table, an early 18th Century side table and a couple of leather armchairs were damaged, which is why I contacted Plowden & Smith.
SG
Why did you choose Plowden & Smith?
CP
Well, I have known and worked with Plowden & Smith for over 20 years in a professional capacity and I have seen the work that they have done for many clients over the years.
Our furniture isn't particularly fine in an antique sense, but it is of its period and both my husband and I were very keen that items were not over-restored and that the patina was respected. The specialists who came to pick the items up immediately understood this, and we knew from the outset that we were in safe hands. 
The armchairs (pictured below) had been designed by Stephen and handmade by an old and established firm of furniture makers in the East End and it was important that the calf leather that was used for the re-upholstery had the right feel. Plowden & Smith sent us some examples so we could agree on exactly the right colour and weight.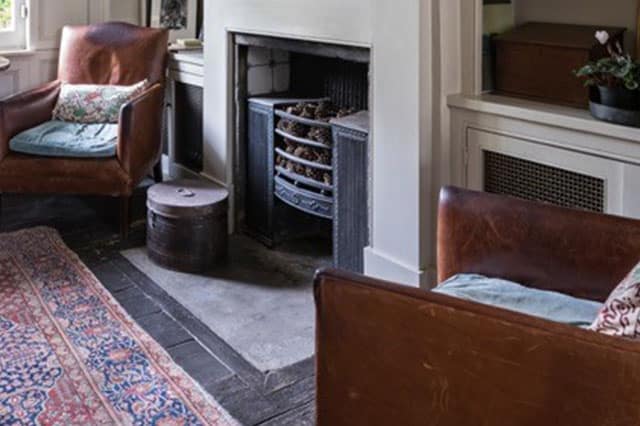 The leather armchairs were designed by Stephen and were amongst the severely water-damaged items of furniture restored by Plowden & Smith. Image courtesy of English Home
SG
Were you tempted to move out and leave them all to it?
CP
Not really, I know a lot of people do in those circumstances, but we felt it was important to be involved. When we bought the house in the 1990s, it was very unloved and had been given the 1970s treatment so we spent a number of years replacing windows, installing panelling, shutters and fireplaces and we were keen to ensure that the period feel we had so painstakingly achieved was not compromised.
Ironically, a friend who is a professional interiors photographer, had asked us whether he could photograph the house a year or so before the cistern went and there had been a big spread in English Home, which only came out a couple of months after the flood. This turned out to be very helpful as we were able to show the loss adjuster the photographs as a way of explaining what we wanted to achieve.
We have been so lucky because everything has gone according to plan and as someone who has been a specialist art and high net worth insurer for almost 40 years, I know that this is not always the case.
I have spent my whole career telling potential clients how important it is to appoint a specialist broker and insurer and it is rather gratifying to demonstrate from a personal perspective the wisdom of this advice!!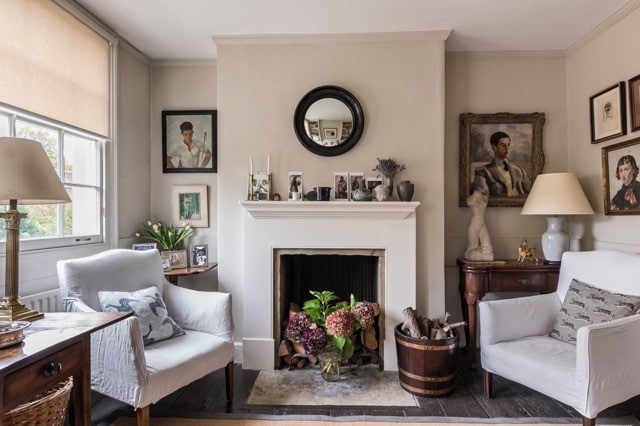 Thanks to their comprehensive insurance cover the period look that Clare and Stephen spent many years painstakingly achieving, has not had to be compromised in subsequent post-flood redecoration. Image courtesy of English Home