Whether art is acquired as an investment or simply for pleasure, it is imperative that the right choices are made to protect the increasingly diverse and valuable artefacts found in the collections of private individuals. Choices made about display, transport, security, domestic cleaning and conservation will positively or negatively impact upon the short and long-term condition of a work of art, and likely play a key role in determining its value on the open market.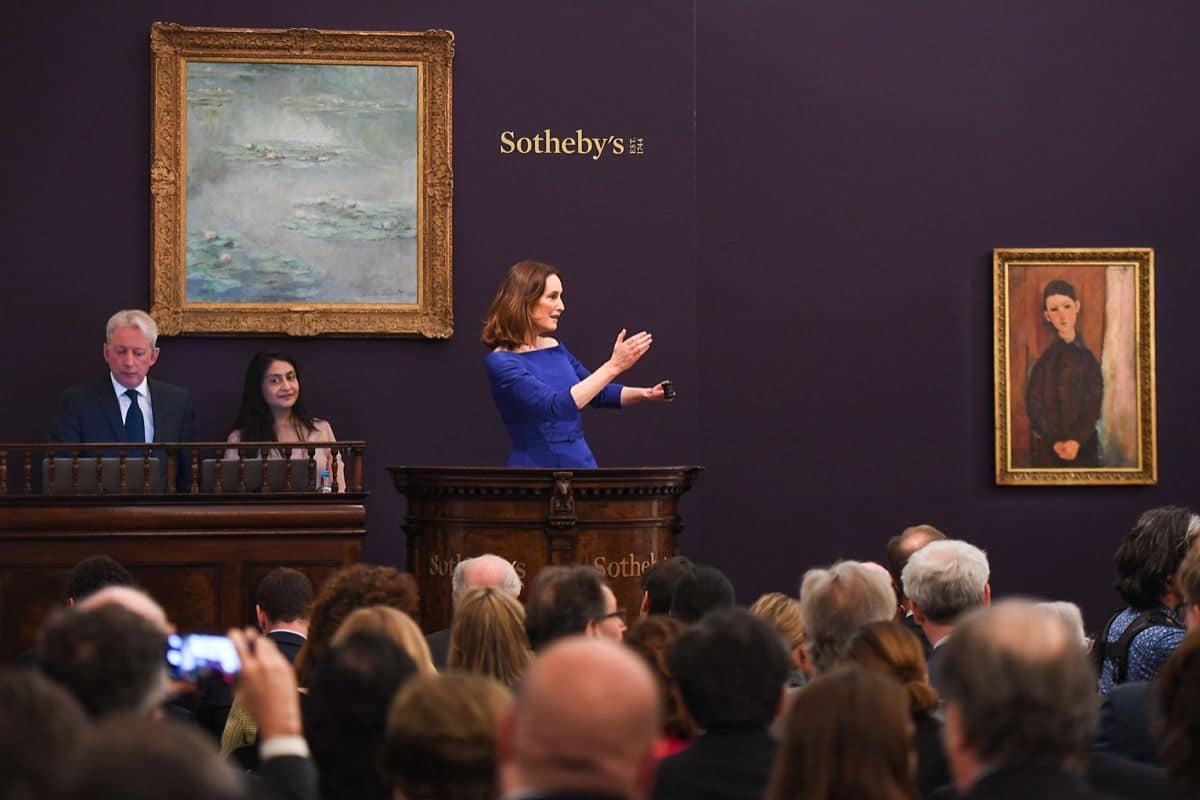 Auctioneer Helena Newman at Sotheby's evening sale of Impressionist and modern art in London
Many of the risks to works of art are not new, however some of these age-old threats are exacerbated by the international lifestyles of today's collectors and the global nature of the art market. Before the 1990s there were only 50 art fairs and biennials: today there are over 300 taking place on an almost daily basis around the world, attended by collectors from every corner of the globe. Most galleries now conduct about 40-50% of their sales at art fairs, with the result that a work of art or piece of furniture may have to make two, or more, complex overseas journeys for a transaction to take place.
Shipping, even with today's increasingly sophisticated methods of packing and crating, always carries with it a risk, with the fine art insurance sector citing damage in transit as the most commonly encountered source of claims.
Using a trusted logistics company is a must, however even when using a reputable shipper it is prudent to adequately insure against loss or damage.
For Independent Fine Art Loss Adjuster Paul Britton:
"Transit-related damage accounts for around 50% of my case-load at any one time. An artwork will usually pass through a number of parties hands during an international transit. Typically, this may entail collection from the property, delivery to a central warehouse, crating, handing by an export agent, customs authority, airline, import / receiving agent, road transit to another warehouse and finally road transit to end destination. There are many links in the chain and achieving a consistent level of care throughout the process can sometimes be problematic. Condition reports (with photographs) at the start and end destinations are highly recommended."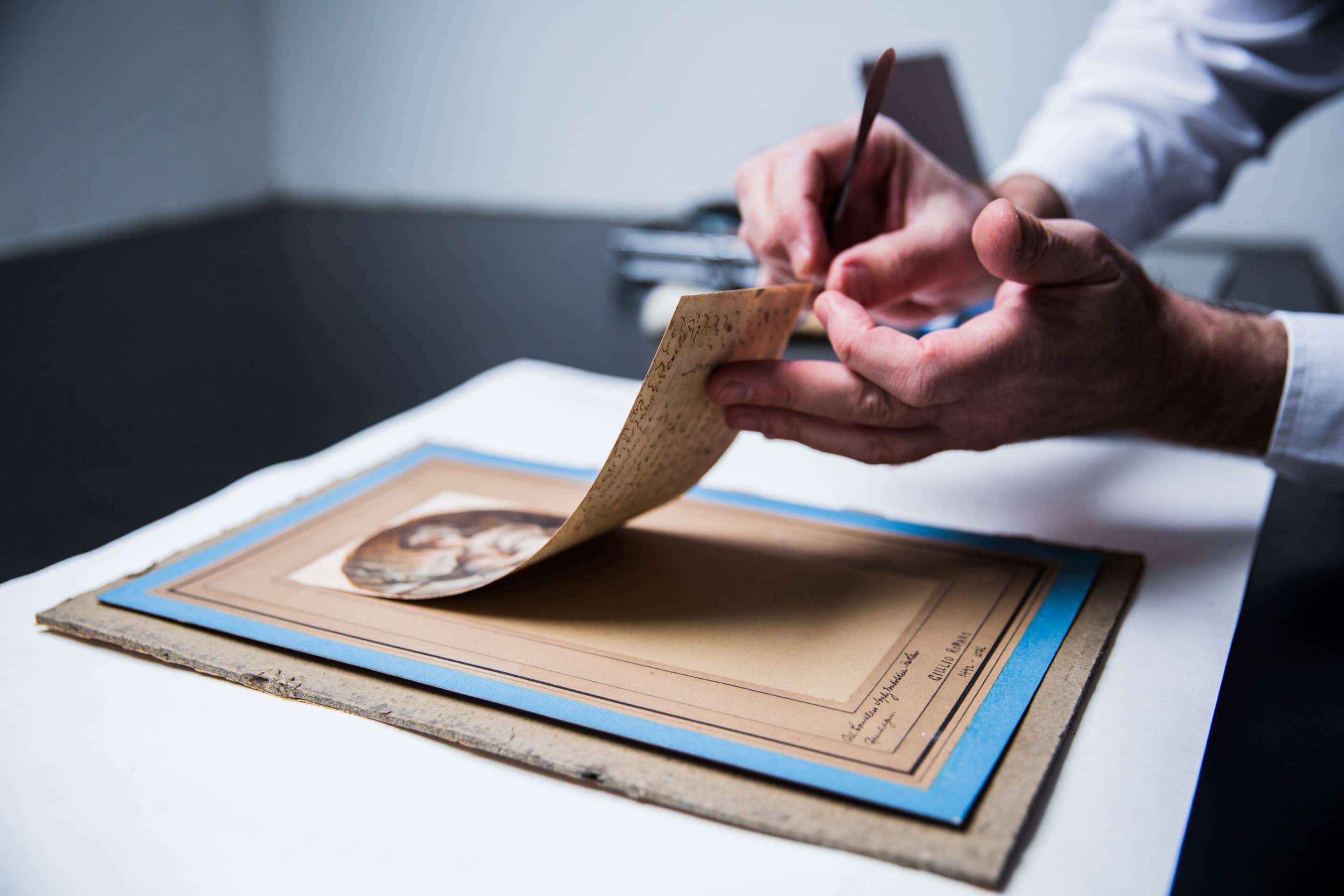 The importance of a condition report cannot be underestimated
A condition report carried out by a professional conservation company like Plowden & Smith is essentially a written assessment of an object's structural and surface condition at a certain moment in time. It is a wise precautionary measure to avoid costly mistakes prior to purchasing a work of art (where it may reveal the presence of restoration, retouching, or chemical composition that is inconsistent with the purported date of a piece), and also in situations where there is an increased risk of damage, for example during transit.
Whilst the number of items damaged during shipping is a small fraction of all those in transit at any one time, accidents do unfortunately happen, which is why so many collectors are keen to explore solutions that allow them to reduce the amount of times they need to ship valuables.
The company Family Copies has been faithfully reproducing fine paintings for over 30 years, and frequently works with collectors who wish to have a favourite painting reproduced for multiple residences.
"This saves unnecessary shipping and handling of the originals which would increase wear. Another advantage of having a reproduction made is that it also mitigates against issues with moving art to freeports, which is especially relevant in light of the European Parliament's plans to phase them out," says Family Copies Managing Director, James Bilderbeck. But would collectors ever be happy displaying a copy?
"Absolutely," says James, "In the last year alone, we've reproduced works with a combined market value of over £700 million. Using cutting-edge digital printing we render the image in high resolution and carefully match paper, canvas and board substrates to be as close to the original as possible. Our specialist team then meticulously hand finish each work, applying critical topcoats of varnish and individual brushstrokes to match the original. In most cases we also copy the
mounts
,
frames
and even plaques to ensure that the Family Copy is indistinguishable."
Finding ways to reduce the number of times an object is moved is an excellent strategy for managing the inevitable risk, and when a work of art does need to be shipped collectors generally overwhelmingly recognise the need to use a professional art logistics company.
However, in the domestic environment, moving a work of art is often less considered, possibly the result of a spontaneous desire to update an interior, or an automatic gesture demanded by routine cleaning.
 "Many collectors diligently send their works of art to us for regular maintenance treatment, including conservation cleaning or protective waxing. However, they overlook the fact that their cleaner may be handling this very piece on a frequent basis to clean the area where it is displayed. Frequent handling by someone without training carries with it a real risk of short-term damage and long-term wear or surface deterioration," notes Emily Beaven, Senior Conservation Manager of the art restoration company
Plowden & Smith
.
Plowden & Smith now offers in-house training to domestic staff charged with the day-to-day maintenance of properties and their contents. These bespoke sessions are tailored around the individual requirements of the house and collection, working with collection managers and housekeeping staff to identify which pieces are safe to handle and what appropriate steps should be taken, and which pieces require additional regular attention from a conservator.
Emily also helps collectors develop a personal Emergency Salvage Plan (a document of what your collection is, where your collection is, and in the event of disaster what is the order of rescue based on priority) along with a programme of ongoing training.
"The value of working with a conservation company is that we lend our specialist knowledge of materials to help with difficult decisions, such as the priority list. Clearly, it is ultimately the client's decision which pieces they would most wish to be saved in the event of a disaster, however we would suggest that triaging objects should be guided by material, as well as object value. For example, a
marble bust
by Canova valued at £5 million is far more likely to survive high temperatures and the water used by the fire brigade to put the fire out than a £50,000 etching on
paper
. Essentially, we are giving collectors the knowledge to make informed decisions for their collection."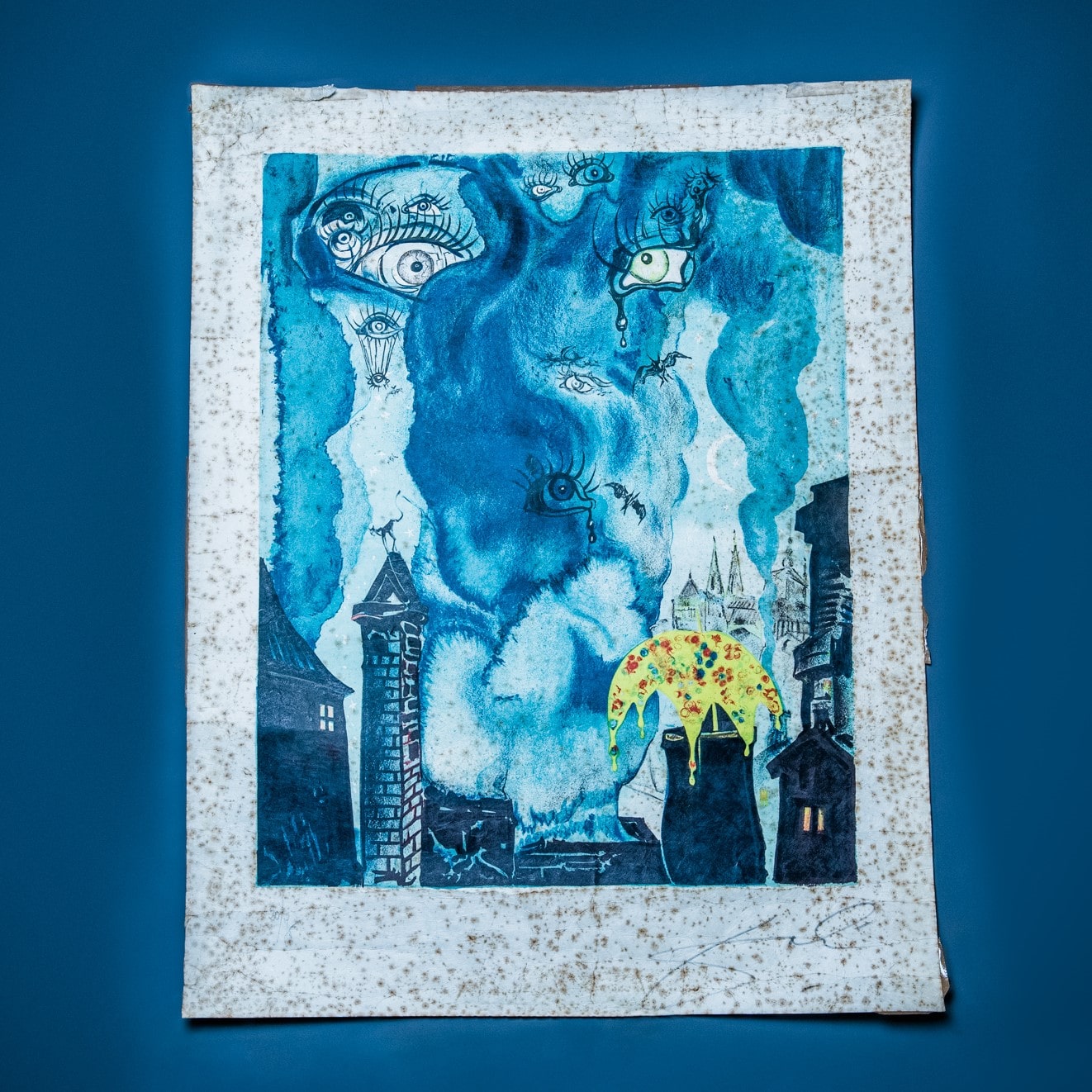 Salvador Dali limited edition print showing heavy foxing, caused by a flood in the owner's basement
Thankfully, fires and floods are rare: damage to objects is far more likely to be the result of something relatively mundane and therefore relatively easy to avoid.
For Plowden & Smith, inadequate or incorrect display hangings and mounts are a common, preventable cause of damage.
"Unfortunately, many collectors are so keen to display a newly acquired object or work of art they simply use the fixings on the piece, or whatever flat surface is to hand, without considering whether they are suitably robust. After buying an object always carry out a risk assessment before placing or hanging an object," recommends Emily Beaven.
Paul Britton advocates getting a specialist to carry out the
installation
:
"I have encountered a number of completely avoidable instances where the owner has entrusted the installation or maintenance of a prized and valuable artwork to their local handyman. In one instance, an inappropriately sized screw eye used in the hanging of a valuable painting led to catastrophic damage to multiple items when the painting subsequently fell from the wall."
Regardless of whether a specialist installed the work of art or not, all fixings or means of support should be regularly checked to ensure they are still fit for purpose.
It is also important to think about where you choose to display a prized object, and environmental factors such as temperature and humidity should be taken into account when accessing the suitability of a potential location.
The presence of central heating, air conditioning, artificial lighting, not to mention direct sun light all have a detrimental effect on artworks' material composition, both structurally and in terms of surface coatings and colours. Some rooms and walls within rooms, provide a more challenging environment for organic materials than others.
Constant monitoring for potentially dangerous conditions is one of the most effective means of protecting works of art from short-and-long-term environmental damage. However, by itself, monitoring is not enough.
Emily explains, "We have a number of clients who display
bronze sculptures
in rooms with swimming pools: a thermo-hygrometer (a monitoring system) will flag that this is a location with very high-temperature and humidity, which is important and useful information to have. However, by itself a thermo-hygrometer is not actually going to do anything to prevent the corrosion which high-humidity encourages. If left unchecked this corrosion can irreversibly affect areas of the bronze, therefore once a risky environment has been identified one should be consulting a conservation specialist for advice without delay."
What might this advice be?
"A room with high-humidity is not the ideal place to display bronze sculptures, and I would initially recommend the relocation of the artwork to an environment with a safe relative humidity. If the sculpture is already suffering from corrosion, this environment will stabilise it, and once the corrosion has stabilised a metal conservator can rectify the surface alteration in a safe and careful manner."
What if the client is insistent that the work ultimately remain in its present location?
"We can recommend certain measures, for example applying an invisible sacrificial barrier layer to the surface of a bronze sculpture would provide a degree of protection; or if the work is a painting we can make special backboards and glazing that provide a safer micro-climate. It is not an ideal solution; however, we recognise that collectors should be able to enjoy their collections, and that encompasses decisions about where they choose to display them."
A compromise to enjoying works of art in locations where the environment is particularly difficult to manage, for example near a swimming pool or on board a superyacht, could be to have a fine reproduction made, allowing the owner to place the valuable, irreplaceable original in storage or a stable environment whilst continuing to enjoy the piece.
"It's certainly a risk to take a valuable painting on board a yacht when an indistinguishable reproduction will withstand the extremes of humidity, light and pollutants far better. An added benefit is that cleaning and preservation of the copy can be conducted by crew or staff without specialist care," comments James Bilderbeck of Family Copies.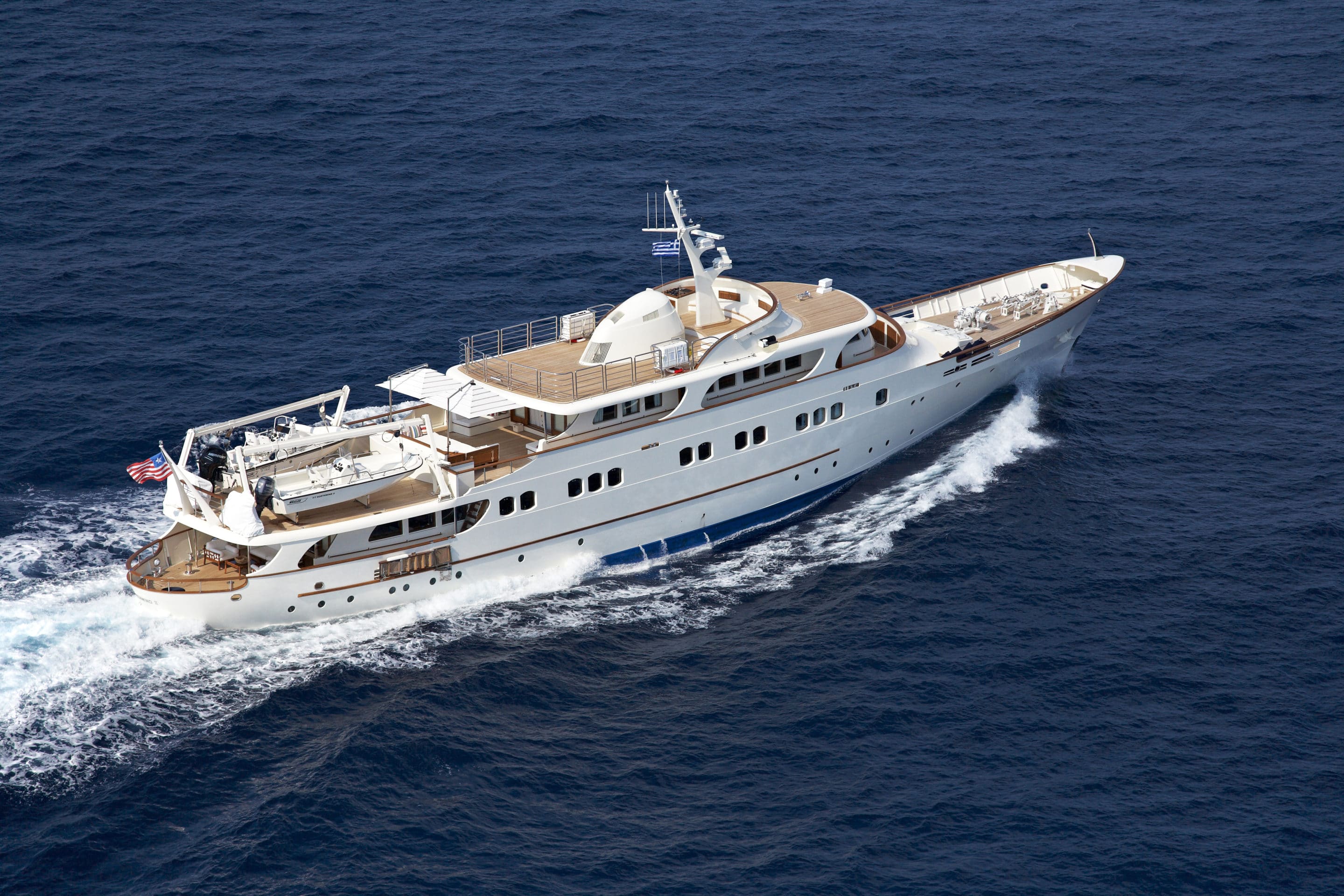 One of Plowden & Smith's more glamorous projects – the 1960s super yacht Northwind II features Maison Jansen interiors
If anyone knows about the risks of displaying art on board yachts it is Pandora Mather-Lees, founder of the training course, 'The Practical Care of On Board Art Collections'.
An art historian by training, Pandora became involved in this specialist field of preventive conservation on the high seas after she started to offer art appreciation courses to the crews of superyachts. By interacting with superyacht owners and their crews she quickly saw the need to train staff on how to handle and care for fine and valuable objects.

Pandora recalls the occasions when a champagne cork hit a painting during a crew party and a lampshade made of skin and valued at £90,000 was damaged by staff throwing cushions from the deck into the saloon area.

She also recounts the time a crew attempted to install an iconic Anish Kapoor sculpture on board a superyacht:

"They unwittingly made a thumb print on the highly sensitive polished mirror surface. Unaware of the characteristics of the work they made matters worse by trying to eliminate the marks. Ultimately the work had to be returned to the studio at significant cost to be re-polished and returned. At a later time, the surface corroded when the piece ended up being [inappropriately] stored elsewhere on the vessel."

Even seemingly strong and absorbent materials are vulnerable. Pandora cites the time a Jan Frydrych crystal sculpture was chipped when a stewardess placed it on the floor, and another time when a crystal sculpture was ruined in the dishwasher.

"Staff will be unfamiliar with creators and characteristics of their practice [and] cannot be expected to have such depth of knowledge but should ask questions and with better co-ordination between the supplier, the shipper, the owner and those on board, these issues can, in the main, be averted.

For Pandora, training senior staff is just as important as training crew because some of the most effective means of protecting valuables goes against commonplace superyacht management practices, for example "When staff are idle, their superior will ask them to clean something to look busy – a mistake as overcleaning is more responsible for damage than under cleaning. Crew should limit handling, use the least invasive and dry methods first when cleaning and conduct a risk assessment at the outset."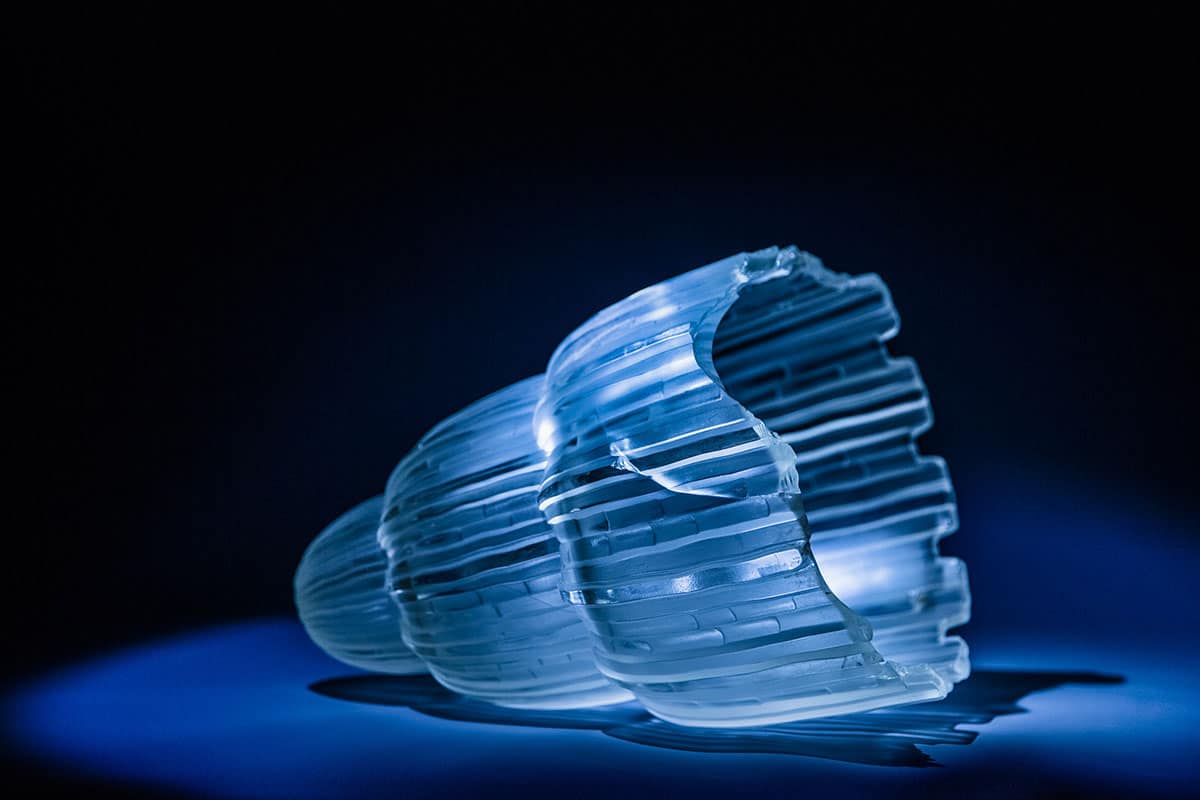 The damage to this Sabino Paris art deco lampshade was caused by being knocked over at a party
'Conduct a risk assessment at the outset' is advice one hears many times from experts operating across the length and breadth of the fine art sector.
Depending on the context, a risk assessment may simply be an individual running through a mental checklist of precautions before picking a delicate object up, or a meticulous assessment into every aspect relating to the care of a private art collection, carried out by a professional.
"Some insurers offer a risk survey service to their collector clients," advises Paul Britton, which can provide invaluable advice on storage, handling, display and security – the latter being an area that no collector can afford to overlook.
In 2017, art theft was listed as the world's third most profitable criminal enterprise and according to the Art Loss Register, when artworks do get stolen the chance of recovery is less than five percent, with even fewer turn up undamaged.
A London Evening Standard interview with former DCI of Scotland Yard's Art and Antiques Unit, Charles Hill goes some way to explaining why so many works of art turn up damaged. His recoveries include Goya's Portrait of Doña Antonia Zárate rolled up in a sports bag, Vermeer's Lady Writing a Letter with her Maid, retrieved from a multi-storey car park in Antwerp, and Titian's £5 million Rest on the Flight into Egypt, stuffed into a red and blue striped laundry bag and found at a bus stop outside Richmond station.
However, protecting valuable objects in the home from theft is not without certain challenges, as James Sainty, Commercial Director of Fortecho Security knows only too well:
"Most art thefts occur during 'visiting hours' when [certain security] systems are ineffective; CCTV is passive, reactive and rarely used internally, and intruder detection systems are deactivated as contractors, staff, colleagues and guests come and go. It is a challenging issue to solve because artworks and valuable assets come in all shapes and sizes; they're on open display, generally accessible, spread across multiple properties, and their owners are naturally reticent to put up unsightly barriers and anything else that might affect the aesthetic."
One potential solution Paul Britton suggests is to use specialist security fixings in more public areas of the house or in the garden. These discreet fixings invisibly, or near invisibly, anchor a work to a surface and therefore incorporate security whilst maintaining aesthetic considerations. Incredibly effective, they are used by private collectors as well as many galleries and museums including the Royal Academy in London, who for the past few years has commissioned Plowden & Smith to make security fixings for their annual Summer Exhibition.
 "These security fixings work particularly well in private households because they provide unobtrusive security and minimise accidents caused by energetic children and pets. They can also be used in conjunction with object-focused protection technology," remarks Plowden & Smith's Emily Beaven.
What is object-focused protection technology?
Object-focused protection technology is the term used to describe technology that provides invisible, fully integrated, real-time visibility of all artworks and high value assets 24 hours a day. In this burgeoning field, Fortecho Security is considered to be one of the market leaders.
"The advantage of this technology is its ability to alert the right people immediately in critical situations like an attempted theft. Rapid response plays a crucial part in ensuring artworks never leave the premises," advises James Sainty of Fortecho Security, when asked about its advantages to collectors.
He goes on to explain in more detail:
"Fortecho sensors attach safely and invisibly to artworks and wirelessly stream real-time data on movement, touch, microclimate conditions and location to powerful software that can then trigger third party systems and notify appropriate stakeholders. It also integrates with most security technologies, so that if a picture is moved without authorisation, cameras trigger, intruder alarms activate, nearby security staff are alerted via their digital radios / phones, and so on."
Collecting is a rewarding and enriching experience, however caring for a collection inevitably demands a certain amount of time, understanding and resources.
There is a wealth of knowledge available to collectors and their collection managers for managing the range of risks. Taking advantage of professional expertise when making decisions for a collection is generally a sound investment.
Steps To Taken If and When Accidents Happen
Sometimes no matter what precautions are taken, accidents just happen and when they do the following advice may prove critical.
1. collectors must be mindful of the fact that the way an object is restored may play a key part in mitigating any loss of value following damage.
2. One should always approach a reputable conservation company to undertake treatment. Once an accident has been discovered, or damaged has been identified, contact this company as soon as possible.
3. Touch nothing and wait for the experts to arrive and gather up all the broken pieces, as these will form a key part of the treatment. They will also be able to professional pack and safely transport the object back to the studio.
4. Finally, if making a related insurance claim, do remember to photograph and preserve all the evidence, including (but not limited to) shipping documentation, condition reports and packing materials if the claim arises from damage during transit.
This article was first published by Family Office Magazine in the Autumn 2019 issue of their magazine's Art and Museum supplement.
For more information about the conservation services described in this article, please telephone the Plowden & Smith office on +44 (0) 20 8874 4005 (Monday to Friday 8:30 – 17:00) for an informal and no-obligation discussion about your requirements. Alternatively, please email info@plowden-smith.com
For other services, described in this article please see contact details below:
Family Copies: +44 (0)20 7373 5499
Fortecho Solutions: +44 (0) 20 7736 3330
Pandora Art Services: +44 (0)7584 149370
Paul Britton Loss Adjuster: +44 (0)1494 728763