RESTORATION & CONSERVATION SERVICES | HISTORIC HOUSES
"One of the most formidable English restoration companies, Plowden & Smith works tirelessly to restore English history back to its highest quality"
– Four Walls Magazine
Historic houses come with their own unique set of challenges, including foundation faults, leaking roofs, poor drainage and susceptibility to fire and flooding, all of which can cause damage to interior decorative elements.
For over 50 years, we have worked extensively with the owners and custodians of historic houses, as well as architects, surveyors, building consultants, specialist insurers and lawyers focusing on heritage property.
Over this period, our specialist restoration expertise has earned us a formidable reputation and we have worked on many important historic houses and their collections. High profile projects have included restoring a badly fire damaged chandelier in Royal Collection at Windsor Castle; restoring the highly ornate wrought iron entrance gates at St George's Chapel, Windsor Castle; restoring the painted 'marble' effect skirting boards at Osborne House; repairing the floor and reviving the wooden bookcases and balustrades in the Kings Library at the British Museum; restoring cracked plaster and peeling gilded decoration on the 19th Century Queen Victoria frieze above the Royal Opera House stage; restoring the panelling and ceiling at the Art Deco Daily Express Building, Fleet Street, conservation cleaning the stone facade of the Garrick Club using an innovative poultice technique, and cleaning and consolidating the ceramic staircase at the Victoria & Albert Museum.
Our specialist skill encompasses regular maintenance treatments, conservation cleaning; consolidating degrading materials; and extensive restoration processes to pieces that have suffered major damage. We take on small and large projects in the UK and around the world.
We are an approved restorer for a number of leading insurance firms, including Hiscox and AXA XL.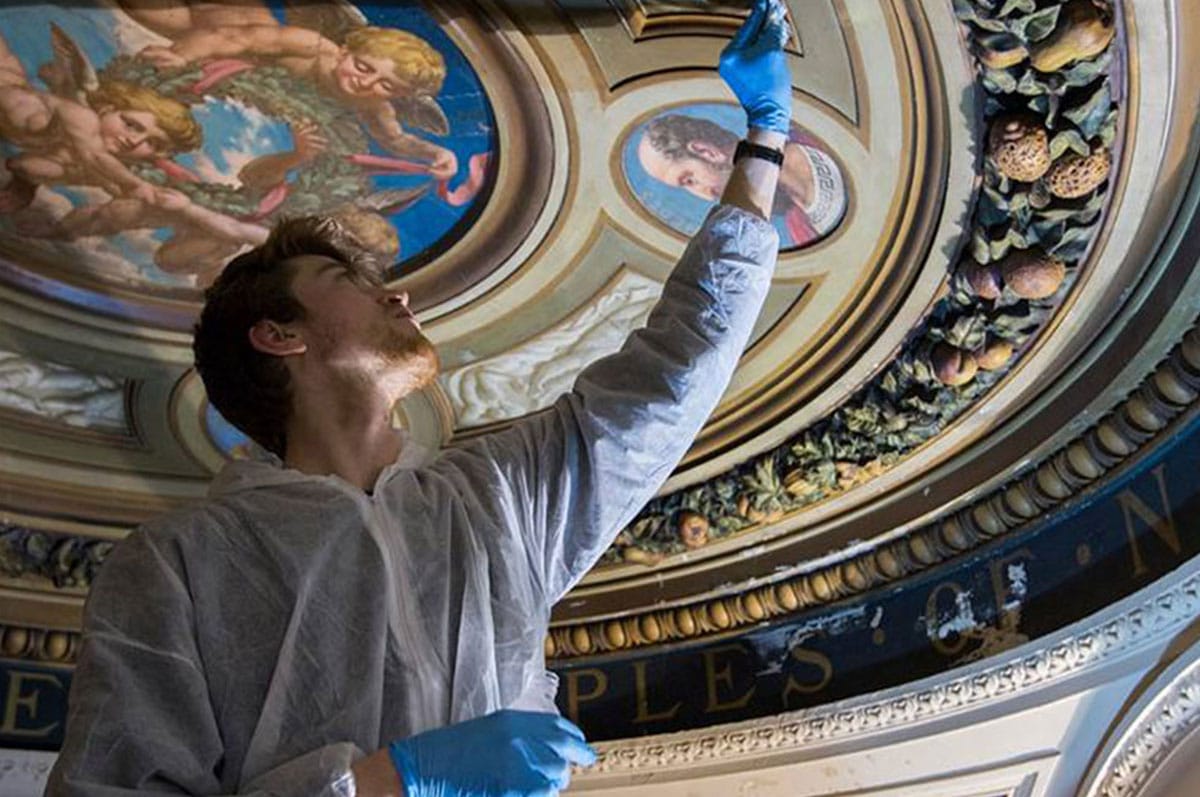 Historic Houses Services we offer include:
Restoring Wood Panelling and Floors
In addition to regular maintenance treatments, we restore wood that has dried out and split, as well as wood that has warped due to prolonged exposure to moisture. We have vast experience safely removing and refitting historic panelling, for example to allow a damp wall to be treated, or to allow pipes and wiring to be repaired, removed or fitted. We can replicate missing sections of wood panelling and flooring, drawing on our extensive collection of historic timber and our expertise in finishing techniques that will ensure a near perfect match that no one will detect.
Restoring and Cleaning Chandeliers
Our conservation team includes highly skilled experts dedicated to the care and treatment of wood, metal,
glass and crystal
, meaning that we restore and clean chandeliers to the highest standards, both in situ and in our own studio. Restoration techniques include re-stringing and restoring crystal lustre drops, restoring losses, replicating missing sections, realigning and repositioning metal components and
regilding
and electroplating.
Restoring Fireplaces
Fireplaces are made from a variety of materials, including types of stone, such as marble, which might appear to be robust but can actually be incredibly delicate and can be prone to cracking along lines of inherent weakness, or upon sudden impact.Fireplaces are particularly at risk of suffering smoke damage, and abrasive soot should be removed using specialist conservation techniques to prevent causing damage to delicate surfaces.
Restoring Painted Surface Decoration
Painted surfaces are prevalent in historic interiors and can include painted plaster, painted wood and painted metal.
Our painting conservation and decorative arts departments have vast experience cleaning and consolidating friable substrates, for example unstable plaster or wood; filling areas of loss; and replicating surface textures and decoration.
Recreating Historical Paint Schemes
Following preliminary paint analysis, we can recreate historically accurate paint schemes. Wherever possible, original materials are used and where it may not be appropriate to precisely recreate traditional paint mixes, for example if the original paint mix contained lead or other toxic materials, a visually indistinguishable contemporary equivalent can be made.
Marbling, Graining and Specialist Paint Effects
As well as reinstating losses to decoration on painted furniture, painted plaster and metal, our experts are adept at using traditional techniques to recreate historically accurate paint effects including marbling, graining and Trompe-l'oeil.
Gilded Decoration
We frequently restore interior architectural elements that are fully or partially gilded, for example ornate plaster cornices and ceilings.
Our decorative arts conservators are skilled in water gilding, oil gilding and acrylic gilding using gold and silver leaf. Depending on the age and existing patina of the surrounding decorative feature, and the wishes of the client, this new gilded surface will then be toned in to seamlessly match the appearance of original aged gilded finish.
Relocating Church Fonts and Pews
Church fonts often weigh in excess of one tonne and should only be moved by an experienced professional. On more than one occasion, we have been called in to repair substantial damage to church fonts and church floors that have been incorrectly moved. Our experienced, accredited stone conservator has over twenty years-experience working with exceptionally heavy stone objects.
If you are interested in a service that you do not see mentioned, please do check to see if we offer it with a member of our client services team on 020 8874 4005, or emailing us at info@plowden-smith.com
Fire damaged Grade II Listed Henry Flitcroft Fireplace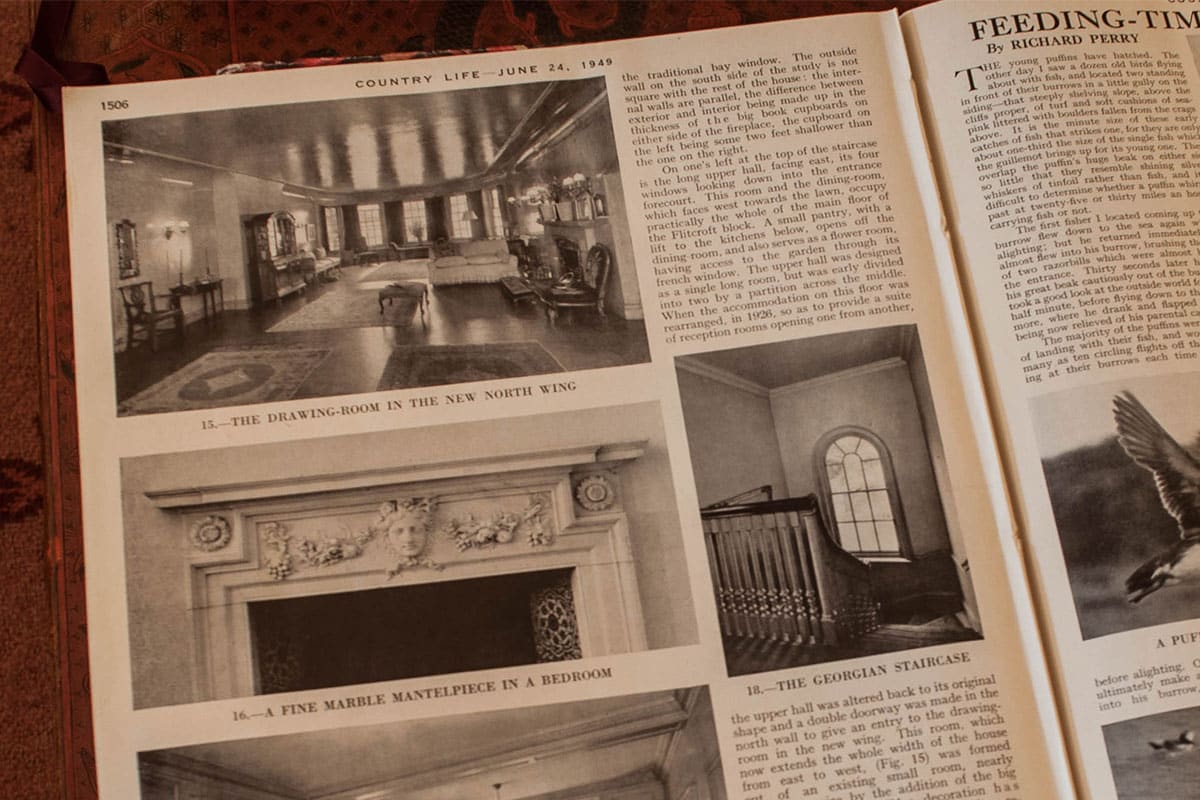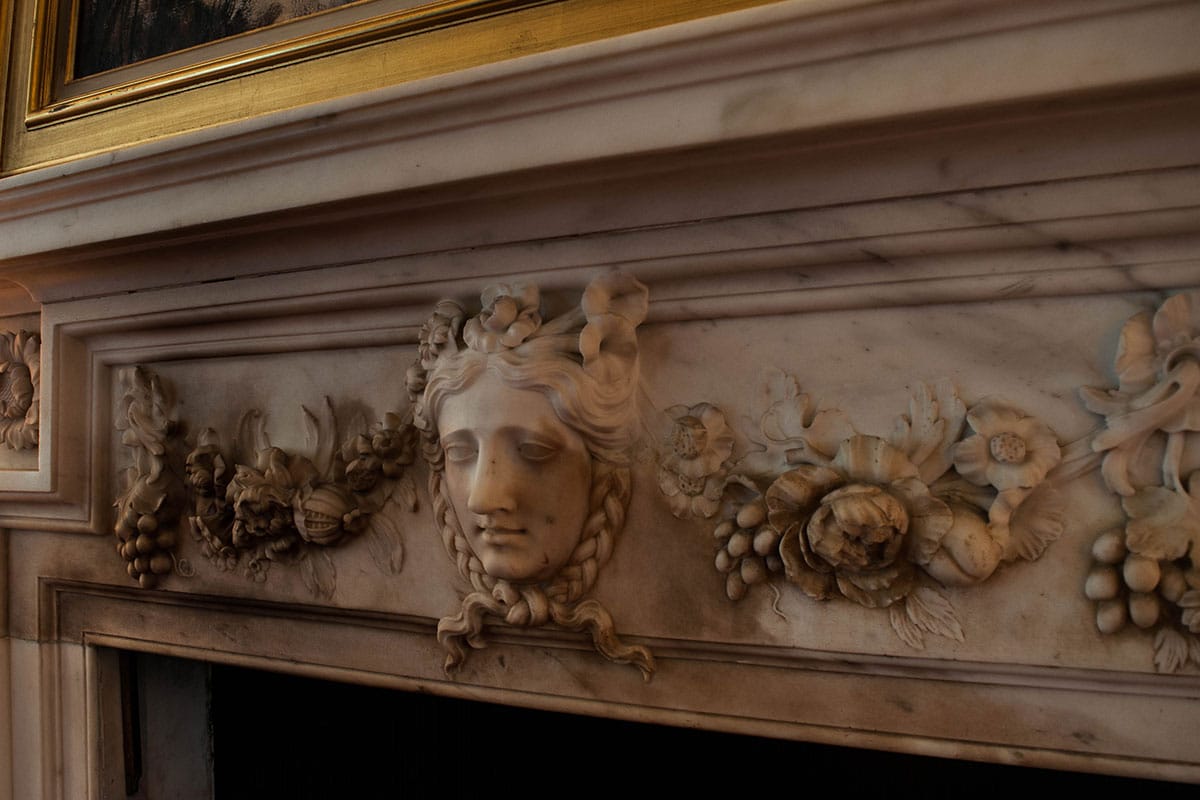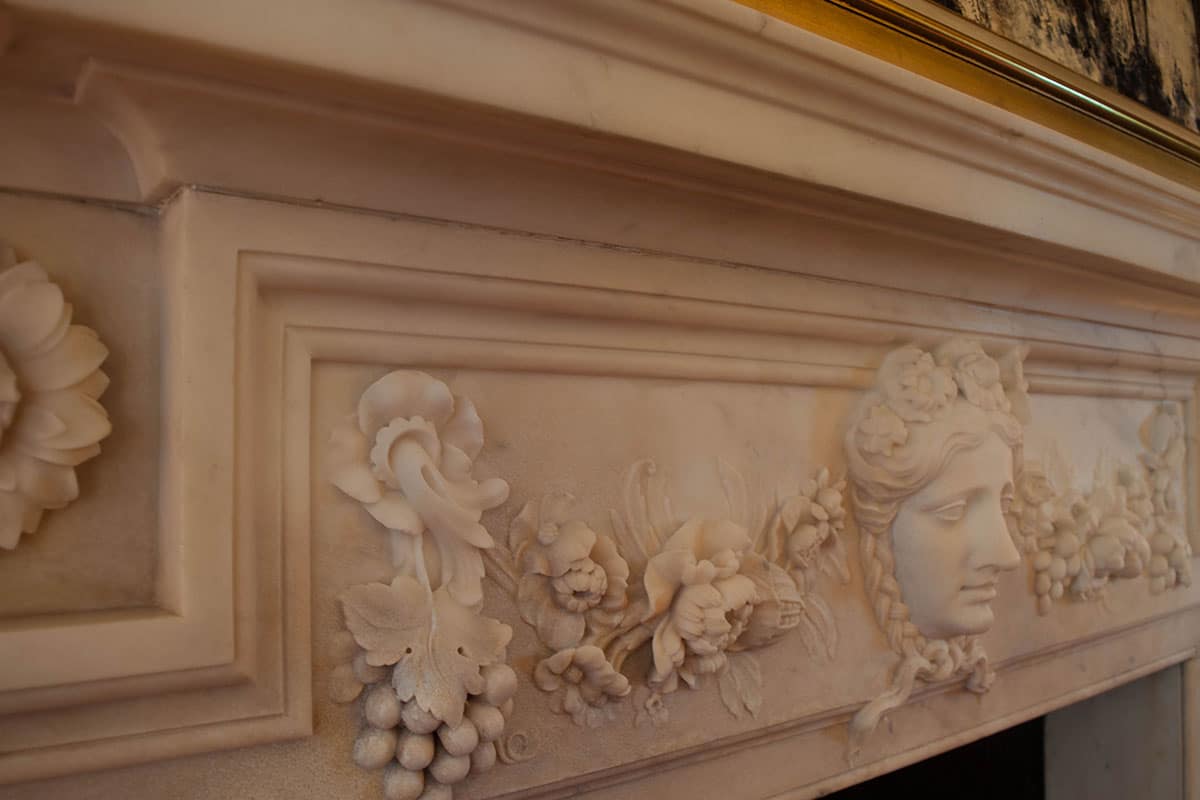 An internal fault in the flue, resulted in substantial smoke damage to this Grade II Listed 18th Century Henry Flitcroft fireplace in a private London house. The abrasive soot was carefully removed using a poultice method to avoid irrevocably scratching the marble. The affected area was then painstakingly retouched.