Increasingly, a third-party professional assessment of the condition of an artwork is being seen as an essential part of the art-buying process, giving peace of mind to collectors making decisions about what to buy and how much to spend.
Over the past months, we have seen a huge spike in demand for independent condition reports, a trend that only looks set to increase as more collectors – through choice or necessity – purchase works of art over the internet. 
Autumn heralds the start of a series of important auction house sales and major art fairs (this year, many of them taking place online). For us, this means one thing: Independent Condition Reporting season has arrived.
Condition reporting often takes our conservators away from the studio, resulting in fascinating behind-the-scenes glimpses into collections and collectors. We asked three of our conservators to talk to us about their approach to condition reporting, and to share some of their favourite and most interesting condition reporting projects…
Jillian Harrold ACR, Senior Paper Conservator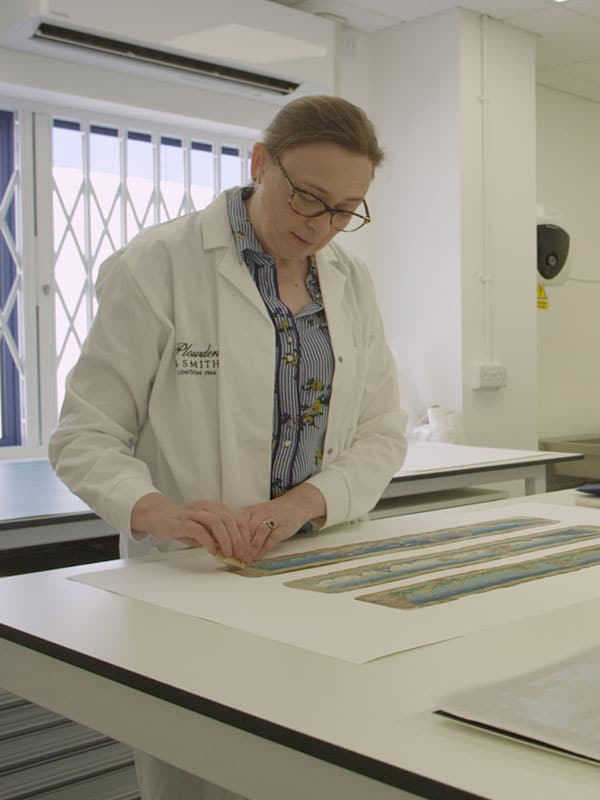 After completing a PhD in the History of Art at the University of Warwick, Jillian studied paper conservation at Camberwell College of the Arts, graduating with an MA in 2010.
Since graduating she has been practicing as a paper conservator in London. She has worked in both the private and public sectors for a variety of clients including UCL Special Collections and Art Museum and the Imperial War Museum.
In 2013 she joined the team at Plowden & Smith. Since then she has worked as a Senior Paper Conservator in our London studio undertaking interventive conservation and restoration treatments, and preventive work including collection assessments, condition reports, surveys and rehousing works of art.
A condition report provides an expert opinion on the physical material of an object, usually before it is purchased or shipped. Reports highlight any concerns about the condition of an artwork. Some issues are inherent to the artwork and cannot be altered. In these cases, there is often a preventive solution to do with framing or storage that can help increase the longevity of the piece. Sometimes there is a mechanical issue, such as a tear, that has a straightforward solution and treatment can be recommended.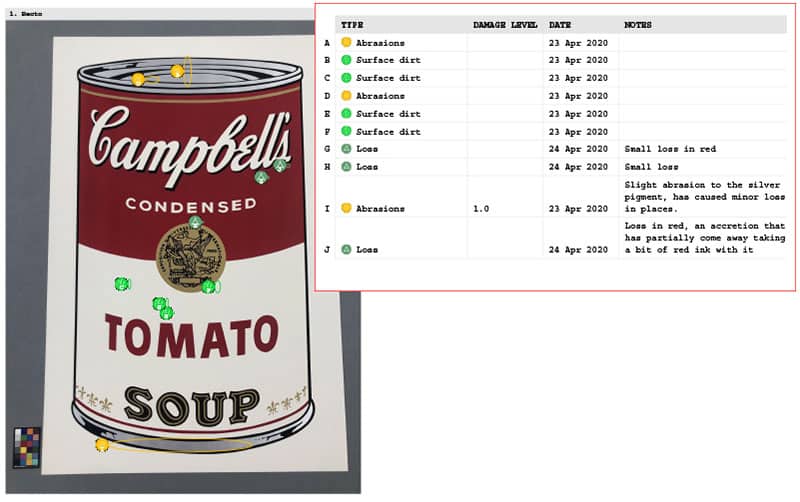 Two details of a Plowden & Smith smARTreport carried out on one of Andy Warhol's iconic Campbell's Soup prints
It is essential to use a trained conservator in a specific discipline for a condition report. Only a trained conservator can carry out a condition report, otherwise it is just a brief condition check. Conservators have studied specific materials and techniques in great depth and they can recognise issues that may appear to be minor, but can become problematic as time goes on.
Conservators can also recognise things that may appear to be a problem but are in fact part of the creation of the artwork. For example, I have been asked to assess 'damage' to the paper substrate that upon inspection was clearly present before the artwork was created. In this case damage was incorrectly described by someone who did not understand the material and there was no problem with the artwork, it appeared as the artist intended.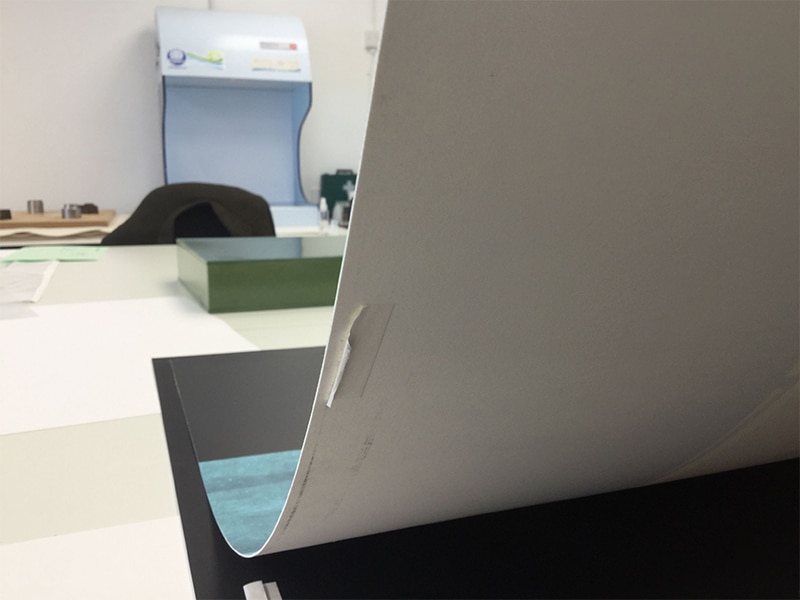 The back – or verso – of an artwork can often tell a conservator more about its condition than the front – or recto – of a work.
With paper artwork, there is a lot of difference looking at a work in the frame and out of the frame. It is important clients understand this difference. A quick condition check in the frame is often sufficient for travel but a full condition report would involve removing the glazing which conceals a lot of damage and seeing the verso of an object. Further investigations could also take place in the studio such as examination under magnification or different types of light, for example raking light, transmitted light through the light table or UV light.
Francis Toohey ACR, Head of Stone Conservation
After receiving a Post Graduate degree in Fine Arts Sculpture and a second Post Graduate degree in Art History from the University of Canterbury, New Zealand, Francis studied chemistry on an intensive course specifically designed for conservators. He received the Professional Accreditation of Conservator-Restorers (PARC) from the Institute of Conservation (Icon) in 2007.
His career as a stone conservator has spanned over 25 years; during which time he has worked on many prestigious private and public collections, including the Victoria and Albert Museum, the British Museum, the Ashmolean Museum, Windsor Castle and Hampton Court.
Francis joined Plowden & Smith in 1995 and in his current role as Head of Stone Conservation has played a key role in developing the department's international reputation for sculpture conservation.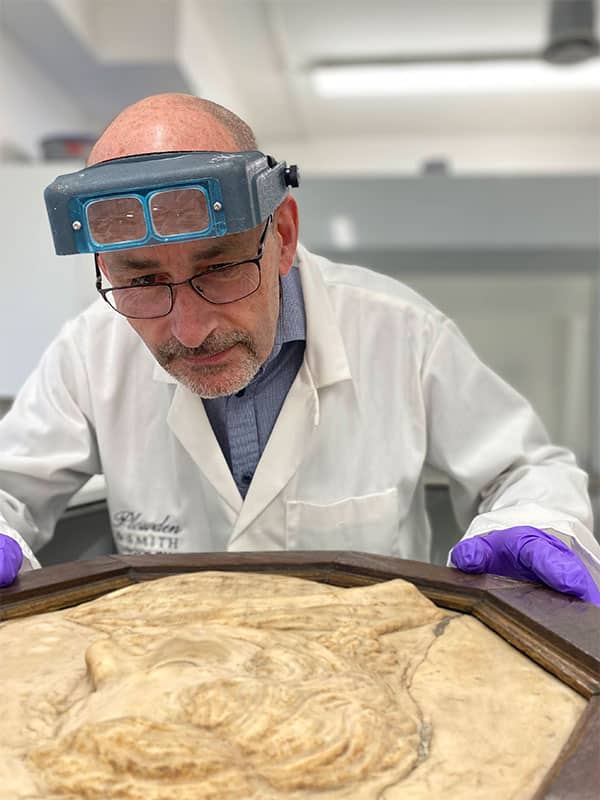 A condition report can be important to a potential buyer so they can understand if the object is in a stable condition or likely to need conservation works in the near future. It can also help determine if the object has had significant repairs or restoration in the past. It is common sense to have this done, as this information may reflect the auction price, much like buying a car and having an AA check before purchasing.
It is very important to have condition reports carried out just prior to packing for shipment and again upon arrival. These reports are sometimes carried out thousands of miles apart and by different conservators and it is important they should match as any significant changes could represent damage in transit and be subject to insurance. A before shipment report, including detailed photography, means there is no room for dispute.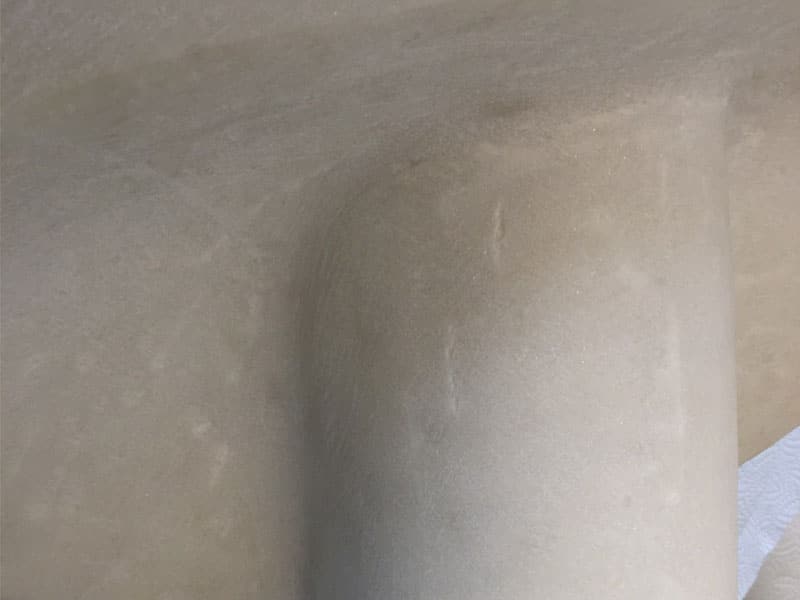 A photographic detail from one of Francis' condition reports, highlighting manufactoring marks and bruising to the reverse of a 19th Century marble bust. Marks made during the manufacturing process risk being wrongly labelled as 'damage' if examined by someone without the training and experience of a professional conservator.
When examining a sculpture we would first make sure that the sculpture is stable. Micro fractures from frost damage for example, are sometimes only visible under magnification.
Next we may use an ultraviolet (UV) light, if indoors, which can detect retouching and would suggests repairs. Having a UV light of the correct wavelength is important. This is expensive specialised equipment not usually available to the general public. Magnification would also be used to check the surface carefully, as not all retouching or repairs will show up under UV. Repairs or restoration and replacement of components may affect purchase price. Repairs may also make the item vulnerable during moving so this information is often very important to art handlers and shippers.
Surface condition should be commented on. Is the surface naturally eroded and consistent with its age? Or has it been acid cleaned or pressure washed, damaging the surface and therefore affecting the value of the work?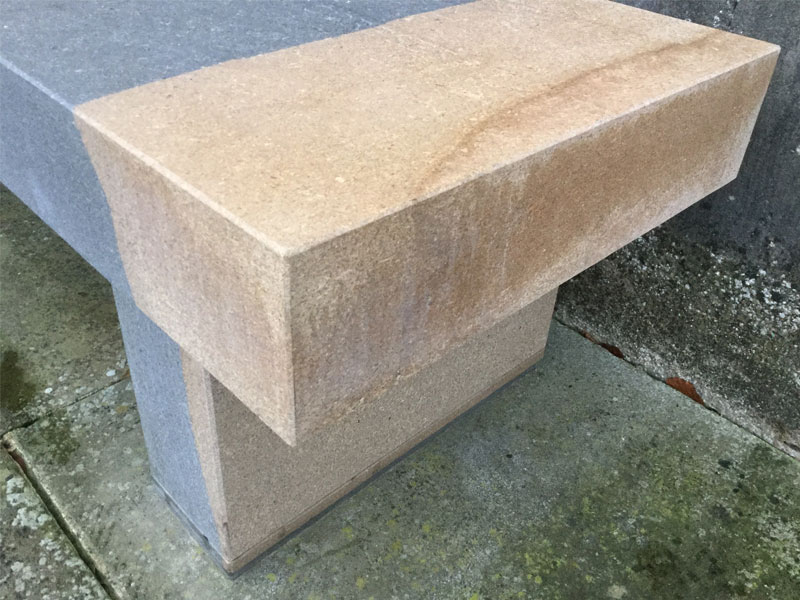 The condition report for this stone bench notes that "the top right of the lintel has a significant tideline, possibly following the line of a bedding plane or other flaw in the stone about 300mm long."
I am seldom surprised at anything I see. Perhaps unanticipated was a very large 3 metre tall porphyry vase valued at many millions of pounds. This had been repaired and assembled in the wrong order, by the gardener, with a rusting old water pipe through the centre as a structural support. Another example was finding a valuable 200 year old portrait bust of Horatio Nelson covered in twenty layers of thick house paint. The paint had counter intuitively protected a perfect sculpture beneath.
My favourite condition reporting experience would have to be a stone carving on a rock in the heart of a desert. This involved a completely off-road four-wheel drive into the middle of nowhere. An experience I may never have had but for my job.
Rita Amor PhD, Objects Conservator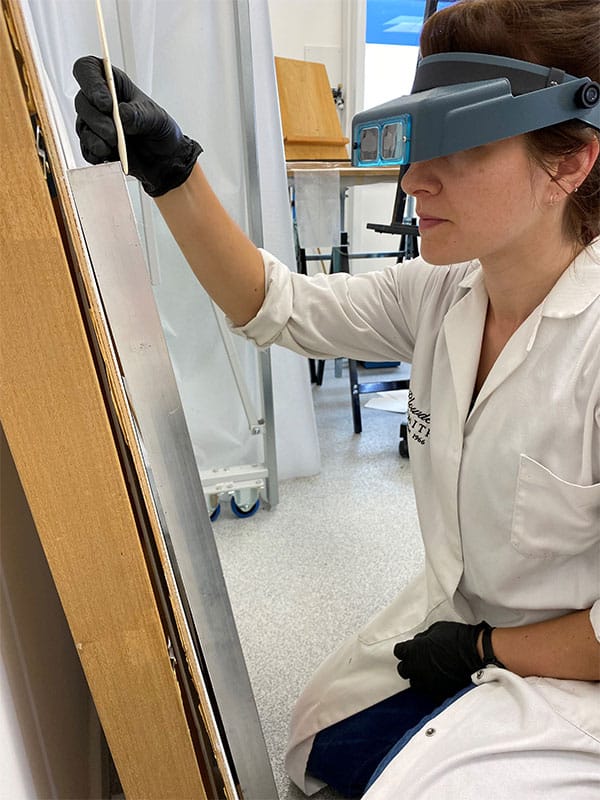 Originally from Spain, Rita studied at the Polytechnic University of Valencia and holds a BA and MA in Fine Arts, and an MA in Conservation and Restoration, specialising in paintings surfaces.
In 2011 she began her PhD thesis inside the Science and Restoration of Historic-Artistic Heritage programme at the same university, receiving a doctorate in 2017 for her body of work in the conservation of contemporary mural art, and the use of optimal treatments for the conservation of graffiti and street art.
Rita has worked on conservation projects in private and public institutions in the UK and around the world, including the Royal Academy of Arts, London, Instituto Universitario de Restauracion del Patrimonio (IRP), Valencia, and The Getty Museum, Los Angeles.
Condition reports are important for all materials but especially those which are unconventional or less common in artistic practice, such as plastics. It is also important for objects that combine different materials, processes, or are finished by a fabricator industrially.
A condition report assures us and the client of the current state of the artwork whilst giving information about alterations, manufacturing faults and degradation. The identification of these factors is beneficial before the acquisition of artworks as the potential purchaser can better assess the value of the artwork in the market. Also, the assessment and identification of any faults before an artwork is lent to another institution or collection helps ensures a smooth relationship between the lender and borrower, preventing issues related to the state of the artwork.
It is incredibly important to have a trained conservator examine an object. For example, painted metal objects can present different levels of oxidation which may be historic, expected by the artist, or simply part of the artwork originally. These can be incorrectly labelled as damage by a non-specialist. Conservators working extensively on those types of artworks have a trained eye to identify, evaluate and conclude not only the nature of those inherent issues but also provide recommendations on how to best control them to preserve the artwork's identity in the long term.
My way of examining an artwork varies depending on whether it is a painting, painted object or perhaps something else entirely. However, I always try to follow a certain method for the assessment stage.
Firstly, I check the overall artwork, photographing it from different angles (if a 3D object), or its front and back (if 2D), have a conversation with the client if this is possible, and try to gather as much information about the origin and life of the artwork.
Secondly, I assess any damage and imperfections on the surface, review if these are structural or superficial and what are the likely causes. I will complete this stage with detailed pictures and notes regarding every issue found.
Thirdly, I annotate any conclusions reached and draw a map of issues that show the exact location of the different imperfections found, partnered with the detail pictures taken at the second stage.
For me, the best thing about condition reporting is when the owner tells you amazing stories of how, why and when they purchased the artwork, and tell us of the sentimental value the piece has for them. The trickiest thing about condition reporting jobs are when the client expects you perform your work in a third of the estimated time, and then rushes you to finish.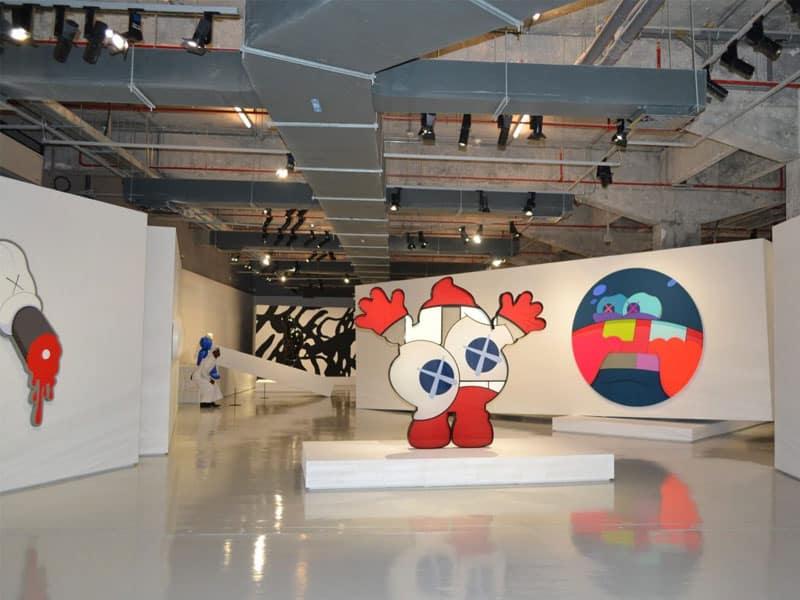 A favourite condition reporting project of Rita's was the deinstall of the 2019 KAWS exhibition, He Eats Alone at the Doha Fire Station. Transit is one of the most likely times that damage will occur to artworks, therefore an independent condition report pre and post- shipping helps avoid disputes about if and when damage occurred.
One of the more memorable condition reporting projects I did was the deinstall of the KAWS exhibition 'He Eats Alone' at the Doha Fire Station (part of Qatar Museums) last year. Although it was not my first time working with KAWS artworks, the quantity of objects and paintings was significant, as well the diversity in their manufacture. This experience and the expertise gained has been useful for subsequent jobs, involving other objects by the same artist.
My favourite condition reporting piece so far is a sculpture by Anish Kapoor, that was in really excellent condition. The owner had it in the perfect spot, away from any risks, and really cared about every single detail to best protect it. It was a very positive experience to see an artwork that was in such immaculate condition years after its production, and to see that its owner knew so much about how best to take care of it.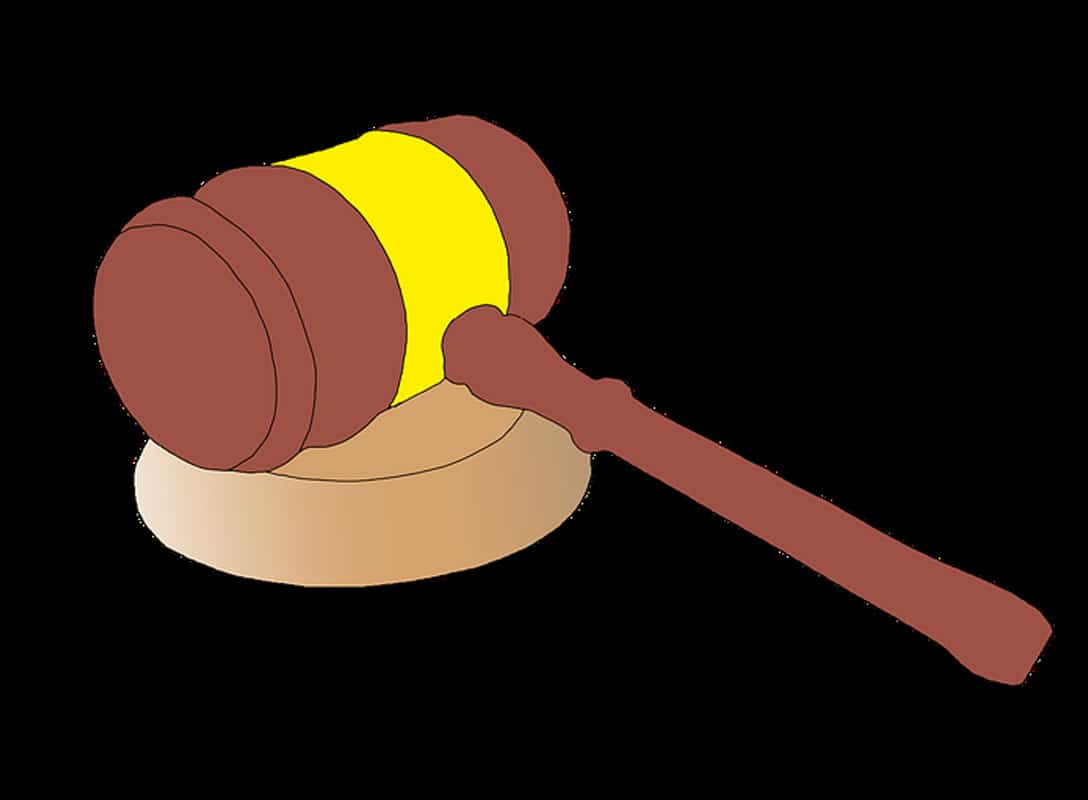 Post Covid-19 – What Next For Auctions?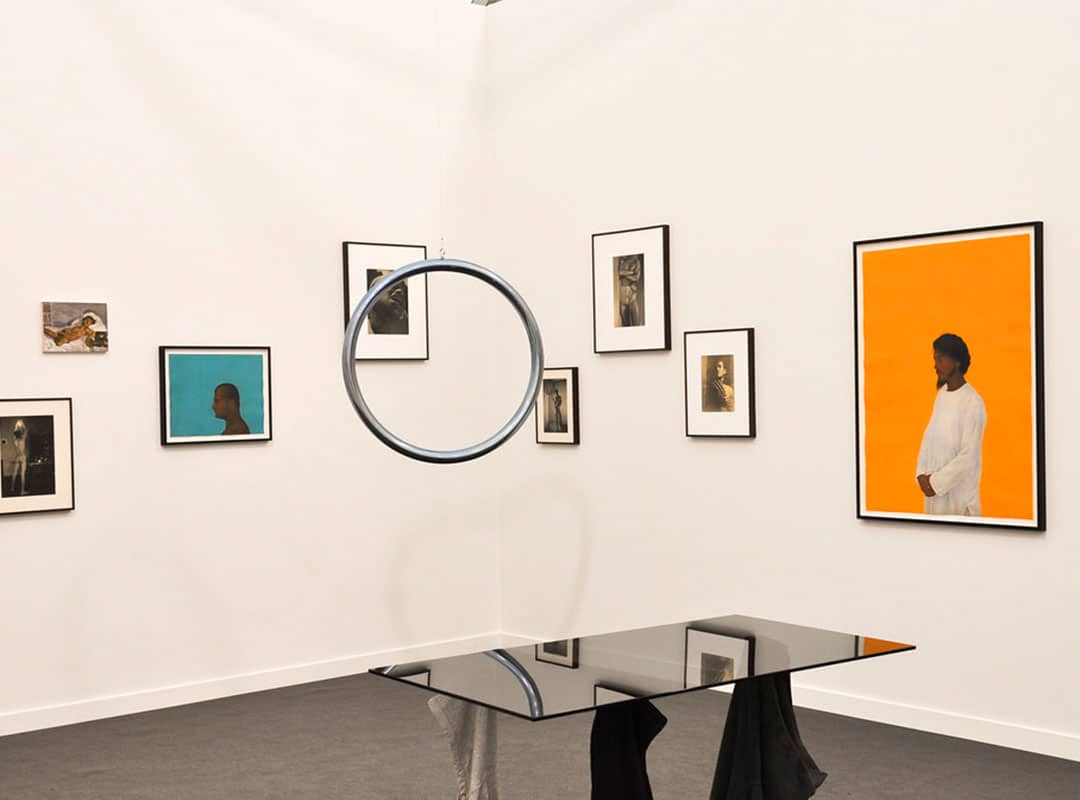 Interview | Post Covid-19, What Next for the Art Market?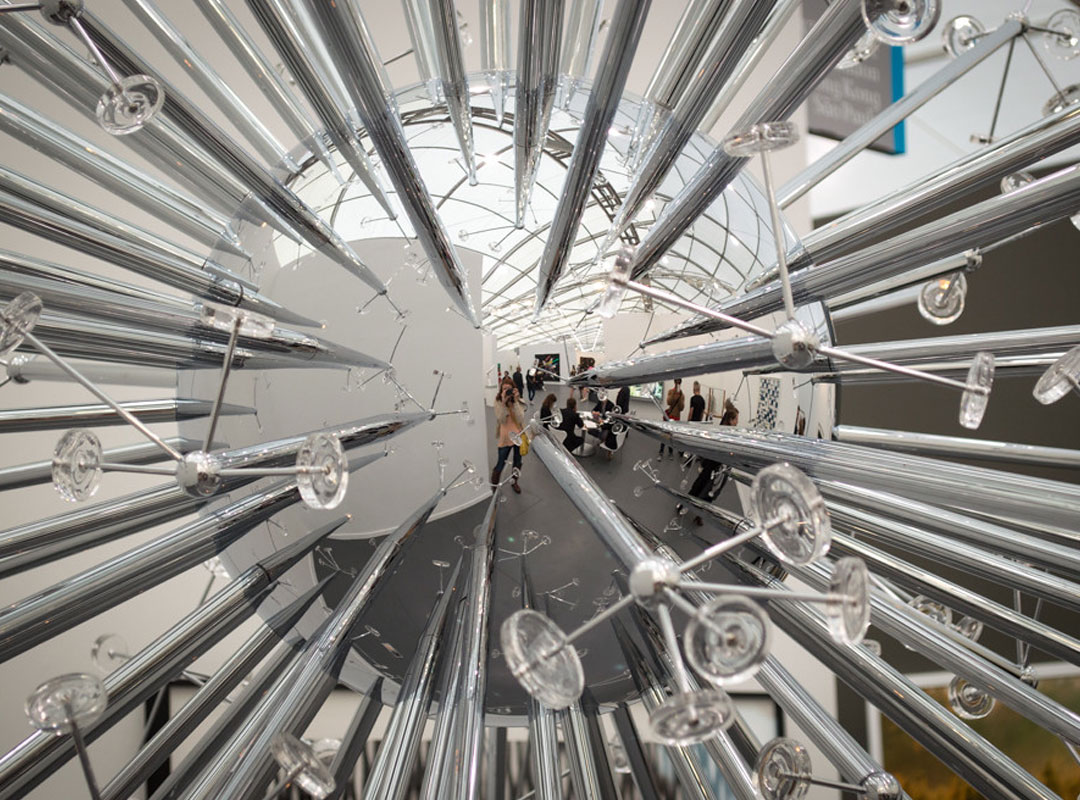 7 Key Points From The FT Weekend Webinar "The Shift to Online Art Fairs"